HD Sample Clip - not explicit


2 HD Streams plus 2 HD Sample Clips – choose Quick View or MP4 formats in HD or SD
Stream 1runs 9 mins 07 secs
Mrs. CC sets out to clean her kitchen windows on a warm summers day.
Of course she is quite inappropriately dressed in a black blouse with net edgings, a pencil white knee length skirt, black seamed stockings and black heels with ankle straps.
With her high, awkward, chunky heeled shoes, she stumbles into a cool filled pool on her patio.
She blames the heels (but we all know that Mrs. CC wanted a cooling bathe).
Sploosh! In an instant she is all wet!
Her hair is knotted so she releases it.
'That is unbelievable', she says.
Throwing some water out of the pool, she takes another ducking and goes face down!
If you like wet hair shots and wet nylons and heels…….then this is glorious!
After a few drenches from the blue bucket, she removes it from the pool.
'That's certainly cooled me down', she says and then she enjoys a cooling roll around in the pool and some self splashing.
But she has relaxed now and enjoys a further play in the pool – see CLIP 1.
Sitting in the pool, she removes her troublesome heels.
This is followed by some nice leg shots, with her skirt up and her panties peeping into view.
Then Mrs. CC removes her blouse.
She is now clad in blue undie set, the white bunched up skirt and her black seamed stockings.
She enjoys the feel of her stockings and chats to us about them.
Her hands have slid to her crotch, which raises our expectations that Mrs. CC will seek her personal pleasure in the next Stream.
She removes her white skirt and her black suspender belt is now revealed.
Stream 2runs 9 mins 21 secs
Clad in her blue bra, blue striped panties, black suspender belt and black stockings, Mrs. CC continues to enjoy herself in the small pool.
The wet experience has turned her on and soon she is rubbing her clit as she drifted about in the pool.
She pulled her panties down to gain full access to her bare wet clit.
Lounging in the pool, Mrs. CC is enjoying herself.
She straddles the rim of the pool, then kneeling up gives her better access to her clit.
She releases her boobs from the bra as this is starting to become frantic self indulgence as she frigs away seeking her climax!
She sinks back to the pool rim and bobs up and down before going back into the pool.
Her efforts are now more frantic as she kneels in the pool.
She removes her bra and tingles her nipples.
Lying on the rim of the pool, the pool water gushes away.
Being spent, Mrs. CC goes for a virtual nude romp in the pool with some rather revealing shots!
After 7 mins of this Stream, she decides to continue with her window cleaning.
So she re-dresses with her white (now see thru) skirt and her black blouse.
'There is something about nice wet clothes', she says….but she did forget some clothing – see CLIP 2.
She continues with the window cleaning, but cannot resist emptying the bucket over her head!
She says her goodbyes in a rather unusual manner that we know……..is just for us!
I had 4 original shots of this shoot, but somehow CC managed to lose the full image set.
So most of the shots are video grabs and do not do justice to the shoot.
We show you 5 sample shots from image set W427.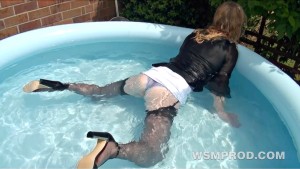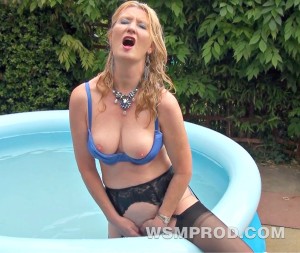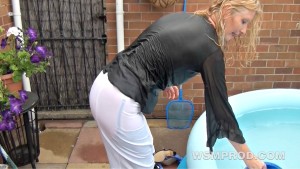 MOVIE CC148 has 2 HD quality Streams running 18 mins 28 secs.
Instant Wet is always instant Fun!