HD Sample Clip - not explicit





5 HD Sample Clips in MP4
5 HD Streams in MP4
How unbelievable are Custard Couple (CC)?
Despite the weather and the treble task of W, S and M they responded magnificently.
There are only two stars:Mr. Custard Couple and Mrs. Custard Couple.
Every couple develops their own style of Slapstick fun.
Great W, S and M with great energy and intent from a mature couple at play!
We apologise for the length of our review.
But we can only report what we see…….and this is a big movie!
But do enjoy the all-out Slapstick action with over 27 minutes of continuous fun.
And have you ever seen a Slapstick food spread like what was prepared?
A gem of a movie despite the wind problems!
Stream 1 runs 9 mins 30 secs
We commence with Custard Couple (CC) walking the hillside.
The wind is wreaking havoc!
Mrs. CC takes a short nap and has a very weird dream.
She imagined she was Alice in Alice in Wonderland.
Suddenly while looking for a lunch spot Mrs. CC is transformed into Alice.
She comes across a silver spaceship paddling pool on the hillside.
In next to no time she is taking a clothed dip in her Alice dress.
She uses a jug to wet herself (but not her hair which is saved for the Slapstick scene).
There are some splendid wet knicker shots – see CLIP 1
But this is merely an appetizer before the terrific Slapstick scene which follows.
With Mrs. CC now well wetted, she espies the 'White Rabbit' and runs off to try and catch him!
In addition we have image set W401 with 74 shots of Mrs. CC in the paddling pool.
How does she look?
We show you 5 sample shots of her wet play.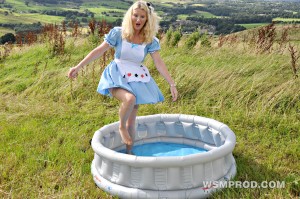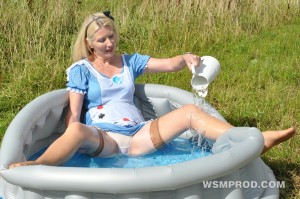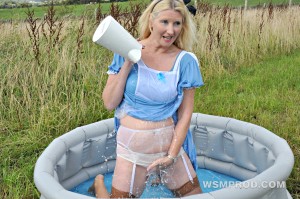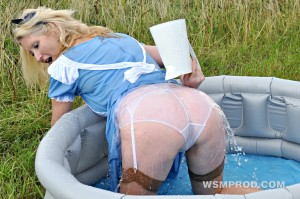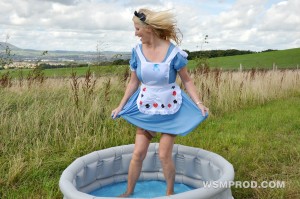 Stream 2 runs 15 mins 46 secs
Alice (Mrs. CC) is chasing the White Rabbit.
The King of Spades (King) calls her to join him as he awaits the Mad Hatter's Tea Party.
Their introduction is somewhat ruined by the noisy wind.
Alice is amazed by the amount of food.
She takes tea with the King.
He was expecting ten people at the Tea Party and decides that they should start on the food.
He offers Alice a large chocolate cake.
She takes a slice and adds cream.
The King has a huge piece of cake and Alice asks if he will eat that much?
Alice senses the King's sneaky intent and pushes the chocolate cake in his face!
He retaliates by pushing her small piece of cake into her face – see CLIP 2
The King pushes the residue of his large chocolate cake into Alice's face.
This Slapstick Tea Party is now starting to warm up.
The King decides to oblige Alice as she calls herself "Messy Alice".
After splattering her with milk, a chocolate cake is rubbed into her face, followed by squirty cream over her cleavage.
Next, custard runs down her back and legs as Alice lies on the ground.
A meringue gateau is slapped into her crutch as she lies expectantly!
The King smears a 2nd meringue gateau over her legs and up her body to her boobs.
Custard follows right down her body and legs as Alice lies in bliss enjoying the messy treatment.
She leans up as the King continues to smother her in custard, including some in her mouth.
"Messier by the second" says Alice in delight.
Her legs are splayed and the King enjoys massaging the foodstuffs over her.
But the King is far too clean.
They stand up so they can mess each other up with the foods.
A battle commences with Frijj drinks for the King and cartons of yogurt for Alice.
The King begins to get messy!
Both the King and Alice enjoy their Slapstick play (and so do we).
The sight of Alice bending over to pick up more yogurt brings the King forward to bend her over again, lift her skirt and cascade Frijj drink inside her knickers and down her back.
Then Alice gets another chocolate gateau in her face as she pours yogurt over the King's head, so he is well splattered.
The King turns her round to plaster her back and bum with Frijj drink – see CLIP 3
He smacks her bum lightly telling her she is a very naughty Alice.
Then he pulls her knickers down to slap her bare bum, before pulling them up tight on her.
Alice attacks him with a chocolate Frijj drink.
The King has found a new 'weapon' and sprays Alice with mayonnaise.
Alice struggles to open her next Frijj drink so the King takes advantage to spray mayo on her hair.
The King tells her he is going to get some "Nasty, nasty new mess for you now!"
We all wonder what he will produce…….and the answer is Baked Beans.
The King throws a tinful over her then continues to pour the beans over her, especially over her head!
Alice tells him she loves beans.
Lifting her skirt the King decides to fill-up her panties with the beans.
Alice is only too happy to oblige as she holds her knickers open!
Her knickers are pulled tight as the King rubs the beans in.
The Stream ends as they kneel together (after the mess has magically been cleaned up).
Alice rubs mayonnaise over his neck and t-shirt, which the King enjoys.
Stream 3 runs6 mins 24 secs
The King tells Alice it was time to use up all these foodstuffs.
Alice tells him "If you want to play fighty, fighty, then come on then".
Standing, they square up to each with two tins of Tomato Soup each.
Then we have 6 minutes of frantic slapstick mess as they splosh each other in the outdoor setting.
The Tomato Soup is splashed about over each other.
Alice chortles in delight.
She switches to cartons of yogurt and puts some, plus custard, down the back of the King's trousers.
She smacks this in which provokes a retaliation from the King, who forces Alice onto all fours, lifts her skirt and sprays her back and knickers with Frijj drinks.
Alice is thoroughly coated in the milkshake drinks.
Dragging her on her stomach, the King applies a creamy cake to the back of her neck and hair.
He splatters further mess over her before getting astride her to rub a choc gateau over her neck and then massage it into her hair.
This is followed by a 2nd choc cake rubbed down her back.
He pulls her knickers down before dropping a very creamy gateau on her bum.
The King jumps on her back and gives her hair a further massaging.
Another choc cake is dropped on her head.
Alice kneels up so the King can throw a small gooey choc cake at her bum!
Then he carefully places another gooey cake into her bum/crutch.
Not content, a 3rd choc cake is rubbed around her arse.
Then a bowl of thick chocolate is poured over her bum, as Alice kneels to enjoy the experience.
Splendid pouring shots here, as the King coats her arse in thick dark chocolate.
He gives her a couple of licks before pouring custard over her bum and back.
Finally, he pulls her panties tight up and over her bum!
Stream 4 runs5 mins 12 secs
We commence with a 2nd magical tidy-up by the King of Spades.
He lowers the top of Alice's dress so he can apply custard over her cleavage and bra encased boobs.
Then he frees her tits from her bra as Alice applies custard over them.
The King has a "Special, special surprise!"
Another bowl of thick dark chocolate is poured over her shoulder so it runs over her boobs and down her body. The King licks a chocolaty boob.
Then he rubs a small choc cake down her cleavage and boobs. He smears the chocolate over her.
Alice smears another small choc cake over her chest and tits.
She lies back while the King pours Tomato Sauce over her body.
He pulls open her knickers to spray the Tomato Sauce inside, then pulls them back and continues to coat her full body.
"And don't you just love rubbing it in" says Alice – see CLIP 4
.
The King decides it is time "To finish off all this mess".
Alice sprays custard over herself while the King has a great time spraying Frijj drinks over the squatting Alice.
Alice gets her own back spectacularly with a couple of the Frijj milkshakes.
The King finishes off with squirty cream and Alice scrambles to her feet to join in the spraying fun.
There are images that accompany this Messy Tea Party.
Currently there are 82 shots on set S434
We will be increasing the size of this set and will advise progress on our weekly updates.
What to do?
If you want the finalized image sets, then do not purchase this movie yet.
Meanwhile we show you 5 sample shots from image set S434.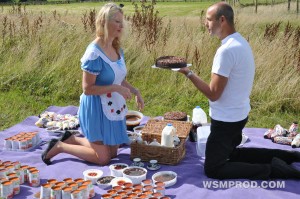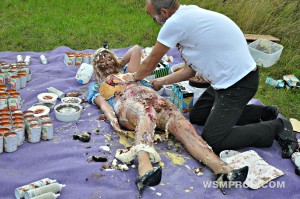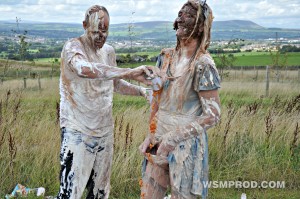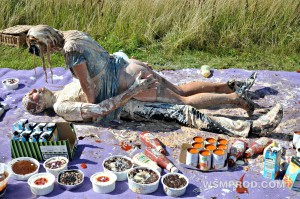 Stream 5 runs 2 mins 59 secs
After their Slapstick Tea Party the bedraggled King of Spades accompanies Alice as she continues to chase after the White Rabbit.
But they have to cross a very muddy pond area.
It is not long before they have fallen down into it.
They get back to their feet.
Then they remove some clothes.
They set off but once again slump into the muddy pond and have a further rollabout.
They start to head back to where they entered the pond but tumble once again into a rather muddy area.
The King enjoys muddying up Alice as they recline in the muddy pond – see CLIP 5
.
Being cold and wet, attention soon returns to the teasing White Rabbit.
But both the King of Spades and Alice have had enough of this chase!
There are images that accompany this Muddy ending of the White Rabbit chase.
The normal shots have been completed in image set M233 which has 73 shots.
We show you 5 sample shots from image set M233