HD Sample Clip - not explicit



3 HD Streams plus 3 HD Sample Clips
Stream 1 runs 8 mins 44 secs
We open with Dee describing her outfit.
She turns on the rainbar as it is time to get wet.
After a couple of minutes the Red Dress is well wetted.
She gyrates under the artificial rain looking ravishing when wet- see CLIP 1
.
After 3 mins 43 secs she exposes her boobs.
At 4 mins 30 secs she sits on a chair (in the rain).
There are some good shiny nylon leg shots and wet heels.
At 7 mins 00 secs she removes her knickers.
We have some teasing flashing shots.
We show you 2 image shots from set W413
representing 'Before' and 'After' shots.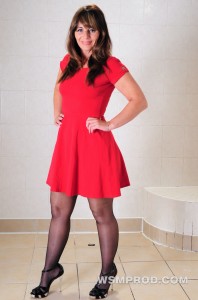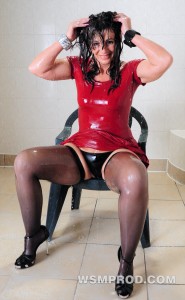 Stream 2 runs 16 mins 59 secs
The 2nd Stream
has Dee in a thin green white spotted dress.
This was shot in my old studio with Dee in a silver spaceship paddling pool.
We see a true mature lady Wetlook treat as Dee enjoys her romp in the pool.
She sits in the pool to commence getting wet.
Dee does not stay still but is constantly active.
This is a rare indoor wet shoot away from the wetroom of our normal studio.
We have up-close and more personal shots as Dee can talk to the camera without any shower noise.
And of course, Wet means Wet, including her hair!
At 7-56 Dee reveals her boobs.
This is relaxing and delightful Wet play by a model who does like her Wetlook.
At 10-42 her dress is removed.
If you like Wet stockings and a Wet woman then you will enjoy this.
Dee cavorts in the pool clad just in stockings and knickers– see CLIP 2
.
At 14 mins 00 secs Dee removes her knickers.
We see her Wet pussy flaunted in the pool as Dee continues her splashy play.
Some enticing and provocative shots and Dee finishes with some good advice on a Wetlook shoot!
We show you 2 image shots from set W383
representing 'Before' and 'After' shots.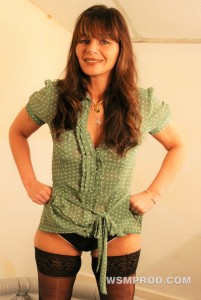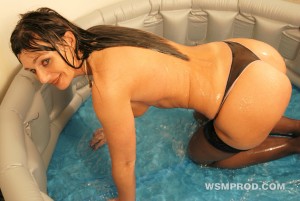 Stream 3 runs 7 mins 08 secs
The 3rd Stream
has Dee in a blue denim dress with black hold-ups, black knickers and black heels.
We are back in our normal wetroom studio.
So how good is this outfit when wet Dee asks, then she puts it to the test.
After 2 minutes the dress is drenched.
Dee parades about showing off the wet outfit.
At 3 mins 56 secs a chair appears (a chair being a feature in Wet Parade shoots).
Dee sits in the rain but is never still – see CLIP 3
.
Great wet and glossy stockings and knicker shots, and those heels look good too!
We have some flashing pussy shots.
Somehow Dee has managed to ladder her stockings, but the overall Wetlook effect is impressive!
We show you 2 image shots from set W429
representing 'Before' and 'After' shots.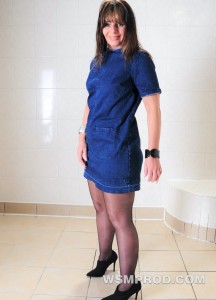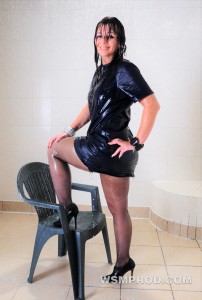 Are there any image shots from Dee's Wet Parade 2?
Yes there are but sadly these are not available yet.
We have the following shots on file:
W413 Red dress 80 shots
W383 Green dress 140 shots
W429 Denim dress 100 shots
With my old image manipulation program using Adobe Flash now ended I have been experimenting with other image adjustment programs.
With our next new movie image set due up on 12th March, that image set will be published.
But image sets W413, W383 and W429 will be published in full after 2 years when this movie is also available on our Subscription site.
Apologies for this but it does take a little while for an old dog to learn new tricks!
MOVIE WSM264 of 'Dee in Wet Parade 2'
has 3 HD Streams running 32 mins 51 secs.