WMV Sample Clip - not explicit
3 HD Sample Clips in MP4
4 HD Streams in MP4
As this is a joint production with WSM, movie WSM280 and identical movie CC200 have WSM filming, so allowing CC to express themselves as a Couple.
And doubly significant:
As the CC Xmas movie for 2021.
As a very poignant reminder of fabulous fun at Yorkshire Studios…….as sadly this was CC's final movie shot there as the studio closed at the end of 2018.
We now add Stream 4 below, which contains the XXX material which we do describe.
Stream 1 runs 15 mins 05 secs
In their regal clothes the Prince and Beau check the foodstuffs for their sploshing–
see CLIP 1
.
The Prince wants them to get changed, but Beau says "It is only right that they do it in their wedding attire, for after all, sploshing got them together!"
The Prince agrees stating that "This is what broke the spell!"
"This is what gave me the Prince from the Beast", says Beau.
So there is only one way to proceed!
Bring on the Sploshing!
We start with the yogurts at 2 mins 50 secs.
This is followed by
milky drinks
at 07-51.
At 10-05 we catch sight of Beau's stockings and knickers as the Prince hauls up her voluminous underskirts.
He caresses her knickered bum with cherry yogurt!
Beau is in her element as her Prince deluges her with
yogurts
.
"Put it all on" she urges him as he covers her hair!
This is non-stop sploshing!
Beau calls for some soup and her Prince obliges at 12-40.
The
Tomato Soup
flows over Beau!
"I absolutely love it", she says.
Stream 2 runs 14 mins 52 secs
Commences as Beau returns the compliment to her Prince by dousing him with Tomato Soup literally!
At 01-35
Chocolate Milk
is introduced followed by
Strawberry Milk
. –
see CLIP 2
.
The Prince gathers up her underskirts and continues with the Strawberry flavoured Milk.
Then they continue with
Banana flavoured Milk
.
At 03-50 the Prince orders "Off with the dress!"
Beau requests her Prince to "Fill these knickers with syrup!"
Going down on one knee he duly obliges.
With Beau getting
golden syrup
in the front and back of her knickers, which is your favourite shot?
At 07-43
Butterscotch Angel Delight
is introduced.
A frustrated Prince tells her to remove her underskirt.
At 08-17 the Prince removes his jacket.
Beau has some
Chocolate Angel Delight
so off they go with more messy play.
The Prince is totally sploshed up!
At 12-06 Beau's boobs are released for messy Angel Delight play.
The Prince takes full opportunity to splosh-up his bride.
As soon as the Angel Delight is exhausted, he pours a large jug of tomato soup over her bum, then a further creamy milky drink. Beau requests the cakes that the Prince had promised her.
Stream 3 runs 13 mins 23 secs
Beau admires many
cream and custard flans
.
Then we have a Flan tit-for-tat between Beau and her Prince.
But Beau takes the initiative until her Prince catches her out with a lovely facial pie!
The Prince is now carried away with the sploshing!
He invites Beau to sit down so they can play
'the Phantom Flan Flinger!'
Both Beau and the scenery are well splatted!
Then time for a change as the Prince sits and Beau takes aim.
With only two flans left she achieves a 'bull's eye!'
Her Prince is astounded and even more so when she achieves a 2nd direct hit with her remaining flan.
Then it is bring on the
custard
…..which the Prince takes stoically.
Soon the Prince is nuzzling Beau's boobs! He removes her top.
The Prince has his shirt removed then enjoys playing with Beau's custardy tits!
Next, those long promised cakes finally turn-up!
Beau admires a large
chocolate gateau
. She does not want to eat it.
But her Prince knows what she wants and pushes the gateau into her face –
see CLIP 3
.
Her Prince pulls her knickers down to "Feed her pussy" with a small chocolate cake.
More cake is smeared over her boobs then over her body.
A very gooey chocolate cake is especially successful (this was a
Black Forest gateau
).
The Prince has his trousers pulled down as Beau daubs chocolate cake over his underpants, thighs and stomach.
Image set S488 covers this movie.
There are a large number of Slapstick shots and products.
This image set has 131 shots.
We show you 6 sample shots from image set S488 so you can appreciate this movie more.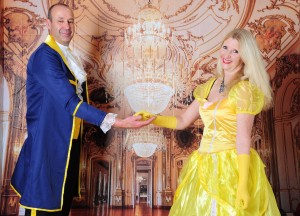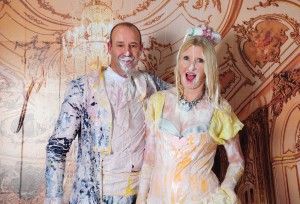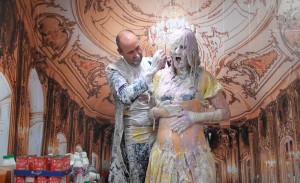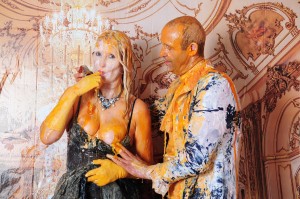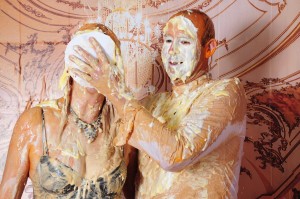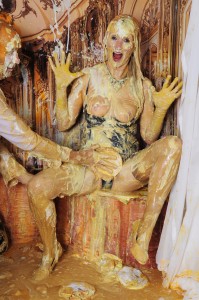 The above is the write-up of the normal movie WSM280-CC200.
There is a follow-on 16 mins 26 secs of XXX action which is movie XXX094.
We now add Stream 4 write-up to complete the full movie XXX094.
Movie XXX094 will contain the 3 Streams from the normal movie plus the extra Stream 4.
As such it will run 59 minutes 46 secs.
Stream 4 runs 16 mins 26 secs
This 4th Stream may seem a bit stop and start from our description.
But it is anything but as it flows along beautifully.
Commences with our dirty pair stripped to their undies.
Beau smears a chocolate gateau on her Prince's legs then his cock (constrained by his underpants).
Opening his underpants she slips in a small chocolate cake.
Soon his cock is out and Beau enjoys a chocolaty suck!
She decides to renew the chocolate by splatting a large chocolate cake on his cock and this is well rubbed in.
This has produced a really chocolaty cock for Beau to suck!
The Prince lifts her onto his cock (as he remains seated).
They couple up and chug up and down in very messy sex fun.
Beau kneels on the floor and indicates a large chocolate gateau, telling her Prince to "Shove this up my arse!"
He swivels her bum towards the camera, couples up doggie style to service her, before spreading the cake down her back, as he shags away!
He chugs lustily away while Beau groans in delight.
Just when we think they may be exhausted, the Prince lies on his back while Beau frantically rides him until she cums.
Her Prince pulls her down on him towards his face so he can give her chocolate pussy and arse a good licking!
We then have some 69 as the Prince attends to her clitty while she devours his messy chocolate cock!
Beau sits back while he sucks hard as she noisily proclaims her satisfaction.
At 10 mins 19 secs they are both standing.
There is a cake on the seat and the Prince gets his Beau to sit on it.
She squirms away!
Beau stands so the Prince (and us all) can see the resulting messiness.
As she leans over the plinth her Prince applies a further large choc gateau to her bum and back.
He requests a cake for himself.
The Prince requests that Beau take the remaining choc gateau stating he wants it rubbed "All over!"
So Beau starts with the cake into the face and spreads it over his chest.
They squirm together and caress in their chocolate heaven!
They find further cartons of custard plus a large bowl of liquid chocolate.
Then with 2 mins 27 secs remaining they set-to each other with the custard (well they are CC).
A "massive bowl of chocolate" is poised by the Prince behind Beau's head.
"This is the best of all", says her Prince.
Then the liquid chocolate flows over them both!
What an ending as Beau gasps in delight!
We end with Beau saying "I don't think I have ever had such a gorgeous splosh in my life!"
And so ended CC's shoots at Yorkshire Studios and the Prince and Beau lived happy ever after!
In addition we now have Image set S488XXX with 121 pics including some posed shots.
Most pics are from video grabs but you get a complete understanding of the movie content.
MOVIE XXX094 has 4 HD Streams running 59 mins 46 secs and is only available as a Download.
This movie includes the 3 Clips and Streams from normal movie WSM280 and CC200.
IMAGE SET S488 has 131 shots
IMAGE SET S488XXX has 121 shots
We show you 4 sample shots from image set S488XXX.