WHAT'S NEW as at
2
8
t
h
April
201
7
OUR NAME CHANGED TO WWW.WSMPROD.COM FROM 24TH FEBRUARY
A New Slapstick Download HD Movie with Custard Couple (CC) in role play as Mrs. CC finds the laid-out foodstuffs for their guests just too tempting!
Mr. CC returns to find her sploshed up and easily persuaded into messy sex fun.
The write-up for this 'Messy Marquee Splosh' has been prepared by CC.
Offered either as:
Normal movie CC126 running 25 mins with 118 Enhanced Images set S436
OR as XXX movie XXX057 running 37 mins with a further 39 XXX images.
We look again at young Becky in one of those dreamy summer idyllic wet scenes in a gentle flowing river in pink top and pink mini skirt, movie WSM028 plus 123 images.
      Also in this Update:
We review again teenage model Lorna in a 49 min movie WSM031 divided into wet and messy streams.
Our Subscription Site starts to grow again!
We now have 241 movies and 415 image sets available for the price of a Subscription.
This includes the Becky and Lorna movies and images featured above.
We still take Subscriptions to our Website - Memberships extending for up to 6 months are available. Subscription prices generally will increase from 13th October.
CLICK HERE TO TAKE A SUBSCRIPTION TO THE WEBSITE
DO YOU LIVE IN THE UK?
See our 'Comment' section under wsmprod.com for latest information on a major change in the Adult UK scene which will be law very shortly.
We also have a UMD STORE and transfer MOVIES and IMAGES regularly
CLICK HERE TO GO TO THE UMD STORE
SEE ALSO THE WSM ONLINE STORE  (no membership required)
Click on movie and page down for full description and sample images.
FOR 50 VINTAGE FILM DOWNLOADS
PLUS 64 New 'WSM Movies & Images'
PLUS 16 Movies with Images transferred from the Subscription Website and now also available as Downloads
and XXX section with 57 MOVIES with Images, only available as Downloads.
Do note that we will be checking in May all our HD movie Download prices (both normal and XXX movies) to make sure they are consistent.  Prices may have to rise on some movies.
But do note, this applies only to HD Movies in the Online Store.
We now confirm that prices will change as from 26th May 2017.
CLICK HERE TO GO TO THE WSM ONLINE STORE
NEW SLAPSTICK DOWNLOAD
A new Custard Couple HD movie is offered either as:
A

normal movie CC126

running 25 mins with 2 Clips and 2 Streams, plus 118 images as set S436.
As a

XXX movie XXX057

running 37 mins with 2 Clips and 4  Streams, plus 39 XXX images .
NOTE –XXX movie XXX057 does include the normal movie CC126.
But to see the XXX write-up with a further 12 mins of XXX action, you need to go to the Online Store XXX Section under 'Messy Marquee Splosh' movie XXX057.
REVIEW OF NORMAL MOVIE CC126
A brand new HD Movie plus Image set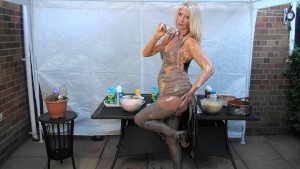 Custard Couple – 'Messy Marquee Splosh'
Movie CC126
Run-time 24 mins 58 secs
2 Sample Clips in HD
2 Streams in HD
Instead of Mike Ellison, here is a write-up of this movie written by Custard Couple (CC).
Stream 1 runs 11 mins 45 secs
Mr and Mrs CC are awaiting their friends to join them for a dinner party, both dressed to impress and they have made every effort putting up a Marquee in their back garden and preparing lots of their favourite foodstuffs…. 
Mr CC is dressed in his smart suit with a tie and Mrs CC is dressed in her ballgown with black stockings, suspenders, panties and matching heels….
They both enjoy a pre-dinner drink before their guests arrive….As time ticks by Mr CC goes into the house to investigate what time their guests will arrive leaving Mrs CC to check the food is prepared correctly and to make final adjustments to the layout of the table at the back of the Marquee.
Mrs CC is feeling very naughty and would prefer for her guests not to arrive as she is desperate for some messy fun with her husband…..
Sneakily Mrs CC tries a piece of her homemade chocolate cake and tasting some of the fresh cream to accompany it!!
This naughty minx just can`t help slopping some cream over herself and even though her guests may well be on the way she just cannot resist pouring the cream over her dress!!
Picking up the bowl of tomato soup she now slops this over the dress relishing the feeling as it soaks down into her black satin panties and seeps down into her stockings.
Grabbing chocolate milk drinks Mrs CC liberally applies them down her stockings and into her heels. The milk drinks are followed by a full carton of custard down the side of the ball gown and stockinged leg – see CLIP 1.
Lifting her dress Mrs CC uses the main course of spaghetti to fill up her panties, and then applies the main course over the back of her underwear purring with delight as she does!!

Stream 2 runs 13 mins 13 secs
Mrs CC applies more of the chocolate cake over most of her body and now ruined outfit.
Of course cake needs cream, so squirty cream is introduced and rubbed over her boobs.
Lifting her skirt, squirty cream goes inside her panties, which she fills to the brim…..before massaging the cream in.  The cream is applied over the tops of her legs and panties and Mrs. CC lies back and spreads her legs wide.
Mr CC returns to find his beautiful wife now covered in food !!
He is at first startled by the sight in front of him and he explains that their guests have been delayed!
But looking at what his naughty wife has been up to, he is keen to mess her up further.
Mrs CC doesn`t care by now and pulls her partner down into the mess the join her!!
The couple kiss passionately and then waste no time in removing Mrs CC`s dress whilst they continue to cover each other in the party foods.
They squirt each other with tomato sauce.
Things become more frantic as Mr. CC's jacket is removed allowing Mrs. CC to rip his shirt open!
She lies back as Mr. CC dribbles custard over her and himself.
Mr. CC fondles then kisses her boobs as he removes them from her bra.
Handfuls of butterscotch dessert are rubbed down the back of Mrs CC`s panties.
He pulls her panties down to apply the butterscotch mix to her bare bum, before he pulls up her panties tightly.
She kneels in front of him as he smears her tits with butterscotch.
We end as Mr. CC squirts mayonnaise over her tits – see CLIP 2.

If you wish to find out how things get steamier, then you need to go to the XXX write-up – (see below for how to view the XXX write-up and purchase the XXX movie with the sequel).
IMAGE SET S436 has 118 Enhanced (full screen) shots.
Some great images with Mrs. CC enjoying her slapstick play with teasing leg, stocking and knicker shots and general wanton messiness.
We see Mr. CC join her for messy play (and who would not??).
Includes messy shots to the movie end (with the XXX shots excluded).
Beautiful visual entertainment by a devoted WAM couple.
We show you 5 sample shots from image set S436.
PRICE
£6-00  GBP
$8-40 USD
Euro 7-80
To Purchase go to movie CC126 in the 'WSM Movies and Images' section in the Online Store under 'Messy Marquee Splosh'.
To see Write-Up or to Purchase movie XXX057 (being the XXX addition to movie CC126) go to 'XXX Section' in the Online Store to 'Messy Marquee Splosh' which combines both the normal movie plus the XXX together and runs 37 minutes, plus 39 further XXX images.
Click here to see movie XXX057 write-up.
SUBSCRIPTION WEBSITE
WETLOOK
Becky was a most enthusiastic model.
So you can see just how good she was, we review the 122 Images of BECKY in image set W222.
In one of those summer scenes you dream about, we have a small gently flowing river festooned with flowers, plus an enthusiastic model to do it justice.
But do not take my word for it, just check the 5 sample pics below.
In addition, we also show you a Clip from Movie WSM028.
This was one of the very few occasions when we had to run music on the video due to a malfunction, for you should all know by now that I believe in live sound!
SUBSCRIPTION WEBSITE
SLAPSTICK
This week we feature teenage model Lorna in movie WSM031.
This is a 49 minute movie split into two parts, wet and messy.
The Messy streams run 27 minutes.
Teenage Lorna has unusual clothes.
These are daubed with Chocolate Angel Delight.
Lorna ends up stripped down and very chocolaty, including her hair.
She finishes off with some syrup play.
We show you two sample Clips, firstly as she daubs her outfit, then an unusual floor shot.
In image set S201 there are 36 images of Lorna with the Chocolate Angel Delight .
See if Lorna appeals to you as we show 3 sample shots from S201.
SUBSCRIPTION WEBSITE
WETLOOK
We feature teenage Lorna in movie WSM031.
It is a 49 minute movie split into two parts, wet and messy.
The Wet streams run 22 minutes.
We have young Lorna taking her first clothed shower.
Her coyness gives way to reveal a sexy young girl.
Take a look at her rather unusual outfit.
She eventually strips to show a very trim figure before getting soaped up.
We show you two Clips, firstly fully clothed, then of Lorna in bra and knickers.
There are 37 images of Lorna's wet shower set published in image set W236.
See if Lorna has wet appeal to you as we show 3 sample shots from W236.
We continue to take SUBSCRIPTION payments in £ Sterling, US dollars and Euros, for membership of the WSM Website.
The Subscription Website does not include access to new movie/images Downloads in the Online Store, which we have been adding since April 2015.
However, starting 14th April 2017, Movies and Image sets added to the WSM Online Store under 'WSM Movies & Images' will be added to the Subscription site 2 years after being added as Downloads. 
Look at the JOIN NOW page to see our great value for 30 day, 3 month and 6 monthly Subscriptions as for a Subscription you can access:
241 Movies averaging 30 minutes each, including 18 Messy Wrestling Movies and 55 Custard Couple Movies, (which include 21 joint productions with WSM),
12 vintage movies and 156 normal WSM movies.
PLUS 40,746 Images in 415 sets.
But if you want to see all these Movies and Image sets, then you need to take a Subscription to become a Member.
COMMENT
Prepare for a huge change in the Adult UK scene (which we will be advising you about).
Final amendments were made to the Digital Economy Bill by the House of Lords on 5th April.
  The Bill then went to the Commons for consideration of the Lords' amendments.
We were wrong with our date for the dissolution of Parliament for a general election.
That will happen but not on 20th April as we said but on Wed 3rd May.
The House of Lords returned the Bill to the House of Commons with amendments.
The amendments were considered by the House of Commons on 26th April 2017.
None of the amendments referred to online pornography.
Once a bill has completed all the parliamentary stages in both Houses, it is ready to receive royal assent.  This is when the Queen formally agrees to make the bill into an Act of Parliament and so it becomes law.
There is no set time period between the ending of consideration of amendments (as happened 26th April) and royal assent.
But the writing is on the wall!
This bill will become law very shortly.
 We do not believe that WSM contains any "extreme porn" but the Bill states that any adult site that does not check the ages of visitors will be blocked.
We still do not know what will happen, but our advice must be not to delay but buy now before any restriction prevents your freedom of viewing.
On 13th October 2017 we will be raising Subscriptions to a base price of £30 GBP for one month.
Unquestionably costs are rising, so we give you plenty of notice of our intent.
But what a bargain!
From 17th April 2017, Downloads from the 'WSM Movies & Images' Section will be added after a two year duration…….which will mean 240 plus 12 movies, 252 movies by 13th October 2017.
FUTURE PROGRAMME
ADVANCE NOTICE OF NEW DOWNLOAD STORE AND SUBSCRIPTION ADDITIONS
 
5th May Dee is the wet jogger (in 2 outfits) in 23 min movie WSM176 plus image set W342 with 70 shots.
 Our 2nd Download movie from 9th May 2015 now gets posted to the Subscription site.  It is movie WSM199/WSMS002 as Kimyl gets messed by Gary Gunge plus 145 images in set S380.
12th May Time for a week off on holiday after many additions this last few weeks.
 But we will be reviewing again both another FOOD movie and a MUD SLUT movie of Mrs. CC.
 And we will not forget our Wetlook fans.
19th May Movie CC58 is cancelled due to insufficient content.
Elegantly dressed Mrs. CC gets her undies torn away in 'Wet Ripping fun,' is now renamed as movie XXX061 running 20 mins plus image set W386XXX with 59 shots.
26th May You have heard of the painted lady.
 Well here she is as we see Dee in 34 min movie WSM205 plus image set S383 with 80 shots.
2nd June Tribute to Custard Couple (CC) after 6 years of association with WSM.
9th June Both Brexit and the Scottish Referendum divide people into two camps.
 This WSM topic does likewise!
 We are talking about a topic revealed to you 14th April, when at the end of the write-up of Mrs. CC as a 'Messy Nauughty Fairy', we wrote 'We now have 9 Pissy Clips gathered together and will feature these in their own 'Pissy Quickies' movie in June.  This is movie XXX062 running 26 minutes.