WHAT'S NEW as at
2
1
st
April
201
7
OUR NAME CHANGED TO WWW.WSMPROD.COM FROM 24TH FEBRUARY
A NEW mega Slapstick Download 50 min HD Movie as Mr. Nasty meets the dominatrix and a battle of wills begins, but who ended the messier? Movie WSM249 plus 280 Enhanced Images set S455
For our wet fans, one of our favourite MILF's Sue takes a clothed oil bath in 12 min movie WSM028 plus 83 pics in image set S087.
Also in this Update:
The next in our classic series of FOOD shoots as we see Chloe in Food 6 movie WSM100 plus 192 shots in image set S276.
For our Wetlook fans, nothing is better than an outdoor shoot and we see mature lady Dee at the seaside clad in nightie and negligee, HD movie WSM158 plus a fantastic 289 images in set W326.
Our Subscription Site starts to grow again!
We now have 241 movies and 415 image sets available for the price of a Subscription.
Everything above, except Mr. Nasty and the Dominatrix movie WSM249 and images, are available on our Subscription site.
We still take Subscriptions to our Website - Memberships extending for up to 6 months are available. Subscription prices generally will increase from 13th October.
CLICK HERE TO TAKE A SUBSCRIPTION TO THE WEBSITE
DO YOU LIVE IN THE UK?
See our 'Comment' section under wsmprod.com for latest information on a major change in the Adult UK scene.
We also have a UMD STORE and transfer MOVIES and IMAGES regularly
CLICK HERE TO GO TO THE UMD STORE
SEE ALSO THE WSM ONLINE STORE  (no membership required)
Click on movie and page down for full description and sample images.
FOR 50 VINTAGE FILM DOWNLOADS
PLUS 63 New 'WSM Movies & Images'
PLUS 16 Movies with Images transferred from the Subscription Website and now also available as Downloads
and XXX section with 56 MOVIES with Images, only available as Downloads.
Do note that we will be checking in May all our HD movie Download prices (both normal and XXX movies) to make sure they are consistent.  Prices may have to rise on some movies.
But do note, this applies only to HD Movies in the Online Store.
CLICK HERE TO GO TO THE WSM ONLINE STORE
NEW SLAPSTICK DOWNLOAD
The unmasked Mr. Nasty meets a dominatrix for Slapstick play.
Who is the dom and who is the sub?
Who ends the messier?
REVIEW OF MOVIE WSM249
A brand new Download HD Movie plus huge Image set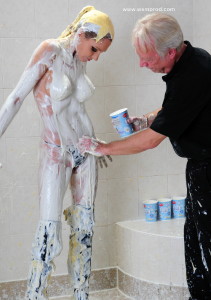 'Mr. Nasty meets the Dominatrix'
Movie WSM249
Run-time 50 mins 32 secs
 5 Sample Clips in HD
 5 Streams in HD
Stream 1 runs 9 mins 29 secs
This is a nice variant on couple play.
With a 50 minute movie shot using 3 cameras, what a sploshing treat this is!
Mr. Nasty visits the dominatrix.
They dispute over who starts the sploshing.
Mr. Nasty insists he is the boss, so he starts things off.
Ava, the dom flicks yogurt on Mr. Nasty.
He retaliates just as Mr. Nasty does – see CLIP 1.
Mr. Nasty sploshes her up and enjoys rubbing the yogurts into her outfit, including her long boots.
There is constant repartee between them.
Ava struggles to be submissive (she is a genuine dom!).
Mr. Nasty undoes the back of her outfit, then makes her kneel.
The cold yogurt down her back produces yells from Ava.
Mr. Nasty enjoys seeing this yogurt run down inside the back of her outfit and over her pert bum.
He ends this Stream by pouring a yogurt over her head!

Stream 2 runs 9 mins 10 secs
With Ava still on her knees, Mr. Nasty introduces custard.
He coats her shoulders and boobs before pouring the custard over her head – see CLIP 2.
Mr. Nasty is over confident and tries to bluff Ava that no girl has sploshed him.
He continues to splosh her with custard.
Sploshing her neck with custard makes her yell!
He seizes her pigtail and thinks what nasty things he can do!
Ava stands up as he writes his name on her outfit.
He takes her top down (and we see why Ava will be our next busty girl to face the Phantom in FOOD 12 movie).
Her outfit is removed leaving Ava clad in black wetlook thong knickers and PVC thigh boots.
'You are far too clean', says Mr. Nasty as he admires her statuesque figure.
He makes a yogurt bra for her.
Next, he covers her arms in the yogurt, then slips some inside her tiny thong, pressing it home!
He continues to splosh her with the yogurt.
But in their banter, Mr. Nasty slips up and reveals that there is a Mrs. Nasty (Axajay!).
Ava plays her cards well insisting that Mr. Nasty is misbehaving, unknown to his wife!
She is indignant and seeks revenge on him.

Stream 3 runs 10 mins 31 secs
Mr. Nasty tries to take another yogurt to splosh Ava with.
But she is wise to him now telling him that Axa does not know he is paying for this messy shoot.
She admonishes him – see CLIP 3.
Then Mr. Nasty makes a fatal slip by saying 'Come on'.
And Ava does with a carton of yogurt over him.
Mr. Nasty finds himself on the receiving end now.
Soon he is on his knees.
He has to lick her boot.
She sploshes him with custard.
Next, his shirt is off and custard goes down his back.
Then custard goes down his pants (and Ava uses her boot to rub the custard in).
Ava tops him off with custard over his head.
Mr. Nasty is stripped down to his underpants.
Ava continues to custard splosh him.
Custard goes down his underpants, both back and front.
He ends this Stream fully custard sploshed.

Stream 4 runs 9 mins 14 secs
Ava removes her boots and thong.
With her on all fours, Mr. Nasty pours custard down her back and bum.
'This is how Mr. Nasty likes his girls, naked, kneeling in front of him', he says.
He gets on his knees.
'I think we should play – nasty play', says Ava.
So they sit on the floor and splosh one another with cartons of custard.
This is very messy couple play.
It develops into a food fight using the slops from the floor.
They are both battling for control.
Mr. Nasty is determined to show his experience, but he gets a couple of messy facials - see CLIP 4.
Kneeling up, Ava gets a Yazoo strawberry milk poured down her front – this has a cleansing effect.
The balance of the drink is poured down her back.
Ava gets another Yahoo for her to wash Mr. Nasty down, front and back.
'Let's finish off our treats shall we?' asks Ava as we head towards the final Stream 5.

Stream 5 runs 12 mins 08 secs
The final treats are shared together.
Commencing with strawberry syrup, Mr. Nasty lies on his back while Ava covers him with the strawberry syrup.
He pulls her on top of him then drizzles the strawberry syrup over her back.
Ava lies back as Mr. Nasty expresses his artistic streak over her boobs – see CLIP 5.
Then he syrups up her pussy followed by her back and bum, both with revealing close-ups.
Mr. Nasty licks her syrupy toes.
Ava has one final strawberry syrup which she applies inside Mr. Nasty's underpants, before she makes him some boobies.
Mr. Nasty gets carried away with his fantasies and he wants Axajay to join with Ava next time.
Then, a shoot-out together with tomato sauce.
Ava urges Mr. Nasty to 'Do your worst!'
They end streaked in tomato sauce.
They have a final play on the floor with a messy wrestle and splosh up.
Mr. Nasty has had his fun! (but got somewhat more than he expected!)
So will Ava and Axajay meet up for a splosh out?
Time will tell.

IMAGE SET S455 has 283 Enhanced (full screen) shots.
These are all 35mm shots.
This is a truly magnificent collection of images that make WSM such fabulous value for money.
Seeing is believing!
We show you 6 sample shots from image set S455.
PRICE
£6-50  GBP
$9-50 USD
Euro 8.50
To Purchase movie WSM249 with Ava and Mr. Nasty in 'Mr. Nasty meets the Dominatrix,' go to 'WSM Movies & Images Section' in the Online Store.
Fabulous value for a 50 minute Slapstick movie, not forgetting 283 huge images.
SUBSCRIPTION WEBSITE
WETLOOK
We do have a movie of MILF Sue, with a very impish shoot with oil in a small bath.
This was a nightmare to film……but am I glad I did!
You can see the full movie running 12 mins 32 secs in Stream 2 from movie WSM028.
Sue relaxes in an oil bath wearing a vivid turquoise tight fitting beach top and shorts plus black stockings.
She writhes in the oil coating her outfit before slicking her face, neck, arms then hair.
There are some great oily shots.
Eventually, she removes her top for oily breast play, and then her shorts.
Sue ends caressing her oily body!  Quite wonderful! A joy forever!
Here is one Clip from movie WSM028….but this shows how horny and seductive Sue was!
But if you wish to see her even hornier, go to our Online Store XXX Section to see Sue's first messy sex as Professor Treacle teaches her the delights of messy sex play in movie XXX014!
We continue with image set S087 with 81 shots of one of our favourite MILF's SUE.
I get the impression from ladies like Sue and Gemma (see her oil shoot last week), that they seem to look beyond the camera, so not just pleasing me with their efforts, but they are thinking of you all and take quite a mischievous delight in their posing.
But Sue is a special sexy lady in her mid forties and really enjoyed being presented as sexy and beautiful.
We show you 5 sample shots of her oil play in the bath.
Yes she is both sexy and special.
But you make your own judgment by viewing these shots.
SUBSCRIPTION WEBSITE
SLAPSTICK
As we reprise our Food range of movies, next up is CHLOE
It was a baptism of fire for her being brave enough to face the camera for FOOD 6!
See how Chloe reacts to the food deluge in this 28 minute movie WSM100!
Indeed, she talks us through it!
Wearing "black shiny shoes, white stockings, lacy suspenders, white mini dress with buckle belt, big knickers (so I can get some food inside for you)" – yes, all Chloe's words!  And believe me those knickers do get filled!
Then she tells you what foodstuffs she is being targeted with!
1.  Cherry Pie Filling (Wow! Does that stain!)
2.  Lentils
3.  Chicken soup
4.  Chocolate sauce
5. Treacle – "seldom seen, but very good!"
6.  Butterscotch whip dessert
7.  Raspberry whip dessert
8.  Dream topping – "let's see if it's a dream for you!"
9.  Rice pudding
10.  Yogurt (with a bulls eye to her pretty face!)
11. Semolina
12. Raspberry milk shake
13.  Chocolate milk shake
14.  Golden syrup
15.  Treacle (in bulk!)
Convinced yet?
This is some Movie!
Watch Chloe's reaction to this playful food experience and hear her amused giggling!
And did you ever see a girl with such protruding pussy lips???
These have to be seen!!
And the Movie ends with the question "How does every good girl finish her meal?"
Well, you will have to watch to get that answer!
But in addition you can also view 192 Images of this Movie.
We show you 5 sample pics from image set S276 below.
So have yourselves a treat and watch Movie WSM100 plus Image set S276.
But to see all our Movies and Image sets, you need to be a Member.
Movie WSM100 is just one of 241 movies you can see….and did we mention the 415 image sets too?
SUBSCRIPTION WEBSITE
WETLOOK
What better tonic is there than to go to the summer to see Dee in a wet clothed set at the beach.
Image set W326 has Dee clad in nightie and negligee taking a bathe in the sea near Tenby on a balmy summer's day.
With 289 shots, surely you can find a favourite pic here?
Dee enjoys getting fully wet and is not shy in stripping off to produce some raunchy, revealing pics.
We show you 5 sample pics from her image set W326 so you can anticipate the summer again!
But what have we done?
Why revise every pic to Full Screen, yes, all 289.
Well worth a look!
If this all sounds a rather idyllic shoot, sadly reality often intervenes.
Things do not always work out as you expect at a shoot!
Having walked a mile, climbed down a 300 foot headland, scrambled over many rocks on the beach area, I thought I had shot a good 30 minutes of sea-side wetlook.
But no!  My editor was not impressed as I had no tripod!
So sadly we end up with a 16 minute HD movie WSM158 of Dee.
Dee had yearned to do a shoot in Tenby for many years.
We start as she stands on a rock describing her Baby Doll outfit with nightie, plus matching knickers and negligee, not forgetting her silver heels (that she wears throughout!).
It was a very calm day, so the surf does not crash but rolls.
Dee is soon kneeling in the surf before lying in it and reacting to the waves.
She gets fully wet and puts her face and head under the water.
There are plenty of wet hair shots and classic wet clothed fun in the surf.
The tide is slowly receding.
At the end of Stream 1 Dee removes her negligee.
The final 3 mins 30 secs are topless with some pleasing wet shots.
We close as Dee removes her knickers with some very revealing shots.
A great day, a calm sea, a very willing model and hopefully enough footage for an interesting wet clothed shoot.
We show you 2 Clips from movie WSM158 of Dee in the sea near Tenby.
We continue to take SUBSCRIPTION payments in £ Sterling, US dollars and Euros, for membership of the WSM Website.
The Subscription Website does not include access to new movie/images Downloads in the Online Store, which we have been adding since April 2015.
However, starting 14th April 2017, Movies and Image sets added to the WSM Online Store under 'WSM Movies & Images' will be added to the Subscription site 2 years after being added as Downloads.  Movie WSM411, video ref WSMS001 was added last week.
Look at the JOIN NOW page to see our great value for 30 day, 3 month and 6 monthly Subscriptions as for a Subscription you can access:
241 Movies averaging 30 minutes each, including 18 Messy Wrestling Movies and 55 Custard Couple Movies, (which include 21 joint productions with WSM),
12 vintage movies and 156 normal WSM movies.
PLUS 40,746 Images in 415 sets.
But if you want to see all these Movies and Image sets, then you need to take a Subscription to become a Member.
COMMENT
Prepare for a huge change in the Adult UK scene (which we will be advising you about).
Final amendments were made to the Digital Economy Bill by the House of Lords on 5th April.
  The Bill then went to the Commons for consideration of the Lords' amendments.
 But Bingo!
A General Election was called and Parliament dissolved 20th April.
So the balls have been, and are, in the air!
We will advise the outcome.
On 13th  October 2017 we may have to raise Subscriptions to a base price of £30 GBP for one month.
Unquestionably costs have and are rising, so we give you plenty of notice of our intent.
But what a bargain!
From 17th April 2017, Downloads from the 'WSM Movies & Images' Section will be added after a two year duration…….which will mean 240 plus 12 movies, 252 movies by 13th October 2017.
FUTURE PROGRAMME
ADVANCE NOTICE OF NEW DOWNLOAD STORE AND SUBSCRIPTION ADDITIONS
 
28th April CC in Messy Marquee Splosh normal movie CC126 (25 mins) plus image set S436, and continues as              
 CC in Messy Marquee Splosh XXX movie XXX057 (approx 12 mins) plus image set S436XXX.
5th May Dee is the wet jogger (in 2 outfits) in 23 min movie WSM176 plus image set W342.
 Our 2nd Download movie from 9th May 2015 now gets posted to the Subscription site.  It is movie WSM199/WSMS002 as Kimyl gets messed by Gary Gunge plus 145 images in set S380.
12th May Time for a week off on holiday after many additions this last few weeks.
 But we will be reviewing again both another FOOD movie and a MUD SLUT movie of Mrs. CC.
 And we will not forget our Wetlook fans.
19th May Movie CC58 as elegantly dressed Mrs. CC gets her undies torn away in 'Wet Ripping fun,' plus image set W386.
26th May You have heard of the painted lady.
 Well here she is as we see Dee in 34 min movie WSM205 plus image set S383.
2nd June Tribute to Custard Couple (CC) after 6 years of association with WSM.
9th June Both Brexit and the Scottish Referendum divide people into two camps.
 This WSM topic does likewise!
 All will be revealed next week!