WHAT'S NEW as at 23rd April 2022
OUR NAME CHANGED to www.wsmprod.com in February 2017
Now in our 41st Year of continuous WAM Production
We are the oldest WAM business in the world!
WSM are now updating fortnightly.
We have changed our update day to a Saturday.
Well it had to happen sooner or later!
I tested positive for Covid on Easter Sunday 17th April.
Having been indisposed a few days I am now almost recovered.
But my wife has not been so fortunate and her illness drags on and on.
So this brought to mind my comments I wrote to you on 29th November 2019.
That referred to a 2 hour play I had seen that week titled '184 Charing Cross Road'.
This was a true story and that address was a book store.
Some of you may have seen the movie with Anne Bancroft and Anthony Hopkins.
A lady in New York ordered and corresponded with them for 21 years.
Many years she promised to visit, but for many varied reasons she did not.
Finally in 1972 she did visit.
Alas!  Too late!  The proprietor had suddenly died and the business ceased!
So what has this to do with WSM?
Last December we celebrated our 40th Anniversary.
Until the end of 2021 Mike Ellison had written a continual weekly column (for 12 years).
Starting 2022 this has been changed to a fortnightly update.
Currently you are invited to subscribe for an incredibly fantastic value Subscription account giving a huge number of movies and image sets.
But do most people bother?
No, it is like the lady in New York as there is always next week or next year.
But do get the message.
Mike Ellison will not last forever and one week you will discover he is gone!
Last December we set a target to create a UMD Subscription site.
Sadly this has still to happen and there is no legacy in place to preserve the WSM website.
In theory this should happen later this year.
But how many people look forward to a new WSM movie every two weeks?
Very, very few (if any).
We had also set a target of achieving the publication of 500 movies before Mike Ellison finishes.
Currently we have reached 478 being 348 Subscription movies, 9 Vintage Films,  92 XXX movies and 29 WSM normal Downloads (all published less than two years).
To subscribe to our 348 Subscription Movies and 533 Image sets, then click below.
CRISTI please add
CLICK HERE TO TAKE A SUBSCRIPTION TO THE WEBSITE
WHAT DO WE HAVE THIS WEEK?
Three items this week:
New HD movie XXX089 running 40 minutes, with Mrs. Custard Couple (CC) exploring her holiday villa and testing out the swimming pool, outside shower and Jacuzzi.
She enters the bedroom to wake Mr. CC who is immediately stimulated by the clinging wet clothes especially the white linen trousers and full white panties.  Soon CC are indulging in sex play plus added fun as Mrs. CC gets her clothes ripped apart!
There are 176 images in set W439XXX of both Mrs. CC's wet play and sex play!
After 2 years as a Download only, we have a further addition to our Subscription site.
In this 12 minute movie, Mrs. Custard Couple (CC) continues her Mud Slut role. 
In Movie CC155 Mud Slut 14, Mrs. CC sets out to mud destroy a designer leather skirt.
Plus there are 78 images in set M247.
We have been following the WAM dreams of Shakina in our movie 'Sex WSM'.
How many great outdoor Slapstick shoots do you see with a couple?
Well this is right up there with the best!
Movie 'Sex WSM – Stream 5' the Picnic runs 19 minutes.
NEW DOWNLOAD
WET CLOTHED FUN plus XXX with WET clothes RIPPED OFF
Mature Custard Couple (CC) have arrived at their holiday villa.
So what can Mrs. CC not wait to check-out?
The villa's outdoor wet facilities, namely:
Swimming pool
Outside shower
Jacuzzi
But this is a movie of two halves:
Solo Mrs. CC wet play outdoors, then full-on sex play indoors in the bedroom.
Add in Mrs. CC's wet clothes and Mr. CC's annoyance at her wet play without him and we struggle to determine that when Mr. CC says "I'm going to destroy you!"  Does he mean being full-on sexually rampant with his wife or being determined to rip her clothing apart (or both?).
REVIEW OF XXX MOVIE XXX089
A brand new Download HD Movie plus Image set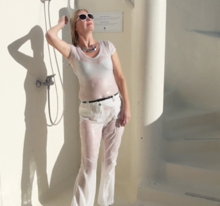 CC in 'Wet White Linen Fun'
Run-time 40 mins 06 secs
3 HD Streams
plus 4 HD Sample Clips