WHAT'S NEW as at
2
9th
May
20
20
OUR NAME CHANGED to www.wsmprod.com in February 2017
NOW IN OUR 39TH YEAR OF CONTINUOUS WAM PRODUCTION
As the Coronavirus continues to threaten we can only hope that all our readers and Members remain safe and well.
But with staying at home more, everyone needs a hobby, so guess what we suggest?
WSM have 501 image sets in their Subscription site PLUS 325 Movies.
And do not forget our many Downloads covering Wet, Slapstick, Muddy and XXX.
WHAT DO WE HAVE THIS WEEK?
Dee is the muddy English lady enjoying the black, silty, peaty oily mud in 17 min movie WSM229 plus 214 images in set M229a.
After spending two years as a Download movie, this movie and image set are now released to the Subscription site.
We continue a tribute feature to 12 models in our updates from 2009 to 2015.
These may be considered old material, but to WSM they are true gold!
All movies and images this week excepting XXX are available on our Subscription site.
We exclude our very regular contributors Custard Couple (CC) and Dee from our Tribute list.
So who features in this 12th Tribute?  Previously published on 18th July 2015 (but not with enhanced images), we have one of our most dedicated ladies.
Delightfully different and stylish we have Asian lady JADE.
Did you know you can page back weekly to see the original posting of Jade on 18th July 2015?  All you need do is go to the bottom of the page under 'What's New' on our Home Page at wsmprod.com and keep clicking the Older posts to get back to where you wish!
Our first weekly update is dated 2nd May 2015, so we now have over 5 years of Weekly Updates all there under 'What's New!'  And you can see the overwhelming majority of our movie Clips plus sample image shots!  Well worth a look!
Memberships of our Website extending for up to 6 months are available.
We now have 325 Movies plus 501 Image sets for instant access.
Some bargain that!
CLICK HERE TO TAKE A SUBSCRIPTION TO THE WEBSITE
SEE ALSO OUR DOWNLOADS - ONLINE STORE (no membership required)
Click on movie and page down for full description and sample images, for
50 VINTAGE FILM DOWNLOADS
PLUS 110 New 'WSM Movies & Images' with 3/4ths available on the Subscription site.
PLUS 16 Movies with Images transferred from the Subscription Website and now also available as Downloads
and XXX section with 78 MOVIES with Images, only available as Downloads.
CLICK HERE TO GO TO THE WSM DOWNLOAD SECTION
We also have a UMD STORE and transfer MOVIES and IMAGES regularly
CLICK HERE TO GO TO THE UMD STORE
SUBSCRIPTION WEBSITE/also a download
MUDDY FUN
This is the 85th movie to be re-posted from the DOWNLOAD site to our SUBSCRIPTION site.
It has taken two years, but now you can now see this movie at no extra cost, if you are a member of our Subscription site.
The hazards of filming!
It was a fine calm sunny day when we set off to our location 30 miles away.
But when we arrived it was blustery and wild, but the sun still shone.
With the conditions, this was not a remarkable piece of filming, but what was remarkable was the knock-out performance from Dee!
So if you are thinking of some prissy, pat-a-pat mud play…….then forget it!
This is sustained mud play requiring a high degree of fitness ability!
It is breath-taking, bewildering, full-on athleticism in the silty, peaty, oily, black mud!
Really the question is……will this ever be bettered???
Wow!  Now that is some claim, but this is some movie as you will not believe what you are seeing!
Add in the fact that it is shot twice……once for video and then for 35mm still shots, and the sheer physical and body demands are extraordinary!
So if you are into wet and muddy women, then do not miss this movie!
REVIEW OF MOVIE WSM229
A  HD Movie plus Image set
'Dee is the Muddy English lady'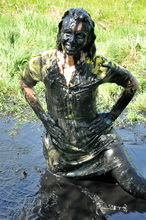 Run-time 16 mins 58 secs
2 HD Streams plus 2 HD Sample Clips
Stream 1 runs 10 mins 06 secs
Dee commences by showing off her outfit as the wind noise becomes apparent.
She asks, "Do I look like a nice English lady……nice and elegant?
Well, soon I am going to become a nice muddy lady!"
She tests the depth of the muddy stream before falling accidentally as she exits.
The action hots up when Dee asks, "Are you ready for this?"
And then she falls face first into the muddy stream.
This is followed by a more pronounced dive as she takes a further muddy facial.
Flinging her hair back, we see her very muddy face and hair.
At 4 mins-40 secs in a most unusual action clip, Dee rolls on her back into the muddy stream with outstretched legs – a quite remarkable shot – see sample pic 2.
She is now very muddy indeed, yet we are not yet 5 minutes into the movie!
At 5-05 she takes another forward dive, then has a roll and splash about.
She continues to coat with mud any body parts that have been missed.
Dee lies on her stomach and flounders in the mud.
She crawls out onto the bank then does a backward flip into the muddy water in amazing athleticism.
At 6-00 she walks onto the bank, then jumps into the stream to splash about some more.
At 6-30 Dee exits the muddy stream once more and poses, showing us her wet and muddy stockings and undies, before jumping back in– see Clip 1.

At 6-46 she slides from the bank into the muddy water for some muddy water kicking.
Once more exiting the stream, Dee takes a further full facial dive into the muddy stream.
She lies back in the stream kicking her leg high.
Dee crawls out a blackened woman and rolls on the bank.
Then she rolls herself back into the water.
At 9-15 she exits and sits on the bank saying, "Look how I glisten" (which she does in the sunshine).
She stands and poses showing off her wet muddied outfit.
Then Dee runs back and forth across the stream.
She sits for some more splashy leg play and rolls onto her stomach on the bank to end this exhilarating 1st Stream.
Stream 2 runs 6 mins 52 secs
Dee removes her dress……but not without a struggle!
She is just wearing a camisole and stockings.
She sits on the edge of the muddy stream covering herself with the muddied water.
She stands to continue her muddying job, then crawls out to the bank to pose for us.
Dee crawls back in the stream continuing to muddy herself.
She rolls around the bank partly in the water, then, more posing on the bank – see CLIP 2.

At 3-10 Dee removes the camisole, once again after a struggle.
Then nude, she lies on her stomach into the stream to take another facial dunk.
She kneels then stands so we can see the result.
Then at 3-50 Dee surprises us by bravely diving full length into the muddy stream, standing to display the muddied result.  The coldness of the water should be apparent.
She lies on the bank then rolls into the water before exiting to sit and cavort on a somewhat muddied grassy bank.
Once again, Dee jumps onto the stream.
She crawls and rolls around the waters edge.
Finally, Dee teases us by lying at different points on the bank for some muddy shots plus explicit poses.
We end with sun-kissed shots of a very adventurous lady who has delighted us with her wet and muddy  play.
It was a bit of a shock when I assessed the image shots!
For a start, only half of this set had been captured!
There were some problems with some images, so they were re-examined and improved as required.
Currently we show 214 enhanced (full screen) 35mm images of this shoot in set M229a.
But this is only the 1st part of this image set as a further 340 shots await check-over and enhancement.
As you may gather it took quite a time to shoot this set in far from ideal conditions for any model.
See if the mud coated Dee appeals to you as we show 5 sample shots.

DOWNLOAD PRICE
£8-10  GBP
$10-90 USD
Euro 9-30
To Purchase go to https://wsmprod.com then Downloads – Online Store, then the 'WSM Movies and Images' section and find "Dee is the Muddy English lady," movie WSM229.
BUT
If you are a member of the WSM website, movie WSM229 & image set M220a
are there now.
But this is only one movie and one image set from our Subscription section which has 325 Movies and 501 Image sets………. all available just for the price of a subscription!
How much?
Astounding Value!
CLICK HERE TO VIEW SUBSCRIPTION COSTS
TRIBUTE SECTION
WSM are paying tribute to 12 models who featured in our updates from 2009 to 2015.
Last week we featured Kimyl, now we have one of our most dedicated ladies who was delightfully different and stylish, we feature Asian lady JADE.
Note that every movie and image set in this tribute is available on our Subscription site (except for the one XXX movie and XXX images).
 TRIBUTE TO Model JADE
Asian lady Jade has a long pedigree.
Her first shoot was in June 2004 and on 30th June 2015 she completed her final shoot in a river.
Some girls enjoy their unusual WSM work.
Nothing phases them be it wet, messy or mud.
There is no doubt that Jade was one of our best WSM girls.
We show samples of her work.
1. WETLOOK
The essence of a good website is variety.
Outdoor wet shoots are challenging enough in the UK with the weather and people!
So to take on a shoot high in the hills on a moor (open uncultivated upland), borders on the extreme (or is that the insane)!
But one model not to be fazed is Chinese lady Jade.
She treats it as any other Wetlook set and just does it!
We ended up with 242 enhanced pics, but WSM does not put a motordrive on the camera.
Every shot is different and the poor shots are dumped!
So it takes a couple of days to prepare an image set (believe it or not).
So not only effort from the model, but effort from the photographer!
These shots are somewhat different as we strive to incorporate the expansiveness of the moors and the outlook of the lake.
But seeing is believing, so here are 5 sample shots from image set W259.
This is WETLOOK with a difference.
The location of Movie WSM090 is a Moorland Lake high up in the hills, with Chinese lady Jade.
Outdoor filming is always difficult and challenging, but this is something else!
Movie WSM090 runs over 31 minutes.
We have JADE dressed in a short sleeved black top, black leggings, black knickers and black ankle boots in a Lake high up in the hills.
It was not the best of weather being cool with no direct sun, but Jade is a true WSM girl and really loves getting wet or messy.
This is entertaining as Jade describes it as 'An adventure pond for her to play about!'
And play about she does!
We have live sound with at times an eerie quietness with only the occasional bird chirping.
This is a very natural but unusual setting seldom seen in wet sets!
Jade is a great wet woman and there are some super wet clothed shots.
Jade becomes ever more adventurous with face and head dunkings.
Eventually she strips to nude to round off what is a memorable and unusual Movie.
Here are 3 Clips from movie WSM090.
2. SLAPSTICK
I think Jade is best described as a chatty tease!
Image set S263 with 143 enhanced shots gives us some unforgettable pics.
This is what you dream of as Jade relishes :
Provocative dress
Teasing play
Total acceptance that she will get fully messy
Fabulous liquid, runny milk chocolate shots
A gradual striptease
But then a reluctance for the messy chocolate fun to end
Raunchy flaunting of her tasty chocolate body parts
Wow!  This is so good!
Check out our 5 sample shots below from set S263 as one picture is worth a thousand words!

Chinese lady JADE enjoys the Chocolate Spread in Movie WSM069 which runs 41 mins.
Now put Jade in front of the camera and she is a total WSM girl who loves to get wet or messy.
Jade has become one of the chattiest girls of our troupe and just loves to speak direct to the camera, mainly to tease you!
Jade starts off wearing a pink and white mini dress.
She considers this a cheerleaders outfit!
Unusually for us working indoors, she does wear black heels with a double ankle strap.
She also wears white above knee socks plus white thong briefs.
She starts with the chocolate spread on her stockings, then shoes.
The warmed up chocolate is quite runny and Jade enjoys pouring it into her knickers!
She rolls in the chocolate on the floor and we have some great chocolate leg shots.
By the end of Stream 2 Jade is very chocolaty.
Stream 3 commences as she pours chocolate over her hair and just revels in the messiness!
Then her dress is off and she rolls around and caresses the chocolate over her body.
Things get more tasty when she removes her knickers to show her chocolate pussy!
We then have a final 4th Stream fully nude with pleasing chocolate play and plenty of body caressing!
Jade lies back and gives us some revealing pussy and bum shots.
Phew!
Now this is true Chocolate Spread and the ending illustrates this!
Yes, you can almost taste the Milk Chocolate watching this.
The last 14 minutes are nude.
Check out the 4 Movie Clips of WSM069 here:
3.  MUDDY FUN
On a fabulous summer day, we were in South Wales and Jade wanted some mud fun!
Jade was dressed in:
A white shirt
Black waist cinching belt
White thong, white suspender belt and white stockings
White ankle boots
Jade starts with some posing shots on the lake bank among the wild grass.
She paddles in the muddy bank of the lake.
This is very dark and thick mud.
Jade enjoys her muddy play as the pics show, gradually becoming messier.
It is not long before the tidal water arrives, but Jade continues with her muddy play.
She gets her hair and face muddy.
Jade loves the mud and it shows in her happy pictures.
With her shirt off her body is soon muddy.
Eventually leaving the lake, a very mud-caked Jade poses for us on the grassy bank.
She ends with some very revealing shots as the mud covered Jade shows what an uninhibited model she is!
Jade provides another superb performance.
See if you agree as we show you 5 sample shots from the 234 enhanced pics of her shoot.
I thought that movie WSM108 was not going to happen!
Having checked out the South West Wales location the previous day, the tide had well covered the proposed shoot area when we arrived.
But I spotted a new location and after a climb over fences and a trudge through the wild grass, we were there!
Next, was to beat the still advancing tide!
No wonder I was out of breath with all the frantic effort to get a shoot under way.
So apologies for microphone noise plus a very blustery wind.
But maybe I am getting too old for this now!
I do not know why I am so surprised, as it is all in a day's filming!
Jade is her usual very talkative self.
At first the muddy area is free from water.
Jade says she is 'just getting messy'.
She describes the area as 'a mud pot'!
Jade then starts a slow daubing process.
By the 2nd download stream, the pool is now overwhelmed by water.
But Jade presses on.
She soaks in it and plays in the black muddy water.
She asks the question 'Do I look black now?'
Jade becomes a wet, dirty, black muddy girl.
She says after covering herself 'in black Welsh mud, her name is 'Black Jade!'
We show you 2 Clips from the 25 minute movie WSM108.
4. SLAPSTICK EROTIC FUN
Have you seen our Outdoor Mayonnaise sploshing set between JADE and her partner Steven?
If not, you are in for a real treat.
 
Movie WSM002 details the slapstick encounter with mayonnaise between Steven and his wife Jade.
In a garden setting, the long legged Asian Jade provokes us with her bullet nipples and svelte bum! This is horny material!
Steven sneaks up and deposits a small pail of mayonnaise (mayo) on her head, much to Jade's surprise!
He slops a 2nd pail of mayo over her head and face, rubbing it in!
He tells her it is due to "All the trouble she caused him all week with all that stuff in the garage!"
He is getting his own back by totally slopping her up in mayo!
As Jade says: "Drowning in Mayo – a once in a lifetime opportunity!"
This is ultimate messy partner play!
For the 3rd pail of mayo, Steven lashes it at Jade in an amazing scene!
In the 2nd Stream, Steven massages Jade's pussy with the mayo.
Then he concentrates on her legs and feet.
Jade is fully mayo coated!
He gives her another face sploshing!
"Do I look a slimy girl" asks Jade?
You bet she does, but this does not stop Steven asking her if she is ready for some more.
Of course Jade is! Steven returns with more mayo, gets Jade to stand up and sloshes the mayo over her bum, shoulders, head and back!
Jade is impressed with the Splat/Splosh sound as Steven slaps the mayo on her.
As she bends over, Steven slaps the mayo into her bum (twice).
In Stream 3, Jade tells Steven that he has made her nice and messy.
Steven asks her if he has missed a spot and Jade teasingly tells him he has missed her pussy!
Jade removes her dress and her knickers.
Steven gives her a full body covering with the mayo.
He continues to slop mayo over her, including her face, until Jade says she is a "mayonnaise girl!"
For the final minute, it is Jade's turn as she sploshes Steven with the mayo, throwing it with vigour!
We show you 4 Clips showing just what a horny movie WSM002 is!

But does it end there??
The action continues to XXX with a further 13 minute movie XXX003 plus an additional image set S100XXX with 22 enhanced shots setting the scene, then 41 enhanced XXX shots (see below).
We feature JADE in image set S100 with 81 Enhanced (full screen) Images.
And being set S100 it is rather special!
You want some ultimate messy play?
The way the Mayonnaise is sploshed defies the imagination!
We show you 5 sample Images below from image set S100.
5. MORE SLAPSTICK……BUT THIS IS XXX
DOWNLOAD ONLY
XXX SLAPSTICK
We have already detailed the very messy Slapstick fun between husband and wife Steven and Jade in movie WSM002 above.
Now we have the XXX continuation.
Movie XXX003
Mayonnaise Fun
Run-time 13 mins 08 secs
WMV  Sample Clip – not explicit
Whoever has attempted a XXX shoot with mayonnaise?
Jade and Steven commenced their work with WSM in June 2004 with this shoot.
This movie XXX003 covers the XXX scenes only.
We commence with Jade covered in mayonnaise.
Jade sets about Steven and very much enjoys messing him up!
She tells him to take his pants off and continues to coat his body and cock with mayonnaise.
Then Jade gives Steven's mayonnaise coated cock a good long suck!
Steven makes her put more mayonnaise on his dick and Jade sucks his mayonnaised cock with great fervour!
This is very unique material as Jade and Steven continue with sex fun after their mayo sploshing.
Steven is really enjoying himself as he holds Jade's head and face fucks her.
Next, it is 69 and we get some really good shots of Jade.
Then Jade sits on the cock with some vigorous thrusting shots from Steven.
He sits on a chair and Jade sits on his cock.
Jade is very well serviced, so much so that she has an orgasm!
Next, Jade places her hands on the chair, bends over, and is taken from behind.
Jade urges him to 'come on, fuck it!'
It is all too much for Steven who climaxes.
Jade tries to urge Steven further with a quick hand job.
We end with a squatting Jade performing more cock sucking, before she sits in the chair to take a final face fuck.
Phew!  This would be some performance under normal conditions, but covered in mayonnaise adds a whole new dimension.
Ultimate messy pleasure with both partners trying so hard to please!
What more can you ask?
MOVIE XXX003  has a single Stream running 13 mins 08 secs and is all XXX.
IMAGE SET S100XXX has 22 introductory enhanced shots setting the scene, then 41 enhanced XXX shots, making a total of 63 shots.
DOWNLOAD  PRICE
£6-20 GBP
$9-30 USD
Euro 8-10
HD Movie XXX003 as a XXX movie is only available as a 13 minute Download.
To purchase and download HD movie XXX003 plus the images, go to https://wsmprod.com, then Downloads – Online Store, then 'XXX Section,' where it is listed at the bottom of the page as 'Jade is Sploshed with Mayonnaise"
Except for the XXX movie & XXX images all of Jade's Tribute movies and Image sets as detailed above are available on our Subscription site.
There are now 501 image sets on the Subscription site plus 325 Movies!
How much does a Subscription cost?  You are in for a surprise!
CLICK HERE TO VIEW SUBSCRIPTION COSTS
We continue to take SUBSCRIPTION payments in £ Sterling, US dollars and Euros, for membership of the WSM Website.
The Subscription site does not include access to new movie/images Downloads in the Online Store, which we have added during the previous two years, or any XXX movies.
Movies and Image sets added to the WSM Online Store under 'WSM Movies & Images' are added also to the Subscription site, 2 years after being posted as a Download. 
Look at the JOIN NOW page to see our great value for 30 day, 3 month and 6 monthly Subscriptions as for a Subscription you can access:
325 Movies averaging 30 minutes each, including 18 Messy Wrestling Movies and 98 Custard Couple Movies, (which include 29 joint productions with WSM),
15 vintage movies and 194 normal WSM movies (excluding 29 duplicated joint production movies with Custard Couple).
PLUS 54,916 Images in 501 sets (being 177 W + 233 S + 91 M).
But if you want to see all these Movies and Image sets, then you need to take a Subscription to become a Member.
Click here to see the amazing value Join costs!
COMMENT
The UK lock-down to guard against the Coronavirus is starting to ease.
We are beginning to see some light at the end of this dark tunnel.
The lock-down easing will roll out gradually.
But our governments are being less than frank with us all.
Until there is a proven vaccine all citizens will be at RISK.
Every person must determine how risk averse they are.
But the necessity to earn a living will prevail with most.
If you are worried then how about me?
Statistics show that 81.5% of deaths due to Covid 19 to the end of April were with the over 70's!
Oops!  I had better take care!
FUTURE PROGRAMME
ADVANCE NOTICE OF NEW DOWNLOAD STORE AND SUBSCRIPTION ADDITIONS
5th June This week we pay tribute to Custard Couple (CC) after 9 years of association.
  So we will have W, S and M plus XXX as only CC can do it!
12th June Another new movie as Honour May takes a fully clothed bathe in the river in movie WSM237 plus image set W397.
Quite a coup for WSM as where else have you seen Honour May in a wet outdoor river scene?
19th June It is time we re-visited another Custard Couple XXX movie.
We review again 23 min movie XXX017, as Mrs. CC is messed and fucked in the woods!  Image set S319XXX now has 88 enhanced shots.
26th June You saw the proposal on 15th May weekly update.  Here is the wedding as Axa and Gary Gunge (alias Mr. Nasty) tie the knot with a sploshy feast!
 50 minute movie WSM234 is followed by 319 enhanced images.
 And is there some XXX to round off the action?  Yes there is!
3rd July Movie CC127 'Muddy lost dog' running 23 minutes is added to the Subscription site after 2 years as a Download. Mrs. CC chases after her dog into a muddy pond area.  Plus 137 enhanced pics in image set M237.
10th July Another addition to the Subscription site as 20 minute HD movie WSM200 has Dee taking to the river in a green floral dress with black thong, suspender belt, stockings and studded heels.
 Plus 196 enhanced shots of 35mm pics in set W356.
 Another Anniversary Tribute…… as can you believe it is now 7 years since we lost Mr. Splosh…….Bill Shipton?