WHAT'S NEW as at
22nd
March
201
9
OUR NAME CHANGED to www.wsmprod.com in February 2017
Sadly our film editor made a hash of HD movie WSM235 which only runs 12 minutes, as he somehow deleted the 2nd part of this movie. So this reduced movie was posted direct to the WSM Subscription site. The good news is that we do have the complete image set as Honour May is syruped with 182 sugar sweet full screen images in set S431.
We feature 2 wet in the cattle bowl image sets from August 2005.
Sadly no movie with wet image set W198, but there are 55 memorable pics of Raven wet in the cattle bowl.
      Also in this Update:
The Top 10 countdown of the best selling movies from our UMD Store continues, as movie number 4 is revealed as another 2 person Slapstick movie and the 1st XXX movie to date.
For Wetlook, we did say we have 2 cattle bowl scenes (shot consecutively).
So how about a totally unseen image set W199 with 73 pics shot August 2005 featuring Sapphire in the cattle bowl on a very chilly summer's day!
Sorry there is no movie, but this brand new wet image set is added to our Subscription site.
We take Subscriptions to our Website – Memberships extending for up to 6 months are available. We now have 296 Movies plus 470 Image sets for instant access.
CLICK HERE TO TAKE A SUBSCRIPTION TO THE WEBSITE
SEE ALSO THE WSM ONLINE STORE  (no membership required)
Click on movie and page down for full description and sample images, for
50 VINTAGE FILM DOWNLOADS
PLUS 95 New 'WSM Movies & Images' with 54 also available on the Subscription site.
PLUS 16 Movies with Images transferred from the Subscription Website and now also available as Downloads
and XXX section with 74 MOVIES with Images, only available as Downloads.
CLICK HERE TO GO TO THE WSM 'DOWNLOADS – ONLINE STORE'
We also have a UMD STORE and transfer MOVIES and IMAGES regularly
CLICK HERE TO GO TO THE UMD STORE
SUBSCRIPTION WEBSITE
SLAPSTICK
An early set from Honour May as she learned the excitement of sploshing!
REVIEW OF MOVIE WSM235
A HD Movie plus Image set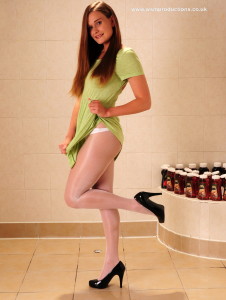 'Honour May is Syruped'
Run-time 12 mins 24 sec
2 Sample Clips in HD and 2 Streams in HD available in WMV or MP4
What a shame!
Now and again things go wrong and somehow our film editor managed to erase the 2nd part of this movie!
So instead of being added as a new Download, this movie went directly to the SUBSCRIPTION site.
And if you are a member………then it costs nothing further to view it plus the 182 Enhanced images.
Stream 1
The movie commences as Honour May describes her outfit.
She looks fab in her lime green open back summer dress, white shiny crotchless tights, white knickers and black heels.  Her lovely long hair sets off the outfit.
Honour is syruped.
Although there are 3 flavours with Strawberry and Chocolate, we only get to see the golden syrup.
Wow!  It really is sticky and we believe her when she says it smells divine.
She starts by covering her arms and the sides of her dress.
'I love the feeling of the syrup on my skin,' she says.
Honour chats to us continually through this movie.
Soon she says that her beautiful dress is covered……and she smells like a cake! – see CLIP 1

The syrup is poured over the top of her tights, and like a river of syrup down her legs and into her shoes.
Stream 2
'We need to get these tights completely covered',  says Honour.
Soon they are very shiny and she can feel the syrup soaking through the tights.
She says 'I look really tanned…..so sticky and sweet!'
Honour completes her legs then moves to her shoulders and bust.
She works on the dress but it is so slippy and slidy.
Honour kneels on the floor with her back to us and pours the golden syrup down her back.
It seeps through the dress and sounds all crinkly and slurpy causing her to say: 'You can hear how sticky I am!'
Soon she says' I think it is time my hair got a bit more messy!'
She pours the golden syrup over her head so her hair gets well glossed up and….sticky!
There is only one further bottle of golden syrup left.
Over her head it goes, then back and front.
'Look at me, I'm so shiny', she says.  See what she means when you view CLIP 2.
She lifts her dress to show her white knickers, which are now almost bright yellow!
With her skirt lifted, she strokes her bum……..then she is gone!
We are just warming up and the movie finishes!
How tragic is that?
But we do have IMAGE SET S431 with 182 Enhanced (full screen) shots.
Half of shots show what occurred in the movie.
We continue with some terrific shots of the golden Honour, commencing with leg shots, lying on the floor shots, knicker shots……..everthing enveloped in the golden syrup.
Next, standing Honour pours strawberry syrup all over herself.
We have some remarkable tongue shots!
Then her dress is off and clad in the crotchless tights still with knickers and heels, Honour continues the messy play with the emphasis on her boobs.
Her tights are removed, then her knickers.
We get some stunning nude shots of syrup covered Honour.
There is a final play with the chocolate syrup with a great range of full screen shots.
Yes, quite a wonderful image set but oh so sad about that missing half a movie!
We show you 5 sample shots from set S431.
Due to the reduced run-time, this movie and image set are only available on the Subscription site.
So on the https://wsmprod.com website, movie WSM235 and image set S431 are available if you are a member of the Subscription site.
But this is only one movie and one image set from our Subscription section which has 296 Movies and 470 Image sets all available just for the price of a subscription!
How much does it cost?
CLICK HERE TO VIEW SUBSCRIPTION COSTS
SUBSCRIPTION WEBSITE
WETLOOK
Now and again the girl says yes!
No, no – not what you are thinking!
But the weather was bad, the water very, very cold, so to video it would be unfair and the result not very pretty!
But a quick romp in the cattle bowl on the farm in August 2005 and the result was 55 publishable enhanced Images of RAVEN in Image set W198.
Was it worth it?
Despite her obvious reluctance to get very wet and very cold, Raven took the plunge!
RAVEN was magnificent and the resultant shots glow with her satisfaction!
We show two images from set W198 to show how good she was! 
Image set W198 is available to our Subscription members along with 296 movies and 470 image sets.  What a bargain!
CLICK HERE TO VIEW SUBSCRIPTION COSTS
UMD STORE – Number 4 in top 10 countdown
SLAPSTICK  XXX DOWNLOAD
Here we have a classic messy Hairdresser sketch!
We use this opportunity to review again the combined normal movie WSM111 and the XXX material which became movie XXX008. Professor Treacle in 'The Hairdresser' gives a hugely entertaining performance with the delightful Tiffany in this 25 minute gem of a movie.
SD Movie plus Image set
The Hairdresser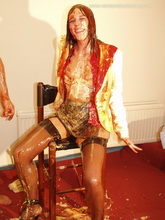 XXX008
Run-time 25 mins 34 secs
WMV   2 Sample Clips – not explicit
Shot in July 2004 this is a great attempt to fuse together messy fun with XXX.
This movie has 3 parts:
1.  Stream 1 running 8 mins 54 secs is the normal WSM movie WSM111 available to Subscription site members.
2.  Stream 2 is crammed with XXX messy play – run-time 16 mins 40 secs
3.  The final minute of Stream 2 is a spoofy advert – quite hilarious!
The 'normal' movie ends with Tiffany asking Professor Treacle 'Does this firming lotion work on guys as well?'
With such a good looker as Tiffany, in no time the Prof's cock is hard.
There is a prolonged 3 minute cock sucking scene which started with the Prof pouring custard over his cock and Tiffany's sweet face.
Tiffany complains her knickers are damp and wet and invites the Prof to investigate.
Fingering her up, the Prof confirms her wetness, then he demonstrates how they would feel filled with:
Syrup
Custard
Red tint
He proceeds to check the effects of the firming lotion on Tiffany's bum.
Then he does her legs with his 'treatments' as she ends up with very glossy stockings.
Tiffany tries out a new treatment of eggs – which ends with a funny joke!
Then another cock sucking session as Tiffany decides his cock could use more firming lotion.
As it is so effective the Prof invites Tiffany to settle her bill a different way!
Soon she is taking the cock doggie style as the Prof gives this very messy woman a good seeing to, as Tiffany is the type of submissive woman you all dream about!
The Prof then enjoys tit play and massages her.
Tiffany asks how she gets her hair back to the normal brunette colour?
The Prof tips chocolate milkshake over her head!
He asks when she would like to come again.
Raunchy Tiffany misunderstands the question and invites the Prof to ravage her again!
The final minute is a WSM spoofy advert.
It is very amusing!
MOVIE XXX008 has 2 Streams running 25 mins 34 secs.
IMAGE SET S097XXX has 58 enhanced images of which 6 may be considered XXX
Plus we show 4 sample shots.  (But do not be misled.  Of the 58 images only 2 are video grabs while the remainder are 35 mm.)

PRICE
£7-00 GBP
$10-00 USD
Euro 8.60
To purchase Download movie XXX008 plus images go to the https://wsmprod.com website, then Downloads – Online Store, then 'XXX Section' where it is listed as 'The Hairdresser'.
OR
This movie may be purchased from the UMD Online Store at a cost of $10-00 USD
SUBSCRIPTION WEBSITE
SLAPSTICK
We feature Movie WSM 111 shot in 2004 which at 9 minutes 04 seconds is one of our shortest movies.
But as it is Professor Treacle giving a Masterclass, then this is a must see!
Wow!  This is so seriously good!
How do you shoot an incredible scenario which is so OTT you will laugh your head off?
But the Prof and TIFFANY remain in full control of the diction and acting with never a smile in sight!
Watch Tiffany receive 5 'special treatments' for her hair.
People are going to watch this for many years……to see how it should be done.
Yet another amazing WSM experience!
So check out the sample 15 second Clip below.
To support the above Movie WSM111, there are now 53 enhanced Images in set S097.
Mouth watering or what?
See what you think of these 4 sample shots.
Movie WSM111 and image set S097 are available to our Subscription members along with 296 movies and 470 image sets.  What a bargain!
CLICK HERE TO VIEW SUBSCRIPTION COSTS
SUBSCRIPTION WEBSITE
WETLOOK
This is a brand new image set.
In image set W198 above Raven went into the cattle bowl first.
Weather conditions were worsening.
This is why we only shot images rather than video and images.
So both sets were shot in less than one hour to escape the wind and rain.
Conditions were cold, cloudy and breezy, a typical north England summer day!
These shots represent the cold raw reality complete with cloudy backdrop.
Our 2nd girl into the very cold cattle bowl was Sapphire.
Does the cold water affect her?
Yes it does but she shows great determination!
Have you seen Sapphire before?
She features in our Messy Wrestling download bouts in Messy Wrestling movies 01, 04 and 05.
Sapphire had no model experience and just got on with the wet shoot as her action shots show.
But be warned, she wears no knickers and some shots throughout are rather raunchy!
We show you 5 sample shots from image set W199 which has 73 enhanced shots.
Image set W199 is available to our Subscription members along with 296 movies and 470 image sets.  What a bargain!
CLICK HERE TO VIEW SUBSCRIPTION COSTS
We continue to take SUBSCRIPTION payments in £ Sterling, US dollars and Euros, for membership of the WSM Website.
The Subscription site does not include access to NEW movie/images Downloads in the Online Store, which we have added during the last two years, or any XXX movies.
Since April 2017, Movies and Image sets added to the WSM Online Store under 'WSM Movies & Images' are added also to the Subscription site, 2 years after being posted as a Download. Our 1st addition was originally posted as a Download on 18th April 2015.  
Look at the JOIN NOW page to see our great value for 30 day, 3 month and 6 monthly Subscriptions as for a Subscription you can access:
296 Movies averaging 30 minutes each, including 18 Messy Wrestling Movies and 84 Custard Couple Movies, (which include 28 joint productions with WSM),
15 vintage movies and 179 normal WSM movies (excluding 28 duplicated joint production movies with Custard Couple).
PLUS 50,288 Images in 470 sets (being 166 W + 220 S + 84 M).
But if you want to see all these Movies and Image sets, then you need to take a Subscription to become a Member.
Click here to see the amazing value Join costs!
COMMENT
Prices on HD movies were due to be increased from 1

st

October 2018.
But we have decided to await the outcome of the Brexit negotiations before amending our HD movie prices.
WSM will be changing the format on new movies during 2019.
Why?
Because MAC computers are no longer supporting WMV (Windows Media Video) files.
Yes, you can still play WMV files on a MAC, but unless already created on the MAC, they would need 3rd party software to play.
So WSM are switching to MP4 which has a universal application and will offer a HD quality plus a lower resolution (which will be compressed into a smaller file which can store video, audio, image data and text.)
On 8

th

February we revealed our History Shot of 2018 year.
We chose one image from 2018 year from our published new movies.
On our Home Page at www.wsmprod.com if you look at the top of that page there is 'History'.  Open that tab to see 34 clickable images covering the chosen pics for the years 1978 to 2018.  All these images have had a makeover and been repolished.
They are well worth a look and show WSM Productions over the years!
There are 12 Wet, 15 Slapstick and 7 Muddy
And you can also discover which shot was selected as the History Shot of 2018 year.
FUTURE PROGRAMME
ADVANCE NOTICE OF NEW DOWNLOAD STORE AND SUBSCRIPTION ADDITIONS
 29th March       Not one but two Mud Slut movies & images from Mrs. Custard Couple. Mud Slut 8 is a 9 minute movie CC103 titled 'Mud Orgasm', while Mud Slut 9 features Mrs. CC as a muddy schoolgirl in 12 min movie CC86.
 This week we reach the number 3 movie from our UMD Store Top 10.
 We see busty Sarah Louise in two hot tubs in this unseen image set W193.
5th April An astounding introduction to Slapstick as Thai lady Mai is sploshed by the Phantom in 30 minute movie WSM225.  Add in 186 enhanced images in set S421 and extra spice is added to this shoot!
 Almost there as we reach the number 2 movie in our UMD Store top ten countdown.
 12th April   Mrs. CC is the good fairy who becomes naughty for a day to become the Messy Fairy.  See her outdoor play in movie CC119 running 21 mins plus image set S429 with 80 enhanced images.
 The big day has arrived when we reveal the top selling movie since our UMD Store commenced in July 2015.
19th April   Now this is special!
 Movie WSM249 features busty Ava in 'Mr. Nasty meets the Dominatrix!'
 But who comes off worse?
 Plus image set S455, shot on 35mm, contains 283 enhanced images.
 The 2nd Custard Couple (CC) Subscription site Classic is revealed.
26th April   A brand new 21 minute movie WSM209 as you see Dee as not seen before!
 She has changed and so decides on some goalkeeper fitness practice…….. but in the muddiest conditions imaginable!  Plus large image set M226.
3rd May Dee is the wet jogger 9In 2 outfits) in 23 min. Movie WSM176 plus image set W342 with 70 shots.