WHAT'S NEW as at
16
th
August
201
9
OUR NAME CHANGED to www.wsmprod.com in February 2017
NOW IN OUR 38TH YEAR OF CONTINUOUS WAM PRODUCTION
WHAT DO WE HAVE THIS WEEK?
In Slapstick HD movie WSM214 which runs 21 mins, mature lady Dee tests another chocolate spread product, with the last third of the movie devoted to black treacle!  In addition there are 185 enhanced (full screen) shots in image set S404.
Published in Sept 2013 we look again at the first shoot in what has blossomed into a magnificent series.  Mrs. Custard Couple (CC) features as 'The Mud Slut' in movie Mud Slut 1.  We have reworked the images and now have 106 enhanced images in set M197.
This week we depart from our normal WSM format to add a special tribute to busty model Jenny who is always in our mind at this time of year.
The Phantom sploshes big busted Jenny in Food 9 (in our series of Food shoots).
Movie WSM124 runs 20 mins with image set S292 now enhanced to full screen.
We take Subscriptions to our Website – Memberships extending for up to 6 months are available. We now have 308 Movies plus 484 Image sets for instant access.
Stop!  If you purchase Downloads and Subscriptions in US dollars or Euros, then switch now and pay in £ Sterling for great currency savings!
For best savings go long on a Subscription i.e. 3 or 6 months!
Fantastic value!
CLICK HERE TO TAKE A SUBSCRIPTION TO THE WEBSITE
SEE ALSO OUR DOWNLOADS - ONLINE STORE  (no membership required)
Click on movie and page down for full description and sample images, for
50 VINTAGE FILM DOWNLOADS
PLUS 100 New 'WSM Movies & Images' with 2/3rd available on the Subscription site too.
PLUS 16 Movies with Images transferred from the Subscription Website and now also available as Downloads
and XXX section with 77 MOVIES with Images, only available as Downloads.
CLICK HERE TO GO TO THE WSM 'DOWNLOADS – ONLINE STORE'
We also have a UMD STORE and transfer MOVIES and IMAGES regularly
CLICK HERE TO GO TO THE UMD STORE
SUBSCRIPTION WEBSITE/also a download
SLAPSTICK
In HD movie WSM214, mature lady Dee has messy fun with a new chocolate spread 'Nut Crazy', before getting very black with genuine black treacle!
This is the 70th movie to be re-posted from the DOWNLOAD site to our SUBSCRIPTION site.
It has taken two years, but now you can now see this movie at no extra cost, if you are a member of our Subscription site.
REVIEW OF MOVIE WSM214
Movie plus Image set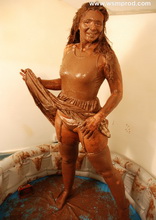 Dee with Chocolate spread and black Treacle
Run-time 21 mins 24 secs
 2 Sample Clips in HD
 2 Streams in HD
Many of you will probably say why are you bothering with this shoot?
Mature lady Dee is not at her best and was having a battle to fight the flab!
But it was the last few weeks of my studio.
So we persevered with several shoots despite the equipment beginning to fail.
Here you see an ordinary mature mum in her mid 40's getting stuck-in to a messy shoot……. just because she likes messy shoots!
This is hope for everyone!
Stream 1 – runs 10 mins 59 secs
Dee talks to the camera about the 'Nut Crazy' chocolate hazelnut spread product.
This is a smooth chocolate which spreads well.
Dee coats her legs then her arms.
She is wearing a white full dress, white suspenders and stockings plus a white thong (which is far too small for her!)
Her white dress starts to get messed.
Dee becomes messier and messier, even putting chocolate on her toes and feet – see CLIP 1.

She is continuously active and does not just lie there.
'I have got to get every bit covered', she says as she continues to spread the chocolate.
After 10 mins she puts chocolate on her face to end this Stream with what looks a chocolate face mask!
Stream 2 – runs 10 mins 25 secs
Dee continues to mess herself up.
She squirms in the chocolaty paddling pool.
Her dress is soon fully chocolate covered.
She lies back in the paddling pool stretching her legs.
After 3 mins, the 2nd product, the genuine black treacle is introduced.
This is poured on her from above.
Soon her legs are fully covered.
Dee lies back to have a steady stream of treacle poured over her arms, bust then her hair and face.
She takes the treacle coating well.
Then she stands up so we can see how treacle coated she is.
After 7 mins her dress is off.
Dee caresses her white bits with the treacle – see CLIP 2.

More treacle is poured over her head and body as Dee turns very black!
She removes her suspenders, stockings and knickers before spreading the black goo over her legs!
Finally, she rolls around the treacly pool before kneeling up to say goodbye.
In addition there are 185 Enhanced Images (Full Screen) of Dee's chocolate and treacle play.
This is a great record of a mature lady who has no right to be there enjoying her messy play.
But as she loves all mess…….it helps us build a full portfolio of shots with Dee at different weights and with different products.
Although the lighting was not conducive, the resulting 35mm shots give you a terrific record.
See if you think so as we show you 5 sample shots from image set S404.
MOVIE WSM214 has 2 HD Streams running 21 mins 24 secs.
IMAGE SET S404 has 185 shots
PRICE
£5-80  GBP
$8-70 USD
Euro 7-50
To Purchase movie WSM214 go to the Downloads – Online Store, then the 'WSM Movies and Images' section and find "Dee with Chocolate spread and black Treacle."
BUT WHY WOULD YOU PURCHASE THIS NORMAL MOVIE?
IF YOU ARE A MEMBER OF THE SUBSCRIPTION SITE, then it is there now!
But this is only one movie and one image set from our Subscription section which has 308 Movies and 484 Image sets all available just for the price of a subscription!
How much?
CLICK HERE TO VIEW SUBSCRIPTION COSTS
SUBSCRIPTION WEBSITE
MUDDY FUN
We see the beginnings of this idea with movie CC19 titled 'Mud Slut' 1.
And the main feature is CONSTANT CHAT from Mrs. CC!
Mrs.CC is dressed in white long sleeve blouse, black satin jeans, white bra and thong.
She complains at the start that her pretty shoes are getting ruined.
She protests about the mud as she struggles to find an exit from a ploughed field.
Mrs.CC behaves like a naughty girl misbehaving (and then having to own up once she gets home) as she gets messier and messier.
There are plenty of splashing and sploshy sounds.
She changes her favourite shoes to nice red shoes.
So Mrs. CC gets somewhat covered in gloopey mud.
Half of the movie is shot in a ploughed field and the remainder in a wooded area.
Why did the scene change?
Because the farmer arrived at the field!
What time did filming commence?
Would you believe 9am!
Now that is dedication!
In the wooded area, Mrs. CC sits/stands on an improvised bridge over a stream.
She discusses her muddiness as she tries to clean herself up.
Removing her muddy jeans, she is down to her dirty bra and knickers and squelchy red shoes.
She unsuccessfully tries to clean her clothes with water from the stream.
But a couple of water containers clean her up.
Then a final twist as Mrs. CC has a quick piss and lets us watch!
And constant throughout is Mrs. CC's chat……. and the birds singing!
We show you 3 Clips from Mrs.CC's 21st published movie ref CC19 running 30 minutes.
We have reworked and upgraded Mrs. CC as Mud Slut 1 in image set M197.
Many are action shots but we could only capture video grabs, so the quality is much inferior to 35mm shots.
The aspect I like best about the 'Mud Slut' series is that they are all outdoor shoots.
Set M197 was shot in June 2012.
See if this 1st set appeals to you as we show 5 sample shots.
a struggle to move in this ploughed field
down and dirty
muddy enjoyment
time to get clean
still too dirty
Movie CC19 & image set M197 are only available on our Subscription site at www.wsmprod.com However, if you are a member or join our Subscription website, then movie CC19 and image set M197 are there……. plus a further 307 movies and 483 image sets!
To find movie CC19, go to Subscription Movies, then Custard Couple, and movie CC19 is currently on page 4.
CLICK HERE TO VIEW SUBSCRIPTION COSTS
A SLAPSTICK MOVIE FROM THE WSM WEBSITE
ALSO OFFERED AS A DOWNLOAD
This week we have a further great Slapstick HD movie transferred from our Subscription Website to make it also available as a Download.
This is classic Slapstick.
Everyone loves our FOOD range of movies and right up there at the top is:
REVIEW OF MOVIE WSM124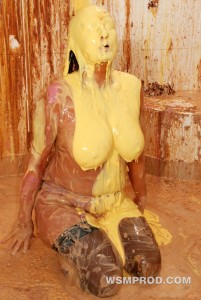 'JENNY sploshed by the Phantom in FOOD 9'
A HD Movie plus Image set
Run-time 20 mins 26 secs
2 Sample HD Clips and 2 HD Streams – Slapstick
This was one of the first HD movies we shot.
Big boobed Jenny just had to star in a Food movie…..and here it is!
Movie WSM124 Food 9 marked a new era when the Phantom was introduced.
You see…..this is ULTIMATE Slapstick!
How many Movies have you sat through to see one or maybe two pies or goo hit our heroine?
Well in this 20 minute Movie WSM124 the Slapstick is non-stop!
And all this in glorious full widescreen HD.
You have never seen anything like this!!
This is the 9th in our range of FOOD Movies and with the live sound hear every splat, whoosh, splosh, laugh, giggle and occasional yell!
We have a new scene change Splat card plus a new Phantom Chucker.
For quick and continual throwing our Phantom Chucker is over-enthusiastic in his work!
So a 30 minute Movie becomes a 20 minute Movie with a relentless Food pelting.
Our big bosomed star JENNY takes it all in good heart.
After 9 minutes her bra is off and those twin mountains are on show to await a pasting.
Jenny laughs and giggles her way through the Movie.
But even Jenny was taken aback by this ceaseless fusillade!
Both Jenny and the Phantom Chucker are in a messy ecstasy!
But she does get it good from Mr. Phantom!
Watch Jenny sit on a large gateau.
Amazing shots with two custard/cream flans rubbed into both sides of Jenny's face and hair.
Then as Jenny invites two custard/cream flans to be rubbed into her tits, our Phantom has other ideas, as the flans go direct into her pretty face and hair again!
Then a large gateau rubbed vigorously into the face and the hair yet again!
Poor Jenny!
Then a torrent of milk shakes.
She ends up half drowned in custard!
But…..she loved it!
And the Phantom Chucker chuckled all the way home!
Great action, with Jenny and the Phantom having oodles of fun plus devastating throwing and loads of mess!
Check our 2 HD Movie Clips below from FOOD 9 Movie WSM124.
See how much energy our Phantom put into his throwing and see Jenny's happy reactions!
Image set S292 shows us some terrific shots from FOOD 9.
We have the big boobed Jenny taking on the Phantom for the 1st time!
This image set has been reworked and upgraded.
There are now a remarkable 155 enhanced pics to record this event.
Unusually, Jenny commences this set in her undies.
She wears matching pale blue bra, knickers & suspenders together with black stockings & black heels.
Only after these shots does she add a sleeveless full length dress plus black arm gloves.
We then witness some good throwing shots as the Phantom gets into his stride.
Jenny lifts her skirt, when seated on the shower plinth, for provocative posing to wind up the Phantom!
Then her dress, gloves and shoes are removed and she is back to her undies.
Jenny's giant boobies are soon released and the Phantom re-adjusts his target!
There are some notable shots of Jenny cream covered!
Then Jenny is washed down with milk shakes.
Further sploshings with flans and cakes follow, before she is almost drowned under custard!
Our 5 sample shots from enhanced set S292, show you how good she was:
1. a fully dressed and clean Jenny
2. the Phantom at work
3. creamy, messy boobies
4. well caked!
5. drowned in custard!
PRICE
£6-40  GBP
$9-60 USD
Euro 8-30
To Purchase go to https://wsmprod.com then Downloads – Online Store, then 'Downloads from Website' section and find movie WSM124 which is listed as:
'JENNY sploshed by the Phantom in FOOD 9'.
BUT
If you are a member of the WSM website, movie WSM124 and image set S292 are available to you.
But this is only one movie and one image set from our Subscription section which has 308 Movies and 484 Image sets all available just for the price of a subscription!
How much?
CLICK HERE TO VIEW SUBSCRIPTION COSTS
We continue to take SUBSCRIPTION payments in £ Sterling, US dollars and Euros, for membership of the WSM Website.
The Subscription site does not include access to new movie/images Downloads in the Online Store, which we have added during the previous two years, or any XXX movies.
Movies and Image sets added to the WSM Online Store under 'WSM Movies & Images' are added also to the Subscription site, 2 years after being posted as a Download. 
Look at the JOIN NOW page to see our great value for 30 day, 3 month and 6 monthly Subscriptions as for a Subscription you can access:
308 Movies averaging 30 minutes each, including 18 Messy Wrestling Movies and 90 Custard Couple Movies, (which include 28 joint productions with WSM),
15 vintage movies and 185 normal WSM movies (excluding 28 duplicated joint production movies with Custard Couple).
PLUS 52,035 Images in 484 sets (being 170 W + 226 S + 88 M).
But if you want to see all these Movies and Image sets, then you need to take a Subscription to become a Member.
Click here to see the amazing value Join costs!
COMMENT
Price Increases
We had decided to await the outcome of the Brexit negotiations before amending our HD movie prices.  As Brexit did not happen on 29th March 2019, WSM will now be reviewing and amending all Download HD movie prices in August.
But this price increase has still to happen!
So how many prices will change on the WSM website?
The answer is 106 being all XXX movies (77) plus Download movies in 2 year wait until added to the Subscription site (30).  But when added to Subscription site, the download cost is frozen (but why would you want to pay to download it?)
Also, prices on any HD movies on the UMD Store will be updated.
We are not increasing prices on SD movies or Subscriptions.
But we have held off making any increases as uncertainty is everywhere!
But one thing you can do is to buy now to beat price increases on the movies.
      2. Porn block delayed for 3rd time
Most of you will have forgotten that the UK government passed legislation in April 2017 so that pornography is automatically blocked.
Recently, the government and BBFC (British Board of Film Classification) stated that the ban would be enforced from July 15th 2019.
We understand that the Dept. for Digital, Culture, Media and Sport (DCMS) failed to notify the European Commission as required, so undermining the legal basis of age verification.
Really!  You could not make it up!
We understand there will be a further 6 month delay!
And this is before we learn the detail of how safe will be data privacy on the age-checking site?
For if you have a UK IP address then you need age verification. 
FUTURE PROGRAMME
ADVANCE NOTICE OF NEW DOWNLOAD STORE AND SUBSCRIPTION ADDITIONS
23rd Aug The title is intriguing – 'Messy Pockets' movie CC105 plus image set S415 and some rather innovative CC XXX play, before normal XXX fun.
30th Aug Nicky Philips gets wet in maroon plain dress, movie WSM244 running 13 minutes plus image set W405.
6th Sept Now this is the type of tale you all delight in hearing!
The delicious Honour May becomes a chocolate maid of honour in 20 minute NEW MOVIE WSM261.  Add on approx 250 x 35mm images in set S461and this is something really to look forward to!
13th Sept Mrs. Custard Couple (CC) enjoys more oily fun dressed in tight shiny spandex disco pants plus sheer white blouse, worn with black undies (which include stockings and suspenders).  Movie CC107 runs 20 minutes plus image set S422 has 105 pics.
20th Sept Dee is back in the silty, peaty, oily mud and becomes a very muddy dancer in 27 minute HD movie WSM203, plus hundreds of enhanced images in set M220.
27th Sept A brand new 25 minute Wet movie WSM228 or CC113 featuring Custard Couple (CC) who play in the river in their business suits.
 Plus another large 35mm image set ref W389.