WHAT'S NEW as at 18th June 2022
OUR NAME CHANGED to www.wsmprod.com in February 2017
Now in our 41st Year of continuous WAM Production
We are the oldest WAM business in the world!
WSM are now updating fortnightly.
We have changed our update day to a Saturday.
Do you normally pay in US dollars?
Then hold on!
This is a great time to purchase either a Subscription or Downloads in Pounds Sterling.
If you normally pay in US dollars then to purchase a monthly Subscription at £30 GBP means you would pay $36.60 USD at yesterdays rate of 1.22 USD to a pound sterling.
And how much if you took a US Dollar Subscription?
Why 45 US dollars on our current set-up.
 So why wait?  This is a no-brainer!
Take a Subscription in £ Sterling or find and compare Download costs.
WSM bring up their 350th Movie on our Subscription site with a river shoot of Honour May. These 350 Movies comprise 167 SD and 183 HD.
In addition there are 535 image sets (189 W + 247 S + 99 M) with 60,000 images!
To see our Subscription site go to our Home Page at https://www.wsmprod.com
There you can look at our 'Subscription Movies' with free Clips and see a listing of our 'Subscription Images'.  None of these Subscription Movies or Images contains XXX material. 
Besides our Subscription Movies we also offer a range of Download Movies covering Wet, Slapstick, Muddy and XXX versions.
These pay to Download movies are listed on our Home Page under 'Downloads – Online Store'. Again, all our movies have free Clips.
Those NEW movies under 'WSM Movies & Images' spend two years solely as Downloads before being added to our Subscription site.
CLICK HERE TO GO TO THE WSM WEBSITE
If you wish to see our Images and Movie Clips at their best, then go to 'What's New' section at our Home Page at www.wsmprod.com and check our updates.
There at 'What's New' (scroll to the bottom of that page) and then you can page back.
By following the 'Older posts' you can see every single weekly update dating back to 2nd May 2015!
Give it a try and discover many Images and Clips to your own liking!
We also have a UMD STORE and transfer MOVIES and IMAGE sets.
There are now 133 movies posted in our UMD Store
Next up we will post movie XXX051 with Thai lady Mai giving a special messy massage.
 CLICK HERE TO GO TO THE UMD STORE
WHAT DO WE HAVE THIS WEEK?
Two items this week:
New HD movie CC128 running 15 minutes continues our longest speciality sequence with Mrs. Custard Couple (CC) in Mud Slut 16 – Muddy Swamp.
With an unbelievable 281 image shots in set M239 this is a muddy delight.
 

Another movie is added to our Subscription site.
Honour May is now a well established top WAM model in the UK.
But how many outdoor Wet sets have you seen her in?
I would suggest none……until WSM movie WSM237.
Plus a terrific image set W397 with 260 shots!
SEE ALSO OUR DOWNLOADS – ONLINE STORE on Home Page-no membership required.
Click on movie and page down for full description and sample images, for
50 VINTAGE FILM DOWNLOADS
PLUS 140 New 'WSM Movies & Images' with 78% available on the Subscription site.
PLUS 16 Movies with Images transferred from the Subscription Website and now also available as Downloads
and XXX section with 93 MOVIES with Images, only available as Downloads.
NEW DOWNLOAD
MUDDY FUN
Another solo mud shoot from Mrs. Custard Couple (CC) with her 16th Mud Slut movie CC128.
Not only a new movie but a new location.
So Mrs. CC dresses up in a great outfit with black jacket, knee length white skirt, pale red blouse, black bra, knickers and garter belt plus nylons and black heels with ankle strap.
With a gradual strip as she discards her skirt, blouse and bra this is always interesting.
Add in a mammoth image set M239 and the muddy fun is perfectly delivered.
REVIEW OF MOVIE CC128
A brand new HD Movie plus Image set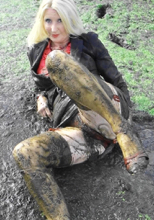 'Mrs. CC in Mud Slut 16 – Muddy Swamp'
Run-time 14 mins 43 secs
2 HD Sample Clips plus 2 HD Streams in mp4
Stream 1 runs 8 mins 01 secs
Mr. CC is absent from this shoot but Mrs. CC is determined to enjoy her muddy play.
She does chat along to us throughout the movie.
We admire her outfit and her pristine white skirt as she dabs two muddy hands on her bum.
We give you a fantastic Clip as a clean Mrs. CC falls backwards into the mud.
She rolls over and over before lying on her back kicking the mud.
Just listen to what she says – see CLIP 1.
She asks us "Who likes mud any better than me?  Not many!  I love it!"
She gets up to parade her muddied outfit.
Then she takes a forward dive into the mud.
She squirms about telling us "This is a real lovely swamp!"
She flails about with those long, long legs.
She rubs the mud over her legs before squirming about further in the slicked-up mud.
She slops the mud over her front while kneeling.
She undoes then removes her jacket.
Now less restricted she takes another muddy rollabout.
Note some delicious gloopey mud sounds here at 04-37 onwards.
She hoists her skirt to splatter mud on her bum, then kneeling she slops up her front.
Another dive forward produces laughs from her.
Then she sets herself for a controlled dive into the mud (at 5-35).
Splat she goes!
She enjoys the wallow lying on her stomach.
Then she lies back to splay her legs before taking another muddy roll.
She finds her skirt restricting so she removes it.
She loses a shoe along the way and has to sit in the mud to refasten it.
A fine muddy vision as she arises from the mud and wrings out her wet and muddy skirt over herself.
She plods about deciding what next as her feet are sticking .
She plunges down and removes that misbehaving shoe.
Quishing her legs in the mud leads to her saying "Look how gorgeous it is to mess about in!"
And mess she does, with a final rollabout before she unbuttons and removes her blouse.
Stream 2 runs 6 mins 42 secs
Lying in a muddy pool clad in bra, knickers, garter belt and stockings (plus one shoe), Mrs. CC kneels up to splosh mud over her front.
She stands up and plods about to display herself.
Then another plunge into a muddy pool with more gloopey sounds as she writhes about – see CLIP 2.
Mrs. CC dips her face into the muddy pool before showing us the results.
She crawls about before finding firmer land.
She squirms in this area before rubbing mud over her body.
She sits to continue and gathers the mud between her legs.
She builds a mud pack over her legs then up her body to her bra and neck.
Mrs. CC tries to be fully mud covered except for her head.
Then she gets up for another walkabout.
Sitting on her ruined jacket she expresses her horniness with all that lovely mud.
But then a momentary realization as she is impeded by her bra.
The bra is removed followed by some mud slicking of her boobs.
But her left hand is already being urged to satisfy her urging clit.
She rubs lustily away before both hands are employed.
She becomes more frantic before bringing herself off to a very satisfying climax.
Then another plunge into a muddy pool before kneeling up to wish us goodbye.
Mr. CC may have missed out, but we certainly did not!
Image set M239 is one of the most remarkable image sets we have produced.
From a movie of less than 15 minutes 256 images gush forth.
So quite a remarkable mud image set.
As I indicated above, Mrs. CC did realize she had kept her bra on far too long.
So there is a bonus set after the movie end.
This is of 25 all topless shots of the muddied Mrs. CC.
So much to enjoy!
We show you 7 sample shots from image set M239.
MOVIE CC128 has 2 HD Streams running 14 mins 43 secs and is only available as a Download for two years.
IMAGE SET M239 has 281 shots and is only available as part of the Download.
PRICE
£7-40  GBP
$10-00 USD
Euro 8-50
To Purchase go to https://wsmprod.com then Downloads – Online Store, then 'WSM Movies & Images' and find movie CC128 at the top of the listing under
'Mrs. CC in Mud Slut 16 – Muddy Swamp'
SUBSCRIPTION WEBSITE/also a download
WETLOOK
WSM began life in 1981 under the name of 'Wet Shots'.
Our current name of WSM was only suggested on 9th June 1985.
It was not suggested by me (Mike Ellison) or Professor Treacle.
It was Shaun Kendall our video cameraman and editor who coined the term!
Honour May considered it to be a privilege to wear such a top so full of history.
So come down into the river to see Honour's first outdoor Wetlook movie.
REVIEW OF MOVIE WSM237
A HD Movie plus Image set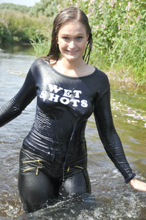 Honour May takes a fully clothed bathe in the river
Run-time 18 mins 20 secs
 2 HD Streams plus 2 HD Sample Clips – in MP4 format
Stream 1 runs 9 mins 08 secs
We open with Honour May stood ankle deep in the river dressed in our own 'Wet Shots' t-shirt.
She wears tight fitting leggings and heels (and as we will discover a black thong).
And what is a great feature of model Honour May?
Her chat, as she tells us just how she finds the experience.
Honour starts by splashing about rather carefully.
Now if you think that UK rivers are hot in the summer you are well mistaken.
That is why there are so few outdoor lidos these days despite global warming!
Honour tells us about her special top that dates from 1982.
She carefully splashes up her outfit becoming more and more bold.
Eventually at 4 mins 03 secs she sits in the water.
From there she loses her fears and enjoys the experience.
At 4-52 she lies forward to wet the front of the t-shirt.
Honour shows off her outfit.
At 5-24 she falls back so becoming wetter and wetter.
'Does my bum look good?' she asks us at 5-53.
Her non-stop chatter continues.
She tells us that she is wearing the same leggings as she wore in the studio.
This was in movie WSM219 shot 4 months earlier when Honour was under the studio shower in black
(available as a Download 'Honour May under the shower in black' or on the Subscription site).
At 7-04 she lies back to get her hair wet.
Now she is delightfully Wet.
She swishes her wet hair and splashes herself with some beguiling shots – see CLIP 1.
At 8-13 she stands to show us the true Wetlook and is well pleased with her wet appearance.
Stream 2 runs 9 mins 12 secs
Commences with Honour diving in to get 'really wet'.
She swims along before standing so we can admire her wet outfit.
She wades back against the current before taking a further swim upstream.
'I really am wet now', she says at 1-39.
Honour enjoys the water.
She removes her top then shows us 'a bit of topless swimming' – see CLIP 2.
Honour larks in the river and pretends she can see fish!
At 4-18 she starts to remove her leggings.
We all admire her voluptuous figure as she strips.
'Just my little black thong now' says Honour as she treats us to some tasty views.
She ventures into the river and splashes about.
Returning to the shallows she sits displaying her thong both front and back.
Honour tells us that 'Wet underwear really does turn her on!'
At 7-29 she starts to remove her thong.
The movie concludes as the nude Honour displays her charms in the cool river.
A wonderful experience with a wonderful model.
IMAGE SET W397 has 260 Enhanced (full screen) shots.
This is quite a set and it took a lot of preparation.
But everyone should find a favourite shot here.
It is a terrific outdoor Wet set that should please every discerning Wetlook enthusiast.
After being apprehensive, Honour May totally enjoyed the experience.
But savor it as it is our only outdoor wet shoot of the fabulous Honour May.
We show you 6 sample shots from image set W397.
PRICE
£7-10  GBP
$9-60 USD
Euro 8-20
To Purchase movie WSM237 go to https://wsmprod.com then Downloads – Online Store, then  'WSM Movies and Images' and find the movie titled
'Honour May takes a fully clothed bathe in the river'
   BUT WHY PAY FOR A DOWNLOAD?
This movie and image set are now available on our Subscription site plus 349 other movies!
Still a fantastic bargain for so many genuine quality movies………to say nothing of 534 further quality image sets!
CLICK HERE TO VIEW SUBSCRIPTION COSTS
We continue to take SUBSCRIPTION payments in £ Sterling, US dollars and Euros, for membership of the WSM Website.
The Subscription site does not include access to new movie/images Downloads in the Online Store, which we have added during the previous two years, or any XXX movies.
Movies and Image sets added to the WSM Online Store under 'WSM Movies & Images' are added also to the Subscription site, 2 years after being posted as a Download. 
Look at the JOIN NOW page to see our great value for 30 day, 3 month and 6 monthly Subscriptions as for a Subscription you can access:
350 Movies averaging 29 minutes each, including 18 Messy Wrestling Movies and 113 Custard Couple Movies, (which include 32 joint productions with WSM),
15 vintage movies and 204 normal WSM movies (excluding 32 duplicated joint production movies with Custard Couple).
PLUS 59,982 Images in 535 sets (being 189 W + 247 S + 99 M).
But if you want to see all these Movies and Image sets, then you need to take a Subscription to become a Member.
Click here to see the amazing value Join costs!
FUTURE PROGRAMME
ADVANCE NOTICE OF NEW DOWNLOAD STORE AND SUBSCRIPTION ADDITIONS
From January 2022 WSM no longer update weekly but fortnightly.
2nd July New HD movie WSM258 Dee syruped again.  Dee wears maroon dress with black knickers and black strappy heels.  She gets deluged with golden syrup in our studio.
 Plus image set S448.
16th July We have already seen Mrs. CC's Car Wash 2 movie.
 Now we have Mrs. CC in new HD movie Car Wash 1 being movie CC110 plus image set W305.
30th July Dee takes a shower on a hot summers night movie WSM227.
 Plus image set W388.
 Still on the horizon we have Mrs. CC pushing the boundaries getting messy in a manure dump!