WHAT'S NEW as at 28th January 2023
OUR NAME CHANGED to www.wsmprod.com in February 2017
Now in our 42nd Year of continuous WAM Production
We are the oldest WAM business in the world!
WSM regret to announce that ALL SUBSCRIPTIONS continue to be SUSPENDED.
There have been technical difficulties encountered in updating the website.
The service is expected to resume at our next update on 11th February.
Existing Subscription subscribers are still able to access our files, but no NEW SUBSCRIPTION accounts will be created.
Our UMD STORE continues and there are currently 163 MOVIES and IMAGE sets.
Next movie due up is WSM125 with Jenny and the Phantom in 'The Dressing Game'.  Ever seen a Slapstick game show?  No, not daft games but seriously messy Slapstick?  Prepare to be amazed!
CLICK HERE TO GO TO OUR UMD STORE
WHAT DO WE HAVE THIS WEEK?
Two items this week:
We start with a controversial Download HD movie XXX082.
This features Custard Couple (CC), runs 29 minutes and is titled 'Pissy Quickies 3' with 12 scenes (including 4 scenes not even seen in their CC normal movies).
In addition and what you normally do not see, movie XXX082 has 12 image sets totalling 233 shots as bladders are emptied!
Being XXX the movie and images are and will continue to be only available by Download.
New to WAM?
What a bewildering number of movies to choose from!
But it was easier in my starting days as there was literally nothing!
So maybe it is helpful when a Producer says "Take a look at this for a nice leisurely introduction to Slapstick role play between a loving couple which ends with sex".
Custard Couple role play an Air Hostess and a Pilot as we struggle to decide which of them is the main Slapstick player. The movie gives you 37 minutes to decide!
It is 2 years since we published HD movie XXX081 plus image set S481XXX with 5 sample shots and 139 pics in total.
NEW DOWNLOAD
WET XXX MOVIE
WSM Productions has covered many options of sexual, erotic play over the years.
'Pissy Fun' known as 'Watersports' is for a decided minority.
WSM see this as legitimate couple play.
Once taboos have been overcome this can become an inherent part of sex play in both clothed and nude fun play.
And the key is willingness!
Both parties must consent and relish the experience.
WSM have been rather influenced by Custard Couple (CC) as Pissy fun is now an integral part of their WAM make-up.
But we do realize that this aspect of WAM is not for everyone, so WSM take a low key approach.
Movie XXX082 has a selection of 12 movie scenes all of Custard Couple (CC) ranging from 1 mins 02 secs to 8 mins 29 secs. 
Note that WSM have published 3 prior movies 'Pissy Quickies 1' is movie XXX062, Pissy Quickies 2 is movie XXX072 and Pissy Quickies 4 is movie XXX092. All are available on our XXX Section together with an introductory movie 'The Piss Slut' XXX010.
But to see the XXX write-up for new movie XXX082 or to Purchase this movie, you need to go to the 'XXX Section' in the 'Downloads – Online Store' where you will also find details of the other mentioned movies.
Note that new movie XXX082 has no Clips and just one sample image for 9 out of the 12 scenes.
Click this link to be taken to the new movie XXX082 in the XXX Section.
DOWNLOAD ONLY
XXX SLAPSTICK
It is 2 years since we published XXX movie XXX081 with Custard Couple as the Air Hostess and the Pilot.  So we review this movie again.
Custard Couple (CC) role play an Air Hostess and a Pilot as we struggle to decide which of them is the main Slapstick player, as they both enjoy their messy uniform fetish.
Slapstick HD movie XXX081 runs 37 minutes.
Do bear in mind that this was a custom shoot that we have been privileged to spy on.
We are voyeurs in this rather gentle XXX fun allied with some excellent Slapstick play.
Mrs. CC does her best to check-over the Pilot's joystick, while Mr. CC relishes messing
up his very attentive flight attendant and does his best to go to full thrust!
REVIEW OF XXX MOVIE XXX081
A  Download HD Movie plus Image set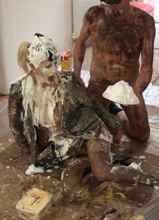 CC in 'Air Hostess and Pilot'
Run-time 37 mins 06 secs
3 HD Streams
plus 3 HD Sample Clips (raunchy but not explicit)
Stream 1 runs 10 mins 57 secs
We commence as Mrs. CC as an Air Hostess arriving home after her flight.
She produces a bottle of bubbly for Mr. CC and her to enjoy.
She has not seen her partner for days.
She opens the bottle of champagne and pours herself a drink.
Mrs. CC cools herself off with some water from a jug which makes her uniform shiny and clingy.
The champagne has gone to her head so she has become quite wetted.
After 5 mins 25 secs Mr. CC arrives as a convincingly dressed Air Pilot.
He wonders why she is so wet.
He has brought some presents for her which of course are messy foodstuffs.
Mrs. CC has missed her husband and her messy fun.
She shows off her seamed stockings to him.
Mr. CC discovers she is not wearing knickers.
Mrs. CC is impatient to get on with their messy fun.
Mr. CC shakes the champagne and sprays his willing wife – see CLIP 1.
She tries to reciprocate but there is too little drink left in the bottle.
Stream 2 runs 10 mins 40 secs
Entering indoors they find some foodstuffs specially prepared by Mrs. CC.
They start with a chocolate cake.
They rub each other's outfits in cake as a warm-up!
Next is butterscotch Angel Delight.
Mr. CC takes advantage by holding the bowl to smear the dessert over her white blouse.
Then yogurt, which Mr. CC pours over her hat and side hair and it runs down over her blouse and skirt.
Mr. CC removes his jacket and lifts her skirt.
She daubs banana Angel Delight over his shirt and then he is rubbing the dessert between her legs.
Mr. CC sits down so Mrs. CC opens his trousers.
He slips his trousers down to expose his underpants and Mrs. CC removes her jacket.
Banana Angel Delight is applied to his underpants.
A carton of custard is added as Mrs. CC gently caresses his rampant cock!
Moving to his side she spreads yogurt down his shirt and underpants.
She puts her jacket back on and sits on his knee.
Mr. CC pours a carton of custard down her front.
Then Mrs. CC adds more custard over herself.
Mr. CC's fingers have found their target and he friggs away while she smooches him.
Mrs. CC goes in front of him crouching to remove his trousers.
Kneeling in front of him she requests he pulls her skirt off and cover her arse with Nutella chocolate.
Stream 3 runs 15 mins 29 secs
Mrs. CC duly gets across his knee so giving Mr. CC full access to her bum and legs.
He spreads Nutella choc over her bum in an erotic move – see CLIP 2
Mrs. CC squirms in delight thoroughly enjoying the experience.
They embrace then Mrs. CC has the jar of chocolate.
She rubs chocolate over her thigh, arse and legs.
Mr. CC takes advantage to frigg his horny wife some more and then stimulate himself.
Mrs. CC gets up then sits on his right leg.
She invites him to play with her pussy and Mr. CC pours a tub of yogurt over her neck so it runs down both sides of her front.
Mr. CC has his tie removed (as they prepare to get down to more serious business).
He undoes her blouse and she his shirt.
The shirt is removed allowing Mrs. CC to caress his chest with Nutella chocolate.
Mrs. CC can delay no longer and says she needs to get on the floor as she needs a fucking.
They clear some floor space.
Mrs. CC thinks they only have ice cream left.
But Mr.CC surprises her with pies, commencing with a remarkable face shot – see CLIP 3.
There is more smooching before Mrs. CC invites a pie to be slapped on her bum.
The next pie is carefully pressed into Mr. CC's cock!
He spreads her legs before slapping ice cream on her pussy.
Mr. CC removes his cap before going down to lick her pussy and then give it a vigorous frigging.
Mrs. CC rubs more ice cream over herself before Mr. CC lowers himself to retract flaps and set about satisfying a rather desperate wife.
She pours the remainder of the ice cream down his back and they rush along the runway to achieve lift-off!!
Mr. CC ends up wanking off over her pussy.
What a messy couple they make!
Mrs.CC complains that it "Did not last long!  That was terrible!" She says.
"That was over so quick…… when you are desperate!"
Mrs. CC tries to adjust her food covered outfit to respectability, so she can show off her new flight attendant's outfit!
Phew!  Another delicious messy and entertaining time for us all!
MOVIE XXX081  has 3 HD Streams running 37 mins 06 secs.
IMAGE SET S481XXX has 139 shots
We show you 5 sample images from this set.
For once there have been no adjustments made to these images.
So let us see how you find these pics.
This is top Slapstick shot with humour plus relatively mild sex play.
PRICE
£8-00  GBP
$10-80 USD
Euro 9.20
Movie XXX081 is only available as a Download.
To Purchase movie XXX081 go to https://wsmprod.com then Downloads – Online Store, then 'XXX Section' and find movie
'CC in Air Hostess and Pilot'
which runs 37 minutes and has 139 images.
FUTURE PROGRAMME
ADVANCE NOTICE OF NEW DOWNLOAD STORE AND SUBSCRIPTION ADDITIONS
Since January 2022 WSM have updated fortnightly.
2023
11th Feb Another NEW Valentines Day HD movie XXX098 from those eternal messy lovers Custard Couple(CC).
 Our 2nd Model Tribute goes to the unforgettable Sue.
25th Feb Another movie is added to our Standard Subscription site after spending 2 years as a Download.
We see Dee in 33 minute HD movie WSM264 titled 'Wet Parade 2', in which Dee gets wet in 3 dresses, red, green and denim.
  Plus image sets W413, W383 and W429.
  Our 3rd Model Tribute goes to one of our original pioneers Carol.