WHAT'S NEW as at
12
th
January
201
8
OUR NAME CHANGED TO WWW.WSMPROD.COM FROM  FEBRUARY 2017
WSM 2017 ACTIVITY AND MOVIE AWARDS
Here are the details of what new publications were made in 2017 year (with 2016 year figures in brackets).
       Movies        Image sets
Wet         9   (10)    12 (15)
Slapstick      15 (26)    21 (31)
Muddy                      4   (4)     5  (7)
XXX       14  (11)    18 (13)
Total        42 (51)    56 (66)
HOW MANY WSM DOWNLOAD MOVIES ARE THERE AT END OF 2017 YEAR?
NORMAL DOWNLOADS   60
XXX DOWNLOADS                    66
VINTAGE FILM STREAMS         50
TOTAL                            176
HOW MANY WSM MOVIES ARE AVAILABLE ON THE SUBSCRIPTION SITE?
WSM MOVIES     185
CUSTARD COUPLE MOVIES      43
VINTAGE MOVIES                  15
MESSY WRESTLING                18
TOTAL                261
CLICK HERE TO VIEW SUBSCRIPTION COST
THE WSM AWARDS FOR MOVIES PUBLISHED 2017 YEAR
All winners have been published as Downloads (see Downloads – Online Store)
The winners are:
WET – 28 minute HD movie CC91 as Mrs. Custard Couple (CC) is excited to take a clothed sea bathe in a stormy sea clad in her vintage underwear, plus 161enhanced (full screen) images set W374 – see 3 free Clips and 5 sample shots.
SLAPSTICK – a joint WSM and CC movie as Honour May and Mrs. Custard Couple (CC) indulge in 2 girl Messy play with Mrs. CC's favourite…….custard.
This HD movie is WSM ref WSM242 and Custard Couple ref CC132 and runs 54 minutes plus 318 enhanced images in set S440 – see 5 free Clips and 6 sample shots.
MUDDY FUN – This is one of the best mud sets we have produced (some claim, but some movie!), with Dee a very muddy dancer in the silty, peaty, oily mud stream, 27 minute HD movie WSM203 plus 323 enhanced full screen images in set M220a.
XXX – setting further new ground were Custard Couple (CC) with their 37 minute HD movie XXX065 with extreme WAM in an outdoor garden setting, plus 155 enhanced images in set S407XXX.
BEST OVERALL MOVIE
This year a difficult choice from our 4 category winners.
The winner of the Best Overall WSM Movie for 2017 is Dee with movie WSM203 with 'Dee is a very muddy dancer.'
WSM 2017 AWARDS
WET
The winner is Mrs. Custard Couple with HD movie CC91 plus Image set W374 with 161 shots.
A fantastic effort in a lively sea that would have deterred so many others!
REVIEW OF MOVIE CC91
Download HD Movie plus Image set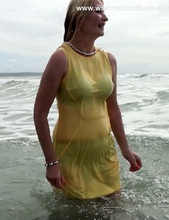 'Mrs. CC in Vintage underwear in the Sea'
Movie CC91
Run-time 28 mins 38 secs
 3 Sample Clips & 3 Streams in HD
We start with Mrs CC on a local public beach dressed in a tight fitting yellow dress and a white cardigan and shoes.
Mrs CC recounts how she couldn`t wait to finish work that day and enjoy some sexy cooling off in the sea in her clothes!
She tells us all about her wearing some expensive SIL (Secrets In Lace) underwear and how it turns her on getting them wet.
It is a fairly cold and overcast day with a howling offshore wind but nothing will stop this wet clothed loving girl.
Mrs CC is such a tease as she pulls up her dress and shows us all her lingerie with a matching vintage suspender set and matching pale blue panties.  You can tell in her voice how exited she is to show us. She enters the sea shore wading fully clothed through the surf as her stockings and pretty white shoes are instantly soaked.
Mrs CC then ventures deeper into the waves, then lifting her dress she bends over and waits for each wave to soak her panties!  We are treated to some delicious soaked fabric as each wave of water cascades over the material.
She taunts us as she looks directly into the camera as she gets wetter, eventually kneeling down to finally soak her outfit.
Mrs CC chats to us all on the naughty and sexy feeling of her wet clothes against her body as she swims in the shallow surf for all of us to enjoy.
After a couple of minutes Mrs CC then removes her cardigan and we are treated to some lovely glimpses of her underwear showing through her dress as she frolics in the water.
She eventually makes her way to the shallows to let water slowly wash over her as she pulls her dress up and down enjoying the freedom this gives.
Mrs CC can`t resist touching herself and rubbing her wet clit through her satin panties as she enjoys some well needed relief on the public beach!!!
After that very naughty episode she removes her dress and we are treated to a woman who knows how to enjoy herself after a hard day at work!
Mrs CC rolls about in the surf even getting half drowned by a large wave which totally engulfs her as she laughs and carries on.
We are treated to more wet look and general larking in the waves till she removes her vintage bra and lets her heaving tits enjoy the cold water in the open seas.
The sun eventually makes an appearance so Mrs CC enjoys the sun as it beats down onto her wet body as she teases us some more.
The scene ends with Mrs CC washing herself down on the beach with some fresh water in just her panties and suspender belt….so although there is no full nudity in this movie we are given an insight into a genuine wet loving woman who takes this opportunity to wet her clothes on a public beach…. for  her and our pleasure!!
In addition there are 161 Enhanced Images (Full Screen) of Mrs. CC's fun in the stormy sea!
The images are not as sparkling as the HD movie, but give a very good idea of content.
You may think that producing such images is easy!
If only!
Shooting on a sea shore gives problems of a moving horizon, light and shade, fast movement and effects of the waves.
We show you 5 sample images of the action in set W374.
MOVIE CC91 has 3 HD Streams running 28 mins 38 secs.
IMAGE SET S374 has 161 shots
PRICE
£6-20  GBP
$9-30 USD
Euro 8-10
Home Page, then 'Downloads – Online Store',
then 'WSM Movies & Images' and find 'Mrs. CC in Vintage underwear in the Sea'
WSM 2017 AWARDS
SLAPSTICK
The winner is the 2 girl movie of Honour May and Mrs. Custard Couple.
These two naughty ladies cannot wait to splosh the custard about despite being dressed in their office outfits!
REVIEW OF MOVIE WSM242-CC132
Download HD Movie plus Image set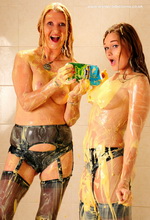 'Girl Girl Messy Fun Play'
Movie WSM242-CC132
Run-time 53 mins 55 sec
 5 Sample Clips & 5 Streams all in HD
Now for some feisty girl girl messy fun as Mrs. CC has no trouble in persuading Honour May into a very messy session with her favourite foodstuff, custard!
With non-stop chatter and very messy play, this is enjoyable gentle paced Slapstick which builds to a steamy climax!
Stream 1 runs 11 mins 11 secs
Mrs. Custard Couple (CC) was due to go to lunch with Honour May plus their partners.
But Mr. CC phones to say that he is going to watch a football match at the home of Honour's partner.
Mrs. CC finds a copy of Vintage Film 7 'The Wheel of Misfortune' in her desk – see CLIP 1.
That provokes a discussion about the messy girls on the cover and Honour says she always wanted to try something like that (see 7 Streams of Vintage Film 7 on sale in the Online Store under 'Digital Downloads – Vintage Films,' with a Clip and a write-up for each Stream).
Mrs. CC's house is free, so they decide to go there and make their own fun.
Mrs . CC prepares the custard, but it is Honour who starts things off (supposedly accidental).
By the end of Stream 1, both girls are well on the way to being messed up!
Stream 2 runs 12 mins 04 secs
Honour continues to splosh up Mrs. CC with the custard.
Then it is Honour's turn as her office suit gets the custard treatment.
Honour is really getting into it and we all know that Mrs. CC loves her custard – see CLIP 2.
Soon Honour's suit is custard covered.
Then it is Mrs. CC's turn to get her suit covered in custard.
This is followed by their blouses being custard smeared.
They get on the floor to mess up their stockings and shoes.
Honour's jacket is taken off and she pulls her boobs out of her blouse.
Mrs. CC covers Honour's boobs with custard then licks her custardy nipples.
Then Mrs. CC removes her jacket.
Honour smears her blouse in custard exposing her black bra.
Honour rips Mrs. CC's blouse apart in her desire to get her boobs out for a licking.
Stream 3 runs 9 mins 46 secs
The girls continue their boob play.
With a carton of custard each, kneeling they pour custard over each other, concentrating on the boobs.
The custard is liberally smeared over each other which looks good on each partly clothed girl.
Mrs. CC's tits are released from her bra and Honour covers them in custard then fondles them – see CLIP 3.
Both girls are naked above the waist.
Honour gets custard over her bare back and Mrs. CC massages it in.
After further boob play they remove their shoes, fill one with custard then squish them back on.
Both girls are now clad in skirts and stockings.
We soon discover what type of panties and suspender belts they wear.
Mrs. CC gets custard down her back and bum then directly into the back of her lacy knickers.
Mrs. CC returns the favour with custard down Honour's back & bum and Mrs. CC rubs the custard in.
Stream 4 runs 9 mins 09 secs
Commences as Mrs. CC pours a carton of custard down the front of Honour, covering her boobs and panties.  Then Mrs. CC fills Honour's panties with the custard.
Next, Mrs. CC gets the custard inside her knickers.
Both girls' clits have tingled!
'I didn't realize you were like this, sexy and horny' says Mrs. CC.
Both girls clinch together rubbing their custard coated bodies, before exchanging an exploratory kiss.
Their bodily contact becomes bolder and more passionate.
Mrs. CC covers Honour's hair in custard.
They sit on the ground squishing and rolling in the custard with continual body contact.
Next, they pay attention to their hairs.
Honour makes Mrs. CC kneel to take custard over the head which she massages into her scalp.
Then it is Honour's turn to take the custard over her head – see CLIP 4.
Honour wants more than just her hair massaged as she loves Mrs. CC's custard coated hands on her skin!
Stream 5 runs 11 mins 45 secs
Now things become far more intimate.
Mrs. CC gets custard down inside her stockings and she starts to play with herself.
She removes Honour's suspender belt before applying custard inside her stockings.
Both girls are fingering themselves in excitement.
Their panties are removed starting with Mrs. CC – see CLIP 5.
Now the real intimate fun begins, with probing fingers and hands.
Mrs. CC intimately sucks and bites Honour's nipples before briefly licking her pussy.
Honour returns the favour licking Mrs. CC's boobs and pussy.
Bodies intertwined, the sexy slippery fun continues.
Honour licks and frigs Mrs. CC to an orgasm which leaves Mrs. CC all shaky!
Honour needs satisfying. Sitting back spreading her legs, Mrs. CC lubricates her with custard before giving Honour's pussy a good licking to send her to an ecstatic orgasm.
Both girls cosy up in the afterglow.
Wow! This 2 girl messy fun was something very special!
We hope they will continue their messy adventures in a further shoot.
Indeed they have!  Watch out for more girl/girl fun in:
WSM259-CC155 wet
WSM263_CC157 messy
Both these movies have yet to be published.

In addition IMAGE SET S440 has a remarkable 318 shots.
As these are all ENHANCED (full screen) you get a wonderful record of this sexy shoot.
This is what sets WSM apart from the rest!
Fantastic image shots in plenty!
And a special bonus as the girls use up the remaining cartons in the best possible manner, over themselves in some great full custard coverage (which is not in the movie).
See if you agree.
We show you 6 sample shots from image set S440.
PRICE
£6-60  GBP
$9-90 USD
Euro 8.60
To Purchase movie WSM242-CC132 go to:
Home Page, then 'Downloads – Online Store',
then 'WSM Movies & Images' and find 'Girl Girl Messy Fun Play'
WSM 2017 AWARDS
MUDDY FUN
It takes a special type of lady to take on the black, silty, peaty, oily mud.
Besides Jade, Dee always performed well at this location.
There is no need to repeat this shoot as how could you possibly better this?
So the winner is Dee as she becomes a very muddy dancer!
REVIEW OF MOVIE WSM203
Download HD Movie plus Image set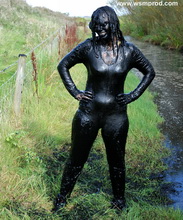 'Dee is a very muddy dancer'
Movie WSM203
Run-time 27 mins 11 secs
Now and again you get a great rapport with the model.
The weather is good, she loves her outfit and amazingly enjoys her muddy play.
So this is relaxed happy mud play with plenty of quips from Dee.
3 Sample Clips & 3 Streams in HD 
Stream 1 run-time 9 mins 39 secs
Dee tells us she chose her favourite location and dance outfit for this shoot.
She slowly daubs herself to get muddy to her thighs.
Then she squats down to get her bum black, before kneeling down then sitting back.
So we see she is all black below her waist – see CLIP 1

The mud is thick, black and gloopey.
Back in the stream she stands to coat her boobs and arms.
She goes to the far bank and when returning Dee crawls on her stomach and rolls about.
Further daubing and pratt falls get her even muddier.
 She has found it 'nice and fresh and muddy!'
So she ends this Stream with her dance outfit almost fully wet and muddy except for the neck/shoulder area.
Stream 1 runs 9 mins 39 secs
Stream 2 run-time 8 mins 50 secs
Commences with Dee rolling in the muddy stream so her outfit is fully muddied.
She kneels up and daubs mud on her face.
She tells us she has 'never seen it so muddy!'
Then it is time for the 1st of 6 mud dives in this Stream.
Dee dives towards the camera and her face goes right in!
She stands up with a black muddy face and exits the stream as a black woman!
A 2nd mud dive follows.
Dee flounders about as this is deep, silty mud.
Then we have the 3rd mud dive which we show you – see CLIP 2.

What a mud woman she is!
Next she does a back flop.
You would think she was muddy enough but she scoops more mud on her head and face!
Dee shows us a gorgeous black face with vivid eyes and white teeth.
She stands to exit but deliberately falls back into the black watery stream.
Dee starts to exit but falls before the bank.
Then another forward dive with her face in the watery mud, before she stumbles over to the far bank.
She takes a dive from the far bank with a fabulous facial mud shot that leaves her spitting watery mud.
You can tell that this is turning Dee on as her tits strain at her outfit.
Standing on the bank she says 'What I do for WSM!'
She continues with her mud play.
She massages her face with mud then exits again.
From 7-08 to 7-20 we hear some delicious squelchy shoe sounds!
Dee then moves to a different part of the stream.
She jumps in and goes to the far bank.
Then another forward dive with her face in the muddy water and she exits spitting and snorting!
Stream 2 runs 8 mins 50 secs and ends as Dee shakes her muddy head and face!
Stream 3 run-time 8 mins 42 secs
Opens with Dee lowering her top.
She pulls the outfit down and removes it while sat in the stream.
She plays in the muddy stream then gives herself a super mud sluicing down– see CLIP 3

She lies on her back on the bank in just her knickers to give us a great dirty woman shot.
Then she rolls back in for another play!
She rubs mud over herself saying 'nice mudbath!'.
She removes her knickers and then takes 'a nude muddy dive' with head and face right in the mud.
She comes up glistening with mud!
Then we have over 2 minutes of nude play with revealing bum and pussy shots.
She slicks herself down with the mud giving us fab shots of a superb mud woman.
'Head to toe in mud – delicious', says Dee.  'Could not get much more muddier!'
A very relaxed Dee had enjoyed herself.  She starts to rinse off.
'I hope you all enjoyed that as much as I did!' she says to finish.
Stream 3 runs 8 mins 42 secs
Wow!  That was very special.
Dee shot that aged 44.  Now that is quite difficult for a mature model.
It must have been an exhausting, daunting, wet and muddy experience.
Surprisingly Dee coped with it all and dare we believe it?  She enjoyed it too!
BUT THERE IS MORE!
Image set M220a has 323 Enhanced (full Screen) shots of Dee in the mud.
Why is it set M220a?
Because we have only prepared the first part and set M220b will be published shortly.
You can only purchase as a Download, and when the further shots are added, you can immediately access them at no further cost.
Again, it is unusual as a number of shots have graduated light and close-ups.
Mud movies and images do not come much better than this!
If you want mucky – then these are mega mucky!
We show you 6 sample images from this set M220.
PRICE
£6-60  GBP
$9-90 USD
Euro 8.60
Our price reflects incredible value!
To Purchase movie WSM203 go to:
Home Page, then 'Downloads – Online Store',
then 'WSM Movies & Images' and find 'Dee is a very muddy dancer'.
WSM 2017 AWARDS
XXX
And the winners for the 2nd year are Custard Couple!
Make no mistake, this is a very strong movie!
Mrs. Custard Couple (CC) provides the write-up of what CC got up to.
Pretty extreme but there are some fabulous WAM scenes!
XXX SLAPSTICK FUN
In this HD movie Mrs. CC enjoys personal Messy Humiliation, assisted by Mr. CC in this provocative movie with Cakes, Squirty Cream, Cooking Oil, Cock sucking + cum, Head Dunking with Tomato Soup, Angel Delight and Gravy, Piss, Head Dunk in Custard then more Gravy, more Piss, Chicken Soup, Tomato Ketchup, more Custard, Frigging till cums, Panties on head and Treacle.  Phew!!
This XXX movie XXX065 runs 37 mins with 3 free Clips and 3 Streams, plus 155 images as set S407XXX. 
REVIEW OF XXX MOVIE XXX065
Download HD Movie plus Image set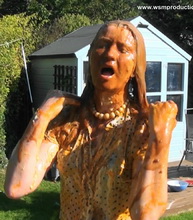 'Bring on the Treacle'
Movie XXX065
Run-time 37 mins 18 sec
 3 Sample Clips in HD
 3 Streams in HD
Here is what CC (Custard Couple) wrote about this movie:
Stream 1 runs 12 mins 11 secs
In this second of a series of humiliation messy movies Mrs CC has been bought some special SIL (Secrets in Lace) underwear (see this underwear wet in Download CC91 movie 'Vintage Underwear in The Sea') which is teamed up with a polka dot silk blouse, pale blue real silk stockings and a tight fitting leather skirt.
Mrs CC is eager to please and starts by thanking her secret admirer for purchasing the outfit.
She takes her time to show us all the outfit down by her Summer-house, but of course we all know what she is really being asked to do, don`t we?
To get her outfit all slopped, messed and destroyed for our enjoyment and as you shall see her own too.
She starts with some eclairs which are casually rubbed into her outfit followed by squirty cream with a lovely close up of Mrs CC`s pantie clad bum getting the creamy treatment.
Mrs CC talks to us all telling us about how it feels as she starts to get messy.
At the end of the first scene she gets down onto the grass and tells us all how she wants more, much more.  She asks us to follow her as she crawls over like a cat to a white chair and large plasterers bath! Mrs CC shows us the mess she has waiting for her…
Cold custard, chicken soup, tomato soup, tomato sauce, angel delight, buckets of gravy and 6 litres of cooking oil.(Hidden from sight is the 2 gallon container of black treacle).
Adjusting her clothes, she sits down on the chair to await her demise. 
Mr CC (The Master) has now returned from work and he is shocked that his pretty wife wants to ruin such expensive underwear!
But Mrs CC is insistent that he must help her to be trashed as this is how she really gets off in mess!! The first bottle of oil is poured over her hair and outfit and Mrs CC squirms in delight… - see CLIP 1

Asking how it feels she retorts 'It's Wet & Cold and Nice'….
Her blouse now sheer she asks for another bottle of oil to be applied.
The oil is emptied over her head drenching her hair as Mrs CC purrs and strokes herself in pleasure.
Stream 2 runs 13 mins 05 secs
Mrs CC closes her eyes to succumb to the slippery mess and on opening them she is greeted by the sight of her Masters hard cock pointing in her face. 'What you gonna do now she asks knowingly?'  She gives the tip of his cock a lick knowing full well what she will get now!
Her Master wastes no time rubbing his cock and Mrs CC helps him by sucking, engulfing his member in her warm and wanting mouth.
The sight of her sheer clothes and eager mouth soon proves too much and Mrs CC`s mouth is filled to the brim with her Master`s cum!!
She shows us all his sperm and drips it down the front of her blouse….
The language between them is dirty and slutty as Mrs CC wants to follow this by some serious head dunking.
She starts with submerging her head fully into the bowl of tomato soup covering her face in the cold red thick soup. She does this 4 times!
We are all treated to a glorious close up of the action as she then reaches down and picks up the full bowl and pours it over herself!
Her face and clothes now covered she goes for a head dunk into the angel delight which she then empties over her head urged on by her Master.
Then its straight into the large container of gravy you can hear the gurgles and bubbles as she struggles for breath beneath the mess.
We now know this is a special movie as we get treated again and again to more head dunking and total destruction of her clothes and underwear.
Standing up Mrs CC takes time to parade in the garden in her now trashed outfit relishing the sight and feel of her clothes – see Clip 2

Talking quietly, so as not to disturb the neighbours, she tells us how she will now fill her panties with mess, so lifting the gravy bowl she pours it down into her sodden underwear.
With the excitement proving too much, Mrs CC pulls her panties to one side to take a short piss into the empty gravy bowl, promptly then dumping it over her head.
" Tastes so good" ….she splutters!
Slipping off her skirt it`s time for more head Dunking!
Straight into another large bucket of gravy swiftly followed by the cold chicken soup which again is poured over herself.
Standing up Mrs CC massage's herself and rubs her clit quickly followed by a further 4 head dunks into the gravy.
These really are some special moments as we get to enjoy Mrs CC`s long flowing hair drenched and totally messed, obliterating her face.
The sheer enjoyment is clearly seen as the camera closes in to capture her words:
'This makes me feel so fucking dirty it makes me wanna cum'.
Hitching her knickers up, she pours the remainder of the gravy over her head, back and bum!  Quite glorious!!
Stream 3 runs 12 mins 02 secs
Then Mrs. CC sits back down on the chair and receives a face full of her master's piss.
Eagerly she opens her mouth and her master duly obliges!
He covers her face and blouse in the hot liquid ….!!
Does she want more mess? you bet she does…..!!
Tomato ketchup is now thrown and splattered at this hot lady – see Clip 3

Then, her face is transformed into a mask of custard!
Mrs CC empties a further bowl of custard as the waves of orgasm start to build inside her.
Ripping her blouse open she starts to finger herself, climbing into the makeshift bath to continue her pleasure pushing her panties to one side and rubbing herself to a shuddering orgasm.
'Yes, I`m a dirty bitch', Mrs CC murmurs.
Then she dunks her head twice into the bath to complete her final pleasure ..or is it?
Sitting back down on the chair her Master throws her a pair of blue panties which she herself has helped him to cum in many times. She slips them over her head pulling them tight across her face.
'So now for my final treat' purrs Mrs CC .
Here it comes as thick black treacle is poured over her head creating a running river of sticky liquid obliterating Mrs CC `s face.
She removes her bra and the onslaught continues. The camera moves closer and we get a full close up of Mrs CC as a treacle blob and her sticky boobs!
'This is what I call a real treat!' she sighs.
This naughty lady finally satisfied walks back to the summer-house where it all started, showing us all her messy outfit.
The scene ends with this naughty couple bantering together as they recall the onslaught given to Mrs. CC for her depraved satisfaction.
But what`s this?  Has this movie ended? 
It has for us!
But maybe not for them as they both agree to slip away into the nearby Summer house for some more fun.
Summary
This movie has no full nudity in it, but the sexual tension as Mrs CC demands more and more mess is clearly abounds!!
It's a good job she has her Master to keep her in check and deliver her dark secret messy desires.
MOVIE XXX065 has 3 HD Streams running 37 mins 18 sec.
In addition IMAGE SET S407XXX has 155 shots.
These are well worth seeing but only about 24 shots may be considered XXX.
That is why we can safely show you 5 sample shots as well as 3 movie Clips.
But do note that there was no pussy penetration action and little nudity.
Having said that, you would not wish to miss this fantastic extreme WAM messy couple sex play!
See if you like the look of XXX movie XXX065 as we show you 3 free Clips plus 5 sample shots from image set S407XXX
PRICE
£8-00  GBP
$12-00 USD
Euro 9.50
To Purchase movie XXX065 go to:
Home Page, then 'Downloads – Online Store',
then 'XXX Section' and find 'Bring on the Treacle'.
WSM 2017 AWARDS
BEST OVERALL MOVIE
This year a difficult choice from our 4 category winners.
I do enjoy outdoor rather than studio shoots.
It boiled down to two main factors:
Who gave the most whole hearted performance?
And how easy would it be to repeat the movie?
So the winner of the Best Overall WSM Movie for 2017 is Dee with movie WSM203 with 'Dee is a very muddy dancer' (see above for movie details).
WSM 2017 AWARDS
To post to the Forums this week we need a 2nd Wetlook Movie.
So we have introduced a Runner-up Award to the best Wet Movie.
And this award goes to Nicky Phillips in Download HD movie WSM244 plus image set W405.
Running 13 minutes this has some terrific wet, clingy and sheeny dress shots.
See her dress change colour from purple to black to accompany her black accessories -  stockings and suspender belt, thong and patent strappy heels.
REVIEW OF NORMAL MOVIE WSM244
Download HD Movie plus Image set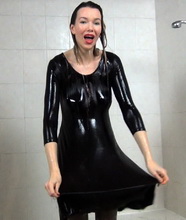 'Nicky Phillips gets Wet'
Movie WSM244
Run-time 13 mins 00 secs
2 Sample Clips & Streams in HD
Stream 1 runs 7 mins 16 secs
This is Nicky Phillips's 1st Wet shoot for WSM.
Nicky is a long legged, tall model.
She is full of spontaneous chat and girly responses to getting wet under the rainbar.
Her dress starts to stick to her before changing to a darker colour.
Within 3 minutes she is 'Absolutely drenched!'
This is great Wet fun to Nicky.
She tells us that she thinks she is a girl who looks good in both wet and dry clothes – see CLIP 1.

She sits on the plinth to give some good Wet stocking shots plus up-skirt glimpses!
Then she lies on the floor for a further soaking.
'I'm completely wet', she says.
She parades about and is never still.
If you like an utterly drenched clothed girl…..then this is for you.
Stream 2 runs 5 mins 44 secs
Stream 2 opens as Nicky removes her dress.
We see her trim figure and pert breasts.
She opens the front of her thong to get it wet – see CLIP 2.

This girl pouts good fun – watch her expressions to see what I mean.
Again, she lies on the floor only this time without her dress.  Some great figure shots.
With 80 seconds remaining she removes her thong.
She ends telling us she enjoyed the shoot.
Well there is only so much action you can take from an indoor studio wet shoot.
Nicky's enthusiasm and lively character show through so this is not just another wet movie!
For Nicky's image set W405 it was a perfect storm!
My camera had been malfunctioning due to a rogue battery.
So I used the studio manager's camera.
Then a panic call from my principal to clear down our file transfer system.
Yep, you guessed it.
The system stated the image set was captured…..but it had failed!
So it was all wiped away!
Aarrha, I hear you say, but you still had the images card in the studio manager's camera.
Bong!  No!  He had erased the file within 24 hours of the shoot!
You try so hard to avoid cock-ups!
Then suddenly several arrive together!
So the end result is 150 video grabs in image set W405.
We show you 5 video grab samples……which make us all very ashamed!
MOVIE WSM244 has 2 HD Streams running 13 mins 00 secs.
IMAGE SET W405 has 150 video grab shots
PRICE
£5-20  GBP
$7-80 USD
Euro 6-80
To Purchase movie WSM244 go to:
Home Page, then 'Downloads – Online Store',
then 'WSM Movies & Images' and find 'Nicky Phillips gets Wet'.
We continue to take SUBSCRIPTION payments in £ Sterling, US dollars and Euros, for membership of the WSM Website.
The Subscription site does not include access to new movie/images Downloads in the Online Store, which we have added during the last two years or any XXX movies.
Since 14th April 2017, Movies and Image sets added to the WSM Online Store under 'WSM Movies & Images' are added also to the Subscription site, 2 years after being added to the Downloads. 
Look at the JOIN NOW page to see our great value for 30 day, 3 month and 6 monthly Subscriptions as for a Subscription you can access:
261 Movies averaging 30 minutes each, including 18 Messy Wrestling Movies and 65 Custard Couple Movies, (which include 22 joint productions with WSM),
15 vintage movies and 163 normal WSM movies (excluding 21 duplicated joint production movies with Custard Couple).
PLUS 43,254 Images in 432 sets (being 157 W + 197 S + 78 M).
But if you want to see all these Movies and Image sets, then you need to take a Subscription to become a Member.
Click here to see the new better value Join costs!
COMMENT
None.
FUTURE PROGRAMME
ADVANCE NOTICE OF NEW DOWNLOAD STORE AND SUBSCRIPTION ADDITIONS
19th Jan New Custard Couple movie titled 'Banish the winter blues – get messy!  Movie XXX063 runs 22 minutes plus image set S450XXX.
 History shot for 2017 year named and posted.
26th Jan What a messy set-to as Axajay meets Mr. Nasty in 37 minute movie WSM174, now re-posted after 2 years as a Download to the Subscription section, plus image set W345 with 216 images.
 We review again XXX movie XXX011 titled 'Triple, triple XXX' which is 3 x XXX movies as one all featuring Mrs. Custard Couple.
2nd Feb Mrs. Custard Couple (CC) at her best as we see 3 outdoor 'Instant Wet' scenes – dry to wet in a flash – movie CC120 plus image set W395.
 One of the muddiest movies we made was WSM186/CC25 with Custard Couple (CC) in muddiest couple play…….not forgetting 428 enhanced images in set M214. This becomes the 21st movie and images now re-posted to the Subscription site after 2 years as a Download.
9th Feb Dee has a baked beans feast in movie WSM177 plus image set S358 with 91 enhanced images.  This becomes the 24th movie and images now re-posted to the Subscription site after 2 years as a Download.
We review again XXX movie XXX012 with an unforgettable performance by Mrs. Custard Couple as Maisie in 'Messy Schoolgirl', plus images.
16th Feb What can be better than Batman & Catwoman?
 Custard Couple (CC) give awesome performances in movie WSM215-CC87 and a huge image set S410 as this becomes the 23rd movie and images now re-posted to the Subscription site after 2 years as a Download.
We review again our XXX013 movie with CC in 'James Bond' which was released October 2013.
23th Feb Mature Asian lady Jade is soaked in Cooking Oil in 29 min HD movie WSM207, which is re-posted after 2 years on the Download site to the Subscription site along with 105 enhanced images in set S385.
We review again our XXX014 movie released November 2013, as Sue receives her 1st Slapstick sex from Professor Treacle!
One of our all-time classics!!