Two great scenes in this Stream:
Mel in 4 minute outdoor mud.
4 Girls in 8 minute messy slapstick dancing, then being 'caked!'

We return to our main story as Mel tells us in a voiceover that she is about to get dirty.
This is an outdoor scene on a riverbank as Mel attempts to increase her appeal to John!
Dressed in virginal white, white sleeveless top, white clingy trousers and white knickers, Mel gets stuck-in to mud daub herself on the muddy riverbank.
She gets fully mud covered, including face and hair.
Then, after stripping off down to her knickers, she does it all again!
There are some very appealing close-up shots of Mel.
Run-time 4 mins 15 secs.

Then we have a cracking 8 minute slapstick scene with 4 girls.
This is divided into two parts:
Firstly, Bill Shipton introduces Karasoakie time with the Karasoakie Dance Troupe.
The girls do not get soaked with water, but have coloured paints squirted over them by enthusiastic participants from the Aquantics 1991 Convention held in Tenby, South Wales.
1. We have blonde Rachel looking terrific in a silver, satin look, one piece catsuit.
She certainly warmed up the paint sprayers!
2. Lorraine was next, wearing a white mini dress which ended up liberally daubed!
3. Debbie wore a dark form fitting suit and got the messy treatment!
4. Finally, we have the svelte Carol who looked quite sensational in a figure hugging white, front laced, catsuit. Now that got those paint bottles twitching!

In the second part, the live audience vote on each girls' performance!
When they return, they are quizzed by Bill Shipton.
They can win either the big holiday or the Karasoakie Consolation prize.
But only consolation prizes for these girls doled out by the glamorous Louise L'Amour!
Rachel gets a cake in the face and hair.
Lorraine is treated similarly.
Debbie has to lift her skirt and take a cake on the bum!
Carol is accused of cheating! Her top is undone and the cake is lustily rubbed into Carol's boobs (see our FREE Clip).
What a slapstick contest that was with only one winner……us, the viewer!
Run-time 8 mins 11 secs

MAJOR ASPECT – 4 girl dance troupe get paint sprayed then cakes applied as their consolation prize! Run-time 8 mins 11 secs.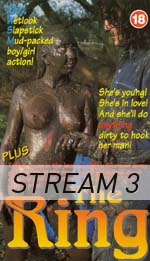 Download Clips

WMV
Sample Clip 1

PRICE
£5.00 / €6.60 / $8.00