A single outdoor slapstick scene featuring our lovers Mel and John.
Mel in her efforts to capture John voices her thoughts: 'Imagine what it would be like if I was smothered in food!' So she has arranged to go on a romantic picnic!

We see them arrive at the picnic scene outdoors in a meadow, not as a model with an extra, but as real life lovers looking forward to pleasing each other!
What does Mel say to John? See our FREE Clip and see Mel's sploshing outfit.
John takes up Mel's invite and the food flows!
Indeed, it is thrown by the bucketful to give some top quality sploshing scenes!
John tells us he is really enjoying this, (but who would not!)
John applies food inside her tight trousers, both front and back, and he vigorously rubs it in!
John, really getting in the mood, slides his hands under Mel's glistening food drenched top, to caress her breasts with relish.
He runs his hands all over her hot body, both outside and inside her clothes, with Mel enjoying both the attention and the success of her plan.
This is a real lovers' splosh fantasy come to life!

Eventually, John removes Mel's top, then gently fondles her boobs .
Having caught on quick, John applies a creamy cake to Mel's pert boobs.
There is some intimate kissing before John removes her trousers.
Chocolate sauce is rubbed into her back, bum and legs before being caressed down the back of her knickers.
The knickers are pulled tight on her bum which is further stroked with the chocolate sauce.
Then John applies the chocolate sauce to Mel's front, gently caressing her between the legs, moving on to her straining boobies, before daubing her face, teased by her enquiring tongue.
John slides his hand inside her chocolate slicked knickers in a probing embrace!

Then Mel kneels to receive custard over her head and a covering to her pretty face, then her boobs.
Crouching forward, she has a creamy cake applied to her bum!
Kneeling, a chocolate cream cake is pressed on her head then squished over her boobs and knickers, but Mel appears to enjoy it best when the cake is rubbed over her face!

Shot 13th October 1994, this is as complete a lovers' slapstick scene as you will ever get!

MAJOR ASPECT – Shot outdoors in a meadow, John is invited to give Mel the slapstick treat of her fantasies! Run-time 10 mins 52 secs.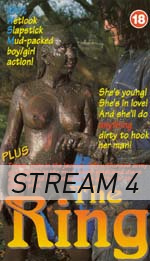 Download Clips

WMV
Sample Clip 1

PRICE
£5.00 / €6.60 / $8.00