HD Sample Clip - not explicit


2 Sample Clips in HD
2 Streams in HD
Many of you will probably say why are you bothering with this shoot?
Mature lady Dee is not at her best and was having a battle to fight the flab!
But it was the last few weeks of my studio.
So we persevered with several shoots despite the equipment beginning to fail.
But how many professional firms will tell it as it is?
Well here you see an ordinary mature mum in her mid 40's getting stuck-in to a messy shoot, just because she likes messy shoots!
This is hope for everyone!
Stream 1 – runs 10 mins 59 secs
Dee talks to the camera about the 'Nut Crazy' chocolate hazelnut spread product.
This is a smooth chocolate which spreads well.
Dee coats her legs then her arms.
She is wearing a white full dress, white suspenders and stockings plus a white thong (which is far too small for her!)
Her white dress starts to get messed.
Dee becomes messier and messier, even putting chocolate on her toes and feet – see CLIP 1.
She is continuously active and does not just lie there.
'I have got to get every bit covered', she says as she continues to spread the chocolate.
After 10 mins she puts chocolate on her face to end this Stream with what looks a chocolate face mask!
Stream 2 – runs 10 mins 25 secs
Dee continues to mess herself up.
She squirms in the chocolaty paddling pool.
Her dress is soon fully chocolate covered.
She lies back in the paddling pool stretching her legs.
After 3 mins, the 2nd product, the genuine black treacle is introduced.
This is poured on her from above.
Soon her legs are fully covered.
Dee lies back to have a steady stream of treacle poured over her arms, bust then her hair and face.
She takes the treacle coating well.
Then she stands up so we can see how treacle coated she is.
After 7 mins her dress is off.
Dee caresses her white bits with the treacle – see CLIP 2.
More treacle is poured over her head and body as Dee turns very black!
She removes her suspenders, stockings and knickers before spreading the black goo over her legs!
Finally, she rolls around the treacly pool before kneeling up to say goodbye.
In addition there are 185 Enhanced Images
(Full Screen) of Dee's chocolate and treacle play.
This is a great record of a mature lady who has no right to be there enjoying her messy play.
But as she loves all mess…….it helps us build a full portfolio of shots with Dee at different weights and with different products.
Although the lighting was not conducive, the resulting 35mm shots give you a terrific record.
See if you think so as we show you 5 sample shots from image set S404.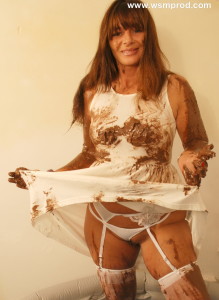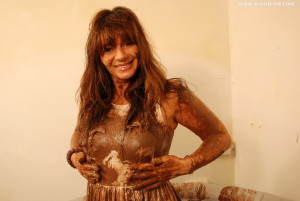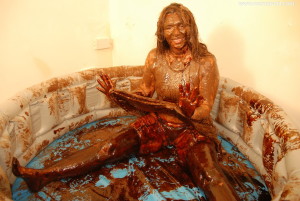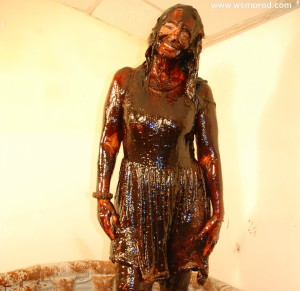 MOVIE WSM214 has 2 HD Streams running 21 mins 24 secs.
IMAGE SET S404 has 185 shots