HD Sample Clip - not explicit




4 HD Streams plus 4 HD Sample Clips – choose Quick Time or MP4 formats
Stream 1 Early morning Swiss swim – runs 06 mins 06 secs
We see Mrs. CC on holiday in Switzerland.
She decides on an early morning swim.
Cleaning her sunglasses causes them to drop into the deeper pool, so she has to retrieve them – see CLIP 1.
She dives down to find them.
So Mrs. CC has her early morning swim against a magnificent backdrop.
She clambers out of the water then undoes the top buttons of her outfit.
Mrs. CC rolls in the shallow lake then removes her garment to reveal brief black underwear.
Off she goes on another swim.
Finally, she removes her bra before swimming off.
There are 42 enhanced pics of this shoot in set W372
.
We show you 2 sample shots.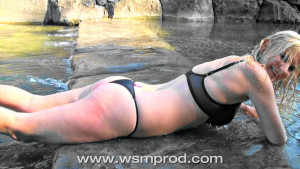 Stream 2 Swiss lake swim in white spot dress – runs 05 mins 34 secs
Mrs. CC takes a further swim in the Swiss lake.
This time she wears a dark mini dress with white spots.
She lies on the stones before the deeper water pool.
Then she is in that pool swimming about (wonderful close movie shots as you swim alongside her), before she clambers out back onto the stones.
She lies with her hair dangling into the running water before she sits up and we can admire the treble view (woman, lake and mountain) – see CLIP 2.
Mrs. CC stands in her wet, clinging dress, then teases us before removing the dress to reveal a topless body garment.
She crouches to give us a wonderful view of her boobs set against the stunning scenery.
Then topless, she lies back relaxing.
She ends by chatting to us and telling us how much she has enjoyed it.
What a tonic for us all! A perfect day, picturesque scenery and a wonderful wet woman!
There are 42 enhanced pics of this shoot in set W378
.
We show you 2 sample shots.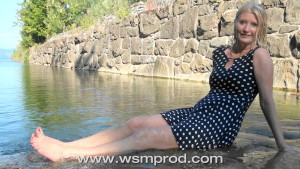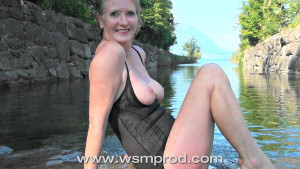 Stream 3 Instant Wet at canal lock – runs 06 mins 04 secs
Mrs. CC is at a canal lock on a glorious day.
She wears a quirky sparkly mini dress with tights and sports a hat!
She poses for Mr. CC and shows off her sexy pantyhose by rolling her dress to her waist!
She parades up and down on the canal lock path.
Mr. CC tries to trick Mrs. CC into the water without any success.
Then she lies back on the edge of the lock and inadvertently rolls into the canal!
Mr. CC is delighted!
Mrs. CC gasps for breath with the cold (yeow, I did check the shoot date – 9th April!).
As she swims to the steps they continue to exchange banter.
She hauls herself up the steps out of the canal.
The mischievous Mr. CC throws her hat back into the canal lock!
He wants more wet!
Mrs. CC sets off in pursuit – see CLIP 3
Mr. CC admits that he loves seeing her wet!
Mrs. CC clambers out and up the steps ignoring Mr. CC's request to take his hand!
"What happened there" asks Mr. CC tongue in cheek!
We all know that Custard Couple enjoy their wet games!
Mrs. CC strides up and down dripping wet before continuing her posing.
"Ah Wow" says Mr. CC at his wife's sexy poses.
Splendid entertainment for us all!
We have 32 enhanced pics of this shoot in set W428.
We show you 2 sample shots.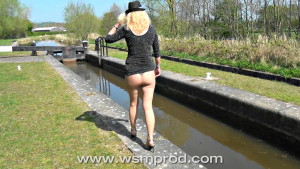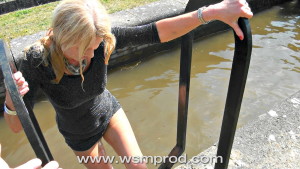 Stream 4 All about Wet luxury pantyhose – runs 08 mins 49 secs
We see Mrs. CC once again at the canal lock. She wears a skin tight simulated latex skirt and a very fancy bra matching her most exotic tights!
She tells us she is so warm and wants a little dip in that canal lock (I checked the date – 25th July).
Pulling her skirt up she walks along the canal-side path teasing us with her tights.
Spotting the steps into the water, she just wants to get cool.
She poses for us chatting to us all the time.
She stands at the steps, hitches up her skirt and goes down to the water.
Her lovely tights are exciting her – see CLIP 4.
In she goes for a swim around even lifting her legs from the water to show off her wet tights.
Then she climbs out all wet and extolling her sheer, wet, pretty tights!
"They are totally translucent", she says.
But there is more as Mrs. CC says she "Cannot resist getting these beautiful tights wet again".
With her skirt still hitched up to her waist, back in she goes, dipping her bum into the water.
This is all about sexy wet tights play.
Mrs. CC goes back into the canal lock for a further swim with more wonderful wet tights shots as she climbs the steps out of the canal.
She walks about then sits on the canal side.
Further wonderful wet leggy shots!
After her dip, Mrs. CC entertains us by posing around the canal and provoking us with her poses and comments.
Splendid! Splendid! Very pleasing sexy material!
Mrs. CC must be one of the sexiest MILFs in the world!
Definitely a UK treasure!
But quite a dilemma with the photoset
for this movie!
Most shots are landscape and show a wide area.
But most people want shots that concentrate on the subject i.e. Mrs. CC and show good detail.
So image set W430 ends with 142 enhanced shots.
Totally magnificent pics if you are a glossy/wet tights fan.
But great material shot as is usual with CC………outdoors.
And we must always respect the model and photographer who often go to extraordinary lengths to get those shots that you like.
How did we do?
Here are 5 sample shots from image set W430.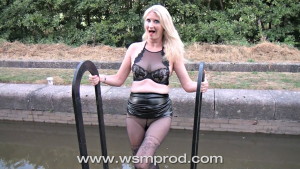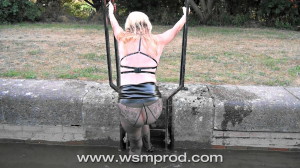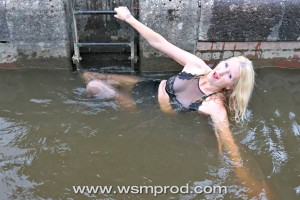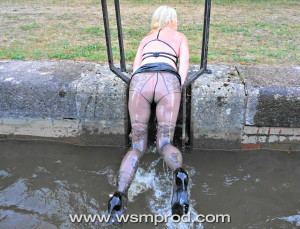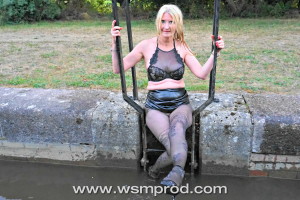 MOVIE CC23 has 4 HD Streams running 26 mins 33 secs.
An unusual Wet movie with 4 scenes shot on different days.
Plus a lot of work from all concerned to put this ambitious movie together.
There are 4 separate IMAGE SETSwith movie CC23 totalling 258 shots.
Please see each scene for number of images and sample shots.