HD Sample Clip - not explicit



3 HD Streams plus 3 HD Sample Clips – choose MP4 formats in HD or SD
Stream 1runs 11 mins 17 secs
Mrs. CC speaks to the camera telling us that she is going to dance for you!
She is dressed in a white cut-out dress with black clothing of elbow gloves, bra and panties, stockings and heels with ankle straps plus a blue garter belt.
The water spray commences after 39 seconds and continues to the end.
So Mrs. CC gradually gets wetter.
If you like a Wet woman dancing, then you will enjoy this!
Key moments and timings in Stream 1 :
05-08 dress off
05-47 gloves off
07-54 bra off
09-25 knickers off
See CLIP 1
for Mrs. CC with just her dress removed
There are 49 enhanced pics of this shoot in set W425a
We show you 2 sample shots.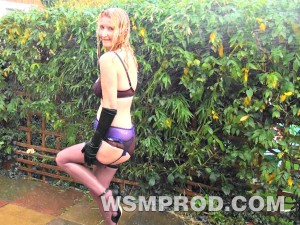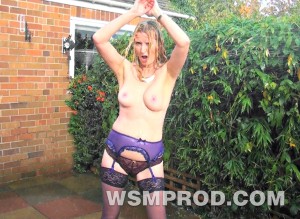 Stream 2runs 11 mins 37 secs
For this dance Mrs. CC is dressed all in black with net blouse, bra, shorts, tights and thong.
Her only coloured item is her thigh length red PVC boots.
The water spray across her dance area runs throughout this Stream.
She gradually gets Wet with some good clunky boot and sloppy wet boot and clothes sounds.
After 3 minutes she is well drenched.
You can see how Wet she has become after 6 minutes when you view CLIP 2.
Mrs. CC retains her clothes and all the strip action happens in the final 100 seconds.
10-03 shorts off
10-14 tights ripped
11-06 blouse off
11-21 bra off
There are 27 enhanced pics of this shoot in set W425b
.
There is just one sample shots.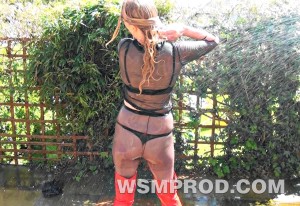 Stream 3runs 10 mins 14 secs
Mrs. CC commences sitting leisurely on a couch clad in a black leather look zipped dress with matching tight fitted thong…….and black thigh length PVC boots.
She stretches and kneels up on the couch.
The water spray is gently caressing her as we hear the water drops and the suction from her thigh boots.
She kneels up on the couch – this is far more raunchy than before!
She squirms across the couch in an athletic display!
2-50 she undoes the zips on her dress to release her boobs.
She lies on the ground then walks into the water spray.
Her next tune commences with her directly in the water spray.
4-36 undoes dress zips further.
5-29 her hand is inside her thong.
6-49 next tune has the water spray turned off
7-23 we find out why as 5 buckets of water are thrown over her!
8-23 2 further buckets of water go over her
9-45 water spray resumes – see what you think of how Mrs. CC looks – see CLIP 3
as her dance nears the end.
We have 41 enhanced pics of this shoot in set W425c.
We show you 2 sample shots.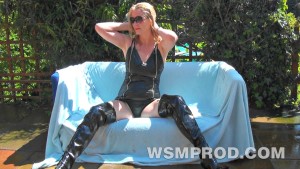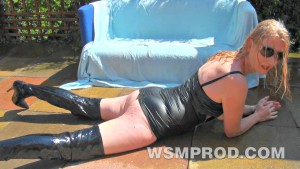 MOVIE CC30 has 3 HD quality MP4 Streams running 33 mins 08 secs.
A further unusual Wet movie with 3 scenes shot with Streams 2 and 3 shot the same day.
There are 3 separate IMAGE SETS with movie CC30 thattotal 117 shots.
All are published as image set W425 but sub-divided as a, b and c.
Please see each scene for number of images and sample shots.