HD Sample Clip - not explicit




4 HD Streams plus 4 HD Sample Clips
Stream 1 runs 12 mins 55 secs
We go out in the stony desert at Fuerteventura.
Mrs. CC brought water to get herself and her white jersey dress fully wetted.
The dress becomes transparent and looks marvelous especially with some great leggy shots.
She shows off her underwear-
see CLIP 1
.
Mrs. CC comments how jersey dresses just hug your body!
At 6 mins 57 secs she is in her villa and gets into the bubbling Jacuzzi.
Some glorious wetlook especially when she slips her boobs from their bra cups, then removes her bra!
She strides out of the Jacuzzi (more leg shots) and poses provocatively on the poolside.
Finally, a dip in the pool to conclude a super and at times up close and personal 1st jersey dress.
Yes, that was good and memorable.
We show you 3 sample image shots from
set W436a which has 69 shots.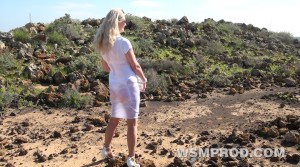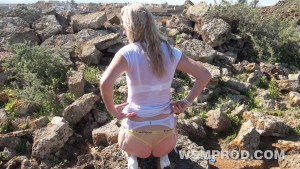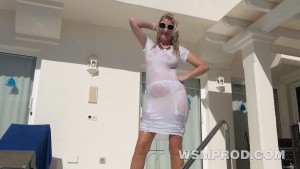 Stream 2 runs 8 mins 28 secs
Mrs. CC goes under the shower in a flouncy short sleeved white dress worn with dark underwear, tan stockings and black heels –
see CLIP 2
.
Here we have a musical backing to her shower play.
Slowly Mrs. CC gets drenched.
Once again those long legs are evident and provoke us.
She rolls up the dress then removes it to remain in her dark undies.
She teases us with knicker play.
She writhes on the floor under the shower.
With less than one minute left she removes her knickers.
Great Wet sexy woman play!
We show you 1 sample shot from
set W436b which has 40 shots.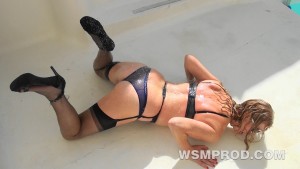 Stream 3 runs 10 mins 21 secs
This time Mrs. CC wears a black dress with shoulder straps and once again she is under the shower with a musical accompaniment.
Besides her black heels, she wears skimpy thin white panties worn with normal stockings attached to a black suspender belt by a thick black welt at the stocking tops.
Special attention is given to wet hair plus those elegant long, long legs!
At 3 mins 53 secs she removes her dress (and sunglasses) to devote a lengthy show of bare, wet boobs –
see CLIP 3
.
She sits then rolls about sexily on the shower floor, still under the shower spray.
Standing produces a change of musical backing pace.
At 7 mins 10 secs we head into the pool for a bounce around in the water.
Great pool wet shots with her boobs dominating!
Finally, she exits the pool by the steps giving terrific wet woman shots and mesmerizing us with her boobs!
A nicely balanced wet shoot which sparkles along with the sun!
We show you 2 sample image shots from
set W436c which has 54 shots.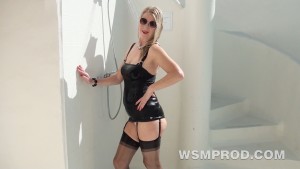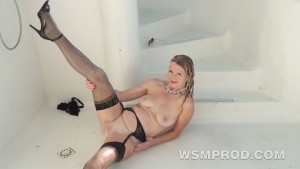 Stream 4 runs 12 mins 43 secs
There is no music in this Stream which features a classic glossy wet red dress with large black, clinging, shiny knickers.
Mrs. CC sits on the edge of the pool to splash her legs and dress. Her legs become shiny.
Then she goes under the shower and the dress becomes clinging and glistening, and so do her knickers and stockings!
She kneels on the floor under the shower.
Then she sits on the floor under the shower in provocative open leg style shots, as she is sprayed by the water.
She starts to feel her clit through her knickers.
She kneels up for some superb glossy bum pics in those dark shiny knickers!
A detailed close-up shot of her face personalizes the shoot more.
Further sexy very wet back shots enhance the mood.
At 7 mins 00 secs she goes into the pool and swims about.
She exits the pool in glorious wet style
– see CLIP 4
.
Then she slinks back to the shower to remove her dress.
Slowly she removes her bra then those big knickers.
The water overwhelms her and soon her hand is between her legs urging her to some satisfying climaxes.
She leaves us a very satisfied woman and hopefully we all enjoyed her Wet entertaining play too!
We show you 2 image shots from
set W436dwhich has 62 shots.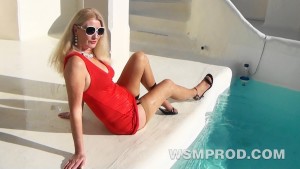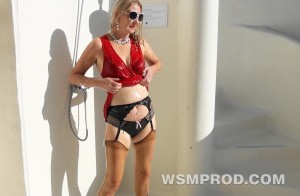 We have detailed the 225 Wet Image shots from Image set W436 above.
MOVIE CC160 of 'Mrs. CC in Wet Jersey Dresses'
has 4 HD Streams running 44 mins 27 secs.