HD Sample Clip - not explicit



3 HD Streams plus 3 HD Sample Clips in MP4 format
Stream 1runs 7 mins 25 secs
Mrs. Custard Couple (CC) performs under the Rainbar in 3 different outfits in the 3 Streams of this movie. The outfits are meant to be provocative and appealing to Wetlook lovers.
There is a strong sensual theme to all 3 outfit wettings.
The Wet Choice belongs to Mr. Custard Couple (CC).
He is to decide on his favourite outfit then reward his pretty wife in his customary manner after she has aroused him so much!
So of course he fixes it that the outfit that most appeals to him is the 3rd and last.
This means that a 4th Stream is required, as this movie has another 13 minutes of XXX play.
So the 3 Streams from this movie plus 13 minutes of XXX play will become movie XXX104.
Mr. CC introduces the movie as he celebrates the final CC shoot from Yorkshire Studios.
Mrs. CC demonstrates the rainbar in her outfit number 1 –
see CLIP 1.
This is a one piece suit which she describes as a white dressy suit.
It produces the right effect becoming shiny and see thru as Mrs. CC stands under the rainbar.
After 3 mins she starts to disrobe.
She reveals a black bra, black suspender belt, a black thong and stockings.
She wears some glitzy silver heels.
After 5 mins she starts to remove her bra.
Next, she reclines on the floor under the rain showing her wet hair, bare boobs and long, long legs.
She performs some wet floor exercises which get us to exercise our imaginations.
But not for long!
She removes her knickers!
Some glorious wet shots plus wonderful poses!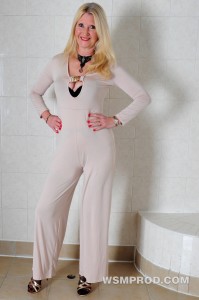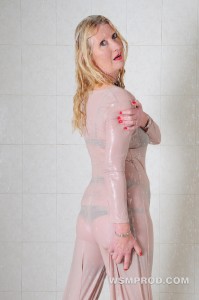 Stream 2runs 6 mins 51 secs
For her 2
nd outfit Mrs. CC wears black boots, a latex pencil skirt, a satin blouse plus what she describes as "a very naughty pair of knickers" – see CLIP 2
  She also wears a red bra, a red suspender belt and stockings.
And all the while the rain pours down!
After 3 mins her skirt and blouse are off.
She kneels provocatively on the floor.
Sitting up she removes her boots to reveal glistening stockings.
She slowly removes her knickers.
Then more wet floor poses under the unceasing rain.
Kneeling she removes her bra.
Then she stands under the deluge to delight us all.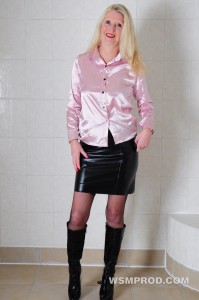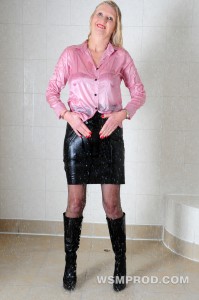 Stream 3 runs 9 mins 56 secs
And so we reach her final outfit which we know that CC mutually agree to be the most appealing.
Mrs. CC wears a classic figure hugging white dress with short sleeves.
It is knee length and almost opaque ti begin with as we can see her bra, suspender belt and stockings plus her white high heels.
Soon the outfit shines glossily.
Mrs. CC fondles her bum.
Hands are important in a Wetlook movie as Mrs. CC simulates where you would like to roam!
Some glorious drenched shots with the clinging, shiny, see-thru dress.
Mrs. CC lifts her skirt –
see CLIP 3
  After 3 mins 28 secs the dress is removed.
She crouches under the rainbar as the rain buckets down.
She kneels with her bum pointed to the camera (to provoke us).
Then kneeling under the torrent she starts to feel herself in this Wet utopia.
Mrs. CC stands (are we still following her hands?)
This time she removes her bra.
We all know that her outfit and behavior will have provoked Mr. CC.
She lies on the floor on her stomach.
She feels her boobs.
Then she parades those long drenched legs!
Slowly she removes her knickers before kneeling upright.
Wonderful drenched play!
She uses her knickers to caress her clit.
Then she sits open legged on the floor before rolling about in floor play just clad in stockings, garter belt and white heels.
Finally, she stands in triumph.
And we all know what happens next!
Movie XXX104 will feature CC's sex play.
So wait until next week if you want the XXX version which includes 14 minutes of XXX play.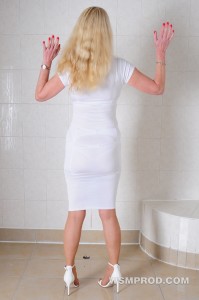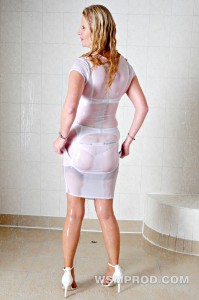 In addition WSM give you 3 Image sets covering the 3 different outfits Mrs. CC wore.
There are 274 shots comprised of:
81 shots set W432 white dressy suit
81 shots set W433 black boots & latex skirt plus satin blouse
112 shots set W434 classic white dress and underwear
Nothing artificial about the images produced!
Each shot is carefully checked and adjusted.
Anyone else do this?
You will miss us when we have gone!
MOVIE WSM276 or CC170has 3 HD Streams running 24 mins 12 secs.
IMAGE SET W432, W433 and W434 have 274 shots.
Movie WSM276 or CC170 is only available as a Download (for the next two years).