WMV Sample Clip - not explicit



3 WMV Sample Clips – raunchy but not explicit
Ice Cream Shag
An early XXX movie from Custard Couple (CC) filmed for WSM and shot Nov 2011.
Mrs. CC chats constantly in this movie.
Mrs. CC kneels on a table and has ice cream rubbed over her bum.
Mr. CC cums over his horny wife's knickered bum.
Then, Mr. CC rubs his cock over Mrs. CC's boobs, while she frigs herself.
Mr. CC pours ice cream down her front before frigging her to an orgasm, for which he is rewarded as she sucks his cock.
A very messy Mrs. CC asks Mr. CC if he will come and play with her some more?
Mrs. CC kneels on the floor as raspberry syrup is poured over her bum.
Then he shags her saying he will 'put some spunk up her'……much to Mrs. CC's delight!
'Ice Cream Shag' movie Stream runs 08 mins 38 secs
Image set S321XXX has 38 now enhanced shots with 2 sample shots.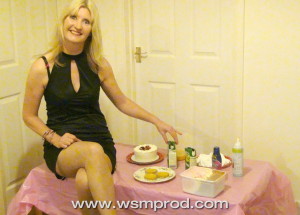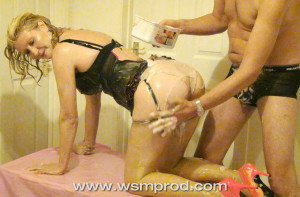 Messed with Spunk
Mrs. CC is lying on a red satin bed and talks provocatively to us.
This is one of the earliest movies we have from CC as it was shot Sept 2009.
There are two scenes:
Firstly, dressed in short black negligee, black stockings and suspenders, a black bra and arm length black gloves, Mrs CC says she 'could do with some nice hot spunk all over her black and gold knickers!'
She wants spunk so she can rub it all in!
She fantasizes about 'Spunk all over me!'
She needs a man, so of course Mr. CC obliges.
Mr. CC spunks all over the front of her knickers.
Mrs. CC relishes rubbing it all in to her knickers and licking her gloved fingers!
Secondly, Mrs. CC changes to pink knickers with a bra, stockings and suspender belt.
Once again, she only has one aim 'to get my arse covered in lovely spunk!'
Mr. CC duly obliges his randy wife by cumming 3 times as she spreads the spunk into her knicker clad arse!
'Messed with Spunk' movie Stream runs 10 mins 44 secs
Image set S511XXX has 20 now enhanced shots with 2 sample shots.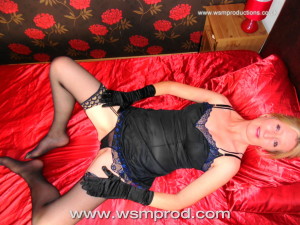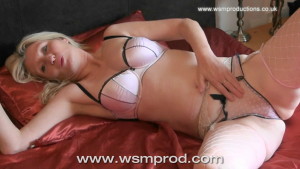 Choco Mess
Another old movie brought back to life as this was shot in October 2011 and was the 1st XXX set Custard Couple (CC) filmed for WSM.
We commence with Mrs. CC covered in chocolate clad in her undies.
She pours chocolate syrup on her unpeeled banana.
Mrs. CC needs a man to put some 'cream' on her banana.
Mr. CC duly obliges after some oral encouragement from Mrs. CC as he cums over the banana and into her willing mouth.
Mr. CC puts chocolate custard over his wife's forehead.
She rubs the chocolaty mess into her face and hair.
Mrs. CC sucks his cock some more, then her boobs are out of her bra, as Mr. CC rubs his cock on her inviting tits.
Mrs. CC goes on all fours, then Mr. CC frotts her knickered bum before pulling her knickers down to pour chocolate custard over her bum and then slide his cock up and down her chocolaty bum crack!
'Choco Mess' movie Stream runs 07 mins 27 secs.
Image set S322XXX has 41 now enhanced shots which include introductory shots and end shower shots which are not seen in the movie and 2 sample shots.