WMV Sample Clip - not explicit


This is a SD Movie
2 Sample Clips – raunchy but not explicit
We have Custard Couple taking the parts of Sir and schoolgirl Maisie.
We pick up the action in the 4th and final Stream of the normal movie WSM131.
Maisie wants more, more mess, so she is deluged again with custard.
Sir rips her blouse open and her boobs spring out of her bra!
Cakes are introduced. A cream flan is rubbed into Maisie's boobs.
She then takes off her skirt to sit on a cake on a chair.
A 2nd cake is rubbed into her tits and head!
Sir slaps a cream flan with great gusto into her pretty face!
Then a cream flan is sploshed on her bum.
Maisie then leads us into the XXX Stream by asking to suck Sir's cock!
Stream 2 commences with cock sucking plus plenty of handwork from Maisie.
Custard is poured over Maisie and Sir's cock.
Maisie says she will do anything, so Sir asks for a fuck!
Maisie is well fucked with both back then front views.
She rubs a cream flan over her boobs and pussy and custard cascades over her.
Next she is on the floor as cake is spread on Sir and his cock.
Maisie still has her bra, suspender belt, stockings and heels on!
Sir frigs her as she caresses his cock.
After smearing cake over her bum, Sir fucks her as she lies on her tummy.
Then he smears custard over her back as Sir shags her hard smacking her arse!
Maisie sits up and rides his cock.
Besides constant chat between them, there is also vigorous sex.
After messy floor play, Maisie asks to lick Sir's cock.
There is more cock sucking and handwork from Maisie before Sir squirts cream on his cock and as Maisie sucks hard, squirty cream is dribbled over his cock and her face!
Sir wants to fuck her again and he has one final flourish, bending Maisie over the plinth.
This is all chat and all out sex action and is a wonderful fantasy by our sexy duo.
In addition we have two separate Image sets both enhanced to full screen:
There are 140 images in set S290a XXX of 35mm shots.
We show you 5 sample shots from image set S290a XXX.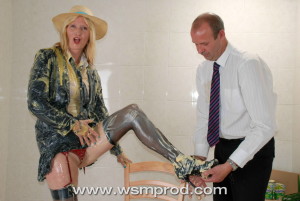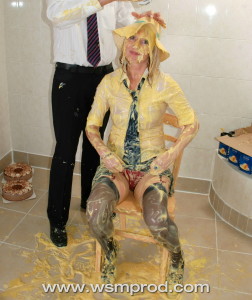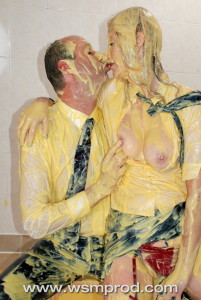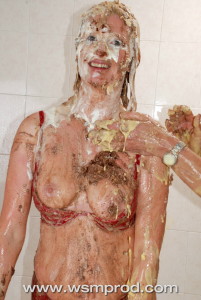 Plus we follow the action of Stream 4 with 50 video grabs in set S290b XXX
MOVIE XXX012 has two streams:
Stream 1 runs 9 mins 13 secs and Stream 2 runs 18 mins 48 secs.
Despite being a Standard Definition movie (SD) the picture quality is good.
The content is even better!
Worth the price for the image sets alone!