WMV Sample Clip - not explicit
3 Sample Clips in HD
3 Streams in HD
Streams 1 and 2 of movie WSM228 or CC113 as Custard Couple (CC) played in the river in their business suits form the normal movie which introduces movie XXX053.
Stream 3 runs 11 minutes and is totally XXX action.
Stream 1runs 12 mins 36 secs
CC introduce the shoot both clad in their work suits (including a tie for Mr. CC and heels for Mrs. CC).
They are setting out to entertain us.
But they have the normal difficulty (in the UK) of trying to get into rather cold water.
Mr. CC splashes Mrs. CC (who gasps with the cold!) but it was a remarkable warm and sunny day!
Mr. CC splashes her back as she stands knee deep in the river.
Then it is Mr. CC's turn!
Mrs. CC does not lark about but liberally splashes Mr. CC.
Then we have double fire power as they set about splashing each other.
At 04-12 Mrs. CC lifts her skirt and Mr. CC really enjoys splashing her bum and back.
Turning her round, he furiously splashes her front and Mrs. CC had kept her skirt raised.
At 5-00 we switch to a new scene as standing knee deep in the water facing the camera, Mr. CC wants them both to go for a swim in their suits.
But first they have to sink down slowly into the water.
Then off they swim in the river (against the current).
Mr. CC wants to see his wet wife so up she stands – See CLIP 1.
She then hoists her skirt up!
They set off together using the river current.
They roll and lark about together, with Mr. CC acting as a float for Mrs. CC.
At 8-00 they get to their feet in the middle of the river.
At 8-39 we move to their next activity as Mr. CC says they will have a wet suit diving competition.
Mr. CC considers himself an expert.
So he takers the first dive emerging with a dripping suit (and looking very pleased with himself!)
So how will Mrs. CC fare with her dive?
She makes a very creditable effort and emerges spluttering and drenched (much to Mr. CC's satisfaction!)
For the next dive they remove their jackets (and as it is getting serious, Mr. CC removes his tie!)
Mr. CC tells her to watch……as this is how it should be done!
'That is what you call number 1', splutters a triumphant Mr. CC.
Mrs. CC hoists her skirt then flops and swims in the water.
A sporting Mr. CC (ever the gentleman) decides that the diving contest is a draw!
Stream 2runs 12 mins 39 secs
Mr. CC tells Mrs. CC that 'He loves the look of her wet clothes' as he fondles her wet blouse!
Mrs. CC continues the new tone saying 'It must make you feel quite horny in this water'.
They go to the bank and recline in the shallows.
Mrs. CC admires his suit which is 'All black and shiny!'
Mrs. CC reckons 'Everyone should wear their suits in the water!'
She sets out to entice Mr. CC rearing her wet bum in a vivid pink knicker display.
'Very, very sexy', says Mr. CC.
Now we can all see where this wet play is leading!
She undoes her husband's shirt.
They smooche.
Then she splashes him as he kneels in the shallow water.
Mrs. CC lifts her blouse to expose her pink bra.
She lies back as Mr. CC slops water over her, caressing and kissing her body.
Then Mr. CC lies on top of Mrs. CC.
He is relishing splashing her knickered bum and stockings.
They squirm together in a sexual fantasy.
At 4-55 Mr. CC rolls her away and with Mrs. CC on her back, he enjoys caressing and kissing her bra covered boobs.
Simulated sex takes place with Mr. CC frotting his wife.
She extends her legs over his shoulders for a very unusual sex play position, but the purpose is for a wet shot, with her hair dipped into the water and those long wet legs!
Their probings become more intimate.
Mr. CC releases her boobs in a rather stunning Clip that captures this unusual play – See CLIP 2.
At 7-06 Mr. CC retreats then sloshes water over Mrs. CC who continues to lie back in the shallows.
Mrs. CC is now starting to feel really naughty so suggests they take more clothes off!
They both stand up.
Mr. CC removes her blouse as she removes his shirt.
Then he removes her skirt.
Both are now stripped down to their undies with Mrs. CC in bra (but her boobs are hanging free), plus knickers, garter belt, stockings and heels.
Mr. CC is stripped down to his Calvin Klein briefs (but still wears his shoes and socks).
They wade out into the river again splashing each other.
They lie in the water then come together in a clinch.
Mrs. CC sits astride Mr. CC.
The mind boggles when he requests an underwater kiss from Mrs. CC.
They kiss as she pushes him under the water!
He bubbles away expelling air from his lungs…….this was not a success!
Then Mrs. CC straddles him as he lies back in the water.
At 10-12, the horny Mr. CC slips her knickers off allowing some most intimate sex play.
Now Mrs. CC lies on her stomach in the water as she frots Mr. CC.
Their actions become more vigorous, then they decide to return to the shallows.
From here the action becomes hot and steamy and continues in XXX Streams 3 and 4.
Image set W389 has 264 Enhanced (full Screen) shots of CC at play in the river in their suits.
This is a rather awesome image set following CC's wet adventures in their river play.
Besides there being many fine wet shots of Custard Couple as a couple, there are also some delightful shots of Mrs. CC solo and at times very drenched!
Image set W389 is an exquisite record of a fabulous couple's river shoot.
We show you 6 sample images from this set W389.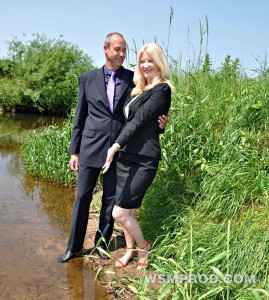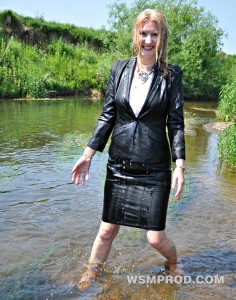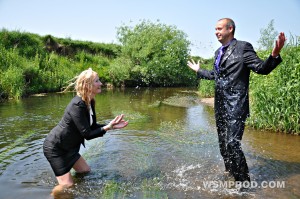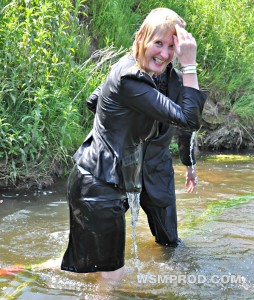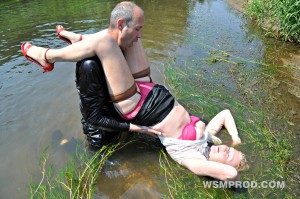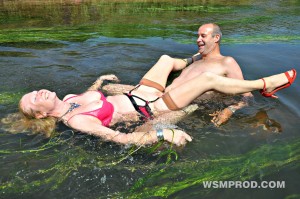 Stream 3runs 11 mins 01 secs
Clip 3
sets the scene for the wet sexy action that follows.
Stream 3 opens with CC embracing on the river bank before Mrs. CC crouches down to take Mr. CC's hard cock in her mouth! Good close-up camera play as they cavort on the river bank.
Mrs. CC kneels in the shallow water on all fours as Mr. CC couples up for a spell of penetrative shagging. And we get an excellent voyeurs view.
Then Mrs. CC is rolled onto her back for further penetrative play with Mrs. CC lying back with her hair in the water. Mr. CC hammers away in an insatiable fashion…….before spending himself.
He then asks Mrs. CC to 'Come ride me!'
Mr. CC lies back in the shallow water with a stonking erection!
And Mrs. CC does ride him, and once again there are excellent voyeur shots.
An aeroplane soars noisily overhead, but there is no stopping this couple!
At 7-15 they sit side by side on the bank but the frisky Mr. CC wants to stimulate his wife's clit.
He commences with finger play before he tongues her clit in the shallow water.
He arouses Mrs. CC and the water thrashes again!
At 8-40 Mrs. CC has hold of his cock to stimulate him.
Mrs. CC lies back in the shallow water anticipating a cum shower!
But Mr. CC wants her to suck him and he fucks her face as she lies in the water with her hair drenched!
Some difficult shots to achieve here, but this is rather unique material!
'Oh Yeah' says Mr. CC.
And so do all of us!
'Well Mr. CC , what can I say', states a very happy and satisfied Mrs. CC.
They bask in the shallow water in their afterplay.
And Mr. CC gives you some very personal advice!
Remarkable! You bet!
Outdoor sex play in the river!
Wow!
This is ultimate voyeur action.
IMAGES!
Image set W389XXX has 75 Enhanced (full Screen) shots of CC at XXX play in the river.
What you read about above, here you will see in the image set.
Due to the revealing nature of most shots, we have had to limit the sample shots to 2 pics.
We show you 2 sample images from this set W389XXX.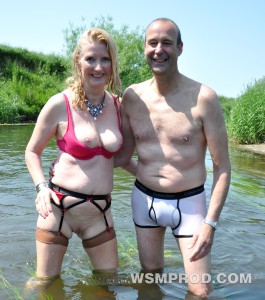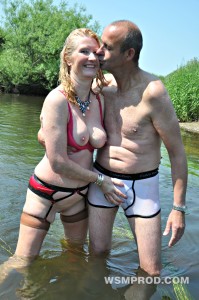 Normal movie run-time 25mins 15 secs
XXX movie run-time 11 mins 01 secs
Total run-time 36 mins 16 secs
This package includes the following:
2 Clips and 2 Streams (nos 1 and 2 ) from NORMAL movie WSM228 or CC113
1 Clip (number3) plus 1Stream (number3) being XXX material.
264enhanced (full screen) image shots from set W389 – see 6 sample shots
75enhanced image shots from set W389XXX.
PRICE
£8-40 GBP
$11-30 USD
Euro 9.70