WMV Sample Clip - not explicit



3 Sample Clips in HD
4 Streams in HD
A HD movie with mature couple Custard Couple who find their messy fun in the unlikeliest of places! But the movie becomes a messy treat before going on to some unusual sex fun!
We have a review of this movie written by Mrs. Custard Couple:
"Hiya everyone
I thought I would share how this movie came about and what led us to do what might seem a rather unusual movie for you all….
So, like everyone we are rushing about at home, but that day we had some visitors due that evening, so I agreed to walk down to the local shop, whilst Mr CC stays at home tidying the garden.
I set off for the 10 mins walk to the local Spa for some last minute shopping and took a few shopping bags with me. I`m wearing a pair of white cargo pants teamed with a black blouse and blue cardigan.
Arriving at the shop I continue to shop and rush round with my list picking items for tonight's meal, which included some cartons of custard and some angel delights for the kids, along with some other essential items.
I finish my shopping and go through the till with no problem, but as usual find I did not bring enough shopping bags. The assistant kindly asks if I want to purchase another to help me pack the last few items into. Now why is it when you are asked if you want to buy a 5p bag you always think 'No'?
I`m not paying for yet another bag!……Well that is how I thought and decided to pack a few items into my pockets, which at the time I thought was a great idea!!
So another 10 mins walk home and after all my items safely unpacked at home, I had a wet feeling between my legs and into my panties!! To my horror, I find that a carton of custard had started to leak through my pockets and down my leg and had already started to soak my underwear…. Mr. CC walks in from the garden right on cue and asks why I looked so upset?
I show him the damaged carton of custard and the mess it has now caused in my pocket!
Now I should have known better than show him shouldn't I??? He had no sympathy and starts to laugh, and I must admit I too saw the funny side of what has happened.
This seemed to be the signal for Mr. CC to take things further and he promptly empties the remains of the custard carton into my other pocket squidging the gloopey custard further into my white cargo pants. This was soon followed by a passionate kiss on my mouth. I could tell how excited he was and I thought what the hell! This must be time for some unplanned Messy Fun and it feels great for me too!!!
The other carton is now opened and fully poured down into my pants, followed by Mr. CC pulling out his penis and sticking it deep down, deep into my messy pocket!! His hands now smearing the mess over my bum and up onto my blouse……I ask him how it feels and with his eyes rolling I can tell he is in ecstasy!! And to be fair my juices were starting to gush between my legs.
Opening more of that evening's food, we both sink down to the kitchen floor to enjoy a very passionate messy fuck using up some of the groceries just bought from the shop!
Now guys….. we had so much fun on that day we decided to re-enact what happened with more mess but in the same outfits we wore….I hope you enjoy the messy results!!
And my advice is fill those pockets…….. and enjoy some different style Messy Fun!!
Bye for now
Love Mrs CC xxx"
But just what did happen?
We show you two Clips from movie CC105
, firstly as Mrs. CC decides to fill her pockets with custard.
Then in Clip 2 we see Mrs. CC very messed up after getting carried away with her pocket play!
In addition there are 72 Enhanced Images
(Full Screen) of Mrs. CC's messy play.
Although not 35mm images, the quality for video grabs is quite good and you can follow how Mrs. CC becomes so messy.
After experimenting with Mess in her pockets, it was natural that Mrs. CC would wish to fill her bra with Angel Delight!
Next, it was custard over her head and outfit before chocolate spread was introduced.
Mrs. CC was now totally messed up and beguiling and ended up looking a slick mess!
This is all solo play with no sign of Mr. CC.
But see for yourself as we show you 5 sample shots from image set S415.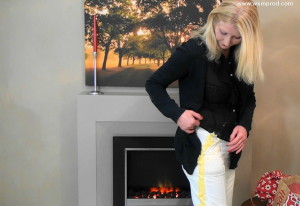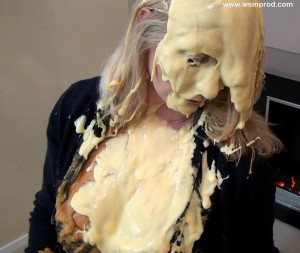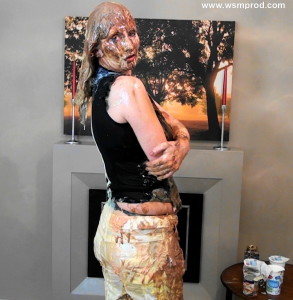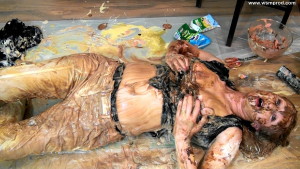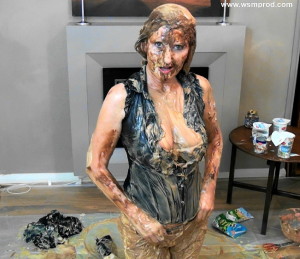 Stream 3 runs 10 mins 01 secs
Commences with some very horny suggestive talk from Mrs. CC to us viewers – see CLIP 3.
Mrs. CC is out to enjoy her messy playtime and she finger fucks herself to an orgasm.
She continues to slop herself up.
Mr. CC joins the movie.
He is aghast at her messy state and that she has used up the foodstuffs that were required for the evening meal.
But Mr. CC's annoyance soon fades as he realizes the opportunity for some very messy play accompanied with sex!
So he puts his cock in Mrs. CC's food filled pocket.
Mrs. CC turns the tables on him as she pours yogurt into his jeans pocket.
She then fills her pocket with yogurt and Mr. CC puts his cock into the pocket.
He fucks her pocket aided by the yogurt and also puts his hand down her pants and knickers to frigg Mrs. CC.
Mrs. CC urges him to fuck that pocket and we end the Stream with a bizarre scene with Mr. CC fucking her messy pocket, Mr. CC's hand down her pants and knickers massaging her clit, Mrs. CC playing with her jiggling boobs in a frantic noisy sex play scene!
And all Stream 3 was shot with CC standing up.
Stream 4 runs 7 mins 16 secs
Mrs. CC removes her pants and Mr. CC his jeans.
Mr. CC puts his cock down her stocking (we did say it was unusual!)
Mrs. CC pours chocolate into her stocking and over his cock.
Then they get down to it!
Mrs. CC squats in front of her husband to suck his cock.
Then Mr. CC lies on the floor as Mrs. CC sits astride him!
There is good penetrative play as Mrs. CC enjoys her dick ride!
She then mounts him reverse cowgirl for more penetrative play, moaning loudly with their frantic activity.
Eventually Mr. CC cums.
Wow! We keep saying it! Another extraordinary movie!
MOVIE XXX068 has 4 HD Streams running 41 mins 50 secs
IMAGE SET S415 has 72 Enhanced (full screen) pics with 5 sample shots
IMAGE SET S415XXX has 49 Enhanced (full screen) shots with no sample shots
PRICE
£7-60 GBP
$11-40 USD
Euro 9-90
Movie XXX068 (being the XXX addition to movie CC105) combines both the normal movie (which runs 24 mins 33 secs) plus the XXX together, and runs 42 minutes, plus 49 further XXX images.