There are no Sample Clips
A single Stream in HD in MP4 format runs 29 mins 26 secs
This is a collection of 12 Pissy Scenes (with 8 being shot outdoors).
This has been prepared by Custard Couple (CC) and is new material.
This is Couple Watersports, so if offended then do not purchase.
An analysis of the scenes shows:
 Mr. CC pisses over Mrs. CC in scenes 1, 2, 7, 10a and 10b
 Mrs. CC pissing over Mr.CC in scene 7
 Mrs. CC taking a piss in scenes 1, 3, 4, 5, 6, 8, 9 and 10a and 10c.
There are image sets for each scene with just one sample shot from 9 scenes.
  A quick summary is:
Scene 1 runs 8 mins 38 secs – Steps for a Pee and to Cum
Outside her home Mrs. CC wants to pee.
She sits on the step for it to trickle away.
We see her piss over the step.
She lifts her skirt to sit and rub herself in the piss on the step.
She shows off her arse rubbing some piss on it.
She sits and squirms in the piss in what could be termed Piss and Play!
Sitting back she starts to frig herself.
Mr. CC arrives home and is shocked.
She asks him to piss on her!
Mr. CC does, all over her black long sleeved sweater which she lifts to show her tits.
Mr. CC even pisses in her mouth and she swallows!!
As this is a custom shoot Mrs. CC tells us a fantasy story which helps to stimulate her.
Being so horny she manages to cum twice!
So 3 scenes within this one Clip as Mrs. CC pisses, gets pissed on, then cums twice!
There are 36 pics in
image set W906XXX
and we show you one introductory shot.
Scene 2 runs 1 min 04 secs –  Public Bench
Mrs. CC encourages Mr. CC to piss over her while sat on a public bench.
Mr. CC duly obliges.
Mrs. CC wears a white long sleeved polo neck top plus a tarty mini black plastic skirt.
There are 18 pics in
image set W907XXX
and we show you an end shot.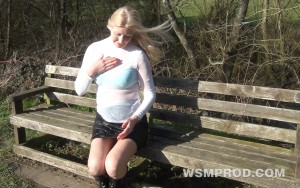 Scene 3 runs 2 mins 41 secs - Bus Shelter
In a remote bus shelter Mrs. CC needs a pee.
She demonstrates to Mr. CC pissing through her tights and showing off her sexy arse and long wet legs!
There are 14 pics in
image set W908XXX
and we show you an introductory shot.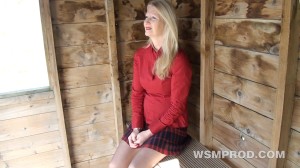 Scene 4 runs 1 min 02 secs – Mud Slut 12 – Wet and Muddy Horse Girl
A rather muddied Mrs. CC needs a wee.
Quite a predicament with her standing in a muddied area.
As she is so desperate, she has to do it there.
She pisses down inside her muddied jodhpurs and it runs down her legs into her boots!
And  she ends up sprawling in the mud.
There are 13 pics which include a few shots introducing then ending the scene, in
image set W909XXX.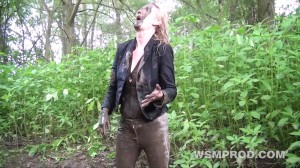 Scene 5 runs 1 min 07 secs – Messy Jilted Bride
After getting messed-up on a riverbank, Mrs. CC frigs herself.
But this makes her want to pee.
With skirt held high she pisses.
Despite being more of a trickle than a full-on piss, it relieves Mrs. CC.
There are 8 shots, including 2 introductory pics, in
image set S492XXX
.
No sample pic is offered of this Clip.  
Scene 6 runs 1 min 33 secs - Mud Slut 13 muddy afternoon with Mrs. CC.
We see Mrs. CC in a mud pit in her garden.
Standing in the mud, she plays with her clit.
Then she takes a strong piss into the mud!
Pulling her skirt down, she then gets down into the pissy mud to enjoy a roll about!
There are 12 pics in
image set S236XXX
including some introductory and a couple after her pee.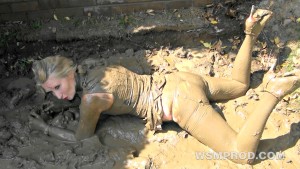 Scene 7 runs 2 mins 06 secs – Pissing Partners
Together in the bath we have a nude Mr. CC with Mrs. CC wearing only a mini thong.
Mrs. CC urges Mr. CC to "Piss all over me!" "Shampoo my hair!"
She tells him "That's so good!".
So Mr. CC fulfilled her request.
Mrs. CC exclaimed "You really did need a piss didn't you!"
He even pees in her mouth……..before kissing her!
Then it is Mrs. CC's turn to piss on Mr. CC.
She slowly dribbles on his cock!
There are 32 shots of this scene in
image set W910XXX
.
No sample pic is offered of this Clip.  
Scene 8 runs 1 mins 13 secs – Air Hostess Pisses
In this scene, which is not shown in movie XXX081, Mrs. CC is driving home.
She becomes desperate for a pee.
Standing beside her car with skirt raised high we see her bare pubes.
Her piss is a real prolonged gusher!
Then lowering her skirt Mrs. CC gets back in the car to drive home.
There are 13 shots of this scene
in image set W911XXX
with a sample shot of Mrs. CC after she had peed.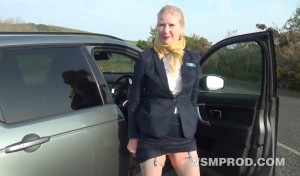 Scene 9 runs 3 mins 03 secs – Mud Slut 14 – destroyed designer leather skirt
We see Mrs. CC wallowing in the mud after destroying her designer leather skirt.
She needs a piss and we get in very close and personal.
Her pee slowly trickles into the mud as she fingers herself.
Mrs. CC is now aroused and uses her hands to frig herself to a satisfying climax.
"That was so fucking horny" she declares!
There are 14 shots in
image set M247XX_XXX082
which include some introductory shots of the scene.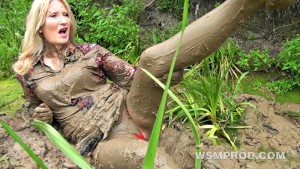 Scene 10 runs 06 mins 59secs – Humiliation in Pink
There are 3 parts to this scene which features Mrs. CC being dominated:
a) Kitchen
Mrs. CC is dying for a Piss.
But her Master says he wants to Piss on her!
She sits on the worktop as he clambers on the sink.
He pisses on the front of her outfit and she drinks his piss!
He tells her to fill her panties with real piss now!
She sits on the worktop to pee her panties and wet her skirt.
We have 26 shots of this Kitchen scene in
image set S473aXXX
.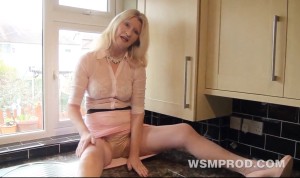 b) Knickers on Head
In this 2nd part Mrs. CC is humiliated having a pair of thin see thru knickers on her head.
Her Master pisses over her face and hair.
She licks and sucks the pissy panties.
We have 19 shots of the Pissy Knickers on Head scene in
image set S473bXXX
.
No sample pic is offered of this Clip.
c) Pissy Floor Play
This 3rd part commences with Mrs. CC sat on a chair frigging herself.
She stands to take a good piss over the floor.
Going down on the floor she squirms and rolls in the hot pissy mess.
Her Master demands that she rubs her hair into it.
We have 28 shots of her Pissy Floor play in
image set S473cXXX
.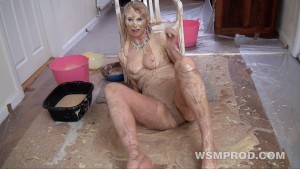 MOVIE XXX082 has a single Stream running 28 mins 26 secs