WMV Sample Clip - not explicit
4 HD Sample Clips plus 4 HD Streams in mp4
Stream 1 runs 10 mins 49 secs
CC commence their Supper date with a glass of wine.
They are both looking forward to having a messy dinner date.
And the purpose of the foods are so they can "Plaster themselves" with them!
Mrs. CC reveals her undies to provoke her horny husband.
Mr. CC has bought her roses.
He says he would do anything to get her messy!
He knew the roses would do the trick!
Mrs. CC starts the messy fun with salad cream over her leather dress.
Mr. CC relaxes as she dribbles the salad cream over herself–
see CLIP 1.
She rubs it in to her stockings and dress.
"Don't you love getting messy", says Mrs. CC as "the more we get messy, the more fun it gets!"
Then it is Mr. CC's turn.
He starts with ketchup over his shirt, jacket and trousers.
Mrs. CC joins in the ketchup smearing with a bottle applied over and into her knickers!
Mr. CC urged on by Mrs. CC, squirts ketchup into his underpants.
The sight of her bum covered in ketchup brings Mr. CC to his feet!
He rubs the ketchup over her back and bum as he gets overcome and turned on.
A few handfuls of chicken soup go down the back of her dress as Mr. CC caresses away.
Stream 2 runs 12 mins 41 secs
Mrs. CC continues to dribble the chicken soup down her dress and stockings.
Mr. CC rubs spaghetti over his shirt, jacket and trousers.
Mrs. CC says she is all squelchy as Mr. CC starts to play with his cock.
He invites her to reach over the table to feel his cock.
She does, but realizes that her husband is getting too carried away and their sexy, messy fun may be short-lived.
So they calm down with a further glass of wine.
With her hand between her legs, Mrs. CC is getting equally carried away as she squirms in her chair!
She continues to turn-on the very frustrated Mr. CC. as she squirts the remaining ketchup over her thighs and knickers.
It is all too much for Mr. CC as she squirms around her chair.
He pours a bowl of spaghetti over his head –
see CLIP 2.
"Why don't you do it", asks Mr.CC.
Mrs. CC does not need to be asked twice and tips the remainder of the spaghetti bowl over her head!
Mr. CC decides to empty the bowl of chicken soup over her head (while Mrs. CC raises her glass!)
–
see CLIP 3.
They clink glasses in mutual satisfaction at their messiness.
Mrs. CC sips her wine and puts her slick, food covered legs on the table.
Mr. CC's hand wanders inside his trousers to play with his cock.
Next, Mrs. CC pours cream down into her knickers, then down her dress, imagining it is cum!
She kneels on her chair to pour more cream down the back of her dress and over her pantied bum.
Mr. CC decides to mess-up his underpants and Mrs. CC chooses a jug of gravy.
Mrs. CC talks him through it while enjoying the view.
Mrs. CC leans over the table .
Mr. CC decides she should rub her tits in a chocolate cake.
This she does through her dress.
But now they need to move the table as their lust for action needs satisfying!
Stream 3 runs 7 mins 16 secs
With the table removed, they caress each other.
Mrs. CC removes his jacket.
Time for some cake, which Mr. CC applies with gusto –
see CLIP 4.
Mrs. CC makes a deal with Mr. CC.
"You eat cake off my arse and I'll eat chocolate off your cock!"
So Mr. CC sets to work!
Next, he frots his cock over her arse, but urged on by Mrs. CC he is soon penetrating her for a good doggie shagging!
To spice things up, Mr. CC spreads custard over her bum and rips her knickers apart!
He enjoys pouring a bowl of custard down her back!
Still the shagging continues even though they are now standing.
Mr. CC cums with great vigour then pours the remainder of the custard over her head and face!
They embrace!
Mr. CC removes her dress to admire her black basque.
Their sex play continues as he frigs her.
Stream 4 runs 10 mins 17 secs
With Mr. CC seated on a chair, Mrs. CC approaches with a jar of chocolate sauce.
She rubs some choc over her boobs which Mr. CC avidly licks!
Mrs. CC proceeds to add the chocolate sauce to his cock.
Then we have almost 3 minutes of chocolate cock sucking!
Mr. CC tells her to "Ride this cock!"
He tells her to spread her legs as she sits cowgirl style to ride him hard!
So does Mr.CC merely enjoy her bouncy ride?
He urges her to "Fuck that cock" as they jog along!
Mr. CC takes the remaining gravy and pours it over her shoulder and tit.
Then a carton of milk is poured over her head.
But there is no cooling either of them!
Mrs. CC cums with much noise after almost 3 noisy minutes of riding!
Next, Mrs. CC sits on the chair as Mr. CC frigs her further.
She is quickly in tune and rips his shirt from him.
A further frigging brings a 2nd climax for Mrs. CC.
They embrace and end their evening by toasting their enjoyment of a wonderful messy supper date.
Who said that prolonged sex fun is merely for youngsters?
Fabulous stuff CC!
Image set S479XXX covers this movie.
This is a great record of the action with no posed shots.
Everything is taken from the actual shoot.
This image set has 213 shots.
Plenty to enjoy!
We show you 6 sample shots from image set S479XXX so you can appreciate this movie more.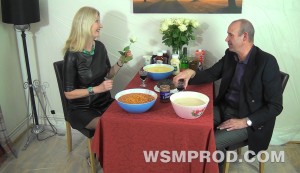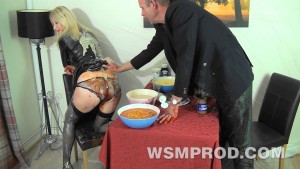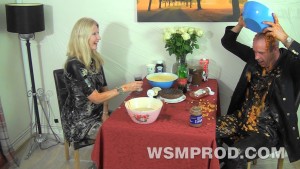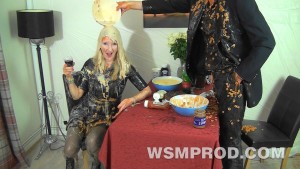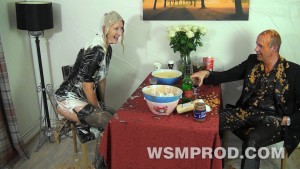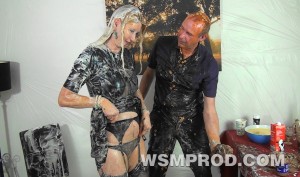 MOVIE XXX096 has 4 HD Streams running 41 mins 03 secs and is only available as a Download.
IMAGE SET S479XXX has 213 shots