WHAT'S NEW as at
11
t
h
January
201
9
OUR NAME CHANGED to www.wsmprod.com in February 2017.
THE WSM AWARDS FOR MOVIES PUBLISHED 2018 YEAR
How were the winners of these 2018 year awards decided?
They were chosen by you as they are solely based on sales in 2018!
Notice anything?
3 of the 4 locations were shot outdoors!
We are proud of these movies plus their associated image sets.
Looking at the prices offered be assured that these will be amended upwards by Easter as they presently offer remarkable value!
All winners are published as Downloads (see Downloads – Online Store)
The winners are:
WET – a joint WSM and Custard Couple production with 33 minute HD movie WSM195-CC74, as Mrs. Custard Couple (CC) and Dee play in the river dressed as two naughty schoolgirls, plus 257 enhanced (full screen) images set W357.
SLAPSTICK – always good to see a role play movie as Custard Couple (CC) take the parts of Tony and Lucy for 'Fun in Oil' in this 26 minute HD movie CC156 shot in the countryside, plus 125 enhanced images in set S463.
MUDDY FUN – Dee takes the part of the muddy English lady in this 17 minute HD movie WSM229 plus 209 enhanced images in set M229.
Shot at our own unique outdoor black mud location.
XXX –What great joy when we uncovered an early XXX shoot of Custard Couple (CC). This Slapstick XXX movie XXX026 runs 29 minutes and is the sequel to 'The Dressing Game' shot in Sept. 2012 at Yorkshire Studios.
So suddenly, we make CC over 5 years younger and this is very, very hot, a true XXX movie!  We have taken out a set of video grabs and image set S313XXX has 146 shots.
SOME STATISTICS FOR YOU
HOW MANY WSM DOWNLOAD ONLY MOVIES ARE THERE AT END OF 2018 YEAR?
NORMAL DOWNLOADS  42
XXX DOWNLOADS      73
VINTAGE FILM STREAMS    50
                     TOTAL     165
HOW MANY MOVIES ARE AVAILABLE ON THE WSM SUBSCRIPTION SITE?
WSM MOVIES     176
CUSTARD COUPLE MOVIES              80
VINTAGE MOVIES      15
MESSY WRESTLING      18
TOTAL                  289
CLICK HERE TO VIEW SUBSCRIPTION COST
WSM 2018 AWARDS
WET – winner
The winners are our two mature ladies Dee and Mrs. Custard Couple (CC) as dressed as Schoolgirls they misbehave and become rather naughty schoolgirls with wet river fun plus a strip-off!
HD movie WSM195 & CC74 runs 33 minutes plus Image set W357 has 257 enhanced shots.
Recapture your youth as you enjoy two sexy ladies reliving theirs!
The eternal question in this movie.
Which MILF appeals more…. blonde or brunette?
There are some fine schoolgirl wet antics here as the levels of daring increase.
But all the time Maisie and Daisie play their parts so well you could be fooled into thinking that here are two innocent schoolgirls at play!
Download HD Movie plus Image set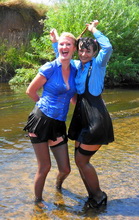 'Two Wet Schoolgirls Mrs.CC and Dee'

Movie WSM195 & CC74
Run-time 32 mins 42 secs
3 HD Streams plus 3 HD Sample Clips – choose WMV or MP4 formats
Stream 1 runs 9 mins 33 secs
Maisie (Mrs. CC) and Daisie (Dee) are two naughty schoolgirls who have skipped school on a hot summers day to have fun together in a river.
They examine each other's outfits before entering the river.
They playfully test the water – see CLIP 1.
Then they indulge in school chat with the headmaster being the main topic.
Maisie takes the lead in getting wet going thigh deep.
After urging Daisie to join her, Maisie drags Daisie in deeper.
They splash each other enjoying the fun.

Stream 2 runs 11 mins 00 secs
Maisie takes the first dive and swim.
Then Daisie takes her dive – see CLIP 2.
They lark about in the water.
Both girls are very naughty and very wet!
They wade back to the bank and lie there in the shallow water.
The headmaster and his cane are discussed and how to obtain lollipops from him.
This is innocent schoolgirl chat but with not too subtle innuendo.
Maisie suggests some rollovers to get the girls active.
She leads the way so their schoolgirl outfits are well drenched.
Maisie raises the stakes by suggesting they have a game of diving with a forfeit for the girl with the worst dive (and the forfeit involves removing clothes!).
Maisie goes first with a spectacular flop.
Daisie dives neatly in.
Maisie removes her blouse.

Stream 3 runs 12 mins 09 secs
They continue to act as playful schoolgirls pushing each other in.
Then Daisie pulls off Maisie's bra.
They splash about in the river then continue their chat.
The next game is to run into the river then jump.
This time Daisie goes first – see CLIP 3.
But Maisie excels with a great leap and a splash!
Then we see Daisie having removed her skirt and blouse, swimming in the river.
Maisie joins her for a topless swim.
Maisie removes her skirt.
Their next game is to roll together in the shallows with legs flying everywhere.
Now there is more physical contact.
There only remains one more dare as Maisie takes the lead by removing her knickers.
Of course Daisie got it wrong so her knickers are ripped away.
The girls lie there knickerless in the shallows.
There are some explicit shots as they perform stars in the shallow water, followed by equally revealing rollovers.
A classic encounter…. for how often do you see two MILFS dressed as schoolgirls, never mind 'Wet Schoolgirls'??

In image set W357 there are a remarkable 257 shots
These are all 35mm shots and give a great viewing of the mature ladies wet play.
To see the true size always go to the 'What's New' header at www.wsmprod.com website.
Most Forums, because of file size restrictions, show inferior sized images.
Take your pick…..blonde or brunette!
Due to the size of this image set, we show you 7 sample shots.
Enjoy!
PRICE
£6-40  GBP
$9-60 USD
Euro 8-30
To Purchase this movie go to the Downloads – Online Store, then the 'WSM Movies and Images' section and find "Two Wet Schoolgirls Mrs.CC and Dee" (at top of page) as movie WSM195-CC74.
WSM 2018 AWARDS
SLAPSTICK – winner
What should every person into WAM do?
Engage in role play with their partner!
Here we see an oily custom shoot of Mrs. CC (Lucy).
She wears her tight disco pants, white cotton top, a very brief white thong, heels and puts on an oily show for her partner Mr. CC (Tony).
They are indulging the fantasies of Tony and Lucy who commissioned this oil set.
But fortunately, we voyeurs can watch the action in movie CC156 plus 125 pics in image set S463.
Download HD Movie plus Image set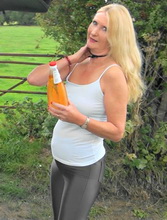 'Mrs. CC in Fun with Oil – role play'

Movie CC156
Run-time 26 mins 20 secs
3 HD Streams plus 3 HD Sample Clips – choose WMV or MP4 formats
Stream 1 runs 8 mins 58 secs
Mrs. CC takes a bottle of cooking oil from her car and is obviously very enthusiastic to get oiled up!
Off she goes along the road – see CLIP 1.
She does look good in her tight disco pants, heels, skimpy white cotton top (with no bra).
The action hots up as Mrs. CC, taking the role of Lucy pours oil over her boobs.
Mr. CC (taking the role of Tony) starts to lose his inhibitions with her oily antics.
She strides into a large field continuing to pour oil down herself.
She demands more oil and goes back to the car for further supplies.
They go to a remote corner of the field.
Mrs. CC (Lucy) rubs the oil over herself then pours more oil until it is rippling down her tight disco pants!
We get shots of both legs, then the oil down her back catching her hair and running over her bum.
She squelches away wringing the oil from her hair.
Now she looks an oily delight and is provoking Mr. CC (Tony) and got herself in a sexy mood.
Stream 2 – runs 9 mins 45 secs
Commences as the oily Lucy (Mrs.CC) decides to show us her skimpy white thong.
She talks us through the action as she pushes her pants down to reveal her tiny thong.
She pours more oil over her bum and thong – see CLIP 2.
Then she pours oil over her clothed boobs and we follow it down into her white thong.
And all the time Lucy is talking to her partner Tony.
The oil trickles right down her legs and excites Lucy.
Then she is off to a small bridge location.
She squelches onto the narrow bridge and we have some wonderful shots of her oiled up clothes and body.  More oil is added.
Lucy is becoming aroused as the experience is 'making her clitty really hard!'
She wanders on into the next field and lies in the long grass.
She pulls her pants down to pour more oil over her front.
Then her hands are on her clit as she caresses herself.
Oil is dribbled onto her bare shaved pussy.
Lucy (Mrs. CC) gets carried away with her excitement.
Both Lucy and Tony cum together.
Great sexy oily fun!
She pulls her pants up then heads back to the small bridge.

Stream 3 – runs 7 mins 37 secs
Lucy (Mrs. CC) asks Tony (Mr. CC) to come and pour the oil all over her!
Tony asks her to kneel down then commences.
A nice scene this as Lucy chats away encouraging Tony to oil her up, while the birds sing!
Lucy is now totally oil covered.
She takes her pants down so Tony can see again her oil sodden tits and white thong – see CLIP 3.
She decides to have another walk on the bridge (but we all know she only wants to provoke Tony).
Having fastened her pants she looks an oily delight as she sways across the narrow bridge.
Lucy squats on the bridge then undoes her pants for some further play.
Her hand goes into her white knickers.
This is superb oily play!
It is too much for Lucy who uses both hands in self stimulation, ribbing her tits on the bridge rail.
Raw, earthy, oily sex!
Lucy jiggles with delight.
She ends her bridge scene with some bum shots.
Then, with her disco pants refastened she eventually leaves the bridge.
'Stop tempting me all the time' says Tony admiring the very oily Lucy.
And like a couple of young lovers they frisk away towards their car to leave what then happens to our imaginations!
Phew!  What a great outdoor movie that was!
If you fancy a custom shoot from Custard Couple (CC), they may be contacted at tjgbwilson@aol.com

In addition there are 125 Enhanced Images (Full Screen) of CC's role play.
Some wonderful pics here as Mrs. CC excels herself with great sexy play.
You want oily shots……well here they are!
Seeing is believing as we show you 6 sample shots from image set S463.
MOVIE CC156 has 3 HD Streams running 26 mins 20 secs.
IMAGE SET S463 has 125 shots (see above).
PRICE
£6-60  GBP
$9-90 USD
Euro 8.60
To Purchase this movie go to the Downloads – Online Store, then the 'WSM Movies and Images' section and find 'Mrs. CC in Fun with Oil – role play' (at top of page) as movie CC156.
WSM 2018 AWARDS
MUDDY FUN – winner
The hazards of filming!
It was a fine calm sunny day when we set off to our location 30 miles away.
But when we arrived it was blustery and wild, but the sun still shone.
With the conditions, this was not a remarkable piece of filming, but what was remarkable was the performance from Dee!
So if you are thinking of some prissy, pat-a-pat mud play…….then forget it!
This is full-on sustained mud play requiring a high degree of athletic ability!
Really the question is……will this ever be bettered???
Wow!  Now that is some claim, but this is some movie as you will not believe what you are seeing!
Add in the fact that it is shot twice……once for video and then for 35mm still shots, and the sheer physical and body demands are extraordinary!
So if you are into wet and muddy women, then do not miss this movie!
Download HD Movie plus Image set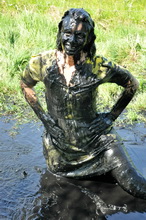 'Dee is the Muddy English lady'

Movie WSM229
Run-time 16 mins 58 secs
2 HD Streams plus 2 HD Sample Clips – choose WMV or MP4 formats
Stream 1 runs 10 mins 06 secs
Dee commences by showing off her outfit as the wind noise becomes apparent.
She asks, "Do I look like a nice English lady……nice and elegant?
Well, soon I am going to become a nice muddy lady!"
She tests the depth of the muddy stream before falling accidentally as she exits.
The action hots up when Dee asks, "Are you ready for this?"
And then she falls face first into the muddy stream.
This is followed by a more pronounced dive as she takes a further muddy facial.
Flinging her hair back, we see her very muddy face and hair.
At 4-40 in a most unusual action clip, Dee rolls on her back into the muddy stream with outstretched legs – a quite remarkable shot – see sample pic 2.
She is now very muddy indeed, yet we are not yet 5 minutes into the movie!
At 5-05 she takes another forward dive, then has a roll and splash about.
She continues to coat with mud any body parts that have been missed.
Dee lies on her stomach and flounders in the mud.
She crawls out onto the bank then does a backward flip into the muddy water in amazing athleticism.
At 6-00 she walks onto the bank, then jumps into the stream to splash about some more.
At 6-30 Dee exits the muddy stream once more and poses, showing us her wet and muddy stockings and undies, before jumping back in– see Clip 1.

At 6-46 she slides from the bank into the muddy water for some muddy water kicking.
Once more exiting the stream, Dee takes a further full facial dive into the muddy stream.
She lies back in the stream kicking her leg high.
Dee crawls out a blackened woman and rolls on the bank.
Then she rolls herself back into the water.
At 9-15 she exits and sits on the bank saying, "Look how I glisten" (which she does in the sunshine).
She stands and poses showing off her wet muddied outfit.
Then Dee runs back and forth across the stream.
She sits for some more splashy leg play and rolls onto her stomach on the bank to end this exhilarating 1st Stream.
Stream 2 runs 6 mins 52 secs
Dee removes her dress……but not without a struggle!
She is just wearing a camisole and stockings.
She sits on the edge of the muddy stream covering herself with the muddied water.
She stands to continue her muddying job, then crawls out to the bank to pose for us.
Dee crawls back in the stream continuing to muddy herself.
She rolls around the bank partly in the water, then, more posing on the bank – see CLIP 2.
At 3-10 Dee removes the camisole, once again after a struggle.
Then nude, she lies on her stomach into the stream to take another facial dunk.
She kneels then stands so we can see the result.
Then at 3-50 Dee surprises us by bravely diving full length into the muddy stream, standing to display the muddied result.  The coldness of the water should be apparent.
She lies on the bank then rolls into the water before exiting to sit and cavort on a somewhat muddied grassy bank.
Once again, Dee jumps onto the stream.
She crawls and rolls around the waters edge.
Finally, Dee teases us by lying at different points on the bank for some muddy shots plus explicit poses.
We end with sun-kissed shots of a very adventurous lady who has delighted us with her wet and muddy play.

In addition we show 209 enhanced (full screen) 35mm images of this shoot in set M229a.
But this is only the 1st part of this image set as a further 340 shots await check-over and enhancement.
As you may gather this shoot took quite a time to shoot in far from ideal conditions for any model.
See if the mud coated Dee appeals to you as we show 5 sample shots.
DOWNLOAD PRICE
£7-50  GBP
$11-25 USD
Euro 9-80
To purchase HD movie WSM229 plus images go to the Downloads -Online Store, then 'WSM Movies & Images' section……… where it is listed as 'Dee is the Muddy English lady'(at the top of the page in the 2nd row).
WSM 2018 AWARDS
XXX SLAPSTICK FUN – winner
After completing 44 min movie WSM135 (WSM number) or CC26 (CC number), 'The Dressing Game gameshow', CC have redressed in new outfits.
Custard Couple (CC) are hooked on their messy sex.  This movie was shot in Sept. 2012 and was one of our first HD movies.
They are determined to let their love of mess and sexual urges fully off the leash in this shoot!
Watch and wonder as we are privileged to see this sexy amateur duo in great messy sex action.
Download HD Movie plus Image set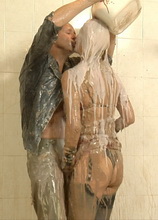 'CC sequel to the Dressing Game!'

Movie XXX026
Run-time 28 mins 43 secs
3 HD Streams plus 1 HD Sample Clip – choose WMV or MP4 formats
Stream 1 runs 8 mins 15 secs
After being left alone on the set, CC are up for a really good messy, sexy time!
Mr. CC loves her dress and forces his pretty wife to sit on a large gateau.
Mr. CC pours Frijj drinks over his willing partner – see CLIP 1 – then he splatters her!
He has to take his messy turn!
Mrs. CC goes for it with a bowl of chocolate milkshake splashed down his back, before opening his shirt while caressing his balls!
Mr. CC pours a bowl of banana milkshake over Mrs. CC's head!
Then he massages her before nuzzling her boobs.
He sploshes chocolate Angel Delight over her boobs then her arse, before pouring a further bowlful over here back and arse! 
Taking a large cake, Mr. CC sploshes it lustily over her bum!
Mr. CC frigs his horny wife who urges him to spank her!
Another liquidy bowl of raspberry milkshake is deposited over Mrs. CC's head as they kiss…and she fondles him!
Then Mr. CC is showered in the milkshake.
This very messy stream ends with Mrs. CC pouring Frijj drink over Mr. CC, then down his trousers….and her hands follow it!
Stream 2 runs 8 mins 36 secs
Opens with Mr. CC sitting and pouring milkshake over Mrs. CC's head as she sucks his cock.
Mrs. CC varies between hand and mouth work on his cock.
Her PVC gloves stand-out as she plays with his cock.
She produces a gateau that Mrs. CC rubs into her boobs.
Mr. CC stands to rub his cock over her as Mrs. CC is on her knees sucking.
After Mr. CC re-sits, his undies are removed.  Mrs. CC follows suit removing her knickers.
Next, she is sat on the floor surrounded to the front by cream flans.
Mr. CC's cock gets the cream flan treatment before he returns the favour with a cream flan slapped between her legs!
He then daubs her with a bowl of raspberry Angel Delight before finger frigging her.
Next, we have a 69 session with Mrs. CC's pussy on display as Mr. CC sucks and frigs her.
Mrs. CC reciprocates by sucking his cock and balls.
Mrs. CC kneels up with her bum to the camera as Mr. CC splats her arse with a large custard/cream flan, before he finger frigs her again!
Next, he pours chocolate Angel Delight over her back and arse as she nuzzles his cock further.
The Stream ends as a very messy Mrs. CC removes her dress.
Stream 3 runs 11 mins 52 secs
Mr. CC splats his wife on her back with a further cream flan.
He finger frigs the kneeling Mrs. CC to arouse her.
More custard/cream flans are rubbed over the ever willing Mrs. CC.
She then frigs herself as Mr. CC wanks his cock.
She reaches her first climax with Mr. CC sploshing her!
Placing Mr. CC's head in a custard/cream flan, Mrs CC mounts him so he can lick her pussy and juices.
Mrs. CC urges him on to jack himself off, as he slaps her arse!
They lie opposite each other on the very messy floor.
His cock and her pussy co-mingle as Mr. CC rubs his cock around her pussy without any penetrative play.
Mrs. CC rolls on her stomach so Mr. CC splats her arse and back with flans.
Then he straddles her arse as she lies on her stomach to rub his cock between her arse cheeks and over her clitty.
A somewhat unusual position for a somewhat unusual couple!
Mr. CC kneels to pour a bowl of cream over her arse, then as she kneels up, over her back.
This sets Mrs. CC off again with frantic pussy rubbing.
Mr. CC finger frigs her further before finally entering her for some frantic fucking!
So we are finished?
Oh no!  As next we have Mrs. CC on her back with Mr. CC between her legs for a final brief entry!
Suddenly, they realize the unbelievable mess they have made.
They have had lots of fun……ultimate messy fun!
They bask in the afterglow of fulfilled sex.
As they have no clothes to get home…..it will be the Dressing Game all over again!
There are 146 images of this shoot ref S313XXX.
Sadly, these are not 35mm shots, but these video grabs look good.
All images have been enhanced (to full screen).
Some fantastic sploshy and sexy action!
What a horny pair CC are!
And their huge desire for mess and sex play shine out from these image shots.
See what you think as we show 5 sample shots from image set S313XXX.
PRICE
£7-60  GBP
$11-40 USD
Euro 9-50
Being XXX Movie XXX026 is only available as a Download.
To purchase Download HD movie XXX026 plus the images, go to the Downloads – Online Store, then 'XXX Section,' where it is listed as 'CC sequel to the Dressing Game.'
COMMENT
Prices

on HD movies were due to be increased from 1

st

October 2018.
But we have decided to await the outcome of the Brexit negotiations before amending our HD movie prices.  But prices will be changing by Easter 2018 regardless of the Brexit outcome.
WSM will be changing the

format on new movies

during 2019.
Why?
Because MAC computers are no longer supporting WMV (Windows Media Video) files.
Yes, you can still play WMV files on a MAC, but unless already created on the MAC, they would need 3rd party software to play.
So WSM are switching to MP4 which has a universal application and will offer a HD quality plus a lower resolution (which will be compressed into a smaller file and can store video, audio, image data and text.)
FUTURE PROGRAMME
ADVANCE NOTICE OF NEW DOWNLOAD STORE AND SUBSCRIPTION ADDITIONS
18th Jan Another Download transfer to the Subscription site.
 With 60s style movie CC106 titled 'Shrink 1,' Mrs. CC attends counselling for her addiction to sploshing and dreams.  Great music and great images in set S418….. and it does lead to XXX fun.
25th Jan Our 1st brand new movie of 2019 sees a Slapstick set-to as Ava and Axajay confront Mr. Nasty in 28 minute HD movie WSM257, plus image set S462.
1st Feb 'My Lady gets her cumuppance from my Lord' (as snooty Mrs. CC gets it good) in 26 minute movie CC135 plus 126 enhanced images or as 36 min XXX movie XXX060 which includes 10 mins of XXX fun plus 84 images.
 This normal movie and image set becomes the 54th set to be added to the Subscription site after 2 years as a Download.
8th Feb New 38 min HD movie XXX069 is a direct follow-on from Slapstick movie WSM257 above, as Mr. Nasty takes charge of Ava and Axajay, plus image set S462XXX.
15th Feb  A brand new Wet 26 minute HD movie ref CC23 with a difference.
There are 4 x Mrs. Custard Couple (CC) shoots all at the height of summer, 2 on holiday in Switzerland and 2 at a canal lock……plus 4 full image sets.
22nd Feb Another outdoor summery shoot in the river.  We see Dee in a plain green dress plus a wonderful 347 enhanced images in set W355 as this 22 minute HD movie WSM198 now becomes part of the Subscription site.