WHAT'S NEW as at
21st
June
201
9
OUR NAME CHANGED to www.wsmprod.com in February 2017
NOW IN OUR 38TH YEAR OF CONTINUOUS WAM PRODUCTION
A double Dee addition to the Subscription site from Downloads
A rather unique week as we post both a Wet movie plus a Muddy image only set to the Subscription site as both have spent 2 years as Downloads.
Dee in red jacket and trousers Wet in her favourite river in 22 minute HD movie WSM196 plus 278 Enhanced (full screen) 35mm images in set W354.
Image only set M201 has 193 shots of Dee as she experiences the silty, peaty, oily, black mud for the 1st time……. and we consider this a WSM classic image set!
Then we travel back to Sept. 2007 for some Dee Slapstick, with Dee messed up with Peanut Butter in 32 min. movie WSM050 plus image set S199 with 156 enhanced shots.
We take Subscriptions to our Website – Memberships extending for up to 6 months are available. We now have 304 Movies plus 480 Image sets for instant access.
CLICK HERE TO TAKE A SUBSCRIPTION TO THE WEBSITE
SEE ALSO THE WSM ONLINE STORE  (no membership required)
Click on movie and page down for full description and sample images, for
50 VINTAGE FILM DOWNLOADS
PLUS 97 New 'WSM Movies & Images' with 2/3rd available on the Subscription site too.
PLUS 16 Movies with Images transferred from the Subscription Website and now also available as Downloads
and XXX section with 76 MOVIES with Images, only available as Downloads.
CLICK HERE TO GO TO THE WSM 'DOWNLOADS – ONLINE STORE'
We also have a UMD STORE and transfer MOVIES and IMAGES regularly
CLICK HERE TO GO TO THE UMD STORE
SUBSCRIPTION WEBSITE/also a download
WETLOOK
Mature lady Dee takes a bathe in the river in her red trouser suit, black thong and silver heels. HD Movie WSM196 runs 22 mins plus 278 images in set W354.
REVIEW OF MOVIE WSM196
A HD Movie plus Image set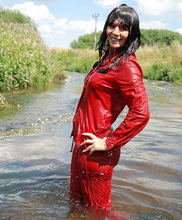 'Dee in red jacket & trousers in the river'
Run-time 22 mins 07 secs
 2 Sample Clips in HD
 2 Streams in HD
It is difficult to persuade a more mature lady to perform shoots for WSM.
However, Dee does enjoy all facets of WSM so we have compiled a large library of her shoots.
We do have a great historical record of this mature lady and it is interesting to see her fitness and weight over what is now 11 years.
As Dee was available to shoot at reasonably short notice, she obviously picked up more shoots than the average model.
So another contribution to that record with this set shot when Dee was aged 44 years.
Dee has retained body shape and fitness, as we can see in this shoot.
Stream 1 runs 11 mins 12 secs
Commences with Dee on the river bank clad in a pale red jacket and trousers with black/silver heels.
She splashes about in the river on a fine summer day.
She wades deeper before kneeling in the water.
We notice a dramatic change in appearance of her suit which changes to a dark red.
The colour change and sheen is great but the expected cling effect of the outfit just does not happen!
But the energetic Dee saves the day with a super Wetlook performance.
Soon she is sitting in the river then romping about in the water.
And as the camera is with her in the river, there are some fine shots.
So Dee gradually becomes wetter until after almost 7 minutes she takes a dive into the river – see CLIP 1.  In fact she takes 5 dives in this 1st Stream.

'Nice and refreshing' she says.
You may wonder why she stretches her arms out after completing a task.
As Dee was a circus artiste, I guess that explains why!
This 1st Stream is a fully clothed and fully wet performance and ends with Dee saying:
'Look at me all wet!  From head to toe!'
Stream 2 runs 10 mins 55 secs
Commences with Dee removing her jacket.
Then she is back down in the river for more wet play.
Now topless she makes a further dive into the water.
Constantly active, Dee tries her best to provide Wetlook.
There are some great wet hair shots.
After 4 minutes she removes her trousers.
She wears a very tight black thong – see CLIP 2.

She performs yet another dive into the flowing river.
For a mature lady wet display this is top rate!
She removes her knickers and waves them at a passing plane (we are in the take-off zone from Manchester Airport).
Then we have over 3 minutes of nude play.
She frolics in the river before heading for the river bank shallows.
We end with some raunchy revealing quite remarkable shots.
Observation test!
Besides finishing her shoot in her black/silver heels, Dee also wore one other item throughout the shoot!  Of course you all spotted her pearl necklace!
Oi!
IMAGE SET W354 has 278 Enhanced (full screen) shots.
Now these are not video grabs but 35mm shots.
Which means that the model has to repeat the videod tasks.
But some of the shots are terrific and do mature Dee full justice!
But the end shots are very vivid and raunchy!
We show you 5 sample shots from image set W354 of Dee's Wetlook play.
PRICE
£6-20  GBP
$9-30 USD
Euro 8-10
To Purchase go to https://wsmprod.com then Downloads – Online Store, then 'WSM Movies & Images Section" and find movie WSM196 which is listed as:
 'Dee in red jacket & trousers in the river'.
However, if you are a member or join our Subscription website, then movie WSM196 and image set W354 are now there……. plus a further 303 movies and 479 image sets!  Some bargain!
CLICK HERE TO VIEW SUBSCRIPTION COSTS
1st ever IMAGE SET DOWNLOAD – MUDDY SET M201- NOW AVAILABLE ON THE SUBSCRIPTION SITE
In May 2013 the 1st shoot was taken in a rather watery stream which later gave some wonderful muddy shoots in silty, peaty, oily mud.
Using a Canon IXUS 125 it stated it was recording, but there was no video output.
We did capture an image set and this set shows the results.
It features mature lady Dee, a true WSM girl.
Where we shot was too accessible so latterly we moved further away to discover thick black mud!
One survey on UMD.net asked if people would purchase image only sets.
About half the respondents replied they would.
So we put this to the test as all we have are the images from this shoot.
Most people looked for 50-70 images in a set with one stating that if there are more, it took too long to scroll down the images!  What amazing disinterest!
WSM have long believed in Images.
Sadly our customers do not.
So how many 'new' retro image sets have you seen on WSM in almost 6 months of 2019?
None!
No interest equals no time and money wasted by me.
So, I have been forced to stand down thousands of original WSM slides in the face of apathy!
What can be said about image set M201?
There are 193 shots in the image set.
It is said that one picture is worth a thousand words!
So we show you 5 pics and save much writing time.
But for a change, the best images are retained in the published set.
The shoot moves from clothed in resplendent white to eventual nude.
We show you 5 sample images from set M201.
DOWNLOAD PRICE
£4-00  GBP
$6-00 USD
Euro 5-20
To Purchase go to https://wsmprod.com then Downloads – Online Store, then 'WSM Movies & Images Section" and find Image Set M201 which is listed as:
 'Dee experiences the silty, peaty, oily mud', with the image endorsed as 'Photoset only'.
BUT
If you are a member of the WSM Subscription site, image set M201 is now available to you.  But this is only one image set from our Subscription section which now has 480 Image sets, all available just for the price of a subscription!
How much?
CLICK HERE TO VIEW SUBSCRIPTION COSTS
SUBSCRIPTION WEBSITE
MESSY SLAPSTICK
A true WSM girl is Dee.
Dee just cannot resist anything messy!
In this photoset of 156 images, Dee tackles something with a lovely smell, that is nice and smooth and is all squashy and sloshy!
So this Messy set features that little used foodstuff – PEANUT BUTTER!
Image set S199 is a great record of Dee's messy experience as she smears the Peanut Butter over her clothes, then her skin.
Shot in September 2007 these shots were simply fading away!
So we have reworked and repolished them enhancing the size to full screen and increasing the number of shots from 135 to 156.
Dee shows a range of facial expressions from like to dislike!
We can see surprise in her face – why am I doing this!
But generally we have happy pics as Dee shows her enjoyment with her messy task!
She sploshes her clothes, slowly removing her garments.
She strips down to end nude save for her suspender belt and stockings.
We show you 5 sample shots from image set S199 of Dee's Peanut Butter play.
DEE tried a new messy substance, Peanut Butter, in SD Movie WSM050.
She is dressed in a red top, black leather look mini skirt, red stockings and suspender belt, plus tight black shorts.
Dee enjoys talking to the camera to describe her messy experience.
She says Peanut Butter is:
 "Nice and gooey and she must cover herself head to toe in this smooth Peanut Butter!
My, my – it's sticky!
I am a sandwich!"
Now for Peanut Butter you need a very warm room plus warmed containers.
Then it can be applied smooth and shiny so ending up with a good glistening effect.
The trouble is, do not linger, for afterwards the Peanut Butter becomes pasty and crusty.
It is quite difficult to wash away and a nightmare in the hair!
So be warned!
But Dee perseveres away and gets her wish to look like a very tasty sandwich spread!
She ends up a very messy woman as she continues to caress the Peanut Butter into her body.
The Movie runs 33 minutes, but to see it all, you need to be a member.
But here are 4 Clips of Dee's Peanut Butter experience.
Movie WSM050 and image set S199 are only available on our Subscription site.
However, if you are a member or join our Subscription website, then movie WSM050 and image set S199 are there……. plus a further 303 movies and 479 image sets!  Some bargain!
CLICK HERE TO VIEW SUBSCRIPTION COSTS
We continue to take SUBSCRIPTION payments in £ Sterling, US dollars and Euros, for membership of the WSM Website.
The Subscription site does not include access to new movie/images Downloads in the Online Store, which we have added during the previous two years, or any XXX movies.
Movies and Image sets added to the WSM Online Store under 'WSM Movies & Images' are added also to the Subscription site, 2 years after being posted as a Download. 
Look at the JOIN NOW page to see our great value for 30 day, 3 month and 6 monthly Subscriptions as for a Subscription you can access:
304 Movies averaging 30 minutes each, including 18 Messy Wrestling Movies and 88 Custard Couple Movies, (which include 28 joint productions with WSM),
15 vintage movies and 183 normal WSM movies (excluding 28 duplicated joint production movies with Custard Couple).
PLUS 51,521 Images in 480 sets (being 169 W + 224 S + 87 M).
But if you want to see all these Movies and Image sets, then you need to take a Subscription to become a Member.
Click here to see the amazing value Join costs!
COMMENT
We had decided to await the outcome of the Brexit negotiations before amending our HD movie prices.  As Brexit did not happen on 29th March 2019, WSM will now be reviewing and amending all Download HD movie prices by the end of June.
Hopefully the prices will be updated in this next week.
So how many prices will change?
The answer is 107 being all XXX movies (76) plus Download movies in 2 year wait until added to the Subscription site (31).  But when added to Subscription site, the download cost is frozen (but why would you want to pay to download it?)
Also, prices on any HD movies on the UMD Store will be updated.
We are not increasing prices on SD movies or Subscriptions.
Buy now to beat price increases on the movies.
FUTURE PROGRAMME
ADVANCE NOTICE OF NEW DOWNLOAD STORE AND SUBSCRIPTION ADDITIONS
28th June A further look at the 1st controversial Humiliation HD movie XXX056 we published in Nov. 2016.  This is CC at their most hardcore in an outrageous movie which runs 34 minutes, as Mrs. CC obeys 'My Masters Orders' with piss, oil, custard and mud!
5th July After 2 years as a Download, 20 minute movie WSM211 titled 'Dee with Treacle' features mature brunette Dee in very messy play, plus 182 images in set S403.
  A further Anniversary Tribute as can you believe it is 6 years since we lost Mr. Splosh…….Bill Shipton?
12th July The follow-on to CC106 movie 'Shrink 1' which is available either as a Download or on the Subscription site.  We now have 24 minute movie CC144 'Shrink 2' when Mrs. CC's messy fantasies lead to incessant day-dreams. The Shrink suggests an extreme messy solution in a mud pit!
Features 60's music, 60's outfit and couple action, plus image set M242.
19th July A new Mrs. Custard Couple Wetlook movie CC30 running 33 minutes
  as Mrs. CC performs 3 Wet dances outdoors.
26th July Time for another Mud Slut movie as Mrs. Custard Couple (CC) gets out her jodhpurs.  In 20 minute normal movie CC98 she is wet then muddy pursuing her elusive horse, plus image set M224.  An extra XXX scene follows with movie XXX083 running 28 mins, plus image set M224XXX.
2nd Aug From time to time we re-visit a XXX movie.  A popular choice has been young Kimyl with the older Gary Gunge.   Movie XXX035 is titled 'Blow and Wash'.  It runs 24 minutes and has 78 images in set S380XXX.