WHAT'S NEW as at
26
th
April
201
9
OUR NAME CHANGED to www.wsmprod.com in February 2017
A MAJOR MILESTONE
THERE ARE NOW 300 MOVIES POSTED ON OUR SUBSCRIPTION SITE
WHAT DO WE HAVE THIS WEEK?
A brand new 21 minute movie WSM209 as you see Dee as not seen before (or since)!
She has changed and so decides on some goalkeeper fitness practice, but in the muddiest conditions imaginable!
Add in 315 Enhanced (full screen) images in set M226 and this is a mind-boggling shoot!
For Wetlook fans we go back to earlier days to see the very trim Dee in a Jacuzzi shoot clad in chiffon skirt and black top in 17 min movie WSM039 plus 75 enhanced images.
      Also in this Update:
Another chance to see the very trim Dee as she plays with cooking oil in movie WSM033 plus 128 mostly Enhanced images in set S207.
For Wetlook, we regret that despite our best endeavors, the enhanced video grabs in image set W344 were not posted last week.  So we try again!  Mrs. Custard Couple (CC) performs the household chore of 'Washing the Floor,' in 15 min movie CC59, plus 43 much improved images (we hope) in set W344.
We take Subscriptions to our Website – Memberships extending for up to 6 months are available. We now have 300 Movies plus 475 Image sets for instant access.
CLICK HERE TO TAKE A SUBSCRIPTION TO THE WEBSITE
SEE ALSO THE WSM ONLINE STORE  (no membership required)
Click on movie and page down for full description and sample images, for
50 VINTAGE FILM DOWNLOADS
PLUS 95 New 'WSM Movies & Images' with 2/3rd available on the Subscription site too.
PLUS 16 Movies with Images transferred from the Subscription Website and now also available as Downloads
and XXX section with 73 MOVIES with Images, only available as Downloads.
CLICK HERE TO GO TO THE WSM 'DOWNLOADS – ONLINE STORE'
We also have a UMD STORE and transfer MOVIES and IMAGES regularly
CLICK HERE TO GO TO THE UMD STORE
NEW DOWNLOAD
MUDDY MOVIE
A  21 minute HD movie WSM209 from a rather chubby Dee who has a novel way of getting fit!
Dee – Goalie Fitness Practice
HD Movie plus Image set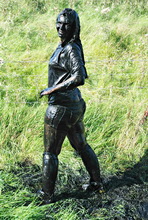 Movie WSM209
Run-time 20 mins 49 secs
2 Sample Clips in HD and 2 Streams in HD
This is a unique movie shot in Sept 2015 when Dee weighed 11 stone!
As she prides herself on her fitness this was a major wake-up call!
Definitely a one-off Dee shoot!
Now in April 2019 Dee weighs 7 stone 12 lbs.
Dee loves getting Wet and Messy!
But what to do when she requested a shoot as she looked and was overweight?
It was Dee who suggested a muddy shoot probably as a way of masking her weight gain.
But when you arrive for a muddy shoot like this, the model and her feelings and expressions dictate things.  Fortunately for us all this is one crazy, lively, vibrant performance!
You will not see many shoots like this!
Stream 1 runs 9 mins 55 secs
After a brief scene appraisal Dee introduces the movie.
Dee chats to us throughout.
She tries to move around in the thick, black mud but the mud clings to her legs and feet as she attempts to paddle about.
"Nice and muddy getting me fit", she says.
At 3 mins 27 secs she kneels in the mud.
Even worse, for at 3-56 Dee falls back into the mud.
Dee wants to be "Covered head to toe in lovely mud – it will make me nice and fit!"
Dee really does have a thing for mud as she continues to daub herself saying it is "Making me feel so much better".
She continues to play about in the muddy stream and says "Back to the mud – getting my fitness back again!"
At 7-32 she scoops the muddy water up and then applies mud to her face – see CLIP 1.

At 8-10 she dives in face first!
Dee complains about the cold, but not the mud!
At 8-46 a 2nd facial dive.
At 9-42 Dee rubs mud over her face – "a nice wash in natural mud".
Stream 2 runs 10 mins 54 secs
At 00-34 Dee dives forward taking another muddy facial.
"Oh dear!  I fell in the mud", she says.
Dee is now a total mud-bathed woman!
At 1-36 she sticks her head into the muddy stream.
At 2-25 she crawls to the edge of the bank and puts her head in the mud!
"Nice and refreshing", she says before taking another muddy face plunge.
She continues to splash her face with mud then she kneels in the muddy stream and takes another forward muddy facial.
At 4-15 she sits on the bank and does exercises.
This is a lady who has no fear of the cold or the mud.
Next, at 4-45 she removes her top and then muddies up her boobs.
At 5-45 she takes a full muddy facial.
Then kneeling in the water she spreads mud over her boobs before diving in for a further muddy facial – see CLIP 2.

There is no temerity, no fear as Dee just strives to get drenched and muddy.
At 7-15 Dee lies on the bank on her stomach for yet another muddy facial by dipping her head into the stream.  Wow!  What a mud woman!
At 7-32 she removes her shorts.
She rolls in the muddy water, then she rolls on the bank with explicit poses.
At 10-03 she lies on some green embankment grass for some more saucy revealing muddied poses.
This has been a hugely vibrant performance.
What a mudbath Dee takes!  It is unrestrained action!
You will not see many shoots like this!
Probably one of the most crazy shoots I have ever made!
What can be said about image set M226 accompanying this movie.
It was shot on 35mm and a gross total of 533 shots has been reduced to the published 315 shots.
It is just a remarkable portfolio of shots.
Seemingly a little reticent at first, the more the movie progesses the more carefree and unrestrained Dee's pics are.
We show you 6 sample shots from the action (as Dee is never still).
Some unbelievable pics here!
PRICE
£7-50  GBP
$11-25 USD
Euro 9.80
Movie WSM209 plus image set M226 are only available as a Download.
To Purchase go to https://wsmprod.com then Downloads – Online Store, then 'WSM Movies & Images Section" and find movie WSM209 which is listed as:
 'Dee – Goalie Fitness Practice'.
SUBSCRIPTION WEBSITE
WETLOOK
We feature a more usual Dee wet shoot here as we see the trim lady we have come to expect.
DEE's Movie WSM039 was shot in November 2007.
The shoot took place in a classy mirrored Jacuzzi.
There are many close-up shots, so you feel like you are in the Jacuzzi with Dee!
Clad in a chiffon skirt, with all black top, shorts and hold-ups, Dee becomes a totally wet delight.
If you like wet glossy nylons, well this is your Movie as we may just as well have termed it "A tribute to wet nylons!"
But rivalling the nylons are the wet hair shots.  Some superb material!
With live sound as DEE talks to the camera this is 18 minutes of top quality wetlook.
Check out our 2 Clips from WSM039 here.
Movie WSM039 of DEE in the mirrored Jacuzzi is supported by our Image set W238 which has 84 enhanced Images.
Now here is a lady who enjoys all her WSM work whether it is wet, messy or muddy!
See below for some wonderful wet shots as we show 5 Sample Images from this set.
Do not miss this as these are good!
To view movie WSM039 plus Image sets W238 you need to join the Subscription site.
But this also gives you another 299 movies plus 474 image sets!
CLICK HERE TO VIEW SUBSCRIPTION COSTS
SUBSCRIPTION WEBSITE
OILY FUN
Stream 1 runs 11 mins 16 secs
This is one of Dee's earliest shoots dating from Sept 2007.
She is very young and lithe.
So we have Dee with vegetable oil in movie WSM033.
She pours vegetable oil over a long sleeved blue top and an attractive blue mini skirt and black calf length boots.
She continues to pour the vegetable oil over herself – see CLIP 1, until as she says she is "nearly covered in lovely grease".
She pours the 2nd container liberally over her head and she just drips with oil.
At 4 mins-39 secs she lies in the oily paddling pool.
But not for long as she writhes about with some great oily clothed shots.
You can see Dee's star quality in how she approaches and enjoys the shoot.
"This is fantastic", she says as she continues to roll about the pool.
There is some nice close-up camerawork too as we just admire the oily coated Dee.
There is a most unusual movie shot (for WSM) commencing at 8-01 and ending at 8-29.
Dee plays well to the camera for such an inexperienced model.
She lies on her stomach then her back for some great oily shots.
Stream 2 runs 14 mins 11 secs
We open with Dee lying on her back fully clothed in the oil.  Great oily hair shots here.
If oily hair is your thing, then this is a must see!
The oily hair shots end at 2 mins 09 secs, but it is a very special sequence.
At 2-10 Dee removes her mini skirt.
She cavorts in the oily pool with good leg shots.
This is slow, languid oily play, very nice if you like oily boots, oily stockings and an oily thong – see CLIP 2.
At 5-09 Dee removes her top to reveal an exquisite oily body.
She lies in the paddling pool to become further oil coated.
Now clad in black thong, black stockings and black calf length boots, all oil coated, Dee does look good.
At 7-22 she removes her boots and concentrates on her stockinged legs and bare boobs.
At 9-29 she removes her stockings.
Despite not being HD the movie quality is good and the content fabulous!
At 11-17 she removes her knickers rather coyly and chastely.
Then she writhes about in the oily pool offering occasional glimpses of pussy.
Finally, she kneels then stands before waving goodbye after a memorable shoot.
IMAGE SET S207 was one of the first image sets to be Enhanced to full screen shots.
These are all 35mm shots but not every shot is properly enhanced.
There are 128 images from Dee's cooking oil set S207.
The soppy oil soaks all her clothes, hair and face.
Dee gradually strips off to end with some glistening but tasteful nude shots.
We show you 5 sample shots from image set S207.
Sorry but this oily movie and image set are only available on our Subscription site.
On the https://wsmprod.com website, movie WSM033 and image set S207 are available if you are a member of the Subscription site.
But this is only one movie and one image set from our Subscription section which has 300 Movies and 475 Image sets all available just for the price of a subscription!
How much does it cost?
CLICK HERE TO VIEW SUBSCRIPTION COSTS
SUBSCRIPTION WEBSITE
WETLOOK
Apologies!  Apologies!
For some reason the images due for publication last week were not posted.
So we try again!
From Mrs. Custard Couple's (CC) Household Chores, we take another look at Chore 3 where she Washes the Floor.
Movie CC59 running 15 minutes has Mrs. CC continuing her normal sexually provocative ways!
Mrs. CC washes the floor in her white Marilyn dress with white stockings contrasted with red bra, knickers and suspender belt – not forgetting her red heels.
She gets on her knees to wash the floor.
It is not long before she spills water over herself.
'Washing herself as well as the floor' means both are washed at once!
Even her hair gets the treatment.
She lies in the wet floor to soak it up.
She sponges herself down to get clean – SEE CLIP.
She squats over the bucket washing her knickers.
This is a great wet and soapy indoor fully clothed set.
It is unashamedly erotic with good camerawork.
Mrs. CC stays fully clothed for 12 minutes.
Then she uses her dress to mop up.
Her boobs are out and foamy water drips off them for some fine wet tits shots.
Finally she removes her knickers.
Mrs. CC tells us that she thinks she has succeeded in getting one very messy, wet lady and she has made a good job of washing the floor!
Image set W344 has 43 shots of Mrs. CC washing the floor.
These were small camera grabs.
But we have upgraded them to a larger size.
There are some really good shots that make you wish to see the movie CC59.
We show you 3 sample shots from this set W344.
But image movie CC59 and image set W344 with Mrs. Custard Couple 'household chores part 3 -  Washing the Floor' is only available on the Subscription site.
Why not join so you can appreciate the movie and pics plus a further 299 movies and 474 image sets?
CLICK HERE TO VIEW SUBSCRIPTION COSTS
WSM Productions has covered many options of sexual, erotic play over the years.
Pissy fun known as watersports is for a decided minority.
Movie XXX062 has a selection of 9 movie Streams all of Custard Couple (CC) running from 56 seconds to just on 6 minutes.
Movie XXX062 includes a Clip extracted from movie CC59 reviewed above.
But to see the XXX write-up or to Purchase movie XXX062, you need to go to go to 'XXX Section' in the Online Store to 'Custard Couple – Pissy Quickies,' which runs 26 minutes plus 48 XXX images, or click on the link below.
We continue to take SUBSCRIPTION payments in £ Sterling, US dollars and Euros, for membership of the WSM Website.
The Subscription site does not include access to new movie/images Downloads in the Online Store, which we have added during the last two years, or any XXX movies.
Since April 2017, Movies and Image sets added to the WSM Online Store under 'WSM Movies & Images' are added also to the Subscription site, 2 years after being posted as a Download. 
Look at the JOIN NOW page to see our great value for 30 day, 3 month and 6 monthly Subscriptions as for a Subscription you can access:
300 Movies averaging 30 minutes each, including 18 Messy Wrestling Movies and 87 Custard Couple Movies, (which include 28 joint productions with WSM),
15 vintage movies and 180 normal WSM movies (excluding 28 duplicated joint production movies with Custard Couple).
PLUS 50,980 Images in 475 sets (being 167 W + 222 S + 86 M).
But if you want to see all these Movies and Image sets, then you need to take a Subscription to become a Member.
Click here to see the amazing value Join costs!
COMMENT
Prices on HD movies were due to be increased from 1st October 2018.
We had decided to await the outcome of the Brexit negotiations before amending our HD movie prices. Regardless, WSM will be reviewing and amending all Download HD movie prices in May.
Buy now to beat price increases.
FUTURE PROGRAMME
ADVANCE NOTICE OF NEW DOWNLOAD STORE AND SUBSCRIPTION ADDITIONS
3rd May Dee is the wet jogger (in 2 outfits) in 23 min. Movie WSM176 plus image set W342 with 70 shots.
10th May A brand new XXX Humiliation movie from Custard Couple (CC) titled 'Humiliation in Pink' as Mrs. CC receives a torrid sploshing from her master.  Movie XXX075 runs 47 minutes plus images.
17th May You have heard of the painted lady.
 Here she is as we see Dee in 34 minute HD movie WSM205 plus image set S383 with 80 shots.
24th May Dressed for a dinner party, Mr. CC makes the mistake of leaving his naughty wife with the party food! 
  Movie CC126 runs 25 mins plus 118 enhanced images in set S436.
31st May Another new movie as we see Asian Jade diving into a flower covered river in 25 minute movie WSM210 plus image set W367.
7th June Tribute to Custard Couple (CC) after 8 years of association with WSM.
  To start, how about a cream tea with Mrs. CC?
  We will also see Wet and Messy shoots as this is WSM.