WHAT'S NEW as at 5th November 2022
OUR NAME CHANGED to www.wsmprod.com in February 2017
Now in our 41st Year of continuous WAM Production
We are the oldest WAM business in the world!
3 MAJOR ITEMS (do read these)
1.
PRICES going up?
Not here!
We have lowered our prices for our WSM Subscription site both for the US dollar and Euro!
Join the oldest WAM business
with continuous production since December 1981
Become a Member Now!
At October 2022 our unique library has:
355 movies with an average run-time of 29 minutes
 GBP    EURO    USD
One month £30  One month 37 Euro One month $37
3 months £60  3 months 74 Euro 3 months $74
6 months £90  6 months        111 Euro 6 months        $111
THESE ARE OUR NEW REDUCED PRICES (on USD and Euro)
These new prices mean a saving of 21.6% on a US dollar monthly subscription
And a saving of 5% on a Euro Subscription.
CLICK HERE TO VIEW SUBSCRIPTION COSTS
What do you get in a WSM Subscription?  Here are the details:
WSM have 357 Movies (being 167 SD and 190 HD) in our WSM Subscription site.
In addition there are 544 image sets (192 W + 252 S + 100 M) with over 61,000 images!
To see our Subscription site go to our Home Page at https://www.wsmprod.com
There you can look at our 'Subscription Movies' with free Clips and see a listing of our 'Subscription Images'.  None of these Subscription Movies or Images contains XXX material. 
Besides our Subscription Movies we also offer a range of Download Movies covering Wet, Slapstick, Muddy and a range of XXX WAM movies.
These pay to Download movies are listed on our Home Page under 'Downloads – Online Store'. Again, all our movies have free Clips.
Those NEW movies under 'WSM Movies & Images' spend two years solely as Downloads before being added to our Subscription sites.
CLICK HERE TO GO TO THE WSM WEBSITE
If you wish to see our Images and Movie Clips at their best, then go to 'What's New' section at our Home Page at www.wsmprod.com and check our updates.
There at 'What's New' (scroll to the bottom of that page) and then you can page back.
By following the 'Older posts' you can see every single weekly update dating back to 2nd May 2015!
Give it a try and discover many Images and Clips to your own liking!
A veritable treasure trove!
2.   WSM announce our intention to introduce 2 levels of SUBSCRIPTIONS
 

A

Standard Subscription

(as described above) with 357 Movies and
544 Image sets.
 

A NEW GOLD Membership

which in addition to the Standard Subscription will offer 80 XXX Movies plus 76 Image sets.
Watch out for Start Date and Prices which we hope will be our next Update on 19th November.
3.  WSM regret to announce that due to falling sales we have been unable to finance the cost of editing our movies.
At 1st January 2022 we owed £330 to our movie editor.
At 31st October this had risen to £780.
So a lack of support has caused us to make a major change.
Instead of adding a new movie each 2 weeks, we will now add a new movie every 4 weeks.
Our fortnightly updates will still continue.
We also have a UMD STORE and transfer MOVIES and IMAGE sets.
There are now 152 movies posted in our UMD Store
This weekend the next movie due up is the remarkable 47 minute movie CC87 with Custard Couple (CC) as Batman and Catwoman.
CLICK HERE TO GO TO THE UMD STORE
AND WHAT IS THE MAJOR DIFFERENCE BETWEEN THE OFFERS ON OUR UMD STORE AND OUR WSM DOWNLOADS?
Very starkly illustrated on our movie posting for 16th October with movie WSM203 'Dee is a very Muddy Dancer'.
UMD offered you 17 images whereas WSM offer you 323 images on set M220a plus 173 images on set M220b………a whopping 496 Images!!!!!
WHAT DO WE HAVE THIS WEEK?
Two items this week:
A new HD movie WSM256 as mature lady Dee gets soaked and has wet play in 20 minute movie 'Dee is soaked in a Purple Dress' shot in the studio.
Plus there are 144 images of this shoot in set W407.
Two years after publication we review again one of the boldest movies we ever undertook!
We have Mrs. Custard Couple as Alice in WSM Land plus Mr. Custard Couple as the King of Spades.
This movie which is all shot outdoors covers Wet, Slapstick and Mud together with associated Image sets.
A joint production of CC and WSM, this movie WSM240 (WSM ref no) or CC125 (CC ref no) runs 40 minutes and is now added to our Standard Subscription Movies.
SEE ALSO OUR DOWNLOADS – ONLINE STORE on Home Page-no membership required.
Click on movie and page down for full description and sample images, for
50 VINTAGE FILM DOWNLOADS
PLUS 146 New 'WSM Movies & Images' with 80% available on the Subscription site.
PLUS 16 Movies with Images transferred from the Subscription Website and now also available as Downloads
and XXX section with 96 MOVIES with Images, still only available as Downloads.
NEW DOWNLOAD MOVIE & IMAGE set
WETLOOK
New HD movie WSM256 runs 20 mins with Dee getting soaked in a Purple Dress.
This was shot in our associated studio in November 2016.
Mature lady Dee takes us on a virtual walk in the park clad in her tight dress with black knickers, hold-up stockings and suede heels.
She gets wet with the rain from head to toe, ruining those stockings with her continual activity.
Our shoot follows a traditional route commencing dry, then getting that dress very wet, dress off and still getting very wet, knickers off with the rain still falling!
Plus we have image set W407 of Dee's shower with 144 shots.
REVIEW OF MOVIE WSM256
HD Movie plus Image set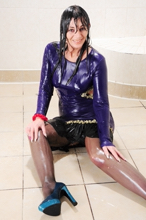 'Dee soaked in a Purple Dress'
Run-time 20 mins 18 secs
2 HD Streams plus 2 HD Sample Clips in MP4 format
Stream 1 runs 11 mins 09 secs
Mature brunette Dee (then aged 46) introduces her movie.
She shows off her new tight fitting purple dress, her green heels and hold-up stockings.
She invites us to a virtual wintery walk in the park.
Soon the cold rain is falling (well actually it comes via a studio rainbar!)
Dee says that she is squelchy as she clops along in those high heels.
'Everything is Wet' she says – see CLIP 1.
Dee is not still and continually moves about.
At 3 mins 19 secs she squats down under the rain.
But it is not long before she is on the floor at 4 mins 18 secs.
This is a good excuse for a workout!
A fantastic array of wet poses follow.
Splish-splash goes Dee in her wet play!
After 8 mins 52 secs Dee comes across a bench in the rain in the park.
So a whole series of new poses unfolds!
This 1st Stream has been devoted to Wet Play with no items of clothing removed.
But if you like Wet women, then Dee is a gem!
Stream 2 runs 9 mins 09 secs
This Stream is devoted to Wet Tease!
Our fantasy continues with Dee sat backwards on the bench in the park.
She continues to play with the seat and is totally saturated.
Then we have some Wet leg shots.
At 3 mins 25 secs she removes her dress.
She enjoys more Wet floor play – see CLIP 2.
With 3 mins 14 secs remaining Dee removes her knickers.
She continues to cavort about giving us occasional pussy glimpses.
She still appeals as a mature lady and her best teasing is at the end.
Another remarkable Dee performance and a delight for those who admire Wet mature ladies!
In addition there are 144 images in set W407.
Almost all are 35mm shots and Dee does her best to captivate the camera.
Some fabulous wet shots here.
We show you 6 sample shots from image set W407.
MOVIE WSM256  has 2 HD quality Streams running 20 mins 18 secs.
PRICE
£6-70  GBP
$8-20 USD
Euro 8-20
To Purchase movie WSM256 go to https://wsmprod.com then Downloads – Online Store, then  'WSM Movies and Images' and find the movie titled
'Dee soaked in a Purple Dress'.
SUBSCRIPTION WEBSITE/also a download
WITH WET, SLAPSTICK and some MUD
Two years after publication we review again one of the boldest movies we ever undertook!
We have Mrs. Custard Couple as Alice in WSM Land plus Mr. Custard Couple as the King of Hearts.
This movie which is all shot outdoors covers Wet, Slapstick and Mud together with associated Image sets.
A joint production of CC and WSM, this movie WSM240 (WSM ref no) or CC125 (CC ref no) runs 40 minutes and is now added to our Standard Subscription Movies.
This was a very challenging movie this being shot outdoors and several hundred feet up a hill.  So we are transported to our own outdoor wonderland.
How many sites give you Wet, Slapstick and Muddy OUTDOOR couple fun in a single movie? I would suggest just WSM!
The biggest problem when setting a shoot date is what will the weather be like?
Add in a hillside location and so the problems mount.
But our team of 4 worked hard to overcome all difficulties.
Enjoy this as you will be lucky to ever see a rival production!
REVIEW OF NORMAL MOVIE WSM240 or CC125
A HD Movie plus Image set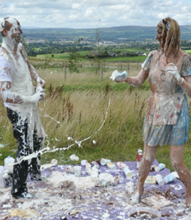 Custard Couple in 'Mrs. CC as Alice in WSM land'
Run-time 39 mins 51 secs
5 HD Sample Clips in MP4
5 HD Streams in MP4
How unbelievable are Custard Couple (CC)?
Despite the weather and the treble task of W, S and M they responded magnificently.
There are only two stars:  Mr. Custard Couple and Mrs. Custard Couple.
Every couple develops their own style of Slapstick fun.
Great W, S and M with great energy and intent from a mature couple at play!
We apologize for the length of our review.
But we can only report what we see…….and this is a big movie!
But do enjoy the all-out Slapstick action with over 27 minutes of continuous fun.
And have you ever seen a Slapstick food spread like what was prepared?
A gem of a movie despite the wind problems!
Stream 1 runs 9 mins 30 secs
We commence with Custard Couple (CC) walking the hillside.
The wind is wreaking havoc!
Mrs. CC takes a short nap and has a very weird dream.
She imagined she was Alice in Alice in Wonderland.
Suddenly while looking for a lunch spot Mrs. CC is transformed into Alice.
She comes across a silver spaceship paddling pool on the hillside.
In next to no time she is taking a clothed dip in her Alice dress.
She uses a jug to wet herself (but not her hair which is saved for the Slapstick scene).
There are some splendid wet knicker shots – see CLIP 1
But this is merely an appetizer before the terrific Slapstick scene which follows.
With Mrs. CC now well wetted, she espies the 'White Rabbit' and runs off to try and catch him!
In addition we have image set W401 with 74 shots of Mrs. CC in the paddling pool.
How does she look?
We show you 5 sample shots of her wet play.
Stream 2 runs 15 mins 46 secs
Alice (Mrs. CC) is chasing the White Rabbit.
The King of Spades (King) calls her to join him as he awaits the Mad Hatter's Tea Party.
Their introduction is somewhat ruined by the noisy wind.
Alice is amazed by the amount of food.
She takes tea with the King.
He was expecting ten people at the Tea Party and decides that they should start on the food.
He offers Alice a large chocolate cake.
She takes a slice and adds cream.
The King has a huge piece of cake and Alice asks if he will eat that much?
Alice senses the King's sneaky intent and pushes the chocolate cake in his face!
He retaliates by pushing her small piece of cake into her face – see CLIP 2
The King pushes the residue of his large chocolate cake into Alice's face.
This Slapstick Tea Party is now starting to warm up.
The King decides to oblige Alice as she calls herself "Messy Alice".
After splattering her with milk, a chocolate cake is rubbed into her face, followed by squirty cream over her cleavage.
Next, custard runs down her back and legs as Alice lies on the ground.
A meringue gateau is slapped into her crutch as she lies expectantly!
The King smears a 2nd meringue gateau over her legs and up her body to her boobs.
Custard follows right down her body and legs as Alice lies in bliss enjoying the messy treatment.
She leans up as the King continues to smother her in custard, including some in her mouth.
"Messier by the second" says Alice in delight.
Her legs are splayed and the King enjoys massaging the foodstuffs over her.
But the King is far too clean.
They stand up so they can mess each other up with the foods.
A battle commences with Frijj drinks for the King and cartons of yogurt for Alice.
The King begins to get messy!
Both the King and Alice enjoy their Slapstick play (and so do we).
The sight of Alice bending over to pick up more yogurt brings the King forward to bend her over again, lift her skirt and cascade Frijj drink inside her knickers and down her back.
Then Alice gets another chocolate gateau in her face as she pours yogurt over the King's head, so he is well splattered.
The King turns her round to plaster her back and bum with Frijj drink – see CLIP 3
He smacks her bum lightly telling her she is a very naughty Alice.
Then he pulls her knickers down to slap her bare bum, before pulling them up tight on her.
Alice attacks him with a chocolate Frijj drink.
The King has found a new 'weapon' and sprays Alice with mayonnaise.
Alice struggles to open her next Frijj drink so the King takes advantage to spray mayo on her hair.
The King tells her he is going to get some "Nasty, nasty new mess for you now!"
We all wonder what he will produce…….and the answer is Baked Beans.
The King throws a tinful over her then continues to pour the beans over her, especially over her head!
Alice tells him she loves beans.
Lifting her skirt the King decides to fill-up her panties with the beans.
Alice is only too happy to oblige as she holds her knickers open!
Her knickers are pulled tight as the King rubs the beans in.
The Stream ends as they kneel together (after the mess has magically been cleaned up).
Alice rubs mayonnaise over his neck and t-shirt, which the King enjoys.
Stream 3 runs 6 mins 24 secs
The King tells Alice it was time to use up all these foodstuffs.
Alice tells him "If you want to play fighty, fighty, then come on then".
Standing, they square up to each with two tins of Tomato Soup each.
Then we have 6 minutes of frantic slapstick mess as they splosh each other in the outdoor setting.
The Tomato Soup is splashed about over each other.
Alice chortles in delight.
She switches to cartons of yogurt and puts some, plus custard, down the back of the King's trousers.
She smacks this in which provokes a retaliation from the King, who forces Alice onto all fours, lifts her skirt and sprays her back and knickers with Frijj drinks.
Alice is thoroughly coated in the milkshake drinks.
Dragging her on her stomach, the King applies a creamy cake to the back of her neck and hair.
He splatters further mess over her before getting astride her to rub a choc gateau over her neck and then massage it into her hair.
This is followed by a 2nd choc cake rubbed down her back.
He pulls her knickers down before dropping a very creamy gateau on her bum.
The King jumps on her back and gives her hair a further massaging.
Another choc cake is dropped on her head.
Alice kneels up so the King can throw a small gooey choc cake at her bum!
Then he carefully places another gooey cake into her bum/crutch.
Not content, a 3rd choc cake is rubbed around her arse.
Then a bowl of thick chocolate is poured over her bum, as Alice kneels to enjoy the experience.
Splendid pouring shots here, as the King coats her arse in thick dark chocolate.
He gives her a couple of licks before pouring custard over her bum and back.
Finally, he pulls her panties tight up and over her bum!
Stream 4 runs 5 mins 12 secs
We commence with a 2nd magical tidy-up by the King of Spades.
He lowers the top of Alice's dress so he can apply custard over her cleavage and bra encased boobs.
Then he frees her tits from her bra as Alice applies custard over them.
The King has a "Special, special surprise!"
Another bowl of thick dark chocolate is poured over her shoulder so it runs over her boobs and down her body.  The King licks a chocolaty boob.
Then he rubs a small choc cake down her cleavage and boobs.  He smears the chocolate over her.
Alice smears another small choc cake over her chest and tits.
She lies back while the King pours Tomato Sauce over her body.
He pulls open her knickers to spray the Tomato Sauce inside, then pulls them back and continues to coat her full body.
"And don't you just love rubbing it in" says Alice – see CLIP 4.
The King decides it is time "To finish off all this mess".
Alice sprays custard over herself while the King has a great time spraying Frijj drinks over the squatting Alice.
Alice gets her own back spectacularly with a couple of the Frijj milkshakes.
The King finishes off with squirty cream and Alice scrambles to her feet to join in the spraying fun.
There are images that accompany this Messy Tea Party.
We ended with 192 shots in set S434.
Some terrific Slapstick pics here.
We show you 5 sample shots from image set S434.
Stream 5 runs 2 mins 59 secs
After their Slapstick Tea Party the bedraggled King of Spades accompanies Alice as she continues to chase after the White Rabbit.
But they have to cross a very muddy pond area.
It is not long before they have fallen down into it.
They get back to their feet.
Then they remove some clothes.
They set off but once again slump into the muddy pond and have a further rollabout.
They start to head back to where they entered the pond but tumble once again into a rather muddy area.
The King enjoys muddying up Alice as they recline in the muddy pond – see CLIP 5.
Being cold and wet, attention soon returns to the teasing White Rabbit.
But both the King of Spades and Alice have had enough of this chase!
There are images that accompany this Muddy ending of the White Rabbit chase.
Image set M233 has 73 shots.
We show you 5 sample shots from image set M233
PRICE
£8-20  GBP
$12-20 USD
Euro 10-00
Movie WSM240 or CC125 is only available as a Download.
To Purchase movie WSM240-CC125 go to the Home page at  https://www.wsmprod.com then 'Downloads – Online Store' section, then 'WSM Movies & Images' and find CC in
'Mrs. CC as Alice in WSM land'.
BUT WHY WOULD YOU PURCHASE THIS NORMAL MOVIE?
IF YOU ARE A MEMBER OF THE SUBSCRIPTION SITE, then it is there now!
But this is only one movie and one image set from our Subscription section which has 357 Movies and 544 Image sets all available just for the price of a subscription!
How much?
CLICK HERE TO VIEW SUBSCRIPTION COSTS
We continue to take SUBSCRIPTION payments in £ Sterling, US dollars and Euros, for membership of the WSM Website.
The Subscription site does not include access to new movie/images Downloads in the Online Store, which we have added during the previous two years, or any XXX movies.
Movies and Image sets added to the WSM Online Store under 'WSM Movies & Images' are added also to the Subscription site, 2 years after being posted as a Download. 
Look at the JOIN NOW page to see our great value for 30 day, 3 month and 6 monthly Subscriptions as for a Subscription you can access:
357 Movies averaging 29 minutes each, including 18 Messy Wrestling Movies and 117 Custard Couple Movies, (which include 35 joint productions with WSM),
15 vintage movies and 207 normal WSM movies (excluding 35 duplicated joint production movies with Custard Couple).
PLUS 61,317 Images in 544 sets (being 192 W + 252 S + 100 M).
But if you want to see all these Movies and Image sets, then you need to take a Subscription to become a Member.
Click here to see the amazing value Join costs!
FUTURE PROGRAMME
ADVANCE NOTICE OF NEW DOWNLOAD STORE AND SUBSCRIPTION ADDITIONS
From January 2022 WSM no longer update weekly but fortnightly.
Sadly we owe too much money to our film editor and have now stopped adding a new movie each two
weeks.  Until improvement we will now add a new movie every 4 weeks.
12th Nov Movie deferred until 28th January 2023.
In a double XXX bill, we take a further look at movie XXX085, published two years ago, which featured Mrs. CC as Alice in WSM land with Wet, Slapstick and Muddy scenes all shot outdoors…….plus their image sets.
We finally review the last XXX Stream on our Vintage Film 'Sex WSM'.
3rd Dec New movie CC164 features Mrs. CC as 'Mud Slut 17 – Muddy in Leather' shot outdoors in a large field……..plus image set M250.
 After 2 years as a Download, the delectable Honour May is drenched in two dresses. Plus 122 images in set W414. This movie and image set are now added to our Subs site.
 And 42 years of WSM!
17th Dec New movie WSM266 has mature brunette Dee having a Slapstick Audition.
 Plus image set S460.
 Due for deferral unless our sales increase.
31st Dec Definitely a Custard Couple movie!
  Will it finish off 2022 or introduce us to 2023?
  We will announce this new movie next Update.
2023
28th Jan Movie deferred from 12th November.
New movie XXX082 'Pissy Quickies 3' will feature 10 different scenes and their images.
25th Feb Final Dee muddy movie!
  Dee destroys cream dress in messiest mud play outdoors in movie WSM246.
  Plus image set M234.