WHAT'S NEW as at
7th
June
201
9
OUR NAME CHANGED to www.wsmprod.com in February 2017
NOW IN OUR 38TH YEAR OF CONTINUOUS WAM PRODUCTION
This week something different as we celebrate 8 years of association with Custard Couple (CC).
What a magnificent association this has been!
Custard Couple are the best mature WAM couple in the world!
Some claim…..but what a couple!
We have delved into our files to cover W, S and M and XXX with movies and images. But we step back to review again some sets from the first half of our association.
Check out our selections below.
Also, see our tribute to Roger Carpenter in our COMMENT section below.
We take Subscriptions to our Website – Memberships extending for up to 6 months are available. We now have 303 Movies plus 478 Image sets for instant access.
CLICK HERE TO TAKE A SUBSCRIPTION TO THE WEBSITE
SEE ALSO THE WSM ONLINE STORE  (no membership required)
Click on movie and page down for full description and sample images, for
50 VINTAGE FILM DOWNLOADS
PLUS 96 New 'WSM Movies & Images' with 2/3rd available on the Subscription site too.
PLUS 16 Movies with Images transferred from the Subscription Website and now also available as Downloads
and XXX section with 75 MOVIES with Images, only available as Downloads.
CLICK HERE TO GO TO THE WSM 'DOWNLOADS – ONLINE STORE'
We also have a UMD STORE and transfer MOVIES and IMAGES regularly
CLICK HERE TO GO TO THE UMD STORE
SUBSCRIPTION WEBSITE
WETLOOK
In 1994 WSM published the 1st Slapstick Quiz (see Vintage Film 7 Stream 7 'Plastermind' with 5 girls, running 5 minutes).
Since then, there have been countless further Slapstick sketches made by many producers.
But by April 2013 I had not seen a serious Wet Quiz!  So we put that right in 2013!
WSM publish our 1st Wet Quiz with Movie WSM138-CC36 running 19 mins and Image set W320.
And besides water, the main ingredient is FUN.
All our small team played their part:
Mrs. Custard Couple (CC) as the contestant.
Mr. CC and the Phantom on cameras, then as water chuckers.
Film editor Steve capturing the action as HD movie, then editing and including some great visual and musical jingle effects.
And the busiest man…..me (Mike Ellison) on 35mm, producing and directing plus writing the questions and acting as MC.
And the result?  Great Wetlook and great comedy!
And the performance of Mrs. CC?
Absolutely abysmal……with only 3 correct answers from 10 questions on her specialist subject!
Mr. CC was so enraged that he brought us to a very amusing and spontaneous ending!
Images and movie Clips in no way do this justice….you need to see the 19 minute Movie!
We show you 2 Clips from Movie WSM138-CC36 as Mrs. CC receives two of her soakings!
Image set W320 has 130 images capturing Mrs. CC's performance.
Do you approve of her clothing choice?
A fully clothed Mrs. CC is under the rainbar dressed in black jacket and short sleeve green dress that becomes shiny and part see thru when wet.
Mrs.CC gradually has to strip down to her black bra and panties plus seamed stockings and a white suspender belt.
This image set now needs a makeover and enhancing.
But, no time this week!
We show you 5 sample shots from the 1st Quiz Show.
We feel sure you approve!
Movie WSM138-CC36 and image set W320 are only available on our Subscription site.
To join the Subscription website with access to another 302 movies and 477 image sets, see cost below:
CLICK HERE TO VIEW SUBSCRIPTION COSTS
SUBSCRIPTION WEBSITE
SLAPSTICK
How does Mrs. Custard Couple (CC) relax at home?
In 28 minute movie CC15 she invites you to join her for a 'Messy Cream Tea with Mrs. CC'.
Dressed in pink dress, white bra, panties, suspenders, stockings and red shoes, Mrs CC has only one thing on her mind, not to eat the cream cakes, trifles, pouring cream, squirty cream, custards, cheesecake and raspberry topping syrup……… but to use these to get very messy!
Mr. & Mrs. CC are our amateur couple who just love their wet and messy games, and we are so fortunate that they let us see what adventures they get up to!
As Mrs. CC says 'I like to get so messy – it makes me so horny!'
Now she is not shy on getting trifle or even chocolate éclairs in her knickers!
Unashamedly erotic, Mrs. CC really enjoys her clit play as she frigs herself to an orgasm!
With messy food play, messy clothes and messy body coverage and her dress torn away…..
Wow!  This is hot and steamy!  And was shot in 2012.
We show 2 Clips from Movie CC15 so you can judge Mrs.  CC's temperature!
Image set S314 with 111 pics opens with Mrs. Custard Couple (CC) sat in a chair eating a chocolate éclair.
A trifle proves too tempting!  Why eat it when you can smear it?
Yogurt is followed by squirty cream until her dress is well creamed! (see sample shot 2).
Then, Mrs. CC uses a foodstuff usually lacking when you have a cream tea – Custard!
No surprise there!
Naturally, it is full custard coverage including hair and face!
How do you deal with a blackcurrant cheesecake?
Mrs. CC supplies the answer…..Sit on it and squash those white knickers into it!
The remainder of the trifle is rubbed into her knickers and thighs (see sample shot 3).
More custard is added to the mess.  Mrs. CC pours it into her knickers.
Then Mrs. CC releases her boobs!
Hand in knickers she relishes the messiness!
Some squirty cream is added to her legs (see sample shot 4).
Then, more custard goes over her knickered bum!
Finally, some raspberry topping syrup is added over her face and boobs then later her knickers (see sample shot 5).
Now I am sure, we would all like to join Mrs. CC for her version of a cream tea!
What a delicious looking spread she is!
Mrs. CC lies in the armchair, hand in knickers, looking very horny with the excitement, yet calm with enjoyment!
Her dress is removed and clad just in her messed up undies with her tits out, we sure do appreciate her self-play after her cream tea!
We have reworked and enhanced these images as they were fading away!
Take a look at the 5 updated sample shots we detailed above.
Movie CC15 and image set S314 are only available on our Subscription site.
To join the Subscription website with access to another 302 movies and 477 image sets then
CLICK HERE TO VIEW SUBSCRIPTION COSTS
SUBSCRIPTION WEBSITE
MUDDY FUN
We published movie WSM134-CC13 in 2012 with Mrs. Custard Couple (CC) competing in our Muddiest Goalkeeper Competition.
Who was the Muddiest Goalkeeper of them all?
We now confirm it is Mrs. Custard Couple (CC)!
She was the 9th competitor in our 'Muddiest Goalkeeper Competition'.
See her 19 minute movie WSM134-CC13 as the evidence!
Mrs. CC really enjoyed getting totally muddy and does not stop laughing!
Mr. CC however, took it very seriously and he had two aims:
1. to try and blast as many goals as he could, and
2. to get his happy and co-operative wife as muddy as possible.
Mrs. CC is dressed in a white mini skirt and white short sleeved top, worn with white full length stockings, black knickers and white trainers.
Mr. CC thumps the ball hard.  He tells her off for not trying!
There are some great squelchy mud sounds as Mrs. CC does her best to save the ball.
Her back is soon mud-caked but after 10 minutes her front is still quite clean.
Mr. CC has become increasingly irritated at Mrs. CC's lack of effort.
Not a single dive in the 1st Stream!
So Mr. CC takes matters in hand as he decides to mess up his pretty wife.
'Do you really think you are muddy enough?' he asks.
'You are absolutely nowhere near!'
He thrusts Mrs. CC's face into the mud, then gives her hair a mud shampoo!
'Now that's more like it', says Mr. CC.
With her skirt tucked up, Mrs. CC gives us some great muddy bum shots too.
She now looks a very muddy target.
After 15 mins Mrs. CC is nude, but very muddy and Mr.CC, stripped to his underpants, is also very muddy.
Our naughty couple got far too carried away playing in the mud and forgot the ball!
You can see their fun in their 20 minute movie 'Muddiest Couple Play' ref WSM186-CC25 available on the Subscription site plus 2 free clips and not forgetting the enhanced images in set M214.
And for those of you who like it even naughtier, go to movie XXX046 in the XXX section of the Online Store for an 8 minute movie of muddy cock sucking, piss and muddy sex!
But back to Mrs. CC as the muddiest goalkeeper.
Mr. CC continues to chastise his wife and splosh her with mud.
We conclude, as we began, with an interview.
Definitely a most fantastic movie if you want a muddy woman, as you will not find better.
The one regret was that we just missed the introduction of the HD movie camera!
We show you two Clips from this movie.
How does Mrs. CC rate as a muddy goalie to you? (Whoah!  Don't answer that until you see her muddy images!)

We now publish Image set M196 of Mrs. Custard Couple's (CC) entry as the 9th competitor in the muddy goalie competition.
And this is how Mrs. CC treated it (or should I really say Mr. CC)…… as a competition!
There are 397 Enhanced (full screen) images that give a kick by kick account.
We see a frisky Mrs. CC warming up in the meadow.
Then it is into the goalmouth for the action.
Mrs. CC is quite reserved at first, but soon her bum and legs are muddied.
But before long she is on her back in the goalmouth enjoying the wet feel as her muddied top clings to her back.
But Mr. CC demands more effort and more mud-larking from his pretty wife.
Mrs. CC flops about but mainly on her bum and back.
She gets her front well splashed, but this is not what Mr. CC has in mind if she is to win the 'Muddiest Goalkeeper' competition.
He runs out of patience and gives Mrs. CC a proper mudbath, rolling her about and sloshing her back and bum, before unceremoniously pushing her face into the muddy quagmire, then giving her hair a mud shampoo.
A very muddied Mrs. CC continues her goal-keeping duties, unaware that her skirt was caught behind at her waist, so we have a number of muddied bum shots.
Mrs. CC is now totally enjoying the experience as she really does get excited by being so muddy!
A special something is added when we have a mature lady determined to end up muddied from head to toe and reveling in this very messy experience.
These are amazing total mud shots and Mr. CC made sure that every part of her body was muddied!
Mrs. CC eventually bares her boobs, then soon has her skirt removed, followed by her knickers.
She ends nude, totally mud caked and glistening in the sun!
Did you ever see such a muddied woman in prolonged mud play?
She did fully enjoy it…….and it shows!
In addition to the 397 shots in set M196, we have already published further shots in image set M214 of CC in muddiest couple play (see movie WSM186-CC25).
Add in a further 158 images in XXX046 movie with muddy cock sucking, piss and muddy sex!
With 3 movies and 3 image sets, this is as near muddy perfection as you can go!
We show you 7 sample shots of Mrs. CC as the muddiest goalkeeper from image set M196.
And what is the cost to see Mrs. CC's mud adventure?
Both her movie WSM134-CC13 as the 9th competitor in the muddy goalie contest and her image set M196 are on our Subscription site.
Movie WSM134 or CC13 and image set M196 are only available on our Subscription site.
To join the Subscription website with access to another 302 movies and 477 image sets then
CLICK HERE TO VIEW SUBSCRIPTION COSTS
But there is more to Custard Couple than just W, S and M.
Often in their movies they continue with XXX fun.
This usually involves commencing as a normal movie then adding a further Stream or two as the action turns steamier and more raunchy.
Do note that all WSM XXX movies are only available by Download after paying the required fee.
So let us look at a movie shot in 2014 to further appreciate Custard Couple's versatility.
The movie I chose was WSM212-CC82 titled 'Custard Couple – a Custard Treacle Tart'.
The normal movie has 3 Clips and 3 Streams.
It then proceeds to XXX and movie XXX045 has 4 Clips and 5 Streams and runs 47 minutes.
You can view the 4 free Clips and the write-up (as the XXX movie also includes the normal movie), plus view 6 free images by clicking on the link below:
We continue to take SUBSCRIPTION payments in £ Sterling, US dollars and Euros, for membership of the WSM Website.
The Subscription site does not include access to new movie/images Downloads in the Online Store, which we have added during the previous two years, or any XXX movies.
Movies and Image sets added to the WSM Online Store under 'WSM Movies & Images' are added also to the Subscription site, 2 years after being posted as a Download. 
Look at the JOIN NOW page to see our great value for 30 day, 3 month and 6 monthly Subscriptions as for a Subscription you can access:
303 Movies averaging 30 minutes each, including 18 Messy Wrestling Movies and 88 Custard Couple Movies, (which include 28 joint productions with WSM),
15 vintage movies and 182 normal WSM movies (excluding 28 duplicated joint production movies with Custard Couple).
PLUS 51,050 Images in 478 sets (being 168 W + 224 S + 86 M).
But if you want to see all these Movies and Image sets, then you need to take a Subscription to become a Member.
Click here to see the amazing value Join costs!
COMMENT
Roger Carpenter who lived in Tenby, South Wales sadly passed away on 18th May aged 82.
Who was Roger Carpenter?
Roger was one of the pioneers of WAM.
In 1987 he started a business 'Aquantics' selling slides and photosets (and eventually videos).
This is how his First Collection was introduced:
"Dunking isn't just a matter of trendy wet t-shirts:  to the initiated it's a ritual celebration of women's affinity with earth and water.  But it needs a special kind of girl to make the magic really work, with the spirit to sacrifice her civilized feminine image to that primitive sensual instinct which the French call 'nostalgie de la boue'(which means a desire for degradation and depravity!)".
Now how many WAM producers put out a statement like that!
But Roger did have a gift with the English language.
His slide set descriptions were often lyrical and poetic.
His first set issued described a slide set I had taken:
'The foaming mountain torrents of a remote Lake District waterfall make a spectacular setting for raven-haired Debbie to get sumptuously drenched to the skin wearing a full-length silky white nightdress, tie-sided and slit to the waist, together with black stockings, briefs and sexy golden heels.
Under the cascade her nightdress melts into instant clinging transparency and lends new perspectives to the see-through effect by dispensing with her briefs.  Finally, the nightdress comes off as well leaving her splendid breasts bared in all their glory'.
Yes, that was Roger Carpenter!  Why use 8 words (Debbie under a waterfall in the Lake District) when 88 words eloquently expressed, convey far more vivid imagery of the shoot!
Roger's principal interest was vintage cinema, particularly silent film.  His interest lay in the Wetlook and Slapstick aspects which considerably influenced scripts for Aquantics and Artscene videos.
Roger had entered into a partnership with David Wilkey of Artscene.
This followed the first Aquantics convention held at another WAM friend's (Chris Taylor alias Colin Twyford) hotel Harbour Heights in Tenby 1989, which led to further conventions in Tenby 1990 to 1993 (at a different hotel), all organized by Roger.
At this point we show you a photo from Aquantics '92 with Roger, Rob Blaine (from Texas) and partly in the picture Bill Shipton.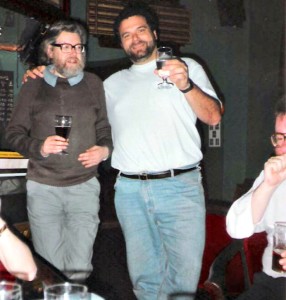 This is what David Wilkey wrote about his association with Roger Carpenter:
 "I first came across Roger and Aquantics in the spring of 1991.
I had been working on Wetlook videos and we soon struck up regular correspondence relating to WAM. I met him and many others at Aquantics '91 to which I took my then regular model Louise.
Not long after that we got together to discuss our first joint WAM project 'Slimewave'.
Over the years he became my best friend and business partner and we produced 6 movies together.
It was a great joy to visit him every quarter to sort the business and chat over a pint in the Hope and Anchor in Tenby.  His love of old films often inspired our own projects and we had a stock company of models, just like the old Mack Sennet studios.
His contribution to Wetlook was pioneering back in the late 80's.
There were a lot of us out there unknown to each other and Aquantics made us realize we were not alone!
I salute him and all the others from the 90's who are no longer with us."
At Roger's funeral in Tenby there were David Wilkey, Mike Nomic (his nom de plume) and myself Mike Ellison to represent the WAM community.
I stayed over until the following day and had lunch with his wife Joyce and her sister and husband.
And lunch could only be taken at one particular venue – the Hope and Anchor pub.
Why was Roger based in Tenby?
He worked for 30 years in a legal department in Bristol.
I did visit him in Bristol before he took early retirement and moved to Tenby in 1988.
He had holidayed many years at Tenby and he made a wonderful property choice with his home overlooking the harbour at front with the beach to the rear.
I had already indicated another area in which Roger excelled.
I show a photo of the prestigious award he received from the British Music Society.
There was a grand piano at his home.  He had edited the annual journal of the British Music Society for 5 years.  In addition he wrote a major article about William Baines from Horbury, West Yorkshire bringing Baines to prominence as a composer who had tragically died aged 23 from tuberculosis.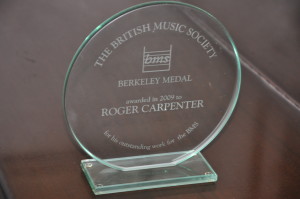 Roger had many other friends worldwide.
He celebrated 60 years of marriage last August but sadly had no children (only beagles).
I find myself ending with very similar words bestowed on Bill Shipton.
Roger was kindly, caring, compassionate, talented and a true gentleman.
So another legend departs.
Few people have such a legacy to have been loved by all he came into contact with.
FUTURE PROGRAMME
ADVANCE NOTICE OF NEW DOWNLOAD STORE AND SUBSCRIPTION ADDITIONS
14th June Another brand new most unusual shoot, resulting in 2 separate movies.
Firstly, we see Mrs. Custard Couple (CC) clad in a red PVC suit with thigh boots, and playing in the mud in 11 min movie CC83, plus image set M222.
Secondly, we see Mrs. CC at mud play but this time with Mr. CC with him in cross-dress.  Movie XXX078 runs 21 mins plus image set M222XXX.
21st June Dee in red jacket and trousers in her favourite river – 22 minute HD movie WSM196 now posted to Subscription site along with 278 Enhanced (full screen) 35mm images in set W354.
28th June A further look at the 1st controversial Humiliation HD movie XXX056 we published in Nov. 2016.  This is CC at their most hardcore in an outrageous movie which runs 34 minutes, as Mrs. CC obeys 'My Masters Orders' with piss, oil, custard and mud!
5th July After 2 years as a Download, 20 minute movie WSM211 titled 'Dee with Treacle' features mature brunette Dee in very messy play, plus 182 images in set S403.
  A further Anniversary Tribute as can you believe it is 6 years since we lost Mr. Splosh…….Bill Shipton?
12th July The follow-on to CC106 movie 'Shrink 1' which is available either as a Download or on the Subscription site.  We now have 24 minute movie CC144 'Shrink 2' when Mrs. CC's messy fantasies lead to incessant day-dreams. The Shrink suggests an extreme messy solution in a mud pit!
Features 60's music, 60's outfit and couple action, plus image set M242.
19th July A new Mrs. Custard Couple Wetlook movie CC30 running 33 minutes
  as Mrs. CC performs 3 Wet dances outdoors.