WHAT'S NEW as at
15
th
Dec
em
ber
201
7
OUR NAME CHANGED TO WWW.WSMPROD.COM FROM 24TH FEBRUARY 2017
Here comes Santa with a great Xmas present to all our Members this week
After 2 years as a Download, movie CC100 (which runs 34 mins), is now posted to our Subscription site along with 88 enhanced (full screen) images in set S409, as 'Santa comes again' with all his festive cheer.
Or enjoy the alternative XXX movie XXX024 as 'Santa cums again' (which does include the CC100 movie) and runs 44 mins plus a further 52 enhanced images in set S409XXX.
Now some of you wonder why Dee has featured in so many sets.
Well check out 18 minute movie WSM039 to see her in a classy Jacuzzi for great Wetlook, but it is the newly enhanced image set W238 with 84 shots (was 76) that really catches the eye!
      Also in this Update:
We review again a superb educational 18 minute XXX movie, as Steven tells us how he converts his pretty Asian wife Jade into a Honey and Custard Doll.
Add in no less than 177 images in set S116XXX and this is excellent value.
Why do I take images?
Because now and again you defy the odds and get some very memorable pics.
Take a look at Raven in Wetlook image set W198, now with 55 enhanced shots, and find your favourite! (only 2 sample shots…..but what shots they are!)
Check our updated Online Store to see what other movies and images are available as Downloads.
CLICK HERE TO GO TO THE 'DOWNLOADS – ONLINE STORE'
Not forgetting our SUBSCRIPTION site with 258 Movies and 430 Image sets. Memberships extending for up to 6 months are available for the Website.
CLICK HERE TO VIEW SUBSCRIPTION COSTS
We also have a UMD STORE and transfer MOVIES and IMAGES regularly
CLICK HERE TO GO TO THE UMD STORE
WSM CALENDAR
Well no, we have not produced a Calendar for 2018.
But we know someone who has!
It is our good friends Custard Couple.
Custard Couple have prepared a 2018 Calendar of themselves (there are 3 couple pics).
This is A4 size, with pics sized at 9 inches x 5 inches on high quality paper, and is a collector's item.
It features 13 shots (including one cover pic) of mostly unreleased shoots.
Price is £10 including postage in UK/Europe – there are 5 x Wet, 5 x Slapstick and 3 x Mud pics.
It is not for sale on WSM.
But if you wish to obtain a copy or enquire for any custom work, then contact Custard Couple at tjgbwilson@aol.com
So not only a Merry Christmas from Custard Couple, but a Wet, Sploshy and Muddy New Year with their Calendar!
SUBSCRIPTION WEBSITE/also a download
SLAPSTICK FUN
Movie CC100 is the 19th movie to be re-posted from the DOWNLOAD site to our SUBSCRIPTION site.
It has taken two years, but now you can now see this movie at no extra cost, if you are a member of our Subscription site.
This HD Xmas movie with Custard Couple (CC) is offered either as:
 

A

normal movie CC100

running 34 mins 23 secs with 3 Clips and 3 Streams, plus 88 enhanced (full screen) images of festive fun and messy play, set S409.

 

As an

XXX movie XXX024

 

(strictly Download only)
XXX024 movie includes the normal movie CC100 so runs in total 44 mins 18 secs with 4 Clips and 4 Streams.
NOTE – this is the same as movie CC100 but with further content added, with Streams 2 and 3 modified plus an additional Stream 4.
In addition there are 52 enhanced XXX images in set S409XXX.
See this write-up in the Online Store XXX Section under title 'Custard Couple – Santa cums again' (which is movie XXX024).
REVIEW OF NORMAL MOVIE CC100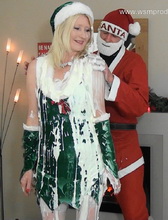 Custard Couple – Santa cums again
Movie CC100
Run-time 34 mins 23 secs
 3 Sample Clips in HD
 3 Streams in HD
This was the WSM Xmas movie for 2015.
The movie has a proper story (Stream 1 has 5 scenes), is well thought out, has musical content, is very amusing and is great festive fun!  There is no need to ask if it is Messy!
What struck me most was the very clear loud speech, as CC have moved to far more positive dialogue and sound.
This is the normal movie and the XXX content is omitted (see movie XXX024 for XXX version).
Stream 1 – runs 11 mins 18 secs
Scene 1
Mrs. CC is asleep in bed with Mr. Snowman.
It is Xmas Eve.
Last year, Mrs. CC was Santa's Angel.
This year she will be his very, very naughty Elf.
Scene 2
She gets her sign asking Santa to call.
Mrs. CC goes into the garden in just her white lace baby doll outfit, complete with g-string.
We are all glad that she decides to take Mr. Snowman back into the house, as she leans over to pick him up, giving us an awesome bum shot.
Scene 3
We visit Santa's lounge as he magically appears.
We see him making preparations for his Xmas Eve trip.
This is very relaxing fun!
Scene 4
We see Mrs. CC preparing for Santa's arrival, first in her new baby doll nightie, then she adds her little elfin outfit with bells, gloves and a hat.
Scene 5
Santa arrives and admires Mrs. CC – see CLIP 1.
We see the foods he has brought (yes, he is magic!)
Mrs. CC ends by saying 'I'm here, I'm waiting, I'm willing!'
Stream 2 – runs 10 mins 21 secs
Santa decides that as he has been out in the snow, Mrs. CC should get white, messy and wet!
So naughty Santa commences with cold milk.
Mrs. CC squeals and yells with the coldness as Santa pours the milk over the front and back of her Elf outfit.
Of course Santa wants his treat, so lifting her skirt, he continues to pour the milk – see Clip 2.
The milk is followed by yogurts – 'Equally cold', says Mrs. CC.
'This is exactly what you asked for!' says Santa.
He rubs in the yogurt.
'I am a bit bedraggled now', says Mrs. CC.
'You are nowhere near messy enough are you? asks Santa.
Of course Mrs. CC readily agrees she is not.
So Santa continues to cover her Elf outfit and sleeks the yogurt over her front and back.
Next, Santa applies some Strawberry Angel Delight.
Naughty Elf Mrs. CC encourages him to fill-up her little white panties.
Then with her seated on a chair in front of the fire, Santa brings the Chocolate Angel Delight.
Now it really is time for her to get very messy.
Santa starts by pushing Mrs. CC's face into the bowl of Chocolate Angel Delight.
Then he works from the head down, sploshing her outfit, including hat and gloves.
Stream 3 – runs 12 mins 44 secs
Santa gets down to the application of the Chocolate Angel Delight as Mrs. CC presents her white knickers.  Of course Santa slides his messy hand into her knickers.
Then he covers her legs and boots.
Mrs. CC puts the chocolate dessert over her boobs and tempts Santa to help her.
But the naughty Elf Mrs. CC wants the chocolate dessert rubbed on her arse!
We see her tightly knickered bum (which Santa says is far too clean).
She wants some syrup dripped over her bum and Santa is delighted to oblige.
Santa is now fully enjoying messing Mrs. CC. a very naughty Santa Elf.
But he surprises her by applying Strawberry Jam over her back and bum, while she urges him on.
Then Santa brings out the custard (well being part of CC he would, wouldn't he!)
Mrs. CC assumes a rather provocative bum pose as Santa dribbles away with the custard over her back and bum.
Santa applies more golden syrup over her front, especially into her cleavage.
Then it is time to apply the custard down her front.
Mrs. CC responds by removing her dress.
Santa pours custard over the front of her baby doll.
She removes her hat and Santa unleashes custard over her head, face and front – see CLIP 3
Santa gives the naughty Elf a good messing up with custard.
He rips the baby doll cleavage open and pours more custard.
The custard is really turning Mrs. CC on.
Mrs. CC removes her panties……and you need to see the XXX version for what then happens!
Next in this normal movie, we see Santa lying back on the mat without his trousers.
Mrs. CC brings a bowl of Chocolate.
Santa tastes before smearing his Elf with chocolate while she rubs chocolate on him.
Santa removes her gloves and spreads chocolate over her arms.
Mrs. CC gives Santa a final present.
This is a bottle of 'Very Bad Elf' ale.
But Mrs. CC hopes she has been Santa's very bad Elf!
They finish by sending the season's greetings to us all.
If you wish to see the write-up of the extra XXX, then go to 'Downloads – Online Store, then XXX Section where it is listed as 'Custard Couple – Santa cums again', which is movie XXX024.'
Do note that movie XXX024 includes both the normal and XXX Streams.
As such it runs over 44 mins.
MOVIE CC100 has 3 HD Streams running 34 mins 23 secs.
IMAGE SET S409 has 88 enhanced shots
We show you 5 sample images from this set.
PRICE
£6-20  GBP
$9-30 USD
Euro 8.10
To Purchase movie CC100 go to:
'WSM Movies and Images' section
Find 'Custard Couple – Santa cums again'.                                                                                                                     
BUT WHY WOULD YOU PURCHASE?
IF YOU ARE A MEMBER OF THE SUBSCRIPTION SITE, then it is there now!
Where do you find Custard Couple movie CC100 and image set S409 on the Subscription site?
For Movie go to:
'Subscription Movies'
'Custard Couple'
Find CC100 under numerical listing (should be page 2).
For Images go to:
'Subscription Images'
'Slapstick'
Find S409 in numerical listing (on page 1)
But this is only one movie and one image set from our Subscription section which has 258 Movies and 430 Image sets all available just for the price of a subscription!
How much?
CLICK HERE TO VIEW SUBSCRIPTION COSTS
XXX DOWNLOAD movie and images package set XXX
XXX movie ref XXX024 running 44 mins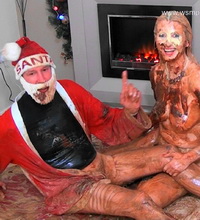 Custard Couple in
'Santa cums again!'
Now in Online Store
Check the review here for full details
SUBSCRIPTION WEBSITE
WETLOOK
Here we have this week's Wetlook item.
We feature DEE in Movie WSM039.
Shot in a classy mirrored Jacuzzi, there are many close-up shots, so you feel like you are in the Jacuzzi with Dee!
Clad in a chiffon skirt, with all black top, shorts and hold-ups, Dee becomes a totally wet delight.
If you like wet glossy nylons, well this is your Movie as we may just as well have termed it "A tribute to wet nylons!"
But rivalling the nylons are the wet hair shots.  Some superb material!
With live sound and DEE talking to the camera this is 18 minutes of top quality wetlook.
Check out our 2 Clips from WSM039 here.
Movie WSM039 of DEE in the mirrored Jacuzzi is supported by our Image set W238 which has 84 enhanced Images.
Now here is a lady who enjoys all her WSM work whether it is wet, messy or muddy!
See below for some wonderful wet shots as we show 5 Sample Images from this set.
Do not miss this as these are good!
To view movie WSM039 plus Image sets W238 you need to join the Subscription site.
But this also gives you another 257 movies plus 429 image sets!
CLICK HERE TO VIEW SUBSCRIPTION COSTS
XXX DOWNLOAD
SLAPSTICK
We review again the XXX movie XXX009 as Asian Jade and her hubby Steven take us through their messy pleasures as Jade becomes a 'Honey and Custard Doll'
This movie solely looks at the XXX material and is a follow-on to the normal movie XXX013.
Movie plus Image set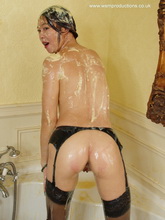 Jade as Honey & Custard Doll
XXX009
Run-time 17 mins 38 secs
2 WMV Sample Clips – raunchy but not explicit

This Download only contains the XXX material and was shot October 2004.
If you wish to see the lead-up, then see normal movie WSM013 which runs 30 minutes (available as one of the movies on our Subscription site).
We open as Jade plays with Steven's cock in eager anticipation.
Then Jade gives Steven a good cock suck with Steven dribbling honey over his cock and Jade's face and head.
Then Jade's mini skirt is off and we can see her shapely tiny bum.
Then it is more cock sucking for Jade as we see some explicit bum shots.
Next, Jade sits on Steven's dick and is very impressed at his prowess!  He adds custard to grease it up!
Jade enjoys a prolonged fucking from front, then back, as she thoroughly enjoys riding Steven's cock.
Next, Steven takes her doggie style, then Jade sucks him as Steven adds more honey to his cock!
Jade lovingly sucks one of Steven's bollocks!
Next, she gives him a hand job, before his cock rubs her bullet nipples!
The 2nd Stream commences with Jade sucking Steven's dick again and he adds custard.
Then he bends her over and adds honey.
In our 1st Anal scene, Jade sticks Steven's cock in her arse.
Steven porks her arse and we get a detailed close-up!
Jade continues to receive a long anal pounding and we have her sitting on Steven's cock with both rear and frontal shots.
Then, dirty Jade performs ATM (arse to mouth) with a good long suck!
Jade is bent over again for a further anal fuck!
Jade gives Steven a hand job (assisted by honey). 
Then Steven cums into Jade's eager mouth and she glugs down the spunk!
Steven puts cold custard on his cock and on Jade's face and head.
Finishing with some kisses and licks, this must be our naughtiest messy sex set to date!
MOVIE XXX009  has two streams:
Stream 1 runs 09 mins 05 secs
Stream 2 runs 08 mins 33 secs
IMAGE SET S116XXX has 177 shots of which 38 may be considered XXX shots
We show you 6 sample shots to give you details of the clothes and location.
Do note that these 6 images have been enhanced but they are taken from the normal movie WSM013.
PRICE
£7.00 GBP
$10.20 USD
Euro 8.80
 To Purchase movie XXX009 go to:
'Downloads – Online Store
'XXX' section
Find 'Jade as Honey and Custard Doll'.   
SUBSCRIPTION WEBSITE
WETLOOK
Now and again the girl says yes!
No, no – not what you are thinking!
But the weather was bad, the water very, very cold, so to video it would be unfair and the result not very pretty!
But a quick romp in the cattle bowl on the farm in August 2005 and the result was 37 publishable Images of RAVEN in Image set W198, (which now we have enhanced these images has risen to 55 shots).
Was it worth it?
Despite her obvious reluctance to get very wet and very cold, Raven took the plunge!
RAVEN was magnificent and the resultant shots glow with her satisfaction!
We show two images from set W198 to show how good she was! 
Image set W198 is available to our Subscription members along with 258 movies and 430 image sets.  What a bargain!
CLICK HERE TO VIEW SUBSCRIPTION COSTS
We continue to take SUBSCRIPTION payments in £ Sterling, US dollars and Euros, for membership of the WSM Website.
The Subscription site does not include access to new movie/images Downloads in the Online Store, which we have added during the last two years or any XXX movies.
Since 14th April 2017, Movies and Image sets added to the WSM Online Store under 'WSM Movies & Images' are added also to the Subscription site, 2 years after being added to the Downloads. 
Look at the JOIN NOW page to see our great value for 30 day, 3 month and 6 monthly Subscriptions as for a Subscription you can access:
258 Movies averaging 30 minutes each, including 18 Messy Wrestling Movies and 63 Custard Couple Movies, (which include 21 joint productions with WSM),
15 vintage movies and 162 normal WSM movies (excluding 21 duplicated joint production movies with Custard Couple).
PLUS 42,894 Images in 430 sets (being 156 W + 196 S + 78 M).
But if you want to see all these Movies and Image sets, then you need to take a Subscription to become a Member.
Click here to see the new better value Join costs!
COMMENT
None.
FUTURE PROGRAMME
ADVANCE NOTICE OF NEW DOWNLOAD STORE AND SUBSCRIPTION ADDITIONS
December – a month devoted to Santa!
22nd Dec Mrs. CC is our 2017 reindeer with a Xmas message for her own Santa in 22 minute new Slapstick movie XXX077, plus image set S500XXX.
CC got far too excited and carried away with their need for XXX fun to complete their festivities, so this is strictly XXX.
29th Dec Fantastic messy fun as Mrs. Custard Couple (CC) becomes a custard, treacle tart in movie WSM212-CC82, being the 18th movie transferred from being a Download to the Subscription site after a 2 year period.
 Plus
 Young Kimyl is under the shower in a beige mini dress with Download movie WSM180, being the 20th movie now re-posted after 2 years to the Subscription section, plus image set W345.
05th Jan Custard Couple enjoy a romp at my old studio in movie WSM204-CC78 Couple Paint Fun, plus image set S382, with XXX material in movie XXX070 as CC enjoy painted sex fun!
 We review again XXX movie XXX011 titled 'Triple, triple XXX' which is 3 x XXX movies as one.
12th Jan We present the 2017 WSM AWARDS for best movies for WET, SLAPSTICK, MUDDY FUN, XXX and BEST OVERALL MOVIE.
19th Jan New CCC movie titled 'Banish the winter blues – get messy!  Movie XXX063 plus image set S450XXX.
 We review again XXX movie XXX012 with an unforgettable performance by Mrs. Custard Couple as Maisie in 'Messy Schoolgirl', plus images.
26th Jan What a messy set-to as Axajay meets Mr. Nasty in 37 minute movie WSM174, now re-posted after 2 years as a Download to the Subscription section, plus image set W345 with 216 images.
Movie CC120 with Mrs. CC in 3 Instant Wet scenes, will now be published 2nd  February.