WHAT'S NEW as at
15
th
Febr
uary
201
9
OUR NAME CHANGED to www.wsmprod.com in February 2017
Brand new 26 minute HD Wet Movie CC23 is a movie with a difference.
There are 4 x Mrs. Custard Couple (CC) shoots, all at the height of summer.
Two shoots on holiday in Switzerland plus two shoots at a canal lock.
And of course, 4 enhanced (full screen) image sets with a total of 258 shots.
For our Messy item, we are counting down the Top 10 movies as sold since our UMD Store commenced in 2015.
Today we reveal the 9th best seller, which is a Slapstick movie.
And in 9 weeks time on 12th April we will discover the number 1 movie.
      Also in this Update:
Are we stuck for a Slapstick shoot?
Well open those tins of baked beans!
Dee has a baked beans feast in 18 min movie WSM177 plus image set S358 with 91 enhanced (full screen) images.
For our Wetlook, we have enhanced to full screen the 2nd image set shot in Lake Windermere.
This is set W210 which has been increased from 110 to 127 shots.
See Becky in black top, suede mini skirt and red stockings in the magnificent Lake District.
And yes…….you are right!
We published this on 1st February but it failed to be posted through to the Forums…..so here it is again.
We take Subscriptions to our Website – Memberships extending for up to 6 months are available. We now have 291 Movies plus 464 Image sets for instant access.
CLICK HERE TO TAKE A SUBSCRIPTION TO THE WEBSITE
SEE ALSO THE WSM ONLINE STORE  (no membership required)
Click on movie and page down for full description and sample images, for
50 VINTAGE FILM DOWNLOADS
PLUS 95 New 'WSM Movies & Images' with 53 also available on the Subscription site.
PLUS 16 Movies with Images transferred from the Subscription Website and now also available as Downloads
and XXX section with 74 MOVIES with Images, only available as Downloads.
CLICK HERE TO GO TO THE WSM 'DOWNLOADS – ONLINE STORE'
We also have a UMD STORE and transfer MOVIES and IMAGES regularly
CLICK HERE TO GO TO THE UMD STORE
DOWNLOAD ONLY
WETLOOK
Why not give you some Wet Mrs. Custard Couple (CC) movies that are too short to merit a movie by themselves?
In theory 4 shoots running 6 minutes makes for a nice balanced movie.
We called this movie CC23 Wet Quickies 1.
As Movie CC23 runs 26 mins, at least we were almost meeting the targeted time objective.
There are also 4 image sets:
W372 early morning swim in Swiss lake has 42 shots.
W378 Swiss lake swim in white spotted dress also had 42 shots.
W428 instant wet at canal lock + hat has 32 shots
But at W430 all about luxury pantyhose, it went rather off the rails, as this has 142 shots.
REVIEW OF MOVIE CC23
HD Movie plus Image sets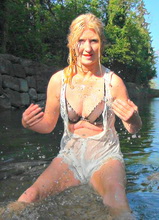 'Wet Quickies 1'
Run-time 26 mins 33 secs
4 HD Streams plus 4 HD Sample Clips – choose Quick Time or MP4 formats