WHAT'S NEW as at
10th
Febr
uary
201
7
This week all updates refer to our Subscription Service.
How did WSM commence?
With Image sets.
We have 3 new Image sets and find out why the movie for Slapstick set S061, shot August 1989 with Professor Treacle and Melanie, was junked!
We revisit a classic mud image set from 1988 (sorry no movie) with Debbie.
We see ordinary housewife Sabean wet in the bath in long white dress, image set W171 shot 1995, before a wet mini-set of Caroline under a shower from 1982 in blouse and jeans (and take a quick look back at Caroline's butterscotch sauce set).
      Also in this Update:
Continuing our Images theme of this week, we look again at the very first Images set shot by Custard Couple (CC) in 2009 which we published June 2011 titled 'Wet Car Wash' with 75 shots.
And for Valentines Day we show again Mrs. Custard Couple (CC) getting rather foamy in her red outfit in movie CC63 and image set S369.
We now have 239 movies and 410 image sets available for the price of a Subscription.
Everything published this week is on the Subscription site.
There are 3 items of news – If you missed this last week then go to 'Comment' section under 'What's New' at www.wsmprod.com to see what they are about and find out why Subs will increase.
We still take Subscriptions to our Website – Memberships extending for up to 6 months are available.
Note that SUBSCRIPTION PRICES are due to rise from 14th APRIL
CLICK HERE TO TAKE A SUBSCRIPTION TO THE WEBSITE
We also have a UMD STORE and transfer MOVIES and IMAGES weekly
CLICK HERE TO GO TO THE UMD STORE
SEE ALSO THE WSM ONLINE STORE  (no membership required)
Click on movie and page down for full description and sample images.
FOR 50 VINTAGE FILM DOWNLOADS
PLUS 55 New WSM Movies with Images, only available as Downloads
PLUS 17 Movies with Images transferred from the Subscription Website and now also available as Downloads.
and XXX section with 53 MOVIES with Images, only available as Downloads.
CLICK HERE TO GO TO THE WSM ONLINE STORE
SUBSCRIPTION WEBSITE
SLAPSTICK
New Image set S061 is added with 66 shots.
But there is no movie!
One of the most difficult aspects of an outdoor shoot is setting a date.
Set the wrong date and disaster can follow.
It is all to do with the weather!
And so it turned out!
It did not rain, but the wind blew very strongly!
With a large table of food set out on a tablecloth in a meadow……the results were grim and show in some of the image shots, especially at the commencement.
In Image set S061, Professor Treacle was determined to show Melanie (not Mel, who came 15 years later) a good slapstick time – see sample shot 1.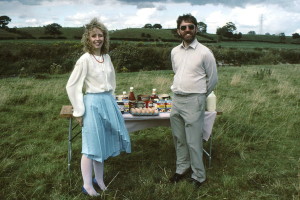 Despite the wind, they set about the shoot.
The Prof loses no time in getting to grips with Melanie and soon has her blouse open as he pastes her with food.
Unable to contain himself, the Prof smashes eggs over her head – see sample shot 2.