Movies Downloads:

You can download our clips or
full movies (available only for our members)
if you Right Click on the link and then Save target As.., and save them on your computer. Also you can direct click them and watch them from our website.
If this does not work you may need to install the latest version of Windows Media Player:
Click Here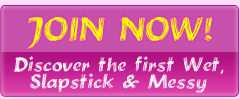 2 HD Streams plus 2 HD Sample Clips – choose WMV or MP4 formats

Stream 1 runs 10 mins 48 secs
Dee really enjoys her single girl Slapstick shoots.
She commences smearing the Nutsy over her arms, stockinged legs and front of her dress.
Dee slowly gets messed up with the extremely smooth Nutsy.
But magic happens along the way, as Dee explains – see Clip 1.


The warm runny Nutsy makes chocolate spreading a treat!
Stream 1 ends as Dee messes up her knickers!

Stream 2 runs 10 mins 41 secs
This Stream turns more noisy as Dee lies on a polythene sheeted air mattress.
There is more magic as she gets her back and bum instantly chocolaty, then removes her dress.
She kneels up and spreads the Nutsy over her front and bare boobs, then gathers up her hair.
She 'Must be a full chocolate girl' – see CLIP 2.


The chocolate goes over her head and drips on her face.
There are some excellent chocolate hair shots.
'From head to toe in Nutsy', says Dee.
Then she has a chocolate hair shampoo.
She lies on her back (with her hair full of choc), then teasingly opens her legs.
Next, she removes her knickers then coats her front and pussy with the chocolate spread.
The final tub is poured over the front of her body and face
Dee rubs the chocolate into her face and body.
She ends with a short amusing remark!

In addition there are 98 enhanced (full screen) images.
Sadly, many are video grabs, but they give a wonderful record of Dee's messy chocolate play.
Some terrific messy woman shots here!
See if the chocolate coated Dee appeals to you as we show 5 sample shots.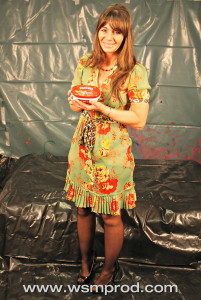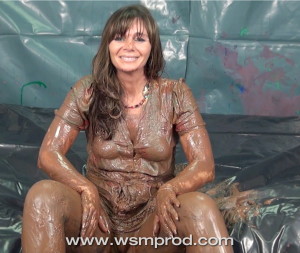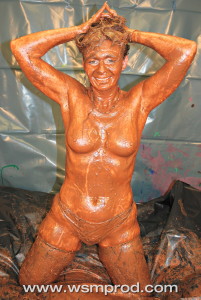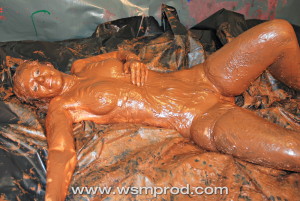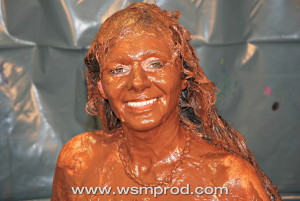 Total Run Time: 21 mins 29 secs