Movies Downloads:

You can download our clips or
full movies (available only for our members)
if you Right Click on the link and then Save target As.., and save them on your computer. Also you can direct click them and watch them from our website.
If this does not work you may need to install the latest version of Windows Media Player:
Click Here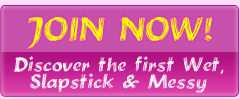 2 HD Sample Clips plus 2 HD Streams in mp4

Stream 1 runs 12 mins 39 secs Dee introduces the golden syrup and describes her outfit.
The syrup action begins as Dee pours from a large jug down both arms
She rubs the syrup over her knees and legs, then over her dress.
Dee empties the syrup remnants from the jug down the front of her dress.
She walks cautiously about as it is very slippy.
She continues to rub the syrup over the front of her dress, then her hands.
The next jug goes down the back of her dress.
Dee continues to smooth the golden syrup into her dress.
She squats for a back shot.
She tells us she is getting "Gooier and gooier!"
Dee kneels then sits on the floor.
Next, she lies back and raises her syruped legs – see CLIP 1.


She kneels and tries to crawl about.
Sitting she rubs and daubs more syrup on her dress.
Dee kneels up then goes full length on her stomach before kneeling and crawling about.
Then an unusual shot lying down with her head to the camera.
She dribbles a little syrup on her face before kneeling upright and turning around and around to show her syruped dress.
Sitting again, Dee indulges in some leg play.

Stream 2 runs 9 mins 05 secs
Sitting on the floor Dee pours the golden syrup over her legs.
"Gooey stockings, all golden" she says.
She kneels up to show the back of her stockings, then lies on her stomach on the floor.
She pulls her dress up over her knickered bum as she kneels up.
Sitting facing us, she sleeks the syrup down both her stockinged legs.
Dee uses the jug to pour syrup over her head while crouching and facing us.
A great close-up as we see her pour the syrup over her face before she rubs her face with both hands.
We view her fully syruped hair.
She stands to show this total coverage of her face and hair.
Then we get a final view of her dress as the camera pans downward.
Next, her dress has gone!
Kneeling, Dee uses the jug to pour the golden syrup over her arms then boobs, followed by her rubbing the syrup into her body – see CLIP 2 as she peels back her hair from her face.

She sits in the syrupy mess, totally syrup coated!
She cautiously kneels then stands and removes her syrup matted hair from her face.
With over 3 minutes to go, she sits on the plinth to remove her knickers.
She does not remove her stockings and shoes.
Dee pours more syrup (while still seated) over her stomach and pussy.
She looks terrific being totally golden syrup gunged with her glossy stockings, body, face and hair.
She stands for a while next to the plinth, but it is too slippy.
We do get a rather intimate close-up shot of her glistening pussy.
Dee ends with her verdict – "It has been a sticky experience" for her!

Image set S448 has some wonderful shots of mature brunette Dee being syruped.
Despite problems with the movie presentation there are no problems with these images.
It is an excellent solo slapstick set using golden syrup.
The syrup is thick and sticky before becoming more liquid with body heat.
Sadly you cannot buy this syrup set as it is posted direct to our Subscription Images site.
We show you 5 sample shots from image set S448.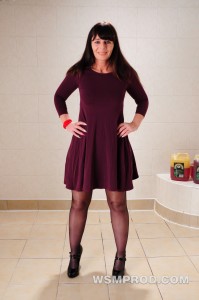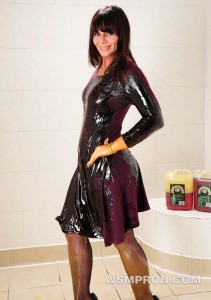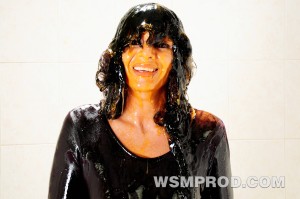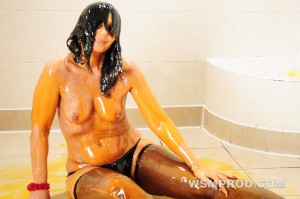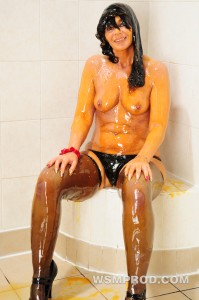 Total Run Time: 21 mins 44 secs