Movies Downloads:

You can download our clips or
full movies (available only for our members)
if you Right Click on the link and then Save target As.., and save them on your computer. Also you can direct click them and watch them from our website.
If this does not work you may need to install the latest version of Windows Media Player:
Click Here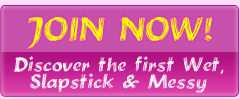 2 HD Streams plus 2 HD Sample Clips in MP4 format

Stream 1 runs 8 mins 17 secs
Shot in May 2017 Mrs. CC dresses in red jacket and top plus white trousers as she ventures into a lively sea.
Sadly most of her dialogue is 'drowned' by the surf.
It is not easy to get into a chilly sea but Mrs.CC is very determined.
She tells us she "loves being battered by those waves".
The surf roars in as Mrs. CC hops spiritedly about.
She is getting wetter and wetter.
At 3 mins 41 secs she kneels down to embrace a racing wave.
At 4-20 she dives to ride a wave!
See her flounder in those seas – see CLIP 1.

>>>>> SEE CLIP
At 5-25 she removes her jacket to reveal very sodden but clingy trousers outlining her knickers and stockings.
At 6-14 her trousers are removed and she is much freer in just a top, bra, suspender girdle belt, full knickers and stockings.
Now very bedraggled, Mrs. CC basks in the shallows and removes her top.

Stream 2 runs 8 mins 27 secs
Mrs. CC plunges back into the sea.
She runs out to deeper waters and flirts with the waves.
She enjoys being in the sea in her underwear but her remarks are lost in the roaring waves.
She wanders back into the shallows then lies in the boiling surf.
She is being aroused by the action of the sea.
At 4 mins 19 secs she slips her boobs from her bra and lounges in the sea.
She stimulates her boobs by rubbing them on the sand- see CLIP 2.

>>>>> SEE CLIP

She kneels up delighted with her wet play.
And she looks marvelous lounging about in the shallow seas clad only in her underwear.
She is forced to wear her bra again due to beach spectators.
But after 44 seconds her bra is removed again and she kneels in the surf.
Just when we think the shoot is fading out, then at 7-14 she removes her knickers!
She lies back in the shallow sea splaying her legs!
She rolls in the surf before kneeling up with some brazen pussy/bum shots!
Phew! We all need to cool off!
Then some tantalizing full figure shots (clad only in suspender belt and stockings) as she hops away excitedly towards the sea.
Then she is leaving the scene……full of smiles to reflect her enjoyment.

Image set W412 has 106 Images of Mrs. CC's wet clothed fun.
These are video grabs taken from the movie.
These shots convey the action including some explicit poses.

MOVIE CC58 has 2 HD Streams running 16 mins 44 secs.

IMAGE SET W412 has 106 shots

We show you 5 sample shots from image set W412.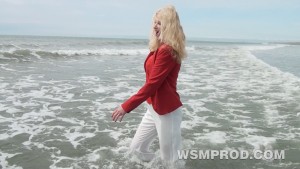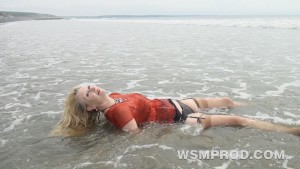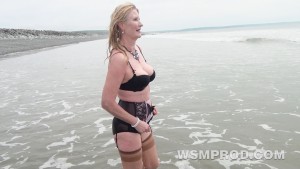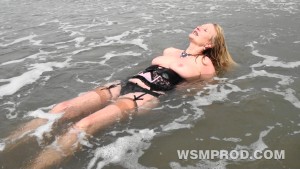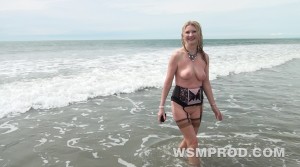 Total Run Time: 16 mins 44 secs