WHAT'S NEW as at 10th September 2022
OUR NAME CHANGED to www.wsmprod.com in February 2017
Now in our 41st Year of continuous WAM Production
We are the oldest WAM business in the world!
WSM are now updating fortnightly.
We have changed our update day to a Saturday.
Have you seen our forward programme of NEW MOVIES plus ADDITIONS TO OUR WEBSITE until 30th December 2022?
Do take a look in our FUTURE PROGRAMME listing at the end of this update.
Anything you fancy?…………then make a note in your diary.
We look forward to publishing the 200th movie from Custard Couple (CC) on our next update 24th September.
WSM have 354 Movies (being 167 SD and 187 HD) in our WSM Subscription site.
In addition there are 539 image sets (190 W + 250 S + 99 M) with over 60,000 images!
To see our Subscription site go to our Home Page at https://www.wsmprod.com
There you can look at our 'Subscription Movies' with free Clips and see a listing of our 'Subscription Images'.  None of these Subscription Movies or Images contains XXX material. 
Besides our Subscription Movies we also offer a range of Download Movies covering Wet, Slapstick, Muddy and XXX versions.
These pay to Download movies are listed on our Home Page under 'Downloads – Online Store'. Again, all our movies have free Clips.
Those NEW movies under 'WSM Movies & Images' spend two years solely as Downloads before being added to our Subscription site.
CLICK HERE TO GO TO THE WSM WEBSITE
If you wish to see our Images and Movie Clips at their best, then go to 'What's New' section at our Home Page at www.wsmprod.com and check our updates.
There at 'What's New' (scroll to the bottom of that page) and then you can page back.
By following the 'Older posts' you can see every single weekly update dating back to 2nd May 2015!
Give it a try and discover many Images and Clips to your own liking!
A veritable treasure trove!
We also have a UMD STORE and transfer MOVIES and IMAGE sets.
There are now 145 movies posted in our UMD Store
This weekend we have already posted 29 minute movie CC48 with Mrs. CC's confessions of a window cleaner
View it now!
 CLICK HERE TO GO TO THE UMD STORE
WHAT DO WE HAVE THIS WEEK?
Three items this week:
New HD movie WSM250 titled 'Dee tests Slube' which runs 23 mins.
It is back to our WSM basics as Dee wears one of her finest dresses to test red gunge, known as Slube and mess both the dress and herself up, describing her experience.
Plus we have image set S439 with 112 shots (and some beauties there!).
What a treat this week for after 2 years as a Download HD movie WSM263 (WSM number) or CC157 (Custard Couple movie number)

is now added to the WSM

Subscription site

. This movie runs 35 minutes.
But what a double starring bill as Mrs. CC has messy Slapstick fun with the beautiful Honour May!  In this girl/girl encounter they play with messy Angel Delight desserts and of course each other! Wonderful sexy Slapstick fun!
Supporting our girl/girl movie is image set S464 with 140 enhanced (full screen) shots.
Between the years 1985 and 2000 WSM produced 9 Vintage Films.
Film numbers 1 to 8 had to follow a strict movie timescale which our film editor determined as 60 minutes.  So many great scenes were unduly shortened.
However, by the time we reached Vintage Film 9, times had changed and so did we.
Vintage Film 9 runs 116 mins 16 secs over 7 Streams.
And there is even an Alternate version made with XXX scenes!
But what is Vintage Movie 9 'Sex WSM' all about?
It is not a series of WAM events but a full story about Shakina's dreams.
This week we review the 7th and final Stream featuring unforgettable Slapstick with two couples!
This is the normal version with no XXX and can be found in our 'Downloads – Online Store' as Vintage Film 9 'Sex WSM' Stream 7.
Absolutely fantastic!
SEE ALSO OUR DOWNLOADS – ONLINE STORE on Home Page-no membership required.
Click on movie and page down for full description and sample images, for
50 VINTAGE FILM DOWNLOADS
PLUS 144 New 'WSM Movies & Images' with 80% available on the Subscription site.
PLUS 16 Movies with Images transferred from the Subscription Website and now also available as Downloads
and XXX section with 94 MOVIES with Images, only available as Downloads.
NEW DOWNLOAD
SLAPSTICK
New HD movie WSM250 features mature brunette Dee in her favourite role as a product assessor to test a products messy properties.
This movie runs 23 mins with Dee sumptuously dressed in an elegant dress.
She also wears black hold-ups and white knickers.
What I hear you say……no heels!
Playing with gunge requires a retention of the gunge otherwise it just runs away.
And what better method of retention than in a 'space ship paddling pool'.
Sadly no heels can be worn in an inflated pool.
REVIEW OF MOVIE WSM250
HD Movie plus Image set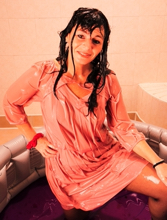 'Dee tests Slube (red gunge)'
Run-time 22 mins 46 secs
2 HD Streams plus 2 HD Sample Clips in MP4 format
Stream 1 runs 12 mins 05 secs
Dee examines the red strawberry flavoured lube in the paddling pool which should turn red on her.
She sits in the pool to examine the lube's properties.
As it is a new type of messiness for Dee, she is more cautious and plays around more.
It is soft and pliable and smells nice.
Dee enjoys slicking her stockings and the gloopey sounds the product makes (check this out from 4 mins 20 secs to 4-38 and also from 5-10 to 6-00.)
At 5 mins 26 secs she applies the lube to the sleeves of her dress.
Then at 5-58 she lies back in the gunge.
We can see the effect on her dress and hair.
The product is very model friendly and Dee enjoys slopping it over herself and rolling about the pool.
Soon her dress is saturated.
At 9 mins 30 secs Dee tells us the test of a good product is how it goes on the hair.
So she lies back to coat her hair with the lube.
'Nice and oily' she says as the lube glistens on her hair.
We see another face and hair coating – see CLIP 1.
Dee approves of the experience and continues to massage the lube into her hair.
Stream 2 runs 10 mins 41 secs
Sitting in the pool Dee continues her gloopey lube play.
This is a very liquid lube.
A totally bedraggled Dee looks so good as the shiny lube covers her body and outfit.
She is continually active.
After 3 minutes she removes her dress.
Now we can see the shiny lube on her body.
And Dee continues to play in the slippy solution with plenty of gloopey sounds!
See her enjoy slopping the lube on her body and then sleeking her legs – see CLIP 2.
At 7 mins 57 secs Dee removes her white knickers (which are now pink!)
We have some final play with her clad only in black hold-ups.
Some very tantalizing pussy glimpses!
Then we have a conclusion, as Dee tells us the lube "Is very soft and oily".
After being showered she states that "It is very recommended".
So a successful product test by a mature and experienced model.
In image set S439 there are 112 shots.
WSM have changed their approach to the images which are very time consuming.
Nobody seems to appreciate them!
To me there are some wondrous shots as the 35mm camera shows its true worth!
Just as well I have reached this conclusion now as the end of WSM appears in sight.
Enjoy while you can.
We show you 5 sample shots from image set S439.
MOVIE WSM250  has 2 HD quality Streams running 22 mins 46 secs.
PRICE
£6-20  GBP
$8-40 USD
Euro 7-10
To Purchase go to https://wsmprod.com then Downloads – Online Store, then 'WSM Movies & Images' and find movie WSM250 at the top of the listing under
SUBSCRIPTION WEBSITE/also a download
SLAPSTICK
Now added to the WSM Subscription site Custard Couple (CC) movie WSM263 (WSM number) or CC157 (CC movie number) was shot as a joint production.
It is not often we feature a two girl set!
But both these girls are well into slapstick and messy fun!
However, both these girls are into other girls as well!
So a rather explosive get together between Mrs. Custard Couple (CC) and Honour May (HM).
Add in many bowls of Angel Delight dessert and the messiness gets well spread.
There is a feast of colour with the image set, but do not take my word, look below!
REVIEW OF MOVIE WSM263-CC157
HD Movie plus Image set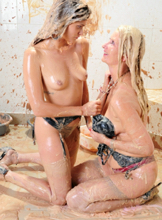 Mrs. Custard Couple and Honour May in 'Girl/girl messy fun with Angel Delights'
Run-time 35 mins 25 secs
3 HD Sample Clips in MP4
3 HD Streams in MP4
Stream 1 runs 11 mins 32 secs
HM's boss has organized this event.
Mrs. CC shows the Angel Delights to HM.
They admire each other's outfits.
HM tries to guess the flavor and correctly guesses Strawberry.
She rubs the Strawberry Delight in her breasts.
Mrs. CC stands behind HM to massage her tits.
HM guesses correctly as the next flavor is butterscotch.
Mrs. CC puts her hand up her skirt to rub dessert over her panties.
HM loves it!
Mrs. CC lifts her skirt so we all can see her messy panties.
HM admires Mrs. CC's cleavage.
A bowl of Banana Angel Delight is deposited down her cleavage.
HM caresses Mrs. CC's tits.
Banana Angel Delight is deposited and rubbed over Mrs. CC's dress.
Then Strawberry Angel Delight is pushed into Mrs. CC's stockings.
'Tell me how it feels as it oozes into your stockings?' asks HM.
HM stands & leans against the wall while Mrs. CC plasters her dress over the bum then her stockings with the Strawberry dessert.
Mrs. CC rubs the dessert up and down her legs before slapping it on her knickered bum.
Mrs. CC is quite overcome by the sight and licks HM's thigh as she continues to mess her up – see CLIP 1.

HM lies back against the wall as Mrs. CC plasters her panties.
Then HM wants her gloves filled up and squeezed and of course Mrs. CC obliges.
Stream 2 runs 13 mins 01 secs
'The back of your dress is far too clean', says HM.
HM commences by putting her messy hands on Mrs. CC's bum, so staining her dress.
A bowl of chocolate Angel Delight is poured right down Mrs. CC's back.
Her dress is lifted and Mrs. CC is spanked with chocolate Angel Delight by HM.
HM tells her boss off for playing with herself.
She turns her forward before putting the chocolate Angel Delight down her panties – see CLIP 2.

HM asks if Mrs. CC is ready for her treat?
Then HM fligs Mrs. CC over her sloppy panties.
Next, HM offers Mrs. CC a shampoo.
She gets Mrs. CC to kneel down before Banana Angel Delight is poured over her hair as a nice shampoo/conditioner.
It covers her hair and runs right down her back.
Fantastic pictures here.
HM strokes her hair and the back of her dress.
HM asks Mrs. CC to return the favour with a shampoo for her.
HM closes her eyes while Mrs. CC decides.
Mrs. CC strokes and caresses her hair.
It is a peachy colour she tells her as she caresses handfuls of peach Angel Delight into her hair.
Mrs. CC is excited too and plays with herself as she does HM's hair.
HM rubs some of the peach dessert into her boobs.
HM has a playful squish around while Mrs. CC takes the opportunity to slather the Angel Delight on her pussy, knickers and front.
Lifting her panties Mrs. CC fills them with the Angel Delight to great appreciation by HM.
HM lies back in ecstasy before giving herself a vigorous fligging.
They kiss, then Mrs. CC undoes her dress caressing her tits as the dress is removed.
HM removes and drains her gloves.
Mrs. CC caresses her boobs further.
HM's dress is fully removed.
Then Mrs. CC has her dress removed, then her bra as HM nuzzles and rubs Mrs. CC's tits.
They rub up against each other, tit to tit!
Mrs. CC lies back to have more Angel Delight drizzled over her body by HM who pays special attention to her tits.
A further bowl of Angel Delight is deposited over Mrs. CC's tits, stomach and panties as she lies back totally enjoying the experience.
HM tells her to touch herself, so Mrs. CC's hand is quickly inside her knickers.
HM caresses away at her body as Mrs. CC continues to lie back full length.
HM gets on top of Mrs. CC for a messy slide together lubricated by the Angel Delight all over their bodies.
They squirm together!
They climax and kiss!
Stream 3 runs 10 mins 52 secs
As Mrs. CC enjoyed her orgasm, she now sets out to make HM cum.
Mrs. CC removes HM's panties calling her a 'dirty bitch!' Her panties are removed with a delicious squelch!  But judge for yourselves – see CLIP 3.

Next HM's shoes are removed.
HM expresses her delight with her messiness.
Mrs. CC sucks her messy toes!
'Covered in butterscotch!  Isn't this just a dream!' says HM.
Mrs.CC coats her pussy with Angel Delight.
HM reacts with relish as Mrs. CC rubs her pussy to bring her to orgasm.
Spying her enlarged clit, Mrs. CC goes down for a munch.
This is quite a sight with HM lying full length on her back & Mrs. CC full length on her stomach.
A tub of chocolate Angel Delight is produced.
Mrs. CC bends over and HM removes her panties and shoes.
HM fingers Mrs. CC's pussy and arse.
HM trickles chocolate Angel Delight over Mrs. CC's arse so it runs down over her clit.
HM fingers her!
Mrs. CC lies down on her stomach while HM vigorously fligs her pussy bringing her to a climax again.
HM pours the rest of the chocolate dessert over her bum before thrusting her face between Mrs. CC's legs to blow her pussy and arse!
Very unusual…..but very effective!
Then HM squirms on Mrs. CC's back with some great close-up shots.
HM is in a state of high arousel and cums again.
Both girls lie back spent!
They cosy-up together with the remaining dessert poured between them.
They squirm together once more aiming for one more orgasm each.
They kiss passionately stroking each others messy hairs.
Finally, they have one last roll.
Quite a sight and quite an experience especially with Mrs. CC being over 30 years older than HM.
You will not see this elsewhere!
Unique material of an unique couple!
Image set S464 has 140 shots of this tantalizing encounter.
These are enhanced (full screen) images and the messy colours stand out against the drab background. Who is your favourite?
We have done our best to even up the shots and to promote both girls.
If you like girls getting it together with full-on mess, then you will love this!
But see for yourself as we show you 5 sample shots from image set S464.
MOVIES WSM263 and CC157 have 3 HD Streams running 35 mins 25 secs and are now available not just as a Download but also under our WSM Subscription Movies.
IMAGE SET S464 has 140 shots
PRICE
£8-10  GBP
$10-90 USD
Euro 9-30
To Purchase movie WSM263-CC157 go to the Home page at  www.wsmprod.com then 'Downloads – Online Store' section, then 'WSM Movies & Images' and find "Girl-girl messy fun with Angel Delights"
BUT WHY WOULD YOU PURCHASE THIS NORMAL MOVIE?
IF YOU ARE A MEMBER OF THE SUBSCRIPTION SITE, then it is there now!
But this is only one movie and one image set from our Subscription section which has 354 Movies and 539 Image sets all available just for the price of a subscription!
How much?
CLICK HERE TO VIEW SUBSCRIPTION COSTS
DOWNLOAD ONLY
VINTAGE FILM 9  'SEX WSM' STREAM 7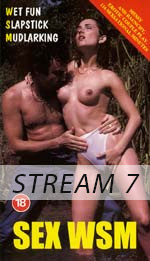 Runs 15 mins  38 secs  Download Price £6.00 GBP    $9.60 USD    7.20 Euro
We continue with our two couples at slapstick play and the two girls being sploshed by Professor Treacle and Bob.
In the first 5 minutes, this is what happens:
The Prof asks Bob and Shakina 'Have you thought of using margarine before?'
Shakina tells him 'That sounds disgusting!'
To which the Prof replies 'It is!'
The Prof then slops it over Sue, his secretary's head, as he says 'Especially when you get it in your hair!'
Sue tells him that it is gorgeous.
Shakina looks bemused but tells Bob 'Come and get me then baby!'
Bob then rubs the margarine on Shakina's hair and chest.  She urges Bob to 'Rub it into her legs!'
Shakina asks the Prof how she is doing.
He tells her 'Excellent!  You are learning very quickly!'
The Prof draws their attention to the clean clothes on the backs of both girls.
The Prof demos on his secretary Sue with chocolate sauce and Bob follows on Shakina. Shakina tells Bob to rub it into her bum.  Her skirt is hoisted to show a very clean bum with tight white knickers.  Rice pudding and jam are rubbed in by Bob.
The Prof empties a carton of custard down the back of Sue's knickers, rubbing it in firmly.
Bob follows suit and we see Shakina's delicious bum custard coated!
The Prof sloshes Sue with mayonnaise over her back and knickers.
Bob enthusiastically follows and continues with treatment to Shakina's legs.
This really is a superb double sploshing!
Bob pours custard down Shakina's front.
The Prof tells him off!  He has not got the right idea!  It should be touchy/feely!
The Prof demonstrates on Shakina who is impressed!  Her boobs are now out, and with both men caressing her, this is making her feel horny!
The Prof pours custard into the front of her knickers and inserts his hand. Bob follows on while the Prof gives Sue a similar custard treatment and her boobs are exposed.
Rice pudding follows down Shakina's knicker front as Bob caresses her, but outside her knickers.
So after 5 mins we are less than half way through this incredible slapstick scene!
What follows next with the Prof demonstrating and Bob and Shakina imitating are:
 

Cherry pies – as the Prof says 'Always in the face!'
His loyal secretary Sue is well sploshed up.
An apprehensive Shakina gets the cherry pie treatment!
 

The Prof demos eggs over Sue's head, then our tutored couple follow.
Next, it is syrup again over Sue's head, then the Prof massages her boobs.
Bob is enjoying himself by pouring syrup over Shakina's head and boobs, licking a syrupy nipple – SEE FREE CLIP
 

The Prof tears off Sue's jacket while Bob sedately removes Shakinas.
Rice pudding is poured down Sue's back and over her blouse.
Treacle is poured over Sue's back and over her blouse.
Sue removes her blouse so the Prof can pour chocolate sauce over her boobs.
The Prof tells Bob off for squirting the choc sauce rather than rubbing it gently.
 

Rice pudding is added and the Prof gets his tongue to work on Sue.
Bob has now taken the initiative.
Bob gives Shakina 2 cherry pies, one on her tits and one into her crotch.
The Prof lifts Sue and sits her in a large chocolate cake, massaging it into her
pussy.  Bob does likewise then slops a full tub of mayonnaise over Shakina.
Bob pours choc sauce over Shakina's outstretched leg as she lies back on the
table.  Sue gets the choc sauce over her head!  'Isn't that fantastic' says the Prof.
After 10 minutes Shakina asks Sue 'Why are we the ones who are getting mucky?'
So the tables are turned and the boys get the mess!
Bob has messy sex with Shakina on the food strewn table.
Shakina tells the Prof 'It was brilliant.  It was the most satisfying orgasm of her life!
Wow!  What an eye opener!'
Shakina says she knows exactly what she wants in the future!
So we find out the answers!
We end with the movie song plus short extracts from 6 of WSM 9's scenes.
To purchase this movie go to Home Page, then 'Downloads – Online Store'
 then 'Digital Download – VINTAGE FILMS' and select
'Stream 7 SEX WSM'
We continue to take SUBSCRIPTION payments in £ Sterling, US dollars and Euros, for membership of the WSM Website.
The Subscription site does not include access to new movie/images Downloads in the Online Store, which we have added during the previous two years, or any XXX movies.
Movies and Image sets added to the WSM Online Store under 'WSM Movies & Images' are added also to the Subscription site, 2 years after being posted as a Download. 
Look at the JOIN NOW page to see our great value for 30 day, 3 month and 6 monthly Subscriptions as for a Subscription you can access:
354 Movies averaging 29 minutes each, including 18 Messy Wrestling Movies and 115 Custard Couple Movies, (which include 33 joint productions with WSM),
15 vintage movies and 206 normal WSM movies (excluding 33 duplicated joint production movies with Custard Couple).
Okay, one movie missing from Custard Couple – it is CC148 which should have been added October 2021.  We are still working to add it.
PLUS 60,591 Images in 539 sets (being 190 W + 250 S + 99 M).
But if you want to see all these Movies and Image sets, then you need to take a Subscription to become a Member.
Click here to see the amazing value Join costs!
FUTURE PROGRAMME
ADVANCE NOTICE OF NEW DOWNLOAD STORE AND SUBSCRIPTION ADDITIONS
From January 2022 WSM no longer update weekly but fortnightly.
24th Sept Finally, we publish the 200th movie from Custard Couple (CC).
This is XXX100 titled 'Classy to Slutty' as after a wedding, our naughty duo cannot wait to get wet and messy then have sex.  Plus image set S485XXX.
  Another movie gets added to our Subscription site after 2 years as a Download.
This is movie WSM224 as Dee requests 'Splosh Me', plus image set S416 with 130 shots.
8th Oct  New movie WSM254 as Dee is a Chocolate Lady plus image set S443.
After 2 years since being posted as a XXX movie, we look again at XXX092 Pissy Quickies 4 with 5 scenes, plus their image sets.
22nd Oct A spooky time of year as we see new movie XXX076 with CC as Count Dracula and his Bride, plus image set S489XXX.
 Yet another movie is added to our Subscription site after 2 years as a Download – movie WSM232-CC114 as Mrs. CC prefers the river to tennis, plus 257 images in set W390.
5th Nov  New movie WSM256 has mature Dee soaked in a purple dress plus image set W407.
After 2 years as a Download movie WSM240-CC125 has Mrs. CC as Alice in WSM land with Wet, Slapstick and Muddy scenes all outdoors plus their images.  This movie and the images are now added to our Subscription site.
12th Nov New movie XXX082 'Pissy Quickies 3' will feature 10 different scenes and their image sets.
In a double XXX bill, we take a further look at movie XXX085, published two years ago, which featured Mrs. CC as Alice in WSM land with Wet, Slapstick and Muddy scenes all shot outdoors…….plus their image sets.
3rd Dec New movie CC164 features Mrs. CC as 'Mud Slut 17 – Muddy in Leather' shot outdoors in a large field……..plus image set M250.
 After 2 years as a Download, the delectable Honour May is drenched in two dresses. Plus 122 images in set W414. This movie and image set are now added to our Subs site.
 And 42 years of WSM!
17th Dec New movie WSM226 has mature brunette Dee having a Slapstick Audition.
 Plus image set S460.
31st Dec Definitely a Custard Couple movie!
  Under discussion at present.
  Will it finish off 2022 or introduce us to 2023?
2023
11th Feb Final Dee muddy movie!
  Dee destroys cream dress in messiest mud play outdoors in movie WSM246.
  Plus image set M234