WHAT'S NEW as at
1
7
th
May
201
9
OUR NAME CHANGED to www.wsmprod.com in February 2017
NOW IN OUR 38TH YEAR OF CONTINUOUS WAM PRODUCTION
For over 9 years we have updated our website weekly with
2 Wet and 2 Messy items.
From now, there will only be 3……..quite logically W, S and M.
WHAT DO WE HAVE THIS WEEK?
Great Messy fun in 34 minute HD Movie WSM205 as Dee becomes the Painted Lady….. plus 80 images in set S383.  After 2 years as a Download this movie and image set are now added to the Subscription site.
It is not often we have a Wetlook XXX movie, so we review again the 20 minute Download HD Movie XXX061 with Custard Couple (CC) in role play.
Mr. CC joins his fully clothed partner in the shower for sexy fun with clothes ripping, ending in a 6 min bedroom scene.  Plus there are 59 images in set W386XXX.
We review again 29 min. movie WSM098 plus 226 enhanced image shots in set S275 of our popular Asian lady Jade.
Titled 'Iced Dessert Play' there is also a story of how this shoot happened!
Both movie WSM205 and image set S383 and movie WSM098 and image set S275 can be found on the Subscription site.
We take Subscriptions to our Website – Memberships extending for up to 6 months are available. We now have 302 Movies plus 477 Image sets for instant access.
CLICK HERE TO TAKE A SUBSCRIPTION TO THE WEBSITE
SEE ALSO THE WSM ONLINE STORE  (no membership required)
Click on movie and page down for full description and sample images, for
50 VINTAGE FILM DOWNLOADS
PLUS 95 New 'WSM Movies & Images' with 2/3rd available on the Subscription site too.
PLUS 16 Movies with Images transferred from the Subscription Website and now also available as Downloads
and XXX section with 75 MOVIES with Images, only available as Downloads.
CLICK HERE TO GO TO THE WSM 'DOWNLOADS – ONLINE STORE'
We also have a UMD STORE and transfer MOVIES and IMAGES regularly
CLICK HERE TO GO TO THE UMD STORE
SUBSCRIPTION WEBSITE/also a download
MESSY PAINT MOVIE
This is the 65th movie to be re-posted from the DOWNLOAD site to our SUBSCRIPTION site.
It has taken two years, but now you can now see this movie at no extra cost, if you are a member of our Subscription site.
Apart from Custard Couple, which lady has shot the most movies for WSM?
This is mature brunette Dee.
How many variations of movement and chat can you produce for a paint movie?
Dee shows what a terrific WSM girl she is, totally unafraid to get messy!
REVIEW OF MOVIE WSM205
A HD Movie plus Image set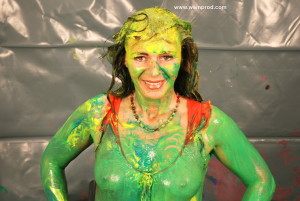 'Dee is the Painted Lady'
Run-time 34 mins 13 secs
 3 Sample Clips in HD and 3 Streams in HD
Stream 1 runs 11mins 46 secs
Dee introduces herself and tells us what will happen.
She talks us through her outfit.
The paint starts to fly, commencing with Blue.
Dee rubs this into herself and her clothes.
She gets a bottle of Green to pour over herself.
She imagines what she will soon look like 'Covered from head to toe in Paint!'
Then she tries a Yellow paint.
This provides a vivid contrast – see CLIP 1.

The back of her dress is still clean, but her front looks rather messy!
Dee rolls back on the covered air bed to stroke the paint over her body and clothes.
She frolics about like a young girl, then daubs away, spreading the paint.
Next, it is Black paint.
Her hair gets a good seeing to.
Then she concentrates on her back, followed by her face.
'Squidgy, splodgy paint' she says as she slaps her bum!
We end Stream 1 after just 4 plastic bottles of Paint with Dee looking a very painted lady!
Stream 2 runs 10 mins 16 secs
If you thought Stream 1 was messy, just wait until you have viewed Stream 2!
White paint is introduced and applied all over.
The mattress crackles away as Dee rolls about in quite an energetic performance for a mature lady.
The colour contrast soon disappears after being well rubbed into Dee's clothes and body.
Then the Green paint starts to fly as Dee gyrates to taunt the paint spraying phantom.
Dee sprays herself with the green paint as she enjoys writhing in the paint mess.
She simulates swimming in it before taking a paint dive – see CLIP 2.

Next, we return to the Yellow paint as she sprays then daubs herself further.
Wow!  This is hugely messy now, but Dee seems keen to see if she can become messier!
She continues to squirm around the mattress cover, then strokes her head to rub the paint into her hair!
She most certainly is a fully painted lady now!
Stream 3 runs 12 mins 11 secs
Dee continues squirting Yellow paint over herself and telling us: 'I'm so glad I chose this paint shoot.  I just love getting messy!'  I am sure this is music to all our ears!
The yellow paint is applied all over, down her cleavage and down her knickers.
'Listen to that splodgy sound,' she says as she rubs the paint into herself.
She then lies head before camera, or should that be yellow painted head before the camera!
Her dress clings to her like it was painted on!  And it is!!
The Blue paint is re-introduced and swished over herself.
Taking down the dress shoulder straps, Dee reveals then paints her boobs blue – see CLIP 3.

We then look forward to a further 9 minutes of topless action.
Then her dress is removed.
Dee seems frustrated that the paint bottles are empty, so she rolls about enjoying the mess.
But another White paint is introduced as Dee kneels up to apply it.
She removes her knickers so leaving us a further 7 mins of nude action.
That white paint gets everywhere as the energetic Dee gives an erotic painted lady performance!
She kneels to pour some Red paint over herself.
If you like messy ladies, this is a real treat!
Finally, Dee asks what colour she should finish with?
It is Blue……..and Dee tells you why!
This is fantastic value with 34 minutes of paint action!
Shot 5 months before I disposed of my studio, this is a classic!
And there is more!
IMAGE SET S383 has 80 enhanced shots.
Sadly, most of the original 35mm shots were lost.
But not all!
5 shots remain and look just fab!
But these are supported by some great full screen video grabs.
We show you 5 sample shots from image set S383.
PRICE
£6-40  GBP
$9-60 USD
Euro 8.30
To Purchase go to https://wsmprod.com then Downloads – Online Store, then 'WSM Movies & Images' Section and find movie WSM205 which is listed as:
BUT
If you are a member of the WSM website, movie WSM205 & image set S383 are there now.
But this is only one movie and one image set from our Subscription section which has 302 Movies and 477 Image sets all available just for the price of a subscription!
How much?
CLICK HERE TO VIEW SUBSCRIPTION COSTS
DOWNLOAD ONLY
WET XXX Role Play MOVIE
We review again Wetlook XXX movie with Custard Couple (CC) indulging in Role Play.
Mrs. CC has gone under the shower fully clothed being hot and sticky.
Mr. CC comes in and is turned on with her all wet.
Clothes are ripped in the shower play before concluding with sex on the bed.
REVIEW OF MOVIE XXX061
Custard Couple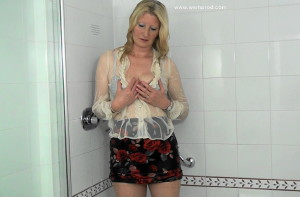 'Wet Ripping Fun'
Run-time 19 mins 45 secs
 2 Sample Clips in HD and 2 Streams in HD
This account was written by Mrs. Custard Couple (CC).
"Hello everyone, just thought I would let you know about a great weekend away me and Mr CC had.
After a lovely day shopping and a nice meal out with a couple of glasses of wine, we headed back to our hotel…..we had been flirting with each all day with Mr CC giving me a couple of sneaky snogs and under the table at the restaurant earlier we had both enjoyed feeling each other's private parts.
I was wearing a floral skirt and a nice sheer white blouse and Mr CC teased me how he`d like to rip my clothes off me later that evening back at the hotel, which secretly was making me very wet in my white panties…as he continued to encourage me….
It was a very warm evening. We headed back to the hotel so by the time we got to our room I was all hot and sweaty so I headed straight into the shower……Running the shower I stepped into the bath fully clothed, knowing Mr CC would love it!!
I let the warm water cascade over my clothes soaking my blouse and lifting my skirt I continued to shower my sheer pantyhose and knickers which felt great!
My white cotton panties were now sodden and sheer!
I knew it wouldn`t be long before Mr CC still dressed came to find out where I was and to his surprise I encouraged him to join me fully clothed in the shower……Following a lustful kiss together I unzipped his trousers to let the water flow over his white Calvin Kleins (which I love by the way!) and his red satin shirt…..Now girls if you want to please your man and get him to perform at his best I highly recommend  a fully clothed shower to get a top result!!……Sliding my hand down into my knickers I rubbed my now wet pussy in full view of my partner as the water continued to rain down onto us both.
Ripping my pantyhose, I bent over the bath to let Mr CC slide his cock inside of me as he built up a steady rhythm fucking me!
I felt my blouse being ripped up from the back soon followed by my bra. Mr CC and I didn`t care as we shouted out in ecstasy as he tugged further at my underwear whilst he continued to fuck me in the shower!!  Standing back up I gyrated my soaked pantie clad bum against my partners now soaked cock which continued to turn us both on.
Finally needing to finish this wet fun, we both made our way to the bed where I helped my partner to rip my clothes off completely…..climbing aboard  to fuck him reverse cowgirl style (which makes me so wet). To complete this wet sex Mr CC emptied his hot spunk all over my tits soaking my nipples in his love juices, then entering me he quickly finished off deep inside me…
Aarhhhh!! Happy days!!
What a lovely way to finish the weekend away treating my man in the way I know he and I love….
Mrs CC. xx"
MOVIE XXX061  has 2 HD Streams running 19 mins 45 secs
IMAGE SET W386XXX has 59 Enhanced shots with 3 sample shots.
PRICE
£7-00  GBP
$10-50 USD
Euro 7-50
Movie XXX061 is only available as a Download.
To Purchase go to https://wsmprod.com then Downloads – Online Store, then 'XXX Section" and find movie XXX061 which is listed as 'Wet Ripping Fun'.
SUBSCRIPTION WEBSITE
SLAPSTICK
In January 2016 we added the Image set S275 of JADE in an unusual scenario 'Iced Dessert play'.
This goes with 29 minute SD movie WSM098 (picture quality is good).
The local Ice Cream manufacturer was experimenting to produce a 'dairy free' product.
Jade discovered that the resultant 'trial' batch was to be scrapped, then sent for WSM!
20 trays of frozen dessert were stored in her freezer.
Only one possible location - her garden!
So another first for WSM as we use two flavours Strawberry and Chocolate of this frozen confectionery.
Jade bears up very well to the numbing cold, but she had to as it was her idea!
So JADE gets messy and freezing!
And being Jade, there is continual chat!
This movie was shot in August 2010.
Jade endures 3 bucket loads over her head and ends up telling us she is 'a frozen superstar!'
She ends being hosed off then we follow into her bathroom for her shower and shampoo.
Running 29 minutes this is a unique Movie!
So check out the 3 sample Clips below.
In movie WSM098 Stream 1, Jade, dressed all in white, explains that what looks like ice cream, is not ice cream.
She is going to get not only messy but freezing!
Starting with Strawberry flavor, Jade coats herself with the frozen dessert then she sits and rolls about in the paddling pool.
In Stream 2, more frozen dessert is added but she keeps moving in the slimy, slippy dessert.
It is poured over her head so she gets frozen and messy.
Jade removes her jeans and top so she is clad only in knickers and socks.
The next flavor is Chocolate frozen dessert which is thrown over her making her nipples like bullets!
In Stream 3, Jade continues her constant chat as more frozen dessert is slopped over her.
Taking her knickers off, she bravely rolls about again.
The movie continues showing her washed off by a hosepipe before we go into her bathroom as she gets under the warm shower and shampoos her hair.
So a most unusual shoot brought fully to life with 226 Full Screen image shots in set S275.
If you are a Member of the Subscription website, both the movie and this image set comes with no extra cost.
But the Subscription website does give access to another 301 movies plus 476 image sets.
Sorry, but this slapstick movie and image set are only available on our Subscription site.
We show you 3 Clips from movie WSM098 plus 5 sample enhanced images from set S275.
CLICK HERE TO VIEW SUBSCRIPTION COSTS
We continue to take SUBSCRIPTION payments in £ Sterling, US dollars and Euros, for membership of the WSM Website.
The Subscription site does not include access to new movie/images Downloads in the Online Store, which we have added during the previous two years, or any XXX movies.
Movies and Image sets added to the WSM Online Store under 'WSM Movies & Images' are added also to the Subscription site, 2 years after being posted as a Download. 
Look at the JOIN NOW page to see our great value for 30 day, 3 month and 6 monthly Subscriptions as for a Subscription you can access:
302 Movies averaging 30 minutes each, including 18 Messy Wrestling Movies and 87 Custard Couple Movies, (which include 28 joint productions with WSM),
15 vintage movies and 182 normal WSM movies (excluding 28 duplicated joint production movies with Custard Couple).
PLUS 51,100 Images in 477 sets (being 168 W + 223 S + 86 M).
But if you want to see all these Movies and Image sets, then you need to take a Subscription to become a Member.
Click here to see the amazing value Join costs!
COMMENT
Prices on HD movies were due to be increased from 1st October 2018.
We had decided to await the outcome of the Brexit negotiations before amending our HD movie prices.
As Brexit did not happen on 29th March 2019, WSM will now be reviewing and amending all Download HD movie prices by the end of May.
So how many prices will change?
The answer is 108 being all XXX movies (75) plus Download movies in 2 year wait until added to the Subscription site (33).  But when added to Subscription site, the download cost is frozen (but why would you want to pay to download it?)
We are not increasing prices on SD movies or Subscriptions.
Buy now to beat price increases on the 108 movies.
FUTURE PROGRAMME
ADVANCE NOTICE OF NEW DOWNLOAD STORE AND SUBSCRIPTION ADDITIONS
24th May Dressed for a dinner party, Mr. CC makes the mistake of leaving his naughty wife with the party food! 
  Movie CC126 runs 25 mins plus 118 enhanced images in set S436.
31st May Another new movie as we see Asian Jade diving into a flower covered river in 25 minute movie WSM210 plus image set W367.
7th June Tribute to Custard Couple (CC) after 8 years of association with WSM.
  To start, how about a cream tea with Mrs. CC?
  We will also see Wet and Messy shoots as this is WSM.
14th June Another brand new most unusual shoot, resulting in 2 separate movies.
Firstly, we see Mrs. Custard Couple (CC) clad in a red PVC suit with thigh boots, and playing in the mud in 11 min movie CC83, plus image set M222.
Secondly, we see Mrs. CC at mud play but this time with Mr. CC with him in cross-dress.  Movie XXX078 runs 21 mins plus image set M222XXX.
21st June Dee in red jacket and trousers in her favourite river – 22 minute HD movie WSM196 now posted to Subscription site along with 278 Enhanced (full screen) 35mm images in set W354.
28th June A further look at the 1st controversial Humiliation HD movie XXX056 we published in Nov. 2016.  This is CC at their most hardcore in an outrageous movie which runs 34 minutes, as Mrs. CC obeys 'My Masters Orders' with piss, oil, custard and mud!