WHAT'S NEW as at
24
th
May
201
9
OUR NAME CHANGED to www.wsmprod.com in February 2017
NOW IN OUR 38TH YEAR OF CONTINUOUS WAM PRODUCTION
For over 9 years we have updated our website weekly with
2 Wet and 2 Messy items.
From now, there will only be 3……..quite logically W, S and M.
WHAT DO WE HAVE THIS WEEK?
A great Slapstick HD Movie with Custard Couple (CC) in role play as Mrs. CC finds the laid-out foodstuffs for their guests just too tempting!
Mr. CC returns to find her sploshed up and easily persuaded into messy sex fun.
The write-up for this 'Messy Marquee Splosh' has been prepared by CC.
Movie CC126 is now added to the Subscription site and runs 25 minutes with 118 Enhanced Images in set S436.
Alternately, you may prefer XXX Download movie XXX057 running 37 mins with a further 39 XXX images.
The Wetlook movie features 18 year old Kimyl who experiences her 1st clothed Wetlook in the river.  Movie WSM088 runs 30 mins plus we have upgraded and enhanced image set W257 which now has 154 shots.
We review again 19 min. Muddy movie WSM168 with Dee giving a fabulous performance on the muddy sea-shore dressed in her white baby doll nightie.
We have given image set M205 a makeover and now show 198 enhanced images.
All the above Movies and image sets (excepting XXX057)  can now be found on the Subscription site.
We take Subscriptions to our Website – Memberships extending for up to 6 months are available. We now have 303 Movies plus 478 Image sets for instant access.
CLICK HERE TO TAKE A SUBSCRIPTION TO THE WEBSITE
SEE ALSO THE WSM ONLINE STORE  (no membership required)
Click on movie and page down for full description and sample images, for
50 VINTAGE FILM DOWNLOADS
PLUS 95 New 'WSM Movies & Images' with 2/3rd available on the Subscription site too.
PLUS 16 Movies with Images transferred from the Subscription Website and now also available as Downloads
and XXX section with 75 MOVIES with Images, only available as Downloads.
CLICK HERE TO GO TO THE WSM 'DOWNLOADS – ONLINE STORE'
We also have a UMD STORE and transfer MOVIES and IMAGES regularly
CLICK HERE TO GO TO THE UMD STORE
SUBSCRIPTION WEBSITE/also a download
SLAPSTICK MAYHEM
Movie CC126 is the 63rd movie to be re-posted from the DOWNLOAD site to our SUBSCRIPTION site.  It has taken two years, but now you can now see this movie at no extra cost, if you are a member of our Subscription site.
Custard Couple 'Messy Marquee Splosh' HD movie is offered either as:
 

A

normal movie CC126

running 25 mins with 2 Clips & 2 Streams, plus 118 images as set S436– either on the Subscription site or by individual purchase.

 

As a

XXX movie XXX057

running 37 mins with 2 Clips and 4

 

Streams, plus 39 XXX images, available by purchase only.
NOTE –XXX movie XXX057 does include the normal movie CC126.
REVIEW OF NORMAL MOVIE CC126
A HD Movie plus Image set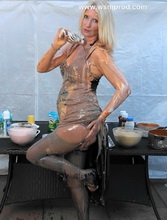 Custard Couple – 'Messy Marquee Splosh'
Movie CC126
Run-time 24 mins 58 secs
 2 Sample Clips in HD plus 2 Streams in HD
Instead of Mike Ellison, here is a write-up of this movie written by Custard Couple (CC).
Stream 1 runs 11 mins 45 secs
Mr and Mrs CC are awaiting their friends to join them for a dinner party, both dressed to impress and they have made every effort putting up a Marquee in their back garden and preparing lots of their favourite foodstuffs…. 
Mr CC is dressed in his smart suit with a tie and Mrs CC is dressed in a ballgown with black stockings, suspenders, panties and matching heels….
They both enjoy a pre-dinner drink before their guests arrive….As time ticks by Mr CC goes into the house to investigate what time their guests will arrive and leaving Mrs CC to check the food is prepared correctly and to make final adjustments to the layout of the table at the back of the Marquee.
Mrs CC is feeling very naughty and would prefer for her guests not to arrive as she is desperate for some messy fun with her husband…..
Sneakily Mrs CC tries a piece of her homemade chocolate cake and tasting some of the fresh cream to accompany it!!
This naughty minx just can`t help slopping some cream over herself and even though her guests may well be on the way she just cannot resist pouring the cream over her dress!!
Picking up the bowl of tomato soup she now slops this over the dress relishing the feeling as it soaks down into her black satin panties and seeps down into her stockings.
Grabbing chocolate milk drinks Mrs CC liberally applies them down her stockings and into her heels. The milk drinks are followed by a full carton of custard down the side of her ball gown and stockinged leg – see CLIP 1.

Lifting her dress Mrs CC uses the main course of spaghetti to fill up her panties, and then applies the main course over the back of her underwear purring with delight as she does!!
Stream 2 runs 13 mins 13 secs
Mrs CC applies more of the chocolate cake over most of her body and now ruined outfit.
Of course cake needs cream, so squirty cream is introduced and rubbed over her boobs.
Lifting her skirt, squirty cream goes inside her panties, which she fills to the brim…..before massaging the cream in.  The cream is applied over the tops of her legs and panties and Mrs. CC lies back and spreads her legs wide.
Mr CC returns to find his beautiful wife now covered in food !!
He is at first startled by the sight in front of him and he explains that their guests have been delayed!
But looking at what his naughty wife has been up to, he is keen to mess her up further.
Mrs CC doesn`t care by now and pulls her partner down into the mess the join her!!
The couple kiss passionately and then waste no time in removing Mrs CC`s dress whilst they continue to cover each other in the party foods.
They squirt each other with tomato sauce.
Things become more frantic as Mr. CC's jacket is removed allowing Mrs. CC to rip his shirt open!
She lies back as Mr. CC dribbles custard over her and himself.
Mr. CC fondles then kisses her boobs as he removes them from her bra.
Handfuls of butterscotch dessert are rubbed down the back of Mrs CC`s panties.
He pulls her panties down to apply the butterscotch mix to her bare bum, before pulling her panties up tightly.
She kneels in front of him as he smears her tits with butterscotch.
We end as Mr. CC squirts mayonnaise over her tits – see CLIP 2.

If you wish to find out how things get steamier, then you need to go to the XXX write-up – (see below for how to view the XXX write-up and purchase the full movie with the XXX sequel).
IMAGE SET S436 has 118 Enhanced (full screen) shots.
Some great images with Mrs. CC enjoying her slapstick play with teasing leg, stocking and knicker shots and general wanton messiness.
We see Mr. CC join her for messy play (and who would not??).
Includes messy shots to the end of the normal movie (with the XXX shots excluded).
Beautiful visual entertainment by a devoted WAM couple.
We show you 5 sample shots from image set S436.
PRICE
£6-20  GBP
$9-30 USD
Euro 8-10
To Purchase go to https://wsmprod.com then Downloads – Online Store, then 'WSM Movies & Images' Section and find movie CC126 which is listed as:
 'Custard Couple in Messy Marquee Splosh'.
BUT
If you are a member of the WSM website, movie CC126 & image set S436 are there now.
But this is only one movie and one image set from our Subscription section which has 303 Movies and 478 Image sets all available just for the price of a subscription!
How much?
CLICK HERE TO VIEW SUBSCRIPTION COSTS
To see Write-Up or to Purchase movie XXX057 (being the XXX addition to movie CC126) go to https://wsmprod.com then Downloads – Online Store, then 'XXX Section.' Movie is listed as ''Messy Marquee Splosh,' which combines both the normal movie plus the XXX Stream together and runs 37 minutes, plus 39 further XXX images.
SUBSCRIPTION WEBSITE
WETLOOK
This week a special treat for Wetlook fans and those of you who like young girls!
We feature our youngest model 18 year old KIMYL.
Set in a small river we have given image set W257 a makeover and all images are now enhanced (full screen) with 154 images of Kimyl at wet play.
Do bear in mind that this is Kimyl's first model work as she tries her best, going from fully clothed to nude.
Not only is she our youngest model, but she really looks it!
Just a young girl!
There is plenty of splashy fun.
Best feature is Kimyl diving into the reedy waters providing some stunning wet shot pics.
And the set ends with some revealing nude shots that will make you all wish you were young again!
We show you 5 sample shots of Kimyl in image set W257.
We also review Kimyl's 30 minute Movie of this river shoot, Movie WSM088.
Now this was a combined shoot with my film editor on video and myself on 35mm.
So we have a new dimension as the scene is shot low level with good POV.
So come with Kimyl into the river!
There are great sound effects with splashing, wading, jumping, stamping and no less than 10 dives, with 3 in slow motion.
Check out our free Clips:
Clip 1 with Kimyl dry, wading in the river.
Clip 2 has Kimyl fully wet as she dips her hair.
Clip 3 shows Kimyl diving in bra and trousers.
Clip 4 has Kimyl nude doing rollovers.
But image set W257 and movie WSM088 with Kimyl enjoying her river play are only available on the Subscription site.
The monthly cost for our SUBSCRIPTION site now offers remarkable value.
If you normally pay by Euros or US dollars you will now receive overall savings due to the currency exchange rate movements IF you alternatively make your payment in pounds Sterling.
Why not join so you can appreciate the movie and pics plus a further 477 image sets…….and 302 movies!
CLICK HERE TO VIEW SUBSCRIPTION COSTS
SUBSCRIPTION WEBSITE
MUDDY FUN
This is another great MUD movie containing what so many lack – eroticism!
We feature Dee.
We open with a panoramic shot of the inlet from Milford Haven and pan round to the Cleddau  river.
As you gather, we are in Wales about 17 miles from Tenby.
Movie WSM168 was shot in July 2013 plus two beach/sea sets near Tenby (See movies WSM158 and WSM163 featuring Dee – both are available in our Subscription movies).
Mature lady Dee introduces the set clad in her white baby doll outfit with white stockings and black strappy heels.
She commences with gentle mud smearing over her stockings, then her brief outfit.
Next she mud smears her arms plus more of the nightie – see Clip 1.
As there is no wind, this is a very peaceful location.
After 4 mins the front of Dee's outfit is slicked up.
She sits in the muddy area to apply further mud daubing.
Next, she rolls about gradually getting muddier and muddier.
Dee squirms about in the mud with plenty of sploshy sounds.
After 8 mins she is very muddy except for her face and hair.
Then she has her 1st muddy facial, followed soon after by a 2nd (and by a facial we mean she rubs her face into the mud!).  A 3rd facial occurs before the end of the 1st movie Stream.
The 2nd movie Stream covers muddy hair, a gradual strip-off and ends with Dee nude and mud covered.
The Stream commences with Dee lying flat in the mud.  She continues to roll about.
She mud daubs her hair and looks a most unusual sight.
After 13 mins she takes her top down then rolls about again to give her boobs and hair a good mudding – see Clip 2.
After 15 mins her nightie and stockings are removed.
We concentrate on Dee's body, not on the mud.
With more than 3 mins remaining, she removes her knickers.
There are some splendid raunchy shots of a totally nude muddy Dee.
She is quite uninhibited with her muddy yet sexy fun.
Dee enjoyed her mud play (apart from the wasps).
Would she do it again?
Oh yes!
Dee – another superb mature mud lady!
In addition to movie WSM168 there are a remarkable 353 images in set M205.
This set is divided into 3 folders in my files.
The 1st folder has been rechecked, reworked and all images are enhanced.
For Image set M205 there are 196 shots plus one sample shot from folders 2 and 3.
We will get there eventually and there will be approx 350 pics.
Meanwhile, enjoy the 198 shots that have been rechecked and posted.
There are some very unusual hair shots and great outdoor muddy shots in a panoramic setting.
Take a look at these 5 sample shots to see Dee's muddy play!
 But image set M205 and movie WSM168 with Dee having muddy fun in her baby doll outfit, are only available on the Subscription site.
The monthly cost for our SUBSCRIPTION site now offers remarkable value.
If you normally pay by Euros or US dollars you will now receive overall savings due to the currency exchange rate movements IF you alternatively make your payment in pounds Sterling.
Why not join so you can appreciate the movie and pics plus a further 477 image sets…….and 302 movies!
CLICK HERE TO VIEW SUBSCRIPTION COSTS
We continue to take SUBSCRIPTION payments in £ Sterling, US dollars and Euros, for membership of the WSM Website.
The Subscription site does not include access to new movie/images Downloads in the Online Store, which we have added during the previous two years, or any XXX movies.
Movies and Image sets added to the WSM Online Store under 'WSM Movies & Images' are added also to the Subscription site, 2 years after being posted as a Download. 
Look at the JOIN NOW page to see our great value for 30 day, 3 month and 6 monthly Subscriptions as for a Subscription you can access:
303 Movies averaging 30 minutes each, including 18 Messy Wrestling Movies and 88 Custard Couple Movies, (which include 28 joint productions with WSM),
15 vintage movies and 182 normal WSM movies (excluding 28 duplicated joint production movies with Custard Couple).
PLUS 51,050 Images in 478 sets (being 168 W + 224 S + 86 M).
But if you want to see all these Movies and Image sets, then you need to take a Subscription to become a Member.
Click here to see the amazing value Join costs!
COMMENT
With deep regret we report the passing of a great Wetlook enthusiast.
Roger Carpenter of Tenby passed away 18th May 2019.
He organized the first WAM UK get togethers which occurred 1989 to 1993 in Tenby.
He ran Aquantics for a time and helped to fund and shoot some great movies.
And what was Roger's speciality?
Would you believe silent movies to 1935.
Now why 1935 I hear you ask.  You mean that was when sound movies took over?
No, that was not the answer.
In 1935 film censorship arrived!
And if you walked into his study there were large photos of 6 effervescent ladies adorning his walls.  
And his favourite…….was Clara Bow!  What Roger did not know about Clara Bow is not worth recording.  And of course he had acquired copies of all her movies (she appeared in 46 silent films).
And what else was Roger accomplished at?
Classical music.
But more next week after I have attended Tenby for his funeral.
It was an honour to have known Roger Carpenter, who was talented, efficient, friendly and a true gentleman!
We had decided to await the outcome of the Brexit negotiations before amending our HD movie prices.

 

As Brexit did not happen on 29

th

March 2019, WSM will now be reviewing and amending

all Download HD movie prices

by the end of May.
So how many prices will change?
The answer is 108 being all XXX movies (75) plus Download movies in 2 year wait until added to the Subscription site (33).  But when added to Subscription site, the download cost is frozen (but why would you want to pay to download it?)
We are not increasing prices on SD movies or Subscriptions.
Buy now to beat price increases on the 108 movies.
FUTURE PROGRAMME
ADVANCE NOTICE OF NEW DOWNLOAD STORE AND SUBSCRIPTION ADDITIONS
31st May Another new movie as we see Asian Jade diving into a flower covered river in 25 minute movie WSM210 plus image set W367.
7th June Tribute to Custard Couple (CC) after 8 years of association with WSM.
  To start, how about a cream tea with Mrs. CC?
  We will also see Wet and Messy shoots as this is WSM.
14th June Another brand new most unusual shoot, resulting in 2 separate movies.
Firstly, we see Mrs. Custard Couple (CC) clad in a red PVC suit with thigh boots, and playing in the mud in 11 min movie CC83, plus image set M222.
Secondly, we see Mrs. CC at mud play but this time with Mr. CC with him in cross-dress.  Movie XXX078 runs 21 mins plus image set M222XXX.
21st June Dee in red jacket and trousers in her favourite river – 22 minute HD movie WSM196 now posted to Subscription site along with 278 Enhanced (full screen) 35mm images in set W354.
28th June A further look at the 1st controversial Humiliation HD movie XXX056 we published in Nov. 2016.  This is CC at their most hardcore in an outrageous movie which runs 34 minutes, as Mrs. CC obeys 'My Masters Orders' with piss, oil, custard and mud!
5th July After 2 years as a Download, 20 minute movie WSM211 titled 'Dee with Treacle' features mature brunette Dee in very messy play, plus 182 images in set S403.
  A further Anniversary Tribute as can you believe it is 6 years since we lost Mr. Splosh…….Bill Shipton?