WHAT'S NEW as at 23rd April 2022
OUR NAME CHANGED to www.wsmprod.com in February 2017
Now in our 41st Year of continuous WAM Production
We are the oldest WAM business in the world!
WSM are now updating fortnightly.
We have changed our update day to a Saturday.
Well it had to happen sooner or later!
I tested positive for Covid on Easter Sunday 17th April.
Having been indisposed a few days I am now almost recovered.
But my wife has not been so fortunate and her illness drags on and on.
So this brought to mind my comments I wrote to you on 29th November 2019.
That referred to a 2 hour play I had seen that week titled '184 Charing Cross Road'.
This was a true story and that address was a book store.
Some of you may have seen the movie with Anne Bancroft and Anthony Hopkins.
A lady in New York ordered and corresponded with them for 21 years.
Many years she promised to visit, but for many varied reasons she did not.
Finally in 1972 she did visit.
Alas!  Too late!  The proprietor had suddenly died and the business ceased!
So what has this to do with WSM?
Last December we celebrated our 40th Anniversary.
Until the end of 2021 Mike Ellison had written a continual weekly column (for 12 years).
Starting 2022 this has been changed to a fortnightly update.
Currently you are invited to subscribe for an incredibly fantastic value Subscription account giving a huge number of movies and image sets.
But do most people bother?
No, it is like the lady in New York as there is always next week or next year.
But do get the message.
Mike Ellison will not last forever and one week you will discover he is gone!
Last December we set a target to create a UMD Subscription site.
Sadly this has still to happen and there is no legacy in place to preserve the WSM website.
In theory this should happen later this year.
But how many people look forward to a new WSM movie every two weeks?
Very, very few (if any).
We had also set a target of achieving the publication of 500 movies before Mike Ellison finishes.
Currently we have reached 478 being 348 Subscription movies, 9 Vintage Films,  92 XXX movies and 29 WSM normal Downloads (all published less than two years).
To subscribe to our 348 Subscription Movies and 533 Image sets, then click below.
CRISTI please add
CLICK HERE TO TAKE A SUBSCRIPTION TO THE WEBSITE
WHAT DO WE HAVE THIS WEEK?
Three items this week:
New HD movie XXX089 running 40 minutes, with Mrs. Custard Couple (CC) exploring her holiday villa and testing out the swimming pool, outside shower and Jacuzzi.
She enters the bedroom to wake Mr. CC who is immediately stimulated by the clinging wet clothes especially the white linen trousers and full white panties.  Soon CC are indulging in sex play plus added fun as Mrs. CC gets her clothes ripped apart!
There are 176 images in set W439XXX of both Mrs. CC's wet play and sex play!
After 2 years as a Download only, we have a further addition to our Subscription site.
In this 12 minute movie, Mrs. Custard Couple (CC) continues her Mud Slut role. 
In Movie CC155 Mud Slut 14, Mrs. CC sets out to mud destroy a designer leather skirt.
Plus there are 78 images in set M247.
We have been following the WAM dreams of Shakina in our movie 'Sex WSM'.
How many great outdoor Slapstick shoots do you see with a couple?
Well this is right up there with the best!
Movie 'Sex WSM – Stream 5' the Picnic runs 19 minutes.
NEW DOWNLOAD
WET CLOTHED FUN plus XXX with WET clothes RIPPED OFF
Mature Custard Couple (CC) have arrived at their holiday villa.
So what can Mrs. CC not wait to check-out?
The villa's outdoor wet facilities, namely:
Swimming pool
Outside shower
Jacuzzi
But this is a movie of two halves:
Solo Mrs. CC wet play outdoors, then full-on sex play indoors in the bedroom.
Add in Mrs. CC's wet clothes and Mr. CC's annoyance at her wet play without him and we struggle to determine that when Mr. CC says "I'm going to destroy you!"  Does he mean being full-on sexually rampant with his wife or being determined to rip her clothing apart (or both?).
REVIEW OF XXX MOVIE XXX089
A brand new Download HD Movie plus Image set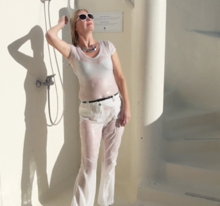 CC in 'Wet White Linen Fun'
Run-time 40 mins 06 secs
3 HD Streams
plus 4 HD Sample Clips
Stream 1 runs 10 mins 11 secs
Mrs. Custard Couple (CC) has arrived at her holiday villa.
She views the swimming pool clad in white trousers over full white knickers, a striped top with a white t-shirt and bra underneath.  But not forgetting her white high heels which she wears throughout this movie.
She sits on the edge of the pool dangling her feet in the water.
The warm sun makes her feel like having sex.
Soon she is in the pool and we know that this will be a wet clothes experience.
She spots the Jacuzzi and is soon tempted to get in.
She removes her striped top.
She exits the Jacuzzi and sits on the side of the swimming pool before plunging in – see CLIP 1
Then something more unusual here for Mrs. CC, as we see underwater shots in the swimming pool.
Stream 2 runs 11 mins 24 secs
Exiting the pool she takes a clothed shower – see CLIP 2
She ends up sitting then squatting on the floor under the probing shower streams.
All wetted, we see her going up the staircase to the top patio where she lies on a sunbed.
Next, she has decided to strip off in the Jacuzzi.
She initially removes her trousers followed by her t-shirt.
After posing in her bra and pants (admire those long, long legs), she removes her bra – see CLIP 3
Leaving the jacuzzi she collects her clothes then sits just in her panties in a whicker chair.
Stream 3 runs 18 mins 31 secs
Now the action changes from mild Wet solo fun by Mrs. CC to out and out raunchy XXX fun.
Mrs. CC enters the villa bedroom to rouse her sleepy husband – see CLIP 4
It is not long before she is giving her highly aroused husband some head.
Her wet clinging clothes have stimulated him and yet annoyed him as she had left him asleep.
So Mr. CC takes a provocative and arousing action by deciding that he will remove her clothes by tearing them off her!
We struggle to determine that when Mr. CC says "I'm going to destroy you!"  Does he mean being full-on sexually rampant with his wife or being determined to rip her clothing apart (or both?).
Mrs. CC provokes him asking if the thought of her swimming in the water and her wet knickers turned Mr. CC on.
She gets her answer as he cums in her mouth!
Then he is ripping her white t-shirt open as he admires her big white knickers.
Using scissors Mr. CC cuts her trousers then knickers and they resort to mutual masturbation.
Playing with her pussy it is not long before he fucks her doggie style.
He then rips the back of her t-shirt and trousers before ripping her knickers further open.
Her wet panties and wet body cause Mr. CC to rip away her bra.
Now it is Mrs. CC who asks him to rip her trousers so he can get at her clitty!
Mr. CC obliges and she asks him to rub cum into her pussy.
He cuts her panties with the scissors then rips them open following up by ripping her trousers away.
Mrs. CC is now in tatters!
Mr. CC licks her out and squeezes a boob as Mrs. CC groans in delight!
"Suck it dry" she urges him……."Keep licking it!"
He continues to frig her as we leave them well fulfilled with their sexual fantasies and desires.
A somewhat unusual shoot with the Wet fetish dominating, something not seen often in XXX movies.
MOVIE XXX089  has 3 HD Streams running 40 mins 06 secs.
IMAGE SET W439XXX has 176 shots
We show you 6 sample images from this set.
These pics all follow the movie action.
WSM do not publish free Pics or Clips of explicit action.
These can be found in the paid Download content.
Plenty of wet and sexy fun play here.
PRICE
£7-50  GBP
$10-10 USD
Euro 8.60
Movie XXX089 is only available as a Download.
To Purchase movie XXX089 go to https://wsmprod.com then Downloads – Online Store, then 'XXX Section' and find movie
which runs 40 minutes and has 176 images.
SUBSCRIPTION WEBSITE/also a download
MUDDY EROTIC FUN
Movie CC155 features Mrs. Custard Couple (CC) who sets out to entertain us by mud destroying a designer leather skirt!  As you guess, this is a custom set with the clothes provider insisting that she mud destroy the expensive, elegant, chic leather skirt.  It is a speciality mud set….from expensive designer gear to fully muddy!  This new movie is the 14th in her Mud Slut series.
REVIEW OF NORMAL MOVIE CC155
A HD Movie plus Image set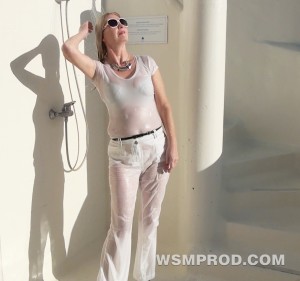 Mud Slut 14 – Mrs. CC mud destroys a designer leather skirt
Run-time 11 mins 52 secs
2 HD Sample Clips plus 2 HD Streams
Stream 1 runs 5 mins 40 secs
This is the first movie that Mrs. CC has deliberately set out to mud destroy a garment.
Mrs. CC gives us 3 things: a movie, images and chat!
So no surprise that the movie commences with chat…..as Mrs. CC describes her outfit.
And the purpose of the exercise, to get her clothes really trashed up!
So she sits back in a muddy area and squelches around in it.
She coats the back of her leather skirt, then her legs as she massages the mud into her stockings.
Kneeling in the mud she daubs the front of the skirt before starting on her blouse – see CLIP 1.
She stands up when the skirt is fully muddy.  There are squelching sounds.
She shows us her muddy arse.
She lies on her stomach and squirms in the mud while further daubing her legs.
'Such a gorgeous mudbath', she says.
Her skirt and blouse are well mud covered but as yet, no clothes have been removed.
Stream 2 runs 6 mins 12 secs
This Stream commences as Mrs. CC rips open her blouse.
She is wearing a black basque.
The mud is now gooey and clinging.
She stands and walks away from the muddied area.
Returning, she then flops back into the muddy area on her stomach.
She writhes in the squelchy mud.
The mud play has stimulated her.
She shows us her muddied arse again.
Mrs. CC flops up and down in the mud to stimulate her clit.
Sunk deeply into the mud she thrashes her thighs!
Indeed, she tells she is fucking the mud!
She lies back to caress herself between her legs as she indulges in self play.
Lying back in the cloying mud she enjoys herself.
Next, she removes her expensive leather designer skirt – see CLIP 2.
She kneels in the mud rubbing it over her body.
She ends by telling us 'She absolutely adores it!'……the 'it' being bathing in mud!
The movie abruptly cuts and ends as Mr. CC joins the scene to give his horny wife what she craves!
Sadly, this is one of those egg timing moments!
With the expectation and the muddy provocation, Mr. CC does not last long!
We have transferred this Clip running 2 mins 11 secs to our 'Sex Quickies' movie XXX050.
We hope to publish XXX050 before the end of 2022, plus there are 14 images.
Likewise, there was also a 'Pissy Clip' which ran 3 mins 02 secs.
Again, this has been transferred out to movie XXX082 'Pissy Quickies 3.'
Once again we hope to publish movie XXX082 Pissy Quickies 3 before the end of 2022 plus 9 images from this shoot.
So an interesting movie with mud, clothes trashing to destruction, piss and concluding with sex!
There are 78 images taken from movie CC155, our ref M247.
Sadly, these are not 35mm shots but are taken from video grabs.
All images have been enhanced (to full screen).
This is a great record of Mrs. CC's mud shoot with some fantastic muddy outdoor shots!
Great images to support a great movie!
These are the sample shots shown:
Sample shot 1 – that expensive designer leather skirt
Sample shot 2 – getting down and dirty as the leather skirt gets muddied
Sample shot 3 – a rather muddied Mrs. CC mud massages a leg
Sample shot 4 – muddied legs, bum and skirt
Sample shot 5 – The Mud Slut awaits the entry of Mr. CC
We hope you enjoy these 5 sample shots from image set M247.
PRICE
£6-20  GBP
$8-40 USD
Euro 7-10
To Purchase go to https://wsmprod.com then Downloads – Online Store, then 'WSM Movies & Images' Section and find movie CC155 which is listed as:
 'Mud Slut 14 – Mrs. CC mud destroys a designer leather skirt'
BUT WHY WOULD YOU PURCHASE THIS NORMAL MOVIE?
IF YOU ARE A MEMBER OF THE SUBSCRIPTION SITE, then it is there now!
But this is only one movie and one image set from our Subscription section which has 348 Movies and 533 Image sets all available just for the price of a subscription!
How much?
CLICK HERE TO VIEW SUBSCRIPTION COSTS
DOWNLOAD ONLY
VINTAGE FILM 9 SEX WSM STREAM 5
What is Vintage Movie 9 'Sex WSM' all about?
It is not a series of WAM events but a full story about Shakina's dreams.
A dream of an outdoor picnic!
We continue to take SUBSCRIPTION payments in £ Sterling, US dollars and Euros, for membership of the WSM Website.
The Subscription site does not include access to new movie/images Downloads in the Online Store, which we have added during the previous two years, or any XXX movies.
Movies and Image sets added to the WSM Online Store under 'WSM Movies & Images' are added also to the Subscription site, 2 years after being posted as a Download. 
Look at the JOIN NOW page to see our great value for 30 day, 3 month and 6 monthly Subscriptions as for a Subscription you can access:
348 Movies averaging 29 minutes each, including 18 Messy Wrestling Movies and 113 Custard Couple Movies, (which include 32 joint productions with WSM),
15 vintage movies and 202 normal WSM movies (excluding 32 duplicated joint production movies with Custard Couple).
PLUS 59,572 Images in 533 sets (being 188 W + 246 S + 99 M).
But if you want to see all these Movies and Image sets, then you need to take a Subscription to become a Member.
Click here to see the amazing value Join costs!
FUTURE PROGRAMME
ADVANCE NOTICE OF NEW DOWNLOAD STORE AND SUBSCRIPTION ADDITIONS
From January 2022 WSM will no longer update weekly but fortnightly.
07th May New Movie WSM226 with Dee in saucy paint play plus the phantom and image set S417.
21st May With the better weather we see CC having a dinner date on the patio. And it becomes another fine mess!  Movie XXX093 plus image set S491XXX.
  Another movie is added to our Subscription site as:
 Dee undertakes another product test.  This is chocolate spread with white swirls "Swirl".
 She enjoys getting messy going from clothed to nude in 20 minute movie WSM222 plus 150 shots in image set S414.
4th June New Movie WSM245 with Dee in a cream dress in the river plus black tights (no knickers) and black heels.  Plus image set W398.
 Still on the horizon we have Mrs. CC pushing the boundaries getting messy in a manure dump!
Publication due later this year after our artistic differences were resolved