WHAT'S NEW as at 7
th

May 2022

OUR NAME CHANGED to www.wsmprod.com in February 2017

Now in our 41st Year of continuous WAM Production

We are the oldest WAM business in the world!

 

WSM are now updating fortnightly.

We have changed our update day to a Saturday.

But what a superb time to purchase either a Subscription or Downloads in US dollars.

Our rates were calculated at 1.40 USD to £1 Sterling.

As USD traded at 1.2353 yesterday, if you buy in Sterling in effect you get a 12% discount for paying in US dollars! So why wait?  Take a Subscription or find a Download.

 

WSM have 348 Movies (being 167 SD and 181 HD) in our Subscription site.

In addition there are 533 image sets (188 W + 246 S + 99 M).

To see our Subscription site go to our Home Page at https://www.wsmprod.com

There you can look at our 'Subscription Movies' with free Clips and see a listing of our 'Subscription Images'. 

Besides our Subscription Movies we also offer a range of Download Movies covering Wet, Slapstick, Muddy and XXX versions.

These pay to Download movies are listed on our Home Page under 'Downloads – Online Store'. Again, all our movies have free Clips.

Those NEW movies under 'WSM Movies & Images' spend two years solely as Downloads before being added to our Subscription site.

CLICK HERE TO GO TO THE WSM WEBSITE

 

If you wish to see our Images and Movie Clips at their best, then go to 'What's New' section at our Home Page at www.wsmprod.com and check our updates.

There at 'What's New' (scroll to the bottom of that page and) you can page back.

By following the 'Older posts' you can see every single weekly update dating back to 2nd May 2015!

Give it a try and discover many Images and Clips to your own liking!

 

We also have a UMD STORE and transfer MOVIES and IMAGE sets.

There are now 127 movies posted in our UMD Store

Next up we will post 'Custard Couples' muddiest couple play,' which is movie WSM186 or CC25.

 The title describes it all and features their play after Mrs. CC's muddiest goalkeeper competition.

CLICK HERE TO GO TO THE UMD STORE

 

WHAT DO WE HAVE THIS WEEK?

Two items this week:
New HD movie WSM226 running 23 minutes, has Dee in saucy paint play.
This was the final shoot at my Studio.
Plus there are 143 images in set S417 of this very messy play!
We have been following the WAM dreams of Shakina in our movie 'Sex WSM'.
This week we look at the Alternate (which is XXX) Stream 5 featuring superb messy slapstick  couple fun including 7 minutes of sex action.
Movie Sex WSM – Stream 5 Picnic Fun, which is movie XXX032, runs 21 minutes.
SEE ALSO OUR DOWNLOADS – ONLINE STORE on Home Page-no membership required.
Click on movie and page down for full description and sample images, for
50 VINTAGE FILM DOWNLOADS
PLUS 139 New 'WSM Movies & Images' with 3/4ths available on the Subscription site.
PLUS 16 Movies with Images transferred from the Subscription Website and now also available as Downloads
and XXX section with 92 MOVIES with Images, only available as Downloads.
NEW DOWNLOAD
SLAPSTICK
Ernest Hemingway was supposed to have won a bet by telling a story in six words.
He wrote "For sale: baby shoes, never worn" (rather sad!)
Many people complain that I write too much, but surely you need the facts?
So if I had to write this week's new movie in six words, it would read:
"Final shoot, Mike's studio, saucy paint!"
Intriguing, but frankly it tells you nothing!
When was it?
Why was it the last shoot?
Who was the model?
What Slapstick materials were used?
Conclusion – being brief is just not informative!
REVIEW OF MOVIE WSM226
A brand new Download HD Movie plus Image set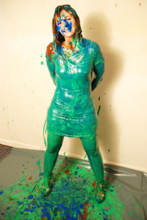 Dee in Saucy Paint Play
Run-time 23 mins 26 secs
2 HD Streams
plus 2 HD Sample Clips
So let us enlarge on those unanswered questions:
This movie WSM226 was shot on 15th March 2016.
Yes, it has taken over 6 years to get this published.
The studio was sold at the end of March 2016.
When did shooting first begin there?
A couple of real gems were shot in October 2002 being:
XXX014 Sue's first messy sex with Professor Treacle
XXX016 Sandie the maid is Sploshed by Professor Treacle
The model for this final shoot was Dee.
The Phantom helped to paint Dee.
We had two cameras at two different viewpoints.
Paint materials were used plus Tomato Ketchup.
Normally two lights were used, but one had failed and this shoot suffers from poor lighting.
Hence the delay in publication and the low pricing.
Stream 1 runs 11 mins 48 secs
This is a shoot about sauce and paint.
The Phantom is the sauce and paint squirter!
Dee shows off her pink little dress, white knickers, glitzy stockings and glam heels.
The action starts with green squirted paint.
And we do have two cameras to capture the action.
We see the results of the initial green paint spraying in CLIP 1.
Dee sits on the floor to receive more green paint.
After 5 mins we change to Tomato Ketchup as the action turns messier.
After 6 mins blue paint is introduced.
Dee is really starting to look messy now.
More Ketchup arrives at 07-33 as Dee starts to rub-in the combined colours.
But at 07-55 we switch back to the green paint.
At 08-22 it is time to get that hair messy with green paint.
So if you like messy…….then this is a great movie!
Dee sits down at 9 mins very messed up!
Some blue paint is added to her hair.
More green paint is introduced as Dee revels in her messiness and sleeks it over her outfit and stockings.
As if her hair is not messed up enough, then Tomato Ketchup is added starting at 10-10.
But Dee enjoys the messies and accepts it all with good grace.
She lies on the floor writhing in the mess as Tomato Ketchup continues to rain down.
Stream 2 runs 11 mins 38 secs
A very messy Dee commences with some floor leg exercises.
As she lies on the floor more mess soon descends.
It is Ketchup which she smears over her legs.
Sitting on the floor the green paint again rains down on her head.
Dee enjoys the messy floor play despite being totally paint covered.
And yet more green paint is applied over her head at 02-32.
At 3 mins she removes her dress.
She writhes about the floor until more Ketchup starts to cover her body as she lies prone on her back.
But Dee is never still and off she goes again taking more ketchup on her back and head at 04-55.
Then she has a quick face dip into the messy floor at 5-00.
Next is a remarkable messy hair sequence.
She lies back and her blue eyes sparkle – see CLIP 2
The messy floor play continues and yet more Ketchup pours down at 07-03.
At 07-25 she removes her knickers for some uninhibited messy play, as green paint now appears.
Then it is back to messy floor play sleeking the paint and sauce over her body.
Just when we wonder what next, then at 10 mins a can of Green Glitter Shaker is introduced.
And so the glitter descends on Dee adding variation to this messy shoot.
Wow!  That certainly was full-on messiness and Dee shows herself again as a terrific WSM girl.
MOVIE WSM226  has 2 HD Streams running 23 mins 26 secs.
IMAGE SET S417 has 143 shots
We show you 6 sample images from this set.
This set starts with posed shots and looks well under control.
Then zing!  No more 35mm shots.
So we took some video grabs from the action.
Not often you see such very messy saucy paint action.
PRICE
£5-40  GBP
$8-00 USD
Euro 6.50
To Purchase go to https://wsmprod.com then Downloads – Online Store, then 'WSM Movies & Images' and find movie WSM226 at the top of the listing under
DOWNLOAD ONLY
VINTAGE FILM 9 SEX WSM STREAM 5
What is Vintage Movie 9 'Sex WSM' all about?
It is not a series of WAM events but a full story about Shakina's dreams.
This week we review the alternative XXX movie 5th Stream featuring Picnic play.
STREAM 5            21 mins 18 secs
We continue to take SUBSCRIPTION payments in £ Sterling, US dollars and Euros, for membership of the WSM Website.
The Subscription site does not include access to new movie/images Downloads in the Online Store, which we have added during the previous two years, or any XXX movies.
Movies and Image sets added to the WSM Online Store under 'WSM Movies & Images' are added also to the Subscription site, 2 years after being posted as a Download. 
Look at the JOIN NOW page to see our great value for 30 day, 3 month and 6 monthly Subscriptions as for a Subscription you can access:
348 Movies averaging 29 minutes each, including 18 Messy Wrestling Movies and 113 Custard Couple Movies, (which include 32 joint productions with WSM),
15 vintage movies and 202 normal WSM movies (excluding 32 duplicated joint production movies with Custard Couple).
PLUS 59,572 Images in 533 sets (being 188 W + 246 S + 99 M).
But if you want to see all these Movies and Image sets, then you need to take a Subscription to become a Member.
Click here to see the amazing value Join costs!
FUTURE PROGRAMME
ADVANCE NOTICE OF NEW DOWNLOAD STORE AND SUBSCRIPTION ADDITIONS
From January 2022 WSM will no longer update weekly but fortnightly.
21st May With the better weather we see CC having a dinner date on the patio. And it becomes another fine mess!  New Movie XXX093 plus image set S491XXX.
  Another movie is added to our Subscription site as:
 Dee undertakes another product test.  This is chocolate spread with white swirls "Swirl".
 She enjoys getting messy going from clothed to nude in 20 minute movie WSM222 plus 150 shots in image set S414.
4th June New Movie WSM245 with Dee in a cream dress in the river plus black tights (no knickers) and black heels.  Plus image set W398.
 We pay Tribute to 11 years of Association between WSM and Custard Couple (CC).
16th June Another new movie with Mrs. Custard Couple (CC) in Mud Slut 16 'Muddy Swamp' movie CC128 plus image set M239.
 Still on the horizon we have Mrs. CC pushing the boundaries getting messy in a manure dump