WHAT'S NEW as at 25th November 2016
A New Wetlook Download HD Movie of Mrs. CC's Wet Adventure, when she rides her bike, as Custard Couple (CC) enjoy role play, wet play and wet sex play with either:
Normal movie CC90 running 22 mins plus 144 Enhanced Images set W373
OR as XXX movie XXX059 with a further 7 min Stream of XXX, making a total run-time of 29 mins with the normal movie plus 18 XXX images as W373XXX.
We continue the publication of Upgraded Streams from our Vintage Films with Film 1 'The Hopeful Starlet' Stream 5, which ends with some serious Slapstick. This was the first commercial shoot of foodstuffs used in an erotic manner……and has life ever been the same since?
Also in this Update:
Can it really be August 2013 since we last featured Dee as a 'honey girl?'
We look again at movie WSM035 with 4 Clips plus image set S202.
Then we time travel back to 1980 to view photo sets of mature Sue Morris, who gets wet in 3 different outfits, image sets W011, W012 and W025.
We now have 239 movies and 399 image sets available for the price of a Subscription.
These include honeyed Dee and the Sue Morris image sets.
We still take Subscriptions to our Website – Memberships extending for up to 6 months are available.
CLICK HERE TO TAKE A SUBSCRIPTION TO THE WEBSITE
We also have a UMD STORE and transfer MOVIES and IMAGES weekly
CLICK HERE TO GO TO THE UMD STORE
SEE ALSO THE WSM ONLINE STORE (no membership required)
FOR 50 VINTAGE FILM DOWNLOADS
PLUS 48 New WSM Movies with Images, only available as Downloads
PLUS 16 Movies with Images transferred from the Subscription Website and now also available as Downloads.and XXX section with 49 MOVIES with Images, only available as Downloads
CLICK HERE TO GO TO THE WSM ONLINE STORE
NEW DOWNLOAD
WET FUN
A new Custard Couple HD movie is offered either as:
A

normal movie CC90

running 21 mins 50 secs with 3 Clips and 3 Streams, plus 144 images as set W373.
As an

XXX movie XXX059

running 7 mins 04 secs with no Clip and 1 Stream, plus 18 XXX images .
NOTE – the above Normal and XXX movies are separate and their sizes are shown. But in the Online Store XXX Section, movie XXX059 will include both the normal and XXX and so will run 28 mins 54 secs plus contain 162 images.
But to see the XXX write-up, you need to go to the Online Store XXX Section under 'Mrs. CC's Wet Adventure' movie XXX059.
REVIEW OF NORMAL MOVIE CC90
A brand new HD Movie plus Image set
Custard Couple – 'Mrs. CC's Wet Adventure'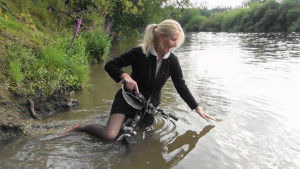 Movie CC90
Run-time 21 mins 50 secs
3 Sample Clips in HD
3 Streams in HD
Time for a change…..so we have Mrs. Custard Couple (CC) writing about her Adventure!
"Now something a little different in a wet movie, featuring Instant Wet scenes and pantyhose, in a homage to The Adventures of Jane, which was a 1949 British comedy film based on the comic strip 'Jane' originally created by Norman Pett.  They featured her daily misadventures that helped to comfort and raise spirits during the horrors of World War Two.  CC's Wet Adventure follows the same type of comic strip fun but with a concentration on Wetlook and sexy fun.
Her Wet Adventure starts with the hapless CC outside work trying out a borrowed bicycle because her car failed to start.  A close friend has offered CC an old bike to help get her home.
Dressed in a black pencil skirt, polka dot blouse and wearing pantyhose, she sets out for a 4 mile cycle ride taking short cuts down pathways beside the river.
Making a steep descent CC cycles down the hill only to find the brakes are not working!
Shouting and screaming she ends up cycling straight into the river – see CLIP 1
The bike and CC are in the river and her outfit is totally soaked!  We get close ups of CC's wet attire as she goes in and out of the water retrieving the bike, then trying to find a lost shoe.
Mrs. CC continues her journey home along the river bank which leads to the estuary.
Trying to be clever and take a short cut means her wet brakes fail again and she ends up flopping into the muddy water drenching her outfit yet again! – see CLIP 2
There are lovely close-ups again of her soaking blouse and skirt, which are smeared with mud.
This is an enchanting picture with the wet Mrs. CC against the backdrop of the mountains!
We are yet again treated to Mrs. CC out in the open public countryside in her wet clothes.
Although there is no nudity, the wetclothed scene is very erotic with constant banter.
At last heading home again, CC makes the final crossing by the river, but at that point the bicycle finally stops working as the rear wheel is jammed.
Alone on the riverbank, utterly soaked to the skin, a kind stranger offers to help.
They walk off together taking the damaged bike to his nearby house to see if he can fix it for her.
Back at his place, the two of them clean up the bike, but this soon starts a tit for tat water fight and sexual tension starts to mount between this sexy couple.
They enjoy the sight of each others wet clothes and the drenchings becomes more daring as buckets are used! – see CLIP 3.
The sexual mood heightens as they enjoy pleasuring each other under an outside warming hose.
Tensions become too great.  Mrs. CC rips her pantyhose open and soon they are having wetclothed sex with Mrs. CC on all fours, as she wriggles and writhes with pleasure and delight as the water rains down! – (see below for how to purchase the XXX movie version).
As a final show of gratitude, Mrs. CC does a sexy strip down under the torrent of water, removing all her clothes and underwear giving her helpful stranger a sexy show.
The movie ends with Mrs. CC posing naked on the bike as the stranger enjoys his ringside seat!
After her clothes have been washed and dried, Mrs CC leaves on the washed and repaired bike.
However, we can be assured that this wet loving couple will be meeting up for more secret wet fun in the coming months!!!"
MOVIE CC90 has 3 HD Streams running 21 mins 50 secs.
IMAGE SET W373 has 144 shots
We show you 6 sample images from this set.
Two images from Mrs. CC's very wet river mishap.
Two images from her wet estuary bike ride.
Plus two images of her wet fun with her new wet loving friend.
PRICE
£5-40  GBP
$7-30 USD
Euro 6.50
To Purchase go to movie CC90 in the 'WSM Movies and Images' section in the Online Store under 'Mrs. CC's Wet Adventure'.
To see Write-Up or to Purchase movie XXX059 (being the XXX addition to movie CC90) go to 'XXX Section' in the Online Store to 'Mrs. CC's Wet Adventure' which offers both the normal movie and images plus the XXX together and runs 29 minutes.
DOWNLOAD
SLAPSTICK
VINTAGE FILM 1 THE HOPEFUL STARLET
This Vintage Film has been enhanced.
Due to the age of the recording the overall quality remains similar and very watchable.
But the picture is brighter and colours more pronounced.
STREAM 5     12 mins  25 secs  Download Price £5.00 GBP    $8.00 USD    6.60 Euro
This was the first Commercial WAM video for sale in the world!
Certificated by British Board of Film Classification on 30th January 1989.
The 5th and final Download has two scenes:
Suzanne showering after her Custard Pie Demo class (shot 7th December 1986).
Then the dramatic finale, when all the frustrations of our Hopeful Starlet are unleashed in an unexpected marital encounter! (shot 27th July 1986)
We open with Suzanne showering to wash away the custard and raspberry slosh.
Suzanne looks good in her wet undies but soon strips down to just her knickers giving plenty of  time to view her ample boobs!
As she shampoos her hair she even speaks to the camera. (Suzanne shower 3 min 14 secs)
We see Margie's husband awaiting her return.
His only concerns are has she earned any money and when will his dinner be ready?
The main feature of this sketch is the banter between the Prof and Margie.
Couple this with some robust slapstick action and WAM arrived to the world in a sensational way!
The scene commences with mushroom soup – 'I hate mushroom soup!'
Then spaghetti bolognaise – 'I'm not eating that foreign muck!'
With Rice Pudding to finish – 'your favourite'
Starting with the mushroom soup, as the Prof says 'If you like it, you can have it!'
Of course Margie responds with 'You wouldn't dare!'
Then away we whirl in a slapstick encounter that has Margie enthusing 'It's my ultimate fantasy!'
And a sting in the tale as Margie sends out a special message to you all.
'This is what I like – why didn't you do this years ago?'
Wow!  For a first attempt, what a fantastic Slapstick scene this is!
Great acting, amusing banter, choice ingredients and above all, enthralling erotic play with the foodstuffs, varying from tender caressing to vigorous action.
The world wanted this…….and here it is!
MAJOR ASPECT – Slapstick as The Hopeful Starlet gets all she was looking for, but not in a Movie part!     9 mins 11 secs
Check out the Free Clip to see some robust slapstick!
To purchase go to www.wsmprod.com Online Store 'Digital Download – Vintage Films Vintage Film 1 The Hopeful Starlet Stream 5'.
SUBSCRIPTION WEBSITE
WETLOOK
So what other WAM business in the world can show you one set from 1979 and 2 sets from 1980?
How do people get started in the WAM business?
They can commence to build stock by using someone who offers 'Custom sets'.
So it was in the late 1970's as Sue Morris plied her trade.
As these sets were shot in 1979 and 1980 there is no video.
There are two bath sets plus one shower.
Sue wears bra, suspender belt and stockings in each set with 3 different knicker styles, black micro, red full and white French style.
There are some cute pics.  She gets wet hair in two sets.
Genuine vintage wetlook with clothes more for practicality than sex appeal!
We show 6 sample shots from sets W011, W012 and W025.
One pic was a particular favourite of my former webmaster (cheers Rod).
SUBSCRIPTION WEBSITE
SLAPSTICK
31 minute movie WSM035 features brunette DEE as a honey girl.
It is over 22 minutes before Dee removes her black trousers, followed half a minute later by her top and only 20 seconds later, her thong!
Dee speaks to the camera but there is an added music background.
In less than 2 minutes from the start, Dee has the honey over her head and face.
This was shot in Sept 2007.
Dee is always enthusiastic to perform in 'messies', seeming to enjoy the messy play rather than the wet.
Stream 1 has her clothes glossed up as the honey flows!
In Stream 2 Dee is very determined to become a full honey girl as all her clothes get a second full coating.
Athletic Dee is never still and contorts herself in the paddling pool.
At the start of Stream 3 Dee tells us she is 'covered head to toe'.
After two and a half minutes her clothes start to come off until we have left 'just me and honey!'
Then Dee has another honey dousing whilst naked.
We show you 4 Clips from movie WSM035 of a very honeyed DEE!
We have already published Image set S202 of Dee's honey bath.
I think what beams out is that Dee enjoys it and is having fun.
So there are some great honey pics.
We show you 5 sample pics from Image set S202 of Dee in the honey.
COMMENT
So now we know!
Custard Couple (CC) have re-shot Days 1, 6, 7, 9 and 10 of their classic 'The 12 WSM Days of Xmas'.
Some really wonderful material here.
This will not replace the original movie CC77 which ran 80 mins and was released December 2014.
But we are sure it will be WSM's longest running movie and easily surpass 100 mins.
So watch out for this new movie CC137 – see our forward schedule below.
FUTURE PROGRAMME
ADVANCE NOTICE OF NEW DOWNLOAD STORE AND SUBSCRIPTION ADDITIONS
2nd Dec          Dee tests new chocolate spread product Nutcity.
Movie WSM194 plus image set S378
New retro image set W069 with 40 shots as Ali is drenched indoors.
Published retro image set W070 of Ali wet in lounge & bath is revised from 34 to 48 shots.
3rd Dec           WSM is 35 years old today!
The first continuous WAM site in the world continues!
A special offer and special treat to be released this day.
9th Dec           Car trouble spells messy trouble for Mrs. CC as she becomes 'Mrs. Messy Muchanic' with movie CC108 and image set S423.
16th Dec        Here it is!  CC's Xmas special with an updated '12 WSM Days of Xmas', new movie CC137.
We commence with Days 1 to 6.
This revised movie will feature new shoots for Day 1 and Day 6.
23rd Dec        The revised 12 WSM Days of Xmas movie concludes with Days 7 to 12.
This upgraded movie CC137 will feature new shoots for Days 7, 9 and 10.
Plus Santa makes his appearance in movie CC100 (first published last year) as Santa cums again!
30th Dec        Time for a rest and to catch up on some very necessary admin.
But we will be featuring 4 previously published movies, two from the Subscription site and two Downloads.
6th Jan         A perfect time to see Mrs. CC's vintage underwear in the sea – movie CC91 plus image set W374.