WHAT'S NEW as at 2nd December 2016

A New messy HD Download Movie as mature lady Dee product tests chocolate spread Nutcity in 20 min movie WSM194 plus image set S378 with 125 shots.
Also in this Update from the Subscription site:
Quite unbelievably from Dec 1982, we show you a new image set W069 with 40 shots as Ali is drenched indoors!
Plus published image set W070 of Ali wet in the lounge and bath, has been upgraded increasing in size from 34 to 48 shots.
Lastly, we review again Jade's muddy aerobic play, last reviewed Jan 2013.
The above Ali and Jade sets are available on our Subscription site with 238 movies plus 400 image sets.
We still take Subscriptions to our Website – Memberships extending for up to 6 months are available.
CLICK HERE TO TAKE A SUBSCRIPTION TO THE WEBSITE
We also have a UMD STORE and transfer MOVIES and IMAGES weekly
CLICK HERE TO GO TO THE UMD STORE
SEE ALSO THE WSM ONLINE STORE (no membership required)
FOR 50 VINTAGE FILM DOWNLOADS
PLUS 49 New WSM Movies with Images, only available as Downloads
PLUS 16 Movies with Images transferred from the Subscription Website and now also available as Downloads.and XXX section with 49 MOVIES with Images, only available as Downloads
CLICK HERE TO GO TO THE WSM ONLINE STORE
NEW DOWNLOAD
MESSY FUN

A NEW 20 minute HD movie WSM194 with mature lady Dee as she gets messy product testing a new chocolate spread product 'Nutcity'.
Dee, although a mature lady, is a whole hearted WSM girl.
So she does end up totally messy!
In addition there are 125 images.
To Purchase movie WSM194 go to 'WSM Movies & Images Section' in the Online Store.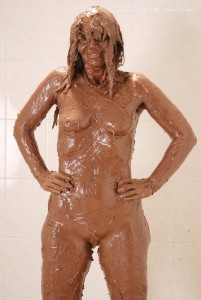 'Dee product tests chocolate spread Nutcity'
Movie WSM194
Run-time 20 mins 41 secs
2 Streams plus 2 Sample Clips – offered in both MP4 and WMV formats
Stream 1
Dee is our product test girl.
She starts on her hands and legs as she coats herself and her blue dress with the chocolate – see CLIP 1.
It is a slow, patient daubing as she becomes messier and messier.
The product proves not easy to apply.
But this changes at 7 min 35 sec after the product is microwaved.
There are some great close-up shots in this movie.
It proved difficult to coat the back of her dress, but Dee was persistent.
Eventually she succeeds.
Stream 2
Commences as Dee says 'Nice and chocolaty but to be a full chocolate girl, I am going to have to do my face and hair'.
She sets about daubing her face and hair.
The chocolate transforms her appearance – see CLIP 2.
Dee continues to coat her hair and face with the chocolate.
She asks us 'Does it look as good as it feels and it tastes?'
She then removes her dress.
She continues her body smearing as the chocolate is applied.
If you like a really messy lady, then this is superb!
She sits on the floor to continue.
She stands to get a better application to all her body.
She tells us she could be a mud girl! Well, she certainly is well plastered with the choc!
Next she removes her shoes, then her stockings.
This means she has to re-coat her legs with the chocolate and we have a close-up view.
What a chocolate delight she looks!
'Nearly there', says Dee as she removes her knickers.
So we end with a fully nude Dee, fully chocolate covered!
Quite remarkable for a mature lady to enjoy such messy play!
MOVIE WSM194 of Dee getting messy with chocolate spread product Nutcity has 2 Streams running 20 mins 41 secs.
Sadly the main file of images were lost in a computer malfunction.
Image set S378 has 125 shots, mostly video grabs.
But there were several original images captured.
These partly feature in the sample shots.
See if the chocolaty Dee appeals as we show you 5 sample shots.
PRICE
£6-00 GBP
$8-10 USD
Euro 7-20
To Purchase movie WSM194 'Dee product tests chocolate spread Nutcity' go to 'WSM Movies & Images Section' in the Online Store.
SUBSCRIPTION WEBSITE
WETLOOK
NEW VINTAGE IMAGE SET W069
It is remarkable that we can now add a new image set shot Dec 1982.
Venturing out of the studio for a first time, this set was shot by the studio manager with Mike Ellison directing the shoot.
Ambitious?
Of course it was as I needed to stretch my vision and assess possibilities.
Wet image set W069 was shot in a hotel lounge.
The props were a paddling pool and a bucket.
Ali was an experienced model and she joined in the fun.
If you a member of the Subscription site, then this image set costs you nothing further.
Rather unique material, as who else shows you indoor wet pics from 1982?
A follow on set W070 has already been published but when re-examining the photo slides, it was possible to extend image set W070 (see details below).
We show you 3 sample shots of Ali in set W069.
SUBSCRIPTION WEBSITE
WETLOOK

Following on from above, there was a 2nd wet image set shot in the hotel.
The 2nd Image set W070 of Ali from 1982 is even more interesting.
I think it was probably the first custom set I had organized and attended (excluding my partner Mike Whyman).
And I was as adventurous as ever!
Fancy trying to shoot a wet clothed set in the lounge!
Basically, it did not work, or should I say it did not work to my satisfaction.
By the time Ali got from the paddling pool to recline on the furniture….the wetlook effect was lost.
So in the end Ali just used the paddling pool and bath.
So an interesting record of one of my early wetlook attempts as I was present directing, but not shooting the photos.
This image set has been increased from 34 to 48 shots.
It is available on the Subscription site under Wet as image set W070.
See if the photos provoke any interest for you as we show 3 sample shots from image set W070 of Ali shot Dec 1982.
SUBSCRIPTION WEBSITE
MUDDY FUN

This week we review again JADE in muddy aerobic play.
Image set M176 has 112 images of Jade dressed in a black PVC leotard.
So, you never know what to expect from WSM as there have been few PVC outfits in the mud!
Jade exercises and then gets in the muddy pool on a sunny blustery day.
Watched by a flock of sheep, Jade goes through her vigorous exercise routine including cartwheels!
Her outfit gradually becomes muddier after rolling about in the watery mud.
Do note that there is no nudity in this scene except for the 4 final shots of her wash-off.
We show you 5 sample images from set M176.
The movie of Jade's muddy aerobic and mud diving is WSM049 Streams 3 and 4.
Those two Streams run 18 mins 37 secs.
Stream 1 commences with Jade in a black PVC leotard telling us she is training.
She goes through aerobic and stretching exercises.
She kneels, then sits in the mud.
She even attempts cartwheels!
She lies on her back for stretching exercise, then on to her tummy.
She just ignores her muddy state.
Is she enjoying herself?
'This is nice' she says.
Then she does press-ups and further exercises.
She commences diving in and mud splats.
I counted 11 diving-in attempts, 7 backrolls which muddied the back of her hair.
The final test was to perform 4 dives with muddy facials.
Wow!
You have to admire Jade's fitness and determination.
Finally, she washes off for 83 seconds.
For the final 10 seconds she is nude after stripping off in her wash-down.
True grit! But great for you if you enjoy muddy girls!
We show you 2 sample Clips from movie WSM049.
We continue to take SUBSCRIPTION payments in £ Sterling, US dollars and Euros, for membership of the WSM Website.
We do occasionally add Subscription updates as we did last week.
The Subscription Website does not include access to new movie/images Downloads in the Online Store, which we have been adding since April 2015.
Look at the JOIN NOW page to see our great value for 30 day, 3 month and 6 monthly Subscriptions as for a Subscription you can access:
239 Movies averaging 31 minutes each, including 18 Messy Wrestling Movies and 55 Custard Couple Movies, (which include 21 joint productions with WSM),11 vintage movies and 155 normal WSM movies.
PLUS 39,791 Images in 399 sets.
But if you want to see all these Movies and Image sets, then you need to take a Subscription to become a Member.
Click here to see Join costs!
COMMENT
What a week!
On holiday Monday.
Very necessary admin work Tuesday.
Two shoots with Dee in the studio Wednesday.
Prepare weekly update Thursday.
Prepare update for WSM's 35th Birthday on Friday.
Saturday 3rd December…..WSM is 35 years old with continuous operation.
Sunday 4th December is 7th anniversary of writing weekly updates!
FUTURE PROGRAMME
ADVANCE NOTICE OF NEW DOWNLOAD STORE AND SUBSCRIPTION ADDITIONS
3rd Dec WSM is 35 years old today!
The first continuous WAM site in the world continues!
A special offer and special treat to be released this day.
9th Dec Car trouble spells messy trouble for Mrs. CC as she becomes 'Mrs. Messy Muchanic' with movie CC108 and image set S423.
16th Dec Here it is! CC's Xmas special with an updated '12 WSM Days of Xmas', new movie CC137.
We commence with Days 1 to 6.
This revised movie will feature new shoots for Day 1 and Day 6.
23rd Dec The revised 12 WSM Days of Xmas movie concludes with Days 7 to 12.
This upgraded movie CC137 will feature new shoots for Days 7, 9 and 10.
Plus Santa makes his appearance in movie CC100 (first published last year) as Santa cums again!
30th Dec Time for a rest and to catch up on some very necessary admin.
But we will be featuring 4 previously published movies, two from the Subscription site and two Downloads.
6th Jan A perfect time to see Mrs. CC's vintage underwear in the sea – movie CC91 plus image set W374.
13th Jan The admin work continues with accounts and statistics and dare we hope an updated 'About Us' at long, long last!
Again, we will feature some previously published movies.
And maybe, just maybe, our plans for WSM in 2017 will be revealed!