WHAT'S NEW as at 26
th

February 2022

OUR NAME CHANGED to www.wsmprod.com in February 2017

Now in our 41st Year of continuous WAM Production

We are the oldest WAM business in the world!


WSM are now updating fortnightly.

We have changed our update day to a Saturday.

 

WSM have 346 Movies (being 167 SD and 179 HD) in our Subscription site.

In addition there are 531 image sets (188 W + 245 S + 98 M).

To see our Subscription site go to our Home Page at https://www.wsmprod.com

There you can look at our 'Subscription Movies' with free Clips and a listing of our 'Subscription Images'. 

Besides our Subscription Movies we also offer a range of Download Movies covering Wet, Slapstick, Muddy and XXX versions.

These pay to Download movies are listed on our Home Page under 'Downloads – Online Store'.

Those NEW movies under 'WSM Movies & Images' spend two years as Downloads only.

CLICK HERE TO GO TO THE WSM WEBSITE

 

If you wish to see our Images and Movie Clips at their best, then go to 'What's New' section at our Home Page at www.wsmprod.com and check our updates.

There at 'What's New' (scroll to the bottom of that page and) you can page back.

By following the 'Older posts' you can see every single weekly update dating back to 2nd May 2015!

Give it a try and discover many Images and Clips to your own liking!

 

We also have a UMD STORE and transfer MOVIES and IMAGE sets.

There are now 125 movies posted in our UMD Store

Next up we will post 'Mrs. Custard Couple (CC) in Slippy Cooking Oil,' shot outdoors with Mrs. CC dressed in blouse, skirt and black underwear and plenty of oil!

CLICK HERE TO GO TO THE UMD STORE

 

WHAT DO WE HAVE THIS WEEK?

Three items this week:
A brand new movie of mature brunette Dee at play in the river.
Movie WSM243 has Dee dressed in a plain maroon dress with black hold-up stockings, black knickers and black heels.
Running 16 minutes see how Dee copes with a pale sun and rather chilly water!
Add in 222 images in set W400 and I believe the 35mm image set outshines the movie.
After 2 years as a Download only, 24 minute movie CC147 of Mrs. CC in 'Car Wash 2' is added to our Subscription site.
Mrs. CC washes the car dressed in a tight yellow dress and white undies.
And the main feature is LEGS!  Yes, you did read that correctly……legs!
Supported with 147 images in set W424, CC show you how to present a Wet set!
Between the years 1985 and 2000 WSM produced 9 Vintage Films.
Film numbers 1 to 8 had to follow a strict movie timescale which our film editor determined as 60 minutes.  So many great scenes were unduly shortened.
However, by the time we reached Vintage Film 9, times had changed and so did we.
Vintage Film 9 runs 116 mins 16 secs over 7 Streams.
And there is even an Alternate version made with XXX scenes!
But what is Vintage Movie 9 'Sex WSM' all about?
It is not a series of WAM events but a full story about Shakina's dreams.
This week we review the 3rd Stream of the normal movie.
This features an unbelievable chocolate bath for Shakina!
SEE ALSO OUR DOWNLOADS – ONLINE STORE on Home Page-no membership required.
Click on movie and page down for full description and sample images, for
50 VINTAGE FILM DOWNLOADS
PLUS 136 New 'WSM Movies & Images' with 3/4ths available on the Subscription site.
PLUS 16 Movies with Images transferred from the Subscription Website and now also available as Downloads
and XXX section with 90 MOVIES with Images, only available as Downloads.
NEW DOWNLOAD
WET RIVER FUN
The classic dilemma.
Having set a shoot date you have to perform the shoot regardless of indifferent weather conditions.
A lack of sun may be ideal for some 'wild swimming', suitably encased in protective clothing, but it makes for a difficult shoot with even the most enthusiastic model.
Mature brunette Dee does not back-out, but understandably takes a little longer than normal to get fully wet.
And when we say Wet, we mean fully Wet!
Although Stream 1 does show hesitancy, Stream 2 shows what a great WSM girl Dee was as she is soon 100%Wet!
REVIEW OF MOVIE WSM243
A brand new HD Movie plus Image set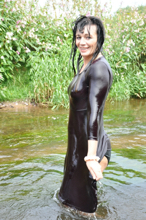 'Dee in the river in maroon dress'
Run-time 15 mins 51 secs
2 HD Sample Clips plus 2 HD Streams in mp4
Stream 1 runs 7 mins 39 secs
Movie WSM243 has mature Dee dressed in a plain maroon dress with black hold-up stockings, black knickers and black heels.
Despite what she says this was a day without full sun when we shot in August 2016.
Dee enters the river clothed.
She splashes about gradually becoming wetter before she can go for a full immersion.
Each model has their own style.
Dee had worked in a circus so she has a habit of expressing herself show-biz style with outstretched arms!
Not only is the river chilly but it is running low making it difficult for Dee to take a dive – see CLIP 1.
Then Dee is lying and splashing in the water.
Stream 2 runs 8 mins 12 secs
Dee dives in the river then crawls and splashes about.
A formal dive follows which makes her chuckle.
There are fabulous wet clinging dress shots which very much epitomize Wetlook.
Yet another dive has Dee spluttering but happy.
The wet dress is superb and Dee drenches her hair for added effect.
With just under 5 minutes left, she removes the dress.
More splashy activity follows as Dee flounders about in the river.
A token further dive wets her hair – see CLIP 2.
Finally, she removes her knickers to tease us in the river shallows.
What a wet teasing lady she is!
And the sun comes out just as she finishes!
Image set W400 is a great record of this movie.
These are all 35mm shots not screen grabs.
But what you probably do not realize is that Dee has to shoot everything twice, once for the movie then again for the 35mm pics.
So you probably more appreciate this set now.
There are 222 shots.
Plenty to enjoy!
We show you 6 sample shots from image set W400.
MOVIE WSM243 has 2 HD Streams running 15 mins 51 secs and is only available as a Download.
IMAGE SET W400 has 222 shots
PRICE
£6-70  GBP
$9-00 USD
Euro 7-70
To Purchase go to https://wsmprod.com then Downloads – Online Store, then 'WSM Movies & Images' and find movie WSM243 at the top of the listing under
'Dee in river in maroon dress'
SUBSCRIPTION WEBSITE/also a download
WETLOOK
Shot in July 2018 this movie has to contend with the strong sunlight contrasting with the shaded area where shot.  As such there is plenty of detail.
So how do Custard Couple (CC) set out to shoot a Wet set?
They show you how it should be done.
For too many producers it is the clothes that predominant with sexuality a forgotten element.
Not for CC……. who always like it wet and raunchy!
REVIEW OF MOVIE CC147
HD Movie plus Image set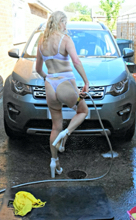 'Mrs. CC – Car Wash 2 in yellow dress & white undies'.
Run-time 24 mins 28 secs
3 HD Streams plus 2 HD Sample Clips in MP4 format
Stream 1    runs 7 mins 34 secs
Mrs. CC washes the car in a most unlikely outfit of tight yellow mini dress, with her white bra on view.
She wears high heeled ankle strap shoes which work marvels to enhance her long and shapely legs.
Before the movie has run 4 minutes, her tight white thong is on display.
Very soon the car wash water is being splashed over her from the sponge, as she soaps herself up – see CLIP 1.
Indeed, the movie should be titled 'erotic car wash!'
She squats over the wash bowl to soap herself further while looking engagingly at the camera.
After 5 minutes we see the full stunning glory of those long provocative legs.
Mrs. CC continues to enjoy her wet soapy play.
As the 1st Stream ends, she rolls her dress back down for a more leisurely car wash.
Stream 2     runs 8 mins 11 secs
As Stream 2 begins, Mrs. CC becomes wetter and adorns the car.
She pulls her dress up again so she can start to play with her clit through her sodden knickers.
Soon her hand is inside her knickers as she starts to gyrate in time with her sex play.
With a brief respite as she caresses her bum, she continues to soap herself up.
Then she is crouching in front of the car looking wet and bedraggled.
She lies on the mat soaping those elegant long legs and covering herself in soapy foam.
She kneels up before the car as soapy water runs down her back.
She daringly pulls her knickers down to soap herself further.
The remainder of the car wash water is poured over her boobs.
The wetting becomes more serious when the hose-pipe is introduced.
First one boob then the other is washed before the hose sluices her pussy.
Still kneeling she pulls her knickers up tight.
Then she stands and rolls down her dress, which is now translucent, as she continues to spray the hose water over it.
She sprays her hair with the hose to wet it, then pulls her tits from her bra.
She sprays her hair, face and neck further.
Then she poses by leaning over the car bonnet, continuing to spray the car and herself.
She rolls up her dress again, adjusts her knickers and continues to wet herself all over with the hose-pipe, while looking very enticing with her boobies exposed.
Stream 3     runs 8 mins 43 secs
Mrs. CC lies on the mat spraying her boobs and hair, then her knickers with the hose-pipe.
She squirms on her stomach on the wet mat.
She kneels up continuing to spray herself.
Then a back shot as kneeling she sprays her thin knickers.
She kneels facing us, then her clit play aided by the hose-pipe, begins to turn serious.
Throwing the hose-pipe down, Mrs. CC is now seeking her climax.
She frigs away at her pussy before she reaches her satisfying orgasm.
Then she stands and removes her tight dress.
Now in a white bra (with tits out), white suspender belt and white knickers, the wet Mrs. CC looks rather ravishing.
Then it is back to spraying the car and those fabulous legs – see CLIP 2, before she gives herself a hose-down.
She removes her knickers and continues to spray her body.
Then she removes her bra and continues to hose herself.
The hose-pipe is discarded and she pulls her dress back on, although without her bra and knickers.
Once re-dressed she re-starts the hose-pipe spraying her dress, hair, body and legs.
She ends by tokenly spraying the car before giving us a further stunning wet leg shot.
In addition there are 147 image sets in set W424.
These images have been carefully processed and are enhanced (full page) shots.
These are well worth a view and contain some excellent pics.
We show you 5 sample shots from image set W424.
MOVIE CC147  has 3 HD quality Streams running 24 mins 28 secs.
This car wash could have provoked a car crash if it had been conducted on the highway!
PRICE
£7-10  GBP
$9-60 USD
Euro 8-20
To Purchase movie CC147 go to https://wsmprod.com then Downloads – Online Store, then  'WSM Movies and Images' and find the movie titled
'Mrs. CC – car wash in yellow dress & white undies'.
   BUT WHY PAY FOR A DOWNLOAD?
This movie and image set are now available on our Subscription site plus 345 other movies!
Still a fantastic bargain for so many genuine quality movies………to say nothing of 530 further quality image sets!
CLICK HERE TO VIEW SUBSCRIPTION COSTS
DOWNLOAD ONLY
Vintage Film 9 'Sex WSM' – Stream3
What is Vintage Movie 9 'Sex WSM' all about?
It is not a series of WAM events but a full story about Shakina's dreams.
This week we review the normal movie 3rd Stream as Shakina has an unbelievable Chocolate bath!
STREAM 3    18 mins  42 secs  Download Price £6.00 GBP    $9.60 USD    7.90 Euro
This scene features Chocolate and was shot at Southport 2

nd

September 1999.

 

Rather than split this into two scenes, it is run as a single 19 minute scene with a corresponding price adjustment.We commence with Shakina eating a chocolate product from the carton.

She wonders if she can just have a water fetish as the doctor diagnosed.

We get an immediate answer as Shakina finds herself in a large white jacuzzi bath, still eating her chocolate and clad in her white clothes – white long jacket edged with black, white skirt, white lacey blouse, white knickers, white suspender belt and white stockings.

But the bath is filled with dark chocolate.

Shakina starts to daub the chocolate on herself.

Her dream has come true – it feels wonderful!

She is going to get covered in chocolate!  See FREE CLIP.

She spreads the chocolate over her outfit with some superb dripping chocolate shots.

Soon all her clothes are covered in chocolate.

She stands up as the chocolate drips away, then removes her jacket.

We see her standing, crouching down, sitting then lying in the chocolate.

When she kneels up again, Shakina tells us 'Time to get really, really messy!'

She lies back and gets totally chocolaty as she is all covered, except her eyes.

She sloshes the chocolate over her knickered pussy in a truly fantastic chocolate scene.

At 12 mins 15 secs she stands up and the chocolate streams off her!

Then she puts more into her knickers and frigs herself.

Bob appears at 14 mins 50 secs and gets into the Jacuzzi with her.

Shakina rubs chocolate on him while Bob removes her blouse and strips her down.

Bob enjoys filling her panties with choc then pulling them tight!

They both play in the choc with each other and Shakina's knickers are removed.

Then Bob puts his head under the chocolate between Shakina's thighs to sample her chocolate pussy! He emerges fully chocolate covered!

They kiss passionately.

 

Suddenly all the chocolate disappears and Shakina is sitting on a worktop in the kitchen.

She is rubbing her white knickered crotch (which has a distinct chocolate stain!)

The phone rings……and Shakina comes to!

It is Bob, her lover, who is anxious to take her out for a romantic drive.

See how Shakina's Dream Fetish expands from W and S and then into M in Stream 4.

 

This is the normal movie but next update we will review the XXX version of this Stream 3.

If in doubt, then hang on, then make your judgment.

 

To purchase go to https://www.wsmprod.com then 'Downloads – Online Store', then 'Digital Download – Vintage Films' and find VINTAGE FILM 9 'Sex WSM', STREAM 3.

 

 
We continue to take SUBSCRIPTION payments in £ Sterling, US dollars and Euros, for membership of the WSM Website.
The Subscription site does not include access to new movie/images Downloads in the Online Store, which we have added during the previous two years, or any XXX movies.
Movies and Image sets added to the WSM Online Store under 'WSM Movies & Images' are added also to the Subscription site, 2 years after being posted as a Download. 
Look at the JOIN NOW page to see our great value for 30 day, 3 month and 6 monthly Subscriptions as for a Subscription you can access:
346 Movies averaging 29 minutes each, including 18 Messy Wrestling Movies and 112 Custard Couple Movies, (which include 32 joint productions with WSM),
15 vintage movies and 201 normal WSM movies (excluding 32 duplicated joint production movies with Custard Couple).
PLUS 59,379 Images in 531 sets (being 188 W + 245 S + 98 M).
But if you want to see all these Movies and Image sets, then you need to take a Subscription to become a Member.
Click here to see the amazing value Join costs!
FUTURE PROGRAMME
ADVANCE NOTICE OF NEW DOWNLOAD STORE AND SUBSCRIPTION ADDITIONS
From January 2022 WSM will no longer update weekly but fortnightly.
12th March New movie CC101 shot entirely outdoors has Mrs. CC as the 'Messy Jilted Bride', plus image set S492.
 Another movie is added to our Subscription site after 2 years as a Download.
 Movie WSM216 features Dee at play with chopped tomatoes in this 25 minute movie.  Plus 115 images in set S405.
26th March Yet another new movie as we see Dee in a summer dress in the silty, peaty, oily mud movie WSM241.  Plus image set M232.
 A final movie shot in the blackest, sludgiest mud!
9th April Mrs. CC has wet clothed play in the swimming pool and Jacuzzi in movie XXX089 titled 'Wet White Linen'. Going indoors Mrs. CC has her white linen trousers torn apart by a very frisky Mr. CC. – plus image set W439XXX.
Still on the horizon we have Mrs. CC pushing the boundaries getting messy in a manure dump!
Now to be scheduled after I meet-up with CC during March