WHAT'S NEW as at 12
th

March 2022

OUR NAME CHANGED to www.wsmprod.com in February 2017

Now in our 41st Year of continuous WAM Production

We are the oldest WAM business in the world!

 

WSM are now updating fortnightly.

We have changed our update day to a Saturday.

 

WSM have 347 Movies (being 167 SD and 180 HD) in our Subscription site.

In addition there are 532 image sets (188 W + 246 S + 98 M).

To see our Subscription site go to our Home Page at https://www.wsmprod.com

There you can look at our 'Subscription Movies' with free Clips and see a listing of our 'Subscription Images'. 

Besides our Subscription Movies we also offer a range of Download Movies covering Wet, Slapstick, Muddy and XXX versions.

These pay to Download movies are listed on our Home Page under 'Downloads – Online Store'. Again, all our movies have free Clips.

Those NEW movies under 'WSM Movies & Images' spend two years as Downloads only.

CLICK HERE TO GO TO THE WSM WEBSITE

 

If you wish to see our Images and Movie Clips at their best, then go to 'What's New' section at our Home Page at www.wsmprod.com and check our updates.

There at 'What's New' (scroll to the bottom of that page and) you can page back.

By following the 'Older posts' you can see every single weekly update dating back to 2nd May 2015!

Give it a try and discover many Images and Clips to your own liking!

 

We also have a UMD STORE and transfer MOVIES and IMAGE sets.

There are now 125 movies posted in our UMD Store

Next up we will post 'Mrs. Custard Couple (CC) in Slippy Cooking Oil,' shot outdoors with Mrs. CC dressed in blouse, skirt and black underwear and plenty of oil!

CLICK HERE TO GO TO THE UMD STORE

 

WHAT DO WE HAVE THIS WEEK?

Three items this week:
A brand new movie as Mrs. Custard Couple (CC) is the 'Messy Jilted Bride'.
HD Movie CC101 has Mrs. CC dressed in her wedding dress, white lacy/net shorts, white suspender belt, stockings and white heels.
Running 26 mins this is a voyeurs' delight with wonderful leggy shots plus plenty of Mess!
And all shot OUTDOORS!
Add in 201 images in set S492 and this should be a shoot for your personal portfolio.
After 2 years as a Download only, 24 minute HD movie WSM216 of Dee with chopped tomatoes is

added to our Subscription site

.
Dee becomes a messy woman being completely messed by tomatoes!
Image set S405 has 115 enhanced pics of this action.
We have been following the WAM dreams of Shakina in our movie 'Sex WSM'.
This week we look at the Alternate (which is XXX) Stream 3 featuring ultimate chocolate couple fun including 8 minutes of sex action.
Movie Sex WSM – Stream 3 Chocolate, which is movie XXX030, runs 13 minutes.
SEE ALSO OUR DOWNLOADS – ONLINE STORE on Home Page-no membership required.
Click on movie and page down for full description and sample images, for 50 VINTAGE FILM DOWNLOADS
PLUS 137 New 'WSM Movies & Images' with 3/4ths available on the Subscription site.
PLUS 16 Movies with Images transferred from the Subscription Website and now also available as Downloads
and XXX section with 90 MOVIES with Images, only available as Downloads.
NEW DOWNLOAD
GLAM and SLAPSTICK FUN
Almost 60 years ago in 1954 we first saw it!
Marilyn Monroe's iconic flying skirt shots sent people wild!
Mrs. Custard Couple (CC) is the 'Messy Jilted Bride' in her white wedding attire.
Shot entirely outdoors, she teases us all with some saucy upskirt shots before getting very messy to ruin her outfit.
And did Marilyn Monroe think of adding Mess?
I am sure she did not, but see what a few decades of progress have brought!
REVIEW OF MOVIE CC101
A brand new HD Movie plus Image set
'Mrs. CC is the Messy Jilted Bride'
Run-time 26 mins 43 secs
4 HD Sample Clips plus 3 HD Streams in mp4
Stream 1 runs 8 mins 47 secs
Movie CC101 has Mrs. Custard Couple (CC) dressed in her wedding dress, white lacy/net shorts, white suspender belt, stockings and white heels.
Her dress is a provocative outfit being thin, flimsy and see through!
And Mrs. CC flaunts those long legs and her inviting underwear to make us all sympathetic of her plight!
See this 1st Clip as she gives us a tasty preview of her dress and underwear – see CLIP 1.
We had seen Mrs. CC running in her wedding dress with revealing legs and undies before explaining her dismay.
"I'm not marrying anybody if they are not a Splosher!" she explained.
Then off she runs to indulge in some personal sploshing by a river.
She describes this as "A little bit of fun after the misery!"
Her sploshing commences with Blueberry Yogurt…….which is poured all over her.
Next there is Natural yogurt before things turn more colourful and destructive with Tomato Ketchup.
And the camera gets very close-in and personal!
And there are quite a few more unusual close-up shots in this movie.
And all the time Mrs. CC chats to us!
Next is Mrs. CC's favourite, Custard.
This goes all down the front of her dress and she tastes mouthfuls.
Plus there is a great glooping noise as the custard runs down her dress.
Stream 2 runs 8 mins 38 secs
"I just love getting covered" says Mrs. CC as we commence this Stream.
She shows us close-up under her dress.
A further very messy ingredient Brown Sauce is introduced.
She daubs her stomach then her shorts, opening the top of the shorts to make things messier.
Soon her free hand delves into her knickers as she continues to pour the sauce – see CLIP 2.
Soon both her hands are in her panties as she frigs herself with gorgeous slurpy sounds.
Mrs. CC is losing her abandon and gasps loudly with her climax.
She tells us her clit is big now.
Then she reveals it to us!
Next, a Strawberry flavoured Frijj drink is poured down the front of her dress with dripping sounds.
Then she pours Chocolate Milk liberally over her dress, hair and face, with more runny and slurpy sounds – see CLIP 3.
She turns around to show her back as she pours the rest of the Chocolate milk down her back, knickers and legs.
We see the results on her now very messy dress.
But she has finished her foodstuffs so we move across the river to a different area for the conclusion.
And who would not follow those wet and messy long, long legs?
She sits on the base of a very knarled and old tree with a quite an eye catching closing shot!
Stream 3 runs 9 mins 18 secs
Mrs. CC leans back to pour the custard over herself.
The custard runs down her body and knickers.
Then her dress is removed.
She moves to another tree with foodstuffs.
More ketchup is applied over the front of her body.
"This is what I call Sploshing", says Mrs. CC.
Next, she brings custard which is applied over "this gorgeous arse" followed by some "gorgeous yogurt".
She rubs all the foodstuffs into her body.
She removes her bra – see CLIP 4.
She enjoys slicking her body with the foodstuffs.
Then she lowers her knickers provoking more clit play.
With her knickers still lowered, she kneels to apply Chocolate Milk over her arse while in the kneeling position.  Then she slaps her arse and frigs it!
But soon she is attacking her clit again to produce a final satisfying climax.
Hauling her knickers up Mrs. CC is now very reassured that she will find a new partner who will want to Splosh with her!
Image set S492 with 201 shots is well worthy of consideration.
The set commences with 10 pics as Mrs. CC exits her car.
Note that these shots do not appear in the movie.
And how glamorous does Mrs. CC look?
Why would anyone of sound mind reject such an obliging long legged, busty lady!
But Mrs. CC has one overwhelming desire!
Of course it is only a story, but one that gives us so much to admire!
We show you 5 sample shots from image set S492.
MOVIE CC101 has 3 HD Streams running 26 mins 43 secs and is only available as a Download.
IMAGE SET S492 has 201 shots
PRICE
£7-10  GBP
$9-60 USD
Euro 8-20
To Purchase go to https://wsmprod.com then Downloads – Online Store, then 'WSM Movies & Images' and find movie CC101 at the top of the listing under
'Mrs. CC is the Messy Jilted Bride'
SUBSCRIPTION WEBSITE/also a download
MESSY MOVIE
HD Download movie WSM216 runs over 24 minutes, as Dee in a sleeveless summery dress gets sploshed-up with chopped tomatoes!
Plus there are 115 enhanced image pics in set S405.
Towards the end of 2015 year and in early 2016 I did a series of 7 shoots in my old studio.
Why the rush?
Because the studio was sold in March 2016.
This movie was shot 20th October 2015.
A couple of months earlier Dee had ballooned to 11 stone! (see muddy movie WSM209).
At this shoot WSM216 Dee had trimmed to just over 10 stone.
Now it takes much determination with exercise and diet to lose weight in middle age.
Eventually she got down to 7 stone 3lbs which was far too thin for modeling (take a look at movie WSM153 with wet and slapstick, to see how painfully thin she was then!)
I think her best weight was 8 stone 3 lbs which you will eventually see in WSM movies WSM271 and WSM 272 (both river shoots).
But back to our current movie WSM216 which is all about taking an unusual product for sploshing.  Dee gets fully messy and goes from clothed to nude in a messy striptease!
REVIEW OF MOVIE WSM216
A HD Movie plus Image set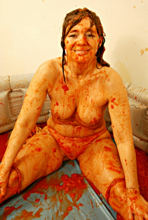 'Dee with chopped Tomatoes'
Run-time 24 mins 41 secs
3 HD Streams in mp4 plus 2 HD Sample Clips in mp4
Stream 1 runs 8 mins 29 secs
Dee wears a sleeveless summery dress with white hold-up stockings and white knickers.
She produces a large tin of chopped tomatoes.
She pours it from a bowl over her arms.
Then some is tipped down her bust before being generously applied to the top of her dress.
Dee stands in a silver space ship paddling pool.
Dee rubs the tomato product over her arms, dress and legs
She kneels in the pool to continue applying the tomato mixture.
After 4 mins she pours some down her back causing a loud exclamation with the cold substance!
Sitting in the pool, the slow daubing continues.
She stands to show off the results.
At 6 mins she sits back down to swirl around the pool, spreading the messy tomato mainly on her legs and arms.
At 7 mins Dee sits in the pool and pours a bowl of tomatoes down her front.
Now she is getting really messy as she rubs the messy mix over her clothes and squirms around the pool.
More tomatoes go over her arms and the front of her dress – see CLIP 1.
Dee lies on her stomach for a squirm about in the mess, then she rolls on her back.
Her dress, arms and legs are now very messy.
Stream 2 runs 7 mins 33 secs
Dee stretches her legs while lying on her back in the pool.
She plays in the tomato mess in the bottom of the pool.
She continues to concentrate on her legs.
Kneeling down, chopped tomatoes rain down on her head completely messing up her hair, with a virtual torrent at times!
After 3 mins Dee sits back after that deluge.
She plays with her messy hair.
Kneeling up she takes a handful of tomatoes to apply to her face.
What a messy woman she now is, completely messed by tomatoes!
More facial daubing follows and her dress is now fully sodden with the tomato juices.
More hair play and a further tomato facial follow.
"Head to toe in tomatoes", says Dee……..and she is right!
More messy tomato play follows with the emphasis on her hair.
She flounces her dress about before removing it at 6 mins 30 secs.
The topless Dee soon gets to work to coat her arms, boobs and front with the tomato mess.
She even pours some inside her knickers.
Dee sits back to continue to rub the tomato mess over her body.
Stream 3 runs 8 mins 39 secs
Lying in the messy base of the paddling pool, Dee slicks her body with the red tomato mix.
She continually moves about and the camera produces some good POV.
She energetically writhes about getting as messy as possible.
Sitting up she coats her legs, boobs and midriff before pouring some remaining tomato mix into her knickers – see CLIP 2.
She continues to keep daubing her body as she moves around the pool.
At 4-25 she removes her knickers for a further 4 minutes of nude play.
After an energetic roll around the pool, she settles down to a series of poses, with little left to the imagination.
But these are not static poses as Dee is never still and always moving.
With an appropriate messy ending Dee certainly answers all the questions about how messy she could get using that seldom used food substance – chopped Tomatoes!
And you do get plenty of messy Dee for your money in this movie which runs just on 25 minutes.
Image set S405 has 115 Enhanced Images (Full Screen) shots of Dee's messy play.
There were far more pics shot, but repetition was a constant theme and the set was trimmed.
So we do have a very good record of Dee's shoot and it is with a more unusual foodstuff.
But judge for yourself as we show you 5 sample shots from image set S405.
MOVIES WSM216 has 3 HD Streams running 24 mins 41 secs.
IMAGE SET S405 has 115 shots
DOWNLOAD PRICE
£6-70  GBP
$9-00 USD
Euro 7.70
To Purchase HD movie WSM216 go to the Home page at  www.wsmprod.com then 'Downloads – Online Store' section, then 'WSM Movies & Images' and find 'Dee with chopped tomatoes'.
   BUT WHY PAY FOR A DOWNLOAD?
This movie and image set are now available on our Subscription site plus 346 other movies!
Still a fantastic bargain for so many genuine quality movies………to say nothing of 531 further quality image sets!
CLICK HERE TO VIEW SUBSCRIPTION COSTS
DOWNLOAD ONLY
Vintage Film 9 'Sex WSM' – Stream3 Alternative XXX movie XXX030
What is Vintage Movie 9 'Sex WSM' all about?
It is not a series of WAM events but a full story about Shakina's dreams.
This week we review the alternative XXX movie 3rd Stream featuring Chocolate play.
STREAM 3    13 mins  07 secs  Download Price £7.00 GBP    $11.20 USD    9.20 Euro
We commence with Shakina eating a chocolate product from the carton.
She wonders if she can just have a water fetish as the doctor diagnosed.
We get an immediate answer as Shakina finds herself in a large white jacuzzi bath, still eating her chocolate and clad in her white clothes – white long jacket edged with black, white skirt, white lacey blouse, white knickers, white suspender belt and white stockings.
But the empty bath is suddenly filled with dark chocolate (see images).
Shakina starts to daub herself with the chocolate and is soon coated.
She takes her jacket off and sits in the chocolate.
She lies back and gets her hair chocolaty.
She slicks the chocolate between her legs rubbing her knickered pussy.
At 3 mins 40 secs Bob appears – see

Clip

.
Shakina urges him to lick the chocolate off her breasts.
Bob removes her dress and knickers.
They play together in the chocolate.
At 4 mins 34 secs Bob's cock is out.
Bob caresses Shakina with chocolate.
She lies Bob down then sucks his very erect chocolaty penis.
Then Bob puts chocolate on her pussy and frigs her.
Shakina urges him to 'Stick his chocolate dick in her pussy'.
Bob sluices her with chocolate, then with Shakina standing on one leg (see images), he enters her and his chocolate cock pistons into her.
Bob calls her 'His little chocolate nymph' as he pounds away.
This is the best chocolate shagging you will probably ever see!
With Shakina lying on her back in the chocolate, Bob next pounds away at her mouth!
Then she gets another enthusiastic shagging while seated on the side of the Jacuzzi.
The chocolate must have stimulated Bob, as he continues to fuck her with great gusto in several positions!
They mutually go to hand play before Bob cums over her.
Shakina sucks him while saying 'Don't you just love chocolate!'Suddenly all the chocolate disappears and Shakina is sitting on a worktop in the kitchen.
She is rubbing her white knickered crotch (which has a distinct chocolate stain!)
The phone rings……and Shakina comes to!
With over 8 continuous minutes of chocolate sex play, Stream 3 is just fantastic!
See how Shakina's Dream Fetish expands into W, S and then M in Stream 4
Image Set S076XXX

This scene features Chocolate and was shot at Southport 2nd September 1999.

No of Images

19

PRICE


£7.00 / €9.20 / $11.20
 
To purchase go to https://www.wsmprod.com then 'Downloads – Online Store', then 'XXX Section' and find VINTAGE FILM 9 'SEX WSM', STREAM 3.
We continue to take SUBSCRIPTION payments in £ Sterling, US dollars and Euros, for membership of the WSM Website.
The Subscription site does not include access to new movie/images Downloads in the Online Store, which we have added during the previous two years, or any XXX movies.
Movies and Image sets added to the WSM Online Store under 'WSM Movies & Images' are added also to the Subscription site, 2 years after being posted as a Download. 
Look at the JOIN NOW page to see our great value for 30 day, 3 month and 6 monthly Subscriptions as for a Subscription you can access:
347 Movies averaging 29 minutes each, including 18 Messy Wrestling Movies and 112 Custard Couple Movies, (which include 32 joint productions with WSM),
15 vintage movies and 202 normal WSM movies (excluding 32 duplicated joint production movies with Custard Couple).
PLUS 59,494 Images in 532 sets (being 188 W + 246 S + 98 M).
But if you want to see all these Movies and Image sets, then you need to take a Subscription to become a Member.
Click here to see the amazing value Join costs!
FUTURE PROGRAMME
ADVANCE NOTICE OF NEW DOWNLOAD STORE AND SUBSCRIPTION ADDITIONS
From January 2022 WSM will no longer update weekly but fortnightly.
26th March Yet another new movie as we see Dee in a summer dress in the silty, peaty, oily mud movie WSM241.  Plus image set M232.
 A final movie shot in the blackest, sludgiest mud!
9th April Mrs. CC has wet clothed play in the swimming pool and Jacuzzi in movie XXX089 titled 'Wet White Linen'. Going indoors Mrs. CC has her white linen trousers torn apart by a very frisky Mr. CC. – plus image set W439XXX.
23rd April Still to be decided
Still on the horizon we have Mrs. CC pushing the boundaries getting messy in a manure dump!
Now to be scheduled after I meet-up with CC during March