WHAT'S NEW as at 26
th

March 2022

OUR NAME CHANGED to www.wsmprod.com in February 2017

Now in our 41st Year of continuous WAM Production

We are the oldest WAM business in the world!

 

WSM are now updating fortnightly.

We have changed our update day to a Saturday.

 

WSM have 347 Movies (being 167 SD and 180 HD) in our Subscription site.

In addition there are 532 image sets (188 W + 246 S + 98 M).

To see our Subscription site go to our Home Page at https://www.wsmprod.com

There you can look at our 'Subscription Movies' with free Clips and see a listing of our 'Subscription Images'. 

Besides our Subscription Movies we also offer a range of Download Movies covering Wet, Slapstick, Muddy and XXX versions.

These pay to Download movies are listed on our Home Page under 'Downloads – Online Store'. Again, all our movies have free Clips.

Those NEW movies under 'WSM Movies & Images' spend two years as Downloads only before being added to our Subscription site.

CLICK HERE TO GO TO THE WSM WEBSITE

 

If you wish to see our Images and Movie Clips at their best, then go to 'What's New' section at our Home Page at www.wsmprod.com and check our updates.

There at 'What's New' (scroll to the bottom of that page and) you can page back.

By following the 'Older posts' you can see every single weekly update dating back to 2nd May 2015!

Give it a try and discover many Images and Clips to your own liking!

 

We also have a UMD STORE and transfer MOVIES and IMAGE sets.

There are now 125 movies posted in our UMD Store

Next up we will post 'Betty and Kimyl in Kimyl's revenge,' as our two youngest models ratchet up their fierce desires to Splosh each other.

CLICK HERE TO GO TO THE UMD STORE

 

WHAT DO WE HAVE THIS WEEK?

Two items this week:
New HD movie WSM241 has Dee in her final play in the blackest, sludgiest mud.
Dressed in a summer dress with white knickers and hold-ups, Dee does end up delightfully muddied in this 21 minute movie.
Add on 205 images in set M232 and the 35mm shots are just terrific!
We have been following the WAM dreams of Shakina in our movie 'Sex WSM'.
How many great outdoor mud shoots do you see with a couple?
Well this is one of the best!
Movie 'Sex WSM – Stream 4' Mud runs 17 minutes.
SEE ALSO OUR DOWNLOADS – ONLINE STORE on Home Page-no membership required.
Click on movie and page down for full description and sample images, for
50 VINTAGE FILM DOWNLOADS
PLUS 138 New 'WSM Movies & Images' with 3/4ths available on the Subscription site.
PLUS 16 Movies with Images transferred from the Subscription Website and now also available as Downloads
and XXX section with 90 MOVIES with Images, only available as Downloads.
NEW DOWNLOAD
MUDDY PLAY
Sadly all good things come to an end.
This is the final shoot in the silty, peaty, oily mud for Dee (the blackest mud you will see!)
We missed out on another two years as the farmer dug-out the slow moving stream.
Dee shot a total of 5 movies at this location and every outcome was different.
In July 2013 we had WSM169 in blue top and denim skirt plus image set M206
In Sept 2014 movie WSM203 featured a yellow dance suit plus image set M220
In Sept 2015 movie WSM209 had Dee in goalie fitness practice plus image set M226
In May 2016 movie WSM229 featured Dee as a muddy English lady plus image set M229
Now we have NEW movie WSM241 with Dee in a summer dress plus NEW image set M232.
And do not forget Dee's first image set M201 in May 2013 when a new movie camera failed.
And did any other model take on the thick mud challenge?
Why yes……there were two!
In June 2013 we have Jade in movie WSM162 plus image sets M202 & M203.
Also Jade returned for movie WSM175 in Sept 2013 plus image sets M208 & M209.
And finally we have Kimyl in movie WSM193 shot July 2014 plus image set M218.
All the above movies are HD and ALL except the new movie below can be found on our Subscription site which is split between Movies and Images.
So 8 muddy HD movies plus 9 image sets were shot at this location.
REVIEW OF MOVIE WSM241
A brand new HD Movie plus Image set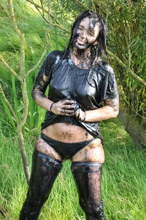 'Dee in summer dress in the silty, peaty, oily mud for the final time'
Run-time 20 mins 47 secs
2 HD Sample Clips plus 2 HD Streams in mp4
Stream 1 runs 9 mins 48 secs
On a beautiful summers day we see Dee showing off her outfit with her summer dress, white knickers, and white hold-up stockings.
When you arrive at a location you never know what to expect.
The muddy stream appeared just perfect.
But in reality the mud had settled and firmed and there was now more water on top and the stream was flowing quicker!
So something unexpected had happened!
Dee's dress and clothes got thoroughly muddy, but the mud did not cling to the skin.
If you like muddy dresses, knickers and stockings then this is near perfection!
So although Dee says "It is very muddy" as she starts to paddle in the stream, the deeper layer of water on the compressed mud forbids mixing it easily to a sludgy mess!
Not that this should prevent our fun and enjoyment.
To commence we see the muddy element reaching barely mid-calf on Dee's legs.
She takes a further plod around to mix-up the mud and then she sits in the stream.
The wet mud clings to her skirt and stockings.
Back in the stream "For some more muddy fun!" says Dee.
Dee plods about trying to mix-up the mud, but there is only one sure way to get properly muddy and that is to pick up the mud and smear it on the dress and body.
Next, she lies back to smear the back of her dress.
Leaning backwards, she dips her hair.
When she lifts her skirt we see muddy knickers, dress and stockings but still clean flesh!
Dee lies full length in the stream, kneels up and spreads some black mud over her top.
Her dress looks very black, very clingy and very wet!
Dee continues to daub the upper part of her dress.
She exits the stream and shows us the results – see CLIP 1.
Now this is muddy fun as Dee parades about.
Stream 2 runs 10 mins 59 secs
Dee commences by dunking her face and arms.
Then a classic wet hair swish as she kneels in the stream.
She tosses muddy water over her head.
The watery mud is not deep enough to dive into so she swishes her hair in and out of the black water.
She jumps back into the stream and daubs her face with the mud.
But dipping her hair and face makes little muddy impact.
This is all brave play in the great outdoors!
Dee walks along the bank to show off her clinging muddy dress.
She plays in the mud churned stream getting muddier and muddier.
She lies back to dip her hair and we see the thick mud surrounding her.
She is now (after almost 6 minutes) looking splendidly muddy.
Dee removes her dress with over 4 minutes remaining.
Then it is fast action to get muddy.
And the easiest way is to smear the mud.
She crawls down the muddy stream – see CLIP 2.
Then she daubs more mud on her body.
With 70 seconds left she removes her knickers for some final muddy play.
We end with her kneeling up to wave us goodbye.
Image set M232 with 205 shots gives excellent detail to this shoot.
This set only contains 35mm shots.
There is plenty of variety and most people will find some shot(s) that appeal.
But now the location has gone!
Each muddy shoot we did at this place had its own dimension, meaning each is different.
I have very pleasing memories.
It will now take two years before this shoot is moved to our Subscription site.
We show you 6 sample shots from image set M232.
MOVIE WSM241 has 2 HD Streams running 20 mins 47 secs and is only available as a Download.
IMAGE SET M232 has 201 shots
PRICE
£8-10  GBP
$10-90 USD
Euro 9-30
To Purchase go to https://wsmprod.com then Downloads – Online Store, then 'WSM Movies & Images' and find movie WSM241 at the top of the listing under
'Dee in summer dress in the silty, peaty, oily mud for the final time'
DOWNLOAD ONLY
VINTAGE FILM 9 SEX WSM STREAM 4
What is Vintage Movie 9 'Sex WSM' all about?
It is not a series of WAM events but a full story about Shakina's dreams.
This week we review the 4th Stream featuring Muddy play.
The Subscription site does not include access to new movie/images Downloads in the Online Store, which we have added during the previous two years, or any XXX movies.
Movies and Image sets added to the WSM Online Store under 'WSM Movies & Images' are added also to the Subscription site, 2 years after being posted as a Download. 
Look at the JOIN NOW page to see our great value for 30 day, 3 month and 6 monthly Subscriptions as for a Subscription you can access:
347 Movies averaging 29 minutes each, including 18 Messy Wrestling Movies and 112 Custard Couple Movies, (which include 32 joint productions with WSM),
15 vintage movies and 202 normal WSM movies (excluding 32 duplicated joint production movies with Custard Couple).
PLUS 59,494 Images in 532 sets (being 188 W + 246 S + 98 M).
But if you want to see all these Movies and Image sets, then you need to take a Subscription to become a Member.
Click here to see the amazing value Join costs!
FUTURE PROGRAMME
ADVANCE NOTICE OF NEW DOWNLOAD STORE AND SUBSCRIPTION ADDITIONS
From January 2022 WSM will no longer update weekly but fortnightly.
09th April Another new movie as we see Custard Couple (CC) at play in their garden as the Easter Bunny is Sploshed and Fucked in movie XXX097.
 Plus supporting image set S452XXX.
23rd April Mrs. CC has wet clothed play in the swimming pool and Jacuzzi in movie XXX089 titled 'Wet White Linen'. Going indoors Mrs. CC has her white linen trousers torn apart by a very frisky Mr. CC. – plus image set W439XXX.
 Another movie is added to our Subscription site which is:
 CC155 has Mrs. CC in Mud Slut 14 when she destroys a designer leather skirt in the mud – runs 12 mins.
 Image set M247 has 78 shots as the posh leather skirt gets mud destroyed.
07th May Movie WSM226 with Dee in saucy paint play plus the phantom and image set S417.
Still on the horizon we have Mrs. CC pushing the boundaries getting messy in a manure dump!
Publication due later this year after our artistic differences were resolved.