WHAT'S NEW as at
6
th
January
201
7
HAPPY NEW YEAR TO ALL OUR MEMBERS AND READERS!
We have a NEW DOWNLOAD plus look again at 3 shoots taken from our SUBSCRIPTION website.
This is just what we need at this time of year!
We have a new 28 min Download Movie of Mrs. Custard Couple (CC) in the sea in her vintage underwear, but with a write-up from Mr. Custard Couple.
We have already published 26 min movie CC40 as Mrs. CC gets her leather skirt very messy and shiny.  But this movie has a twist!
Now we publish the accompanying NEW image set S348 with 79 shots.
Also, we review again Dee messing with Peanut Butter in 33 minute Movie WSM050, last published in October 2013, plus image set S199 with 135 shots.
For Wetlook fans, once again we take to the great outdoors as we see Jade at play in the sea at Tenby in original Wet Shots t-shirt, Movie WSM102 (27 mins) plus image set W290 with 234 great images.
Except for Mrs. CC's new Wet movie CC91 and image set W374, all other movies and image sets above are available on our Subscription site of 239 movies plus 404 image sets as we finally reach 40,000 images!
We still take Subscriptions to our Website – Memberships extending for up to 6 months are available.
CLICK HERE TO TAKE A SUBSCRIPTION TO THE WEBSITE
We also have a UMD STORE and transfer MOVIES and IMAGES weekly
CLICK HERE TO GO TO THE UMD STORE
SEE ALSO THE WSM ONLINE STORE  (no membership required)
Click on movie and page down for full description and sample images.
FOR 50 VINTAGE FILM DOWNLOADS
PLUS 53 New WSM Movies with Images, only available as Downloads
PLUS 16 Movies with Images transferred from the Subscription Website and now also available as Downloads.
and XXX section with 51 MOVIES with Images, only available as Downloads
CLICK HERE TO GO TO THE WSM ONLINE STORE
NEW DOWNLOAD – WETLOOK MOVIE
A new HD movie as Mrs. Custard Couple (CC) is excited to take a clothed sea bathe in a stormy sea clad in her vintage underwear.
Mr. Custard Couple relates the tale.
REVIEW OF MOVIE CC91
A brand new Movie plus Image set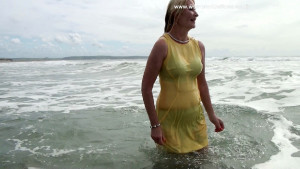 Mrs. CC in 'Vintage underwear in the Sea'
Movie CC91
Run-time 28 mins 38 secs
3 Sample Clips in HD
3 Streams in HD
To Purchase movie CC91 go to 'WSM Movies & Images Section' in the Online Store and go to 'Mrs. CC in Vintage underwear in the Sea'.

We start with Mrs CC on a local public beach dressed in a tight fitting yellow dress and a white cardigan and shoes.
Mrs CC recounts how she couldn`t wait to finish work that day and enjoy some sexy cooling off in the sea in her clothes!
She tells us all about her wearing some expensive SIL (Secrets In Lace)underwear and how it turns her on getting them wet.
It is a fairly cold and overcast day with a howling offshore wind but nothing will stop this wet clothed loving girl.
Mrs CC is such a tease as she pulls up her dress and shows us all her lingerie with a matching vintage suspender set and matching pale blue panties.  You can tell in her voice how exited she is to show us. She enters the sea shore wading fully clothed through the surf as her stockings and pretty white shoes are instantly soaked.
Mrs CC then ventures deeper into the waves, then lifting her dress she bends over and waits for each wave to soak her panties!  We are treated to some delicious soaked fabric as each wave of water cascades over the material.
She taunts us as she looks directly into the camera as she gets wetter, eventually kneeling down to finally soak her outfit.
Mrs CC chats to us all on the naughty and sexy feeling of her wet clothes against her body as she swims in the shallow surf for all of us to enjoy.
After a couple of minutes Mrs CC then removes her cardigan and we are treated to some lovely glimpses of her underwear showing through her dress as she frolics in the water.
She eventually makes her way to the shallows to let water slowly wash over her as she pulls her dress up and down enjoying the freedom this gives.
Mrs CC can`t resist touching herself and rubbing her wet clit through her satin panties as she enjoys some well needed relief on the public beach!!!
After that very naughty episode she removes her dress and we are treated to a woman who knows how to enjoy herself after a hard day at work!
Mrs CC rolls about in the surf even getting half drowned by a large wave which totally engulfs her as she laughs and carries on.
We are treated to more wet look and general larking in the waves till she removes her vintage bra and lets her heaving tits enjoy the cold water in the open seas.
The sun eventually makes an appearance so Mrs CC enjoys the sun as it beats down onto her wet body as she teases us some more.
The scene ends with Mrs CC washing herself down on the beach with some fresh water in just her panties and suspender belt….so although there is no full nudity in this movie we are given an insight into a genuine wet loving woman who takes this opportunity to wet her clothes on a public beach…. for our and her pleasure!!
In addition there are 161 Enhanced Images (Full Screen) of Mrs. CC's fun in the stormy sea!
The images are not as sparkling as the HD movie, but give a very good idea of content.
You may think that producing such images is easy!
If only!
Shooting on a sea shore gives problems of a moving horizon, light and shade, fast movement and effects of the waves.
We show you 5 sample images of the action in set W374.
MOVIE CC91 has 3 HD Streams running 28 mins 38 secs.
IMAGE SET S374 has 161 shots
PRICE
£6-00  GBP
$8-10 USD
Euro 7-20
To Purchase movie CC91 'Mrs. CC in Vintage underwear in the Sea',
go to 'WSM Movies & Images Section' in the Online Store.
SUBSCRIPTION WEBSITE
SLAPSTICK
What do you think Custard Couple would be good at?
How do you spice up your sex life by taunting, teasing and downright provoking your partner?
Simple!  Role Play!
So Mrs. Custard Couple (CC) dresses up slutty, brags about flirting at work, introduces a competitor to Mr. CC….. all to grab his attention and make sure she gets the messy seeing-to her taunting comments deserve!
Movie CC40 running 26 minutes continues the two way dialogue between Mr. & Mrs. with Mr. CC leaving his camera to join the action when he is over-provoked!
Mr. CC takes a very dominant role and is determined to destroy Mrs. CC's clothes and totally mess her up!
'I'm going to get you in a right bloody mess' says Mr. CC.
He starts with eggs, then banana dessert whip, which is followed by chocolate whip.
It is not long before Mrs. CC gets a custard 'treatment'.
But the action revolves around her 'slutty' leather skirt.
After Mr. CC takes his revenge by messing it up, then ripping it from her, Mrs. CC teases him further by wearing black PVC knickers!
There is no doubt that Mrs. CC just revels in her messy clothes.
Mr. CC adds golden syrup then gives her a further pasting with banana dessert whip.
In this movie we get a long viewing of Mrs. CC's very messy tits!
After Mr. CC departs, Mrs. CC sets about getting herself as messy as she can.
She enjoys herself in all the mess continually chatting to us.
She tells us the mess is 'Slippy on my tits and massaged into my hair!'
She ends by frigging her clit down those PVC knickers to bring herself off!
Phew!  Very, very steamy!  But to see movie CC40 and image set S348, you need to be a member.
We had to cut just on 4 minutes of XXX action which we will eventually publish under ref. XXX062_CC40.  This short movie excerpt features syrup over the bum in very revealing play, cock sucking and hand play, then Mr. CC cums over her face!  Whew!  But be patient…as not yet published!
This will be part of our Sex Quickies movie XXX062.
The main purpose for revisiting this movie is because we now publish 79 images in set S348.
As you see above, this is not just a story solely about Mrs. CC's leather skirt.
It is about her love of mess and her taunting of the frustrated Mr. CC.
We show you 5 sample shots of the action from set S348.
SUBSCRIPTION WEBSITE
WETLOOK
How enjoyable is a trip to the beach in January!
Fortunately, we shot this movie in September 2010.
So come with us on a trip to the seaside near Tenby in South Wales.
With live sound, hear the roar of the surf and the noise of the waves.
JADE wears our original WET SHOTS t-shirt which was acquired in 1982.
That was our original name before in 1984 we changed to WSM to better reflect our activities!
We feature our Asian lady JADE dressed in a long sleeve navy top, a pale blue mini skirt, blue suspenders and thong, plus beige nylons and pink heels!
This is our Movie WSM102 and runs for almost 27 minutes.
Jade removes no clothes until after 18 minutes.
So if you like really wet women, then Jade fits the bill!
Stream 3 has some great diving shots followed by some terrific bum and knicker shots, both in the Movie and as Images.
The final 3 minutes are nude, but be warned this is totally raunchy, with some very revealing bum and pussy shots!
To see some wonderful wet shots, then look no further than Image set W290 which has no less than 234 shots!  Some dazzling pics!
We show you 3 Clips and 5 sample images.

SUBSCRIPTION WEBSITE
MESSY
A true WSM girl is Dee.
Dee just cannot resist anything messy!
In this photoset of 135 images, Dee tackles something with a lovely smell, that is nice and smooth and is all squashy and sloshy!
So this Messy set features that little used foodstuff – PEANUT BUTTER!
Image set S199 is a great record of Dee's messy experience as she smears the Peanut Butter over her clothes, then her skin.
She strips down to end nude save for her suspender belt and stockings.
We show you 5 sample shots from image set S199 of Dee's Peanut Butter play.
DEE tried a new messy substance, Peanut Butter,  in Movie WSM050.
She is dressed in a red top, black leather look mini skirt, red stockings and suspender belt, plus tight black shorts.
Dee enjoys talking to the camera to describe her messy experience.
She says Peanut Butter is:
"Nice and gooey and she must cover herself head to toe in this smooth Peanut Butter!
My, my – it's sticky
I am a sandwich!"
Now for Peanut Butter you need a very warm room plus warmed containers.
Then it can be applied smooth and shiny so ending up with a good glistening effect.
The trouble is, do not linger, for afterwards the Peanut Butter becomes pasty and crusty.
It is quite difficult to wash away and a nightmare in the hair!
So be warned!
But Dee perseveres away and gets her wish to look like a very tasty sandwich spread!
She ends up a very messy woman as she continues to caress the Peanut Butter into her body.
The Movie runs 33 minutes, but to see it all, you need to be a member.
But here are 4 Clips of Dee's Peanut Butter experience.
We continue to take SUBSCRIPTION payments in £ Sterling, US dollars and Euros, for membership of the WSM Website.
We do still occasionally add Subscription updates, both movies and image sets.
Today we add image set S348 with 79 shots that accompanies movie CC40.
The Subscription Website does not include access to new movie/images Downloads in the Online Store, which we have been adding since April 2015.
Look at the JOIN NOW page to see our great value for 30 day, 3 month and 6 monthly Subscriptions as for a Subscription you can access:
239 Movies averaging 31 minutes each, including 18 Messy Wrestling Movies and 55 Custard Couple Movies, (which include 21 joint productions with WSM),
11 vintage movies and 155 normal WSM movies.
PLUS 40,045 Images in 404 sets.
But if you want to see all these Movies and Image sets, then you need to take a Subscription to become a Member.
COMMENT
Wait for it, wait for it!
Next week we will announce the WSM AWARDS for best W, S and M movies published in 2016.
There will be new awards for the Best XXX movie and best overall movie published 2016.
All winners will be featured.
With 47 movies to choose from, there will be some interesting outcomes.
FUTURE PROGRAMME
ADVANCE NOTICE OF NEW DOWNLOAD STORE AND SUBSCRIPTION ADDITIONS
 
13th JanIt is time for the WSM AWARDS for best W, S and M movies published in 2016 plus new Awards for the best XXX movie and Best Overall Movie of 2016.  The winners will all be featured.
20th JanMovie CC106 titled 'Shrink 1' as Mrs. CC attends counselling for her addiction to Sploshing and her dreams!  Plus image set S418.
27th JanThe admin work continues with accounts and statistics and dare we hope an updated 'About Us' at long, long last!
We feature movies WSM077 with brunette Mia in the shower in a summer dress plus Mia at play with golden syrup and sprinkles in movie WSM075 with their image sets W286 and S258.  This movie is available as either a Download but it is also part of the Subscription site.
But there is more with new image sets:
S020 with Anne and Jane having fun with chocolate sauce – shot May 1982
W035 with mini Wet set of Caroline (1982) in the shower in jeans & blouse
W171 with ordinary housewife Sabean desperate to pose wet in the bath in long white dress – shot 1995.
3rd Feb'My Lady gets her cumuppance from my Lord' (as snooty Mrs. CC gets it good) in CC 26 minute movie CC135 plus a 10 minute XXX ending as movie XXX060 and image sets S446 and S446XXX.
And this is a full version of Day 10 of the new '12 WSM Days of Xmas' movie CC137.
10th FebIt is anticipated that January and early February will be required to sort out the admin and figures.  But we will be posting and there will be at least one further new Image set as we bring on Professor Treacle, the foodstuffs, the model, the cameraman, the director…..all who travel many miles.  But the movie gets junked!  Find out why as we see image set S061 from summer 1989.
17th FebOutdoor Slapstick play with Custard Couple (CC) in 'Bring on the Treacle'.
As this is number 2 in the Messy Humiliation series then we do mean real black treacle!
Movie CC97 plus image set S407 and there is certain to be XXX material.