WHAT'S NEW as at 30th December 2016
How many movies and Image sets have we published in 2016?
Which image has been selected from our 2016 shoots as the 2016 Calendar shot?
To find out click here to go to our 'Comment' section under 'What's New'.
We see Kimyl's Slapstick revenge on Betty in movie WSM151 plus the previously unpublished image set S323 with 105 shots of these two young girls.
For Wetlook fans, we see Candi in shorts and patterned tights at play in a hillside lake, movie WSM073 and image set W284.
We review again movie WSM128 as Chiara in a red micro dress gets wet under the shower, then is dressed in White for Chocolate play with image sets W299 and S299.
This movie and images are available either as a Download or as part of the Subscription site.
All the above movies and image sets are available on our Subscription site of 239 movies plus 403 image sets.
We still take Subscriptions to our Website – Memberships extending for up to 6 months are available.
CLICK HERE TO TAKE A SUBSCRIPTION TO THE WEBSITE
We also have a UMD STORE and transfer MOVIES and IMAGES weekly
CLICK HERE TO GO TO THE UMD STORE
SEE ALSO THE WSM ONLINE STORE (no membership required)
FOR 50 VINTAGE FILM DOWNLOADS
PLUS 52 New WSM Movies with Images, only available as Downloads
PLUS 16 Movies with Images transferred from the Subscription Website and now also available as Downloads.and XXX section with 51 MOVIES with Images, only available as Downloads
CLICK HERE TO GO TO THE WSM ONLINE STORE
SUBSCRIPTION WEBSITE
SLAPSTICK
Remember Kimyl's 18th Birthday and how Betty caused kitchen chaos and ruined Kimyl's party?
We remind you with Clip 1 from movie WSM091 of how they started
Plus Clip 2 from movie WSM092 on how they ended!
And here are 2 images from S274 set to sum up the start and finish of Kimyl's party.
And it took a further year before 19 year old Kimyl could get her revenge on Betty for the chaos she had caused.
See this now in the 34 minute HD movie WSM151.
We start off learning a secret.
Betty admits she started off the mess at Kimyl's 18th Birthday party.
But Betty confides to us that she enjoys the messy food and gets very excited being in a bondage situation!
Kimyl comes in and wonders what is going on.
Betty makes it easy for her as she says 'Splosh me!'
As we have:
Natural yogurts
Rice pudding
Custard
Fresh cream
Squirty creams
2 peach torte cakes
2 chocolate torte cakes
Flans
Banana and chocolate flavoured milks
Butterscotch dessert
Chocolate dessert
Strawberry dessert
Chicken soup
The above seem to represent a never ending supply as Kimyl takes 'Sweet revenge!'
And so the Slapstick revenge commences against the shackled Betty (see Clip 1).
After 9 mins Betty is turned around – 'Now is the time to finish her off' says Kimyl.
But with 34 mins of movie……we have only just got started!
The 2nd stream starts with a special surprise for Betty which is 3 cream flans.
Then Betty is turned around again and her dress removed – (she has her bondage leather undies on!)
After 14 mins Betty asks 'Do you think you have had your revenge now?'
But Kimyl carries on.
But after 17 mins Betty is free of her restraints and starts to splosh the fully clothed Kimyl.
Do you like their Yorkshire accents?
I love the way Betty says 'both' and 'cake' in the middle of stream 2.
Both girls grapple and fall to the floor.
Just watch this movie carefully as the amount of detail is huge.
Kimyl gets a bowl of chicken soup over her head (see Clip 2)
Both girls strip off fully at the start of stream 3.
We have a great sploshy set-to between these two young naked girls.
As we near the end the girls have a pie fight with great pie in the face shots (see Clip 3).
What a fantastic mess they have made!
So is there a happy ending? Oh no!
We show you 3 Clips from movie WSM151.
And was there a sequel?
Yes. It is on the Subscription site.
We have the Slapstick 21st Birthday of Betty shot outdoor at the farm in HD movie WSM159.
This has been published as a 30 minute movie plus image set S350 with just Before and After shots.
However, would you believe there are 497 image shots just awaiting my attention!
These will be added to the Subscription site in 2017.
Movie WSM151 had been published with just Before and After shots.
But we now publish 105 shots of this messy encounter.
As Betty is fastened to the bondage cross, some of you may be worried that this is rather strong for a revenge movie!
Fear not!
Bondage is one of Betty's favourite pastimes!
So if she looks in distress, of course she is not as she totally enjoyed the whole shoot.
See if you like the look of our young girls Betty and Kimyl as we show you 5 sample shots.
SUBSCRIPTION WEBSITE
WETLOOK
We feature a 30 minute Movie of CANDI WSM073.
Candi wears an unusual outfit of black shorts, red short sleeve top and patterned tights.
Set in difficult terrain in a rocky moorland lake, Candi is understandably cautious.
This is gentle lake play with limited creative opportunities.
But if you like natural busty models then Candi brightens the landscape.
This is a slow strip to nude with the last 11 minutes nude.
We show 4 Clips of CANDI from Movie WSM073.
To support Movie WSM073 of CANDI in her lakeland play there are 148 shots in Image set W284.
It is not often you see a naked girl on the moors.
As you gather it is rather cold but Candi keeps going and ends with some good water kick shots.
What a terrific busty model she is, braving the outdoor elements!
Check these 5 sample Images of Candi from set W284.
MOVIE FROM WSM WEBSITE NOW OFFERED AS A DOWNLOAD
MOVIE WSM128 has CHIARA in WET STRIP followed by CHOCOLATE PLAY in an ALL WHITE OUTFIT!
Two movies for the price of one with 19 mins of Wetlook being followed by 27 mins of very messy Chocolate play Plus 136 Wet images and 134 Messy images.
Great value!
WETLOOK
WMV Sample Clips
2 Wet Sample Clips in HD
2 Wet Streams in HD
CHIARA is a sultry brunette who is sophisticated, elegant, stylish and lady-like.
In image set W299 she is dressed all in RED with a red micro mini dress, matching red bra and thong and red heels.
And CHIARA's best feature is her long legs!
She looks terrific in her wet, clingy mini dress.
She performs a leisurely paced strip.
Finally ending nude, this is classy/artistic nude.
A very refined model.
Set W299 has 136 shots.
We show you 5 sample pics.
We also see CHIARA
all in red under the shower in
movie WSM128
and this first wet part
runs 19 mins 11 secs.
Chiara performs a slow strip.
After 8 mins her dress is off.
After 11 mins her bra is off.
After 14 mins her knickers are off.
Chiara is a perfectly proportioned lady and looks classy and coy.
We show you two Clips from movie WSM128:
Clip 1
we see Chiara in her wet red micro dress.
Clip 2
Chiara caresses and shows her wet boobs
MESSY FUN
Chiara looks a very elegant and sophisticated model.
Coy at first, she seems to enjoy smearing chocolate over her arms and legs.
When her dress is messy she sits and lies on the floor and we have some great close-up shots of this quiet mannered model.
Just when we think she is not going to get properly messy, Chiara slops the chocolate on herself.
She enjoys her chocolate coating as it seems to release her inhibitions.
We show you 5 sample shots from image set S299.
Chiara too elegant to get messy?
Don't believe that…..as Chiara, although she is dressed all in white, gets very well coated with chocolate!
This 2nd and messy part of movie WSM128 runs 26 mins 43 secs.
Chiara commences in long sleeved, white, full skirted dress with a white cami, white bra and white knickers, not forgetting those white (very noisy) heels!
After 12 mins her dress is off.
After 17 mins her cami is off.
After 21 mins her bra is off.
After 22 mins her knickers are off.
And Chiara does take full chocolate coverage!
WMV Sample Clips
2 Chocolate Sample Clips in HD
2 Chocolate Streams in HD
In the 1st Clip Chiara rubs chocolate over her legs.
In the 2nd Clip she smears chocolate over her body and hair.
PRICE
£6-00 GBP
$9-60 USD
Euro 7.90
To Purchase go to movie WSM128 in the 'Downloads from Website' section in the Online Store under 'CHIARA in WET STRIP followed by CHOCOLATE PLAY'.
BUT
If you are a member of the WSM website, movie WSM128 and image sets W299 and S299 are available to you.
COMMENT
DID YOU SEE OUR 2016 SPECIAL XMAS MOVIES?
Festive Fun featuring Custard Couple with 15 minute movie CC134 as Mrs. CC dances while being sploshed, titled 'I wish it could be Christmas every Day' for only £3-50 or 4-20 Euro or $4-70 USD.
Then the quite remarkable updated '12 WSM Days of Xmas, movie CC137' running a phenomenal 90 mins with 7 Streams and 10 Clips plus 645 images! You could not make this up……12 separate movies in effect for an astonishing £7.00 or 9.00 Euros or $10 USD. The best WAM value on the worldwide web!
GO to ONLINE STORE under 'WSM Movies and Images'
Today we review 2016 year then
Reveal the History shot to be posted for 2016 year
On 13th January we will make the AWARDS for best W, S and M movies published in 2016 plus make new awards for the best XXX movie and the Best Overall Movie.
WSM 2016 ACTIVITY
When the website was run as a Subscription site only, WSM did warrant to publish one new item per week, be it a movie or image set.
During 2016 we published a further record 117 new items (99 in 2015).
Here are the details with the 2015 year figures in brackets:
Movies           Image sets
Wet              10 (12)            15 (11)
Slapstick     26 (17)            31 (24)
Muddy          4 (12)              7 (12)
XXX            11 (6)              13 (5)
Total           51 (47)            66 (52)
The WSM website had changed to Download updates from 18th April 2015.
With publishing more than two items per week, WSM continues to give you great value.
And for 2017?
Keep watching, but on 3rd December we did reveal part of our plan.
HISTORY shot for 2016 Year
This has to be a shot taken during the year.
The winner for 2016 year is a Slapstick shot of new model's Honour May shoot 'Chocolate Swirl' taken 15th April 2016.
The set reference is S420 plus movie WSM223 published 17th June 2016.
We now show this pic, but to see it plus all other annual winners, go to the HISTORY section at the top of the www.wsmprod.com Home Page.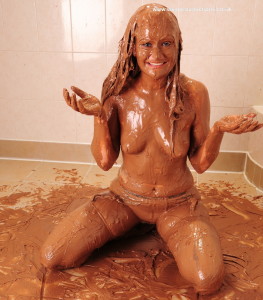 FUTURE PROGRAMME
ADVANCE NOTICE OF NEW DOWNLOAD STORE AND SUBSCRIPTION ADDITIONS
6th Jan A perfect time to see Mrs. CC's vintage underwear in a somewhat stormy sea – movie CC91 plus image set W374.
And we have the previously unpublished image set S348 with approx 75 shots to accompany movie CC40 of Mrs. CC in shiny/messy leather skirt getting rather sploshed up!
13th Jan It is time for the WSM AWARDS for best W, S and M movies published in 2016 plus new Awards for the best XXX movie and Best Overall Movie of 2016. The winners will all be featured.
20th Jan Movie CC106 titled 'Shrink 1' as Mrs. CC attends counselling for her addiction to Sploshing and her dreams! Plus image set S418.
27th Jan The admin work continues with accounts and statistics and dare we hope an updated 'About Us' at long, long last!
We feature movies WSM077 with brunette Mia in the shower in a summer dress plus Mia at play with golden syrup and sprinkles in movie WSM075 with their image sets W286 and S258. This movie is available as either a Download but it is also part of the Subscription site.
But there is more with new image sets:
S020 with Anne and Jane having fun with chocolate sauce – shot May 1982
W035 with mini Wet set of Caroline (1982) in the shower in jeans & blouse
W171 with ordinary housewife Sabean desperate to pose wet in the bath in long white dress – shot 1995.
3rd Feb 'My Lady gets her cumuppance from my Lord' (as snooty Mrs. CC gets it good) in CC 26 minute movie CC135 plus a 10 minute XXX ending as movie XXX060 and image sets S446 and S446XXX.
And this is a full version of Day 10 of the new '12WSM Days of Xmas' movie CC137.
10th Feb It is anticipated that January and early February will be required to sort out the admin and figures. But we will be posting and there will be at least one further new Image set as we bring on Professor Treacle, the foodstuffs, the model, the cameraman, the director…..all who travel many miles. But the movie gets junked! Find out why as we see image set S061 from summer 1989.
17th Feb Outdoor Slapstick play with Custard Couple (CC) in 'Bring on the Treacle'.
As this is number 2 in the Messy Humiliation series then we do mean real black treacle!
Movie CC97 plus image set S407 and there is certain to be XXX material.