WHAT'S NEW as at 23rd December 2016
What do Eartha Kitt, Wizzard, Mariah Carey, Wham, Slade, the Pogues, Queen, Band Aid, Elvis Presley, Wings and John Lennon have in common?
They all have classic Christmas songs which bring a nostalgic reminder and cheer us through the bleak midwinter!
Now WSM introduce a new updated 'The 12 WSM Days of Xmas' with 5 new shoots covering Days 1, 6, 7, 9 and 10. All feature the irrepressible Custard Couple (CC) in this new HD movie CC137 which runs 90 minutes.
This is in essence 12 different Slapstick movies.
Every WAM fan should welcome this movie just as we appreciate the Xmas songs from the above artists.
We review Download movie CC100 running 34 mins and image set S409 as Santa comes again with all his festive cheer!
Then we further review XXX movie XXX024 as Santa cums again which includes the CC100 movie and runs 44 mins plus image set S409XXX.
Plus we remind you of our Birthday offer (see Update of 3rd December) as Mrs. CC, dressed in her red Santa outfit, entertains us with 4 Xmas songs as she is food sploshed.
This special priced 15 minute HD movie Download CC134 plus 90 enhanced images in set S445 is in the Online Store under 'WSM Movies & Images'as "Mrs. CC I wish it could be Xmas every day".
Finally, for our Wet fans from our Subscription site we have Dee dressed all in red in the sea at Tenby, South Wales in 24 min movie WSM163 plus a fantastic 291 full screen images in set W331.
The above Dee movie WSM163 and 1st version movie CC77 of 'The 12 WSM Days of Xmas' are available on our Subscription site of 239 movies plus 402 image sets.
We still take Subscriptions to our Website – Memberships extending for up to 6 months are available.
CLICK HERE TO TAKE A SUBSCRIPTION TO THE WEBSITE
We also have a UMD STORE and transfer MOVIES and IMAGES weekly
CLICK HERE TO GO TO THE UMD STORE
SEE ALSO THE WSM ONLINE STORE (no membership required)
FOR 51 VINTAGE FILM DOWNLOADS
PLUS 51 New WSM Movies with Images, only available as Downloads
PLUS 16 Movies with Images transferred from the Subscription Website and now also available as Downloads.and XXX section with 51 MOVIES with Images, only available as Downloads
CLICK HERE TO GO TO THE WSM ONLINE STORE
NEW DOWNLOAD
SLAPSTICK/WETLOOK
How do you split the 12 WSM Days of Xmas?
We cannot separate them into Slapstick and Wet, as the movie would not make sense.
This was a terrific idea from our amateur couple Custard Couple (CC) and you have to marvel at how they tackle the 12 Days with nothing standing in their way!
This is great FUN throughout with some fabulous Slapstick.
For Wetlook fans we indicate that Days 7 and 8 should prove of interest.
This is a 90 minute movie with 12 different scenes.
To Purchase movie CC137 go to 'WSM Movies & Images Section' in the Online Store.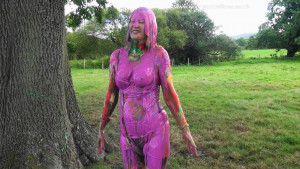 'The 12 WSM Days of Xmas'
Movie CC137
Run-time 89 mins 41 secs
7 Streams plus 10 Sample Clips – offered in both MP4 and WMV formats
NEW Day 1 – A partridge in a Pear Tree – runs 9 mins 30 secs Outdoor
I was taken aback with the opening scene as the wind blows so strongly!
But it does die down (see Clip of the well painted Mrs. CC) and this is a cracker of an outdoor Slapstick scene.
The paint flows over Mrs. CC in her black lingerie and micro net skirt before she is doused in pink luminous paint!
Saucy and very messy!
We show you one sample pic from image set S437 (which has 103 pics).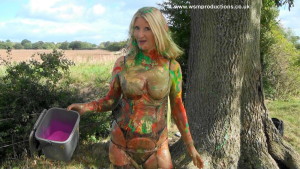 Day 2 – Two turtle doves – runs 2 mins 02 secs Outdoor
So what do you think Mrs. CC regards as her two turtle doves?
Plenty of cream sloshed about here.
We show you one sample pic from image set S387 (which has 14 pics) of a creamed Mrs. CC.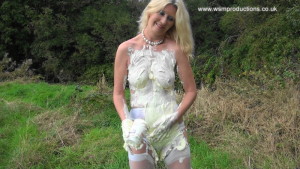 We show you a movie Clip with the start of Day 2 and what Mrs. CC regards as her two turtle doves!

Day 3 – Three French hens – runs 4 mins 02 secs Indoor
So what do hens produce…….eggs!
So we have 3 cakes!
If you like a lady in tights, then you will like this!
We show you one sample pic from image set S388 (which has 23 pics) as we see Mrs. CC in messy tights.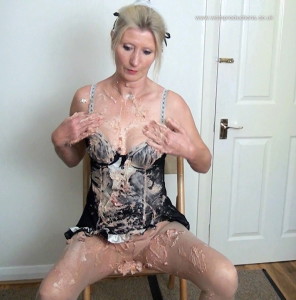 Day 4 – Four calling birds – runs 14 mins 36 secs Indoor
Well actually there is only one calling bird.
He does get to listen to Mrs. CC as she gets messy with strawberry Angel Delight.
As usual Mrs. CC delights in explaining her messy actions.
We show you one sample pic from image set S389 (which has 46 pics) as Mrs. CC displays her messy assets!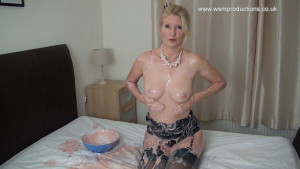 We also show you a movie Clip of Mrs. CC's messy play.

Day 5 – Five golden rings – runs 4 mins 18 secs Indoor
How else to play with 5 golden rings – get the custard out!
Where do you hide those golden rings?
Aarrhh, you are all ahead of me.
Mrs. CC dips into the custard to find those rings.
And where does she put them?
The movie reveals all.
We show you one sample pic from image set S391 (which has 36 pics) showing where the custard ended.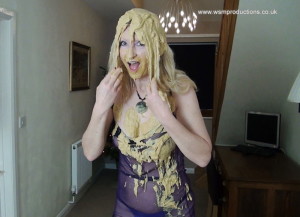 We also show you a movie Clip as a follow-on to the sample pic, with Mrs. CC enjoying the mess.

NEW Day 6 – Six geese aLaying – runs 7 mins 23 secs Outdoor
Mr. Scrooge had no trouble in finding a goose even on Christmas Day!
But Mrs. CC has managed to lose 6 geese!
In trying to find them she has a rather muddy encounter!
She ends up very messy but rather annoyed with the local farmer (who had them all the time!)
He had been secretly watching and enjoying Mrs. CC's muddy mishaps!
Mrs. CC did hurt her knee when she fell on a stone in the muddy pond (see if you can spot where), but she gamely completed the shoot.
Not only are CC the best WAM mature couple in the world, but they are also the most determined!
We show you one sample pic from image set M235 (which has 52 pics) as Mrs. CC crawls in the muddy pond.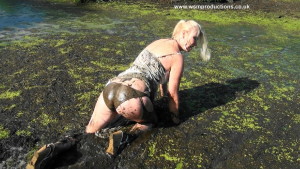 NEW Day 7 – Seven swans a swimming – runs 10 mins 53 secs Indoor
Real swans were banned under Health and Safety so Mrs. CC makes do with two blow-ups!
Mrs. CC gets in the bath fully clothed and gets fully wetted.
But this is not water, it is black lube!
Do you like her cream trouser suit?
This does become quite raunchy.
The trouser suit turns opaque and we have some amazing cameltoe shots both front and back!
We show you 2 sample pics from image set S438 (which has 61 pics) of that trouser suit plus the black lube.
Clip 7 from this movie CC137 shows the lubed up trouser suit, cameltoe and the black lube!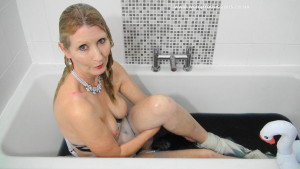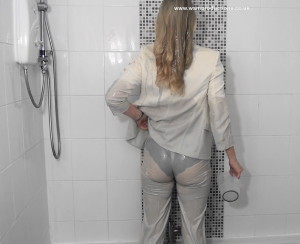 Day 8 – Eight maids a milking – runs 3 mins 43 secs Outdoor
One of the highlights as Mrs. CC uses 8 containers of milk.
Add in a real live audience of cows.
Add attention to detail (with her outfit) and her great enthusiasm.
Yes, ding-dong! This rang the bells for me!
We show you one sample pic from image set S393 (which has 41 pics) of a very milk soaked Mrs. CC.


We also show you movie Clip 8 as Mrs. CC starts her milking.
NEW Day 9 – Nine ladies dancing – runs 7 mins 50 secs Indoor
Mrs. CC appropriately dressed for Xmas, dances to popular Xmas tunes 'Santa Baby' sung by Eartha Kitt and 'I wish it could be Xmas every day' sung by Wizzard.
Getting into the spirit, she sploshes herself.
But for the final 80 seconds she is liberally sploshed by Mr. CC and yours truly!
To get you into the Xmas spirit we show you 5 sample pics from image set S445 (which has 90 pics) as Mrs. CC is well sploshed. Please note that the final image refers to movie CC134.
(Movie CC134 is a special low priced 15 minute movie as two further songs are added and Mrs. CC strips down to show her boobs and remove her knickers for her special foodstuffs pasting!)
Clip 9 shows the action at 3 mins 50 secs as Mrs. CC rubs a cream flan over the front of her red Mrs. Santa dress.
NEW Day 10 – Ten lords a leaping – runs 15 mins 28 secs Indoor
Now we see Mr. CC at his best!
He plays the Lord who always seems to play second fiddle to my Lady!
With them both dressed for the ball an accident by Mr. CC threatens to ruin Mrs. CC's dress.
But his lordship has the solution.
His fumbling efforts only make things worse (see 1st image below).
With her Ladyship's ceaseless moaning, an act of revenge by his Lordship becomes a necessity!
Then the foodstuffs fly……and……surprise, surprise…..her Ladyship likes the fun and sensations.
This is a full length movie which was much shortened with the use of captions and just adding key action moments.
On 3rd Feb 2017 we will publish movie CC135 running 26 mins as 'My Lady gets her cumuppance from My Lord' (and snooty Mrs. CC gets it good!).
But there will be a further 10 mins of XXX fun at the end shown in movie XXX060 plus images.
We have 5 sample pic from image set S446 (which has 126 pics) of CC's very, very messy fun!

Day 11 – Eleven pipers playing – runs 7 mins 01 secs Outdoor
CC once again use their imagination to create 11 pies flying!
Mr. CC relishes pasting his pretty wife with pies.
We show you Clip 11 from movie CC137 so you can see those pies flying!
Mrs. CC looks very tasty after being creamed – see the sample pic from image set S394 (which has 30 pics).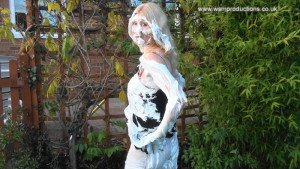 Day 12 – Twelve drummers drumming – runs 2 mins 55 secs Outdoor
What a racket 12 drummers would make!
So we have just one drummer – a very colourfully dressed Mrs. CC.
And Mr. CC adds some more colourful foodstuffs for this festive occasion.
We show you one sample pic from image set S395 (which has 23 pics) as Mrs. CC gets sploshed for her noisy efforts!
We show you the 12th movie Clip showing the start of Day 12 as the colourfully dressed Mrs. CC drums for you!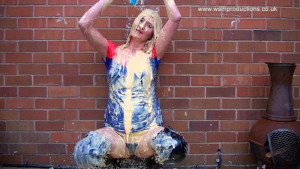 What a fantastic 12 WSM Days of Christmas that was!!
And at 90 minutes, our longest movie yet with 7 Streams and 10 Clips!

PRICE
£7-00 GBP
$10-00 USD
Euro 9-00
To Purchase movie movie CC137 with CC in 'The 12 WSM Days of Xmas' go to 'WSM Movies & Images Section' in the Online Store.
FURTHER XMAS DOWNLOAD
A continuation HD Xmas movie with Custard Couple (CC) offered either as:
1. A normal movie CC100 running 34 mins 23 secs with 3 Clips and 3 Streams, plus 79 images of festive fun and messy play.
2. As an XXX movie XXX024
The XXX movie includes the normal movie so runs in total 44 mins 18 secs with 4 Clips and 4 Streams.
NOTE – this is the same as movie CC100 but with further content added, with Streams 2 and 3 modified plus an additional Stream 4. Plus there are 44 XXX images.

See this write-up in the Online Store XXX Section under XXX024.
REVIEW OF NORMAL MOVIE CC100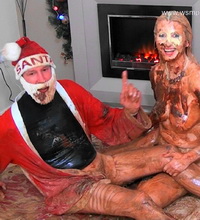 Custard Couple – Santa cums again
Movie CC100
Run-time 34 mins 23 secs
3 Sample Clips in HD
3 Streams in HD
This was the WSM Xmas movie for 2015.
The movie has a proper story (Stream 1 has 5 scenes), is well thought out, has musical content, is very amusing and is great festive fun! There is no need to ask if it is Messy!
What struck me most was the very clear loud speech, as CC have moved to far more positive dialogue and sound.
This is the normal movie and the XXX content is omitted (see movie XXX024 for XXX version).
Stream 1 – runs 11 mins 18 secs
Scene 1
Mrs. CC is asleep in bed with Mr. Snowman.
It is Xmas Eve.
Last year, Mrs. CC was Santa's Angel.
This year she will be his very, very naughty Elf.
Scene 2
She gets her sign asking Santa to call.
Mrs. CC goes into the garden in just her white lace baby doll outfit, complete with g-string.
We are all glad that she decides to take Mr. Snowman back into the house, as she leans over to pick him up, giving us an awesome bum shot.
Scene 3
We visit Santa's lounge as he magically appears.
We see him making preparations for his Xmas Eve trip.
This is very relaxing fun!
Scene 4
We see Mrs. CC preparing for Santa's arrival, first in her new baby doll nightie, then she adds her little elfin outfit with bells, gloves and a hat.
Scene 5
Santa arrives and admires Mrs. CC – see CLIP 1.
We see the foods he has brought (yes, he is magic!)
Mrs. CC ends by saying 'I'm here, I'm waiting, I'm willing!'
Stream 2 – runs 10 mins 21 secs
Santa decides that as he has been out in the snow, Mrs. CC should get white, messy and wet!
So naughty Santa commences with cold milk.
Mrs. CC squeals and yells with the coldness as Santa pours the milk over the front and back of her Elf outfit.
Of course Santa wants his treat, so lifting her skirt, he continues to pour the milk – see Clip 2.
The milk is followed by yogurts – 'Equally cold', says Mrs. CC.
'This is exactly what you asked for!' says Santa.
He rubs in the yogurt.
'I am a bit bedraggled now', says Mrs. CC.
'You are nowhere near messy enough are you? asks Santa.
Of course Mrs. CC readily agrees she is not.
So Santa continues to cover her Elf outfit and sleeks the yogurt over her front and back.
Next, Santa applies some Strawberry Angel Delight.
Naughty Elf Mrs. CC encourages him to fill-up her little white panties.
Then with her seated on a chair in front of the fire, Santa brings the Chocolate Angel Delight.
Now it really is time for her to get very messy.
Santa starts by pushing Mrs. CC's face into the bowl of Chocolate Angel Delight.
Then he works from the head down, sploshing her outfit, including hat and gloves.
Stream 3 – runs 12 mins 44 secs
Santa gets down to the application of the Chocolate Angel Delight as Mrs. CC presents her white knickers. Of course Santa slides his messy hand into her knickers.
Then he covers her legs and boots.
Mrs. CC puts the chocolate dessert over her boobs and tempts Santa to help her.
But the naughty Elf Mrs. CC wants the chocolate dessert rubbed on her arse!
We see her tightly knickered bum (which Santa says is far too clean).
She wants some syrup dripped over her bum and Santa is delighted to oblige.
Santa is now fully enjoying messing Mrs. CC.
But he surprises her by applying Strawberry Jam over her back and bum, while she urges him on.
Then Santa brings out the custard (well being part of CC he would, wouldn't he!)
Mrs. CC assumes a rather provocative bum pose as Santa dribbles away with the custard over her back and bum.
Santa applies more golden syrup over her front, especially into her cleavage.
Then it is time to apply the custard down her front.
Mrs. CC responds by removing her dress.
Santa pours custard over the front of her baby doll.
She removes her hat and Santa unleashes custard over her head, face and front – see CLIP 3
Santa gives the naughty Elf a good messing up with custard.
He rips the baby doll cleavage open and pours more custard.
The custard is really turning Mrs. CC on.
Mrs. CC removes her panties……and you need to see the XXX version for what then happens!
Next in this normal movie, we see Santa lying back on the mat without his trousers.
Mrs. CC brings a bowl of Chocolate.
Santa tastes before smearing his Elf with chocolate while she rubs chocolate on him.
Santa removes her gloves and spreads chocolate over her arms.
Mrs. CC gives Santa a final present.
This is a bottle of 'Very Bad Elf' ale.
But Mrs. CC hopes she has been Santa's very bad Elf!
They finish by sending the season's greetings to us all.
If you wish to see the write-up of the extra XXX, then go to movie XXX024 in the Online Store XXX Section. Do note that movie XXX024 includes both the normal and XXX Streams.
As such it runs over 44 mins.
MOVIE CC100 has 3 HD Streams running 34 mins 23 secs.
IMAGE SET S409 has 79 shots
We show you 5 sample images from this set.
PRICE
£6-00 GBP
$9-60 USD
Euro 7.90
To Purchase go to movie CC100 in the 'WSM Movies and Images' section in the Online Store under 'Custard Couple – Santa cums again'.
To see Write-Up or to Purchase movie XXX024 go to 'XXX Section' in the Online Store under 'Custard Couple – Santa cums again'.
XXX DOWNLOAD movie and images package set XXX
XXX movie ref XXX024 running 44 mins
Custard Couple in
'Santa cums again!'
Now in Online Store
Check the review here for full details
LATEST DOWNLOAD
MESSY SLAPSTICK FUN
We remind you again of a very special Xmas movie which we added to our Download Store on 3rd December, which was our 35th Birthday.
A NEW 15 minute HD movie CC134 with Mrs. CC dressed in her red and white Santa outfit, entertaining us with 4 Xmas dances.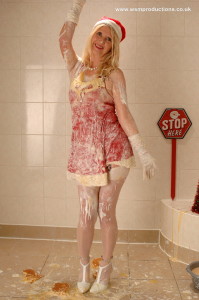 'Mrs. CC – I wish it could be Xmas every day'
Movie CC134
Run-time 15 mins 44 secs
2 Streams plus 2 Sample Clips – offered in both MP4 and WMV formats
Slowly the Slapstick is introduced by Mrs. CC.
Just before the end of the 2nd song, a fusillade of foodstuffs splatters the very expectant Mrs. CC who thoroughly enjoys the experience.
This food cascade continues to the end of the movie.
Wow! This will definitely put a smile on your face!
What a way to get in the Xmas mood!
Fabulous Slapstick entertainment at a bargain price!
Get the Feel Good factor!
And does it end there with the movie?
Not when we include 90 Enhanced Images in image set S445.
Doubting?
Take a look at the two Clips above plus the following 5 sample images.
PRICE
£3-50 GBP
$4-70 USD
Euro 4-20
To Purchase movie CC134 'Mrs. CC I wish it could be Xmas every day' go to 'WSM Movies & Images Section' in the Online Store.
SUBSCRIPTION WEBSITE
WETLOOK
A change of scene as we feature Dee in a summer movie in the sea dressed all in red.
We recently added image set W331 which has 291 images.
Image set W331 commences with a shot across the sea to the town of Tenby.
Brunette Dee dressed in long sleeved pale red top, bright red leggings, black thong and black strappy open toe heels, plays in the beach surf.
There is plenty of action as she immerses to her waist, before getting totally wet with her nipples standing out proudly under her wet top.
We have some great wet hair shots as Dee reclines in the sea.
She is a lady who loves to be wet and it shows.
There are 192 shots before she removes her top.
Next, she removes her leggings and we have 18 knicker and shoes shots.
Finally, there are 46 nude shots (except for shoes).
Some of these are quite explicit!
What a tonic this is!
A mature lady enjoying her clothed seaside bathe before stripping down for us.
And with 291 shots this is a true delight!
This image set is only available on the Subscription site (as the movie was published there Oct 2014).
We show you 5 sample shots of Dee's wet play.
HD Movie WSM163 features mature lady DEE as she enjoys a wet clothed bathe in our favourite seaside town at Tenby in South Wales.
Dee starts on the sandy beach and the camera follows her down to the waters edge.
The sea is calm so the surf is quiet.
Dee splashes about among the small waves gradually getting wet.
She comments on her outfit 'Nice and tight and red'.
What is it you like about wet shots? Is it:
Wet shiny clothes pants and top
Wet thighs
Wet legs
Wet clinging boobs
Wet boobs
Wet hair
Wet face
Wet knickers
Wet heels
Wet nude
Well you can see them all here!
The water is calm and inviting.
After 6 mins 33 secs her boobs are wet.
After 10 mins her hair is wet.
We see some fabulous wet hair shots as Dee floats and swims in the water fully clothed –
see Clip 1.
As Stream 2 commences Dee removes her top.
There are some great wet boobs shots as Dee reclines in the surf –
see Clip 2
With just 6 minutes remaining, Dee removes her pants and continues in just knickers and heels and there are fantastic black wet knicker shots.
The final 3 minutes have Dee nude, apart from her heels!
There are very revealing shots at the end as Dee gyrates in the shallows.
This is a true wet mature lady……just for your delight!
We show you two Clips from 24 minute movie WSM163.
This shoot is not available as a Download.
COMMENT
So it is Christmas!
WSM give you some advice definitely not found in any marketing manual!
Turn off that computer Christmas Eve!
Enjoy your family and friends for a couple of days!
We will still be here!
The team at WSM, Steve (our film editor), Cristi (technical/webhost), scribe Mike Ellison and our Principal wish holiday and Christmas cheer to all WSM Members, ex-members, friends, UMD friends, forum readers and all who enjoy our website.
May your god go with you!
Peace and joy to all peoples of the world!
Merry Christmas everyone.
FUTURE PROGRAMME
ADVANCE NOTICE OF NEW DOWNLOAD STORE AND SUBSCRIPTION ADDITIONS
30th Dec Time for a rest and to catch up on some very necessary admin.
We feature movie WSM128 of Chiara in a red micro dress plus dressed in white with chocolate play – plus image sets W299 and S299. This movie is available as either a Download but it is also part of the Subscription site.
We see Kimyl's revenge on Betty in movie WSM151 plus the unpublished photo set S323 with approx 100 pics. Finally, there is Candi in shorts and patterned tights at play in a hillside lake.
And we tell you how many new movies and image sets we published in 2016.
6th Jan A perfect time to see Mrs. CC's vintage underwear in the sea – movie CC91 plus image set W374.
And we have the previously unpublished image set S348 with approx 75 shots to accompany movie CC40 of Mrs. CC in shiny/messy leather skirt.
Plus it is time for the WSM AWARDS for best W, S and M movies published in 2016 plus a new Award for the Best Overall Movie of 2016.
13th Jan The admin work continues with accounts and statistics and dare we hope an updated 'About Us' at long, long last!
We feature movies WSM077 with brunette Mia in the shower in a summer dress plus Mia at play with golden syrup and sprinkles in movie WSM075 with their image sets W286 and S258. This movie is available as either a Download but it is also part of the Subscription site.
But there is more with new image sets:
S020 with Anne and Jane having fun with chocolate sauce – shot May 1982
W035 with mini Wet set of Caroline (1982) in the shower in jeans & blouse
W171 with ordinary housewife Sabean desperate to pose wet in the bath in long white dress – shot 1995.
And did you see our our plans for WSM in 2017 which were revealed on our Birthday Update of 3rd December? If not go to the 'What's New' section on our website.
20th Jan Outdoor Slapstick play with Custard Couple (CC) in 'Bring on the Treacle'.
And do we mean the real black treacle? Oh yes!
Movie CC97 plus image set S407.
Sorry! Change of plan as this movie is moved to 17th February.
The movie for 20th January is now CC106 as Mrs. CC attends counselling for her addiction to Sploshing and her dreams! Plus image set S418.
27th Jan It is anticipated that all January will be required to sort out the admin and figures. But we will be posting and there will be at least one further new Image set as we bring on Professor Treacle, the foodstuffs, the model, the cameraman, the director…..all who travel many miles. But the movie gets junked! Find out why as we see image set S061 from summer 1989.
3rd Feb 'My Lady gets her cumuppance from my Lord' (as snooty Mrs. CC gets it good) in CC 26 minute movie CC135 plus a 10 minute XXX ending as movie XXX060 and image sets S446 and S446XXX.