WHAT'S NEW as at 9th December 2016

A New messy HD Download Movie as the mature Mrs. Custard Couple's (CC) impatience leads to her pristine white suit getting covered in oil in 22 min movie CC108 plus image set S423 with 96 shots.
We look again at a movie last reviewed in Sept 2012 to see Mrs. CC in Wet, Muddy, Sandy White Shorts 34 min HD movie CC14 with image set W298.
Plus we remind you again of our Birthday offer (see Update of 3rd December) as Mrs. CC entertains us with 4 Xmas songs as she gets food sploshed.
This is special priced 15 minute HD movie Download CC134 plus 90 enhanced images in set S445.
Lastly, to complete a total CC week, we review again Mrs. CC in Wet phone sex featuring an intimate phone chat from her bathroom, with HD movie CC32 plus image set W311.
The above Mrs. CC in her White Shorts and Wet phone sex sets are available on our Subscription site with 239 movies plus 402 image sets.
We still take Subscriptions to our Website – Memberships extending for up to 6 months are available.
CLICK HERE TO TAKE A SUBSCRIPTION TO THE WEBSITE
We also have a UMD STORE and transfer MOVIES and IMAGES weekly
CLICK HERE TO GO TO THE UMD STORE
SEE ALSO THE WSM ONLINE STORE (no membership required)
FOR 51 VINTAGE FILM DOWNLOADS
PLUS 50 New WSM Movies with Images, only available as Downloads
PLUS 16 Movies with Images transferred from the Subscription Website and now also available as Downloads.and XXX section with 49 MOVIES with Images, only available as Downloads
CLICK HERE TO GO TO THE WSM ONLINE STORE
NEW DOWNLOAD
MESSY FUN

A NEW 22 minute HD movie CC108 with mature lady Mrs. Custard Couple (CC) who commences pristine in her white suit and ends up as 'Mrs. Messy Muckanic'.
With gungey black oil we have the dirtiest and messiest couple action play by CC!
Add in 96 enhanced images and this is a fabulous movie of a very messy couple!
To Purchase movie CC108 go to 'WSM Movies & Images Section' in the Online Store.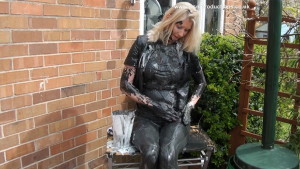 'Mrs. Messy Muckanic'
Movie CC108
Run-time 22 mins 34 secs
2 Streams plus 2 Sample Clips – offered in both MP4 and WMV formats
Stream 1

Mr. CC is fixing her car but Mrs. CC is getting impatient to go shopping.
Mr. CC goes away to make a phone call to solve the car problem, so Mrs. CC decides to try and fix it.
'What can be so difficult?' she says.
Oil squirts over the top of her lovely white suit as she tries to release the filler cap.
The car engine sump is leaking so she goes under the car to try and stop it and gets further messed.
(Be aware that this was a custom shot movie and strong language and swearing were requested.)
Mrs. CC is rather embarrassed about what Mr. CC will say as she is 'completely utterly covered in oil!'
Mr. CC returns ready to tackle the job.
He is aghast at the sight of Mrs. CC!
'What a state you are in', he says!
He tries to remove some oil from her arm without any success.
Her messy state gets him aroused.
'It does look really sexy', he says.
'You actually think it looks sexy when I'm covered in oil?' asks Mrs. CC.
Mr. CC lifts her skirt and her white knickers send him over the top!
'I've got loads more oil. How about me plastering it on?' asks Mr.CC.
'It's not going to make a lot of difference to me is it?' states Mrs. CC.
Mr. CC pours a jug of thick, dirty oil over Mrs. CC's jacket top and it runs down her jacket and over her skirt.
And Mr. CC has some more black oil that he wishes to squirt at her.
Lifting her short skirt Mr. CC enjoys squirting oil over her – see CLIP 1.
He continues by squirting her back.
He pours more gungey black oil from the jug over her back followed by some clear fresh oil.
'You look absolutely disgusting' says Mr. CC.
Mrs. CC sits on the work bench while Mr. CC gets the swarfega.
Stream 2

Mr. CC adds more thick, black gungey oil to her stockings, opening his wife's legs so we can see her oily knickers.
Her white suit sleeked with the dirty black oil looks quite remarkable as Mrs. CC makes sure she is fully covered.
She stands, then gives us a back view as she rubs the black thick oil over her bum.
Mr. CC really is enjoying this!
'Did you expect me to get quite so oily? asks Mrs. CC.
'No I didn't! I didn't even know you enjoyed it! says Mr. CC.
'Nor did I until now', replies Mrs. CC.
She lifts her skirt to reveal her oil covered panties over her bum before Mr. CC ensures she is fully oil covered by caressing her knickers with a handful of the dirty black oil.
Mr. CC has put swarfega on Mrs. CC's hair.
She kneels on a thin blue mattress as Mr. CC sleeks her further.
'This is all my fantasies come true' says Mr. CC.
He removes her jacket.
With both kneeling, Mr. CC starts to cover her with the white swarfega.
He tears away her blouse which falls to her knees.
She lies on her front on the mattress while Mr. CC covers her with swarfega - see CLIP 2.
He applies the swarfega inside her panties, filling them up with the 'lovely gunge'.
Mrs. CC enjoys the messy massage.
Lying on her back, Mr. CC removes her bra.
He rips her skirt to remove it, then continues to apply the white swarfega.
Mrs. CC is now only clad in suspender belt, stockings, heels and panties.
Mr. CC pays special attention to her clit.
She kneels facing the camera, while Mr. CC pours the remainder of the bucket of swarfega over her head and it runs down her boobs and body.
They commence mutual masturbation.
Mr. CC soon arouses the lusty Mrs. CC.
With his hand down her knickers we hear the sloppiest clit stimulation sounds as the trashed Mrs. CC is soon brought to a fulfilling climax!
'You know how to make a girl cum!' says Mrs. CC.
Her knickers are removed.
Mr. CC totally slops up his pretty wife and he caresses her messy clit further.
Mr. CC lies on the mattress while his wife lies on his back for sliding fun as she rubs herself before sitting on her hubby to frot themselves to further climaxes.
This is full-on messy couple sex play with both enjoying the super messy fun.
'Little did we know that an oil spillage would lead to this mess! says Mrs. CC.
They end up trashed and very messed up but very, very happy!
MOVIE CC108 of Mrs. CC getting covered with the dirtiest thick black oil then having sex play fun with Mr. CC has 2 Streams running 22 mins 34 secs.
Image set S378 has 96 shots and is a good record of the action.
The image set does contain some pics which are not in the movie.
There are an extra 13 bonus shots at the end as Mrs. CC poses in her messy state.
But this is a classic white outfit to very messy set.
We are sure you will like it as we show you 5 sample shots.
PRICE
£6-00 GBP
$8-10 USD
Euro 7-20
To Purchase movie movie CC108 with Mrs. CC as 'Mrs. Messy Muchanic' go to 'WSM Movies & Images Section' in the Online Store.
SUBSCRIPTION WEBSITE
WETLOOK
We review again 34 minute HD movie CC14 from Custard Couple with both wet and mud.
Titled 'Wet, muddy, sandy White Shorts' it also has 114 video grab images in Image set W298.
Mrs. Custard Couple (CC) is dressed in a white sleeveless top, with peach bra (edged with black), white shorts, white knickers and white heeled sandals.
Mrs. CC splashes water over herself.
She is in a small fast flowing river on a sunny day with blue skies.
You hear the gurgle of the water as Mrs. CC splashes to soak her clothes.
The wet action runs for 7 mins 19 secs in Stream 1 before Mrs CC concentrates on the muddy sand.
Then in Stream 3, the wet action continues from 3 mins 26 secs to end.
This gives 15 minutes of wet movie action.
We show you 3 Clips from movie CC14 but only the first is true Wetlook.
Image set W298 has 114 video grab images in support of the above movie CC14.
The fact that I titled it as a Wet reference tells you how I felt about it.
It is quite difficult to separate wet sandy mud from a wet set.
But do take a look at the 5 sample images to see if they appeal.
NEW DOWNLOAD
MESSY SLAPSTICK FUN
We remind you again of a very special Xmas movie which we added to our Download Store on 3rd December, which was our 35th Birthday.
A NEW 15 minute HD movie CC134 with Mrs. CC dressed in her red Santa outfit, entertaining us with 4 Xmas dances.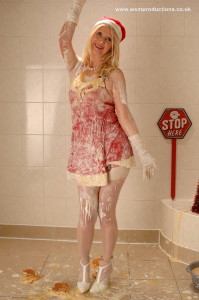 'Mrs. CC – I wish it could be Xmas every day'
Movie CC134
Run-time 15 mins 44 secs
2 Streams plus 2 Sample Clips – offered in both MP4 and WMV formats
Slowly the Slapstick is introduced by Mrs. CC.
Just before the end of the 2nd song, a fusillade of foodstuffs splatters the very expectant Mrs. CC who thoroughly enjoys the experience.
This food cascade continues to the end of the movie.
Wow! This will definitely put a smile on your face!
What a way to get in the Xmas mood!
Fabulous Slapstick entertainment at a bargain price!
Get the Feel Good factor!
And does it end there with the movie?
Not when we include 90 Enhanced Images in image set S445.
Doubting?
Take a look at the two Clips above plus the following 5 sample images..
PRICE
£3-50 GBP
$4-70 USD
Euro 4-20
To Purchase movie CC134 'Mrs. CC I wish it could be Xmas every day' go to 'WSM Movies & Images Section' in the Online Store.
SUBSCRIPTION WEBSITE
WETLOOK
There are 116 shots in image set W311, captured from the movie, as Mrs. Custard Couple (CC), in the absence of Mr. Custard Couple (CC), takes a fully clothed bath.
We commence in the hall area as she chats on the phone to Mr. CC.
She wears a brown tight fitted dress with a black jacket.
Her undies are plain white bra, light tan stockings (with a seam up the back!), a black suspender belt, full white knickers……..not forgetting her handbag and black heels.
Next, she is in the bathroom.
Mrs. CC enters the bath fully clad, including her black heels.
She enjoys her wet clothed soak and play.
But the phone rings and she has to leave the bath.
Mrs. CC talks to Mr. CC as she displays her wet clothes to the camera.
Then it is back into the bath after she has shampooed her hair and dress.
She even shampoos her bra before briefly releasing her boobs for a soap-up.
Then her clothes are covered in shaving cream.
She gets back in the bath for some very wet creamy shots.
Finally, her dress and bra are removed and there are some good boob and pussy shots.
The 46 minute movie CC32 brings these pics to life.
But this is a great record of a lady who definitely enjoys the wet and messy!
We show 5 sample shots from set W311.
In HD movie CC32 Mrs. CC has a very personal conversation with you.
It is just like you are there with her.
She describes her feelings when after being let down by Mr. CC to take her to dinner, she decides on a slow, sensuous wetting by taking a fully clothed bath.
She is dry for the first 7 minutes.
Then she gets wet in the bath until the 25th minute, when she has a very full shampoo, including her clothes. (see the shampoo sequence in Stream 3)
Shaving foam is introduced 32nd minute and remains until a couple of minutes before the ending.
Foam covered she frigs herself frantically as she takes herself to an orgasm! (see the foam and the orgasm in Stream 4).
But this is a complete story, with phone calls, bath play, shampoo and shaving cream.
Convincingly done, we see Mrs. CC indulging her passion for wet clothed and messy play.
We show you 4 Clips from movie CC32:
1. Mrs. CC tells Mr. CC of her wet plans.
2. We see Mrs. CC starting to enjoy her wet fun.
3. Mrs. CC puts her shampoo to good use over her clothes.
4. A full bath rinse after her shampoo and foam fun!
COMMENT
A very busy time with the lead up to the 12 WSM Days of Xmas updated movie.
The website has given occasional trouble with the new server.
But we will get things sorted out.
A very low key 35th Birthday last 3rd December.
FUTURE PROGRAMME
ADVANCE NOTICE OF NEW DOWNLOAD STORE AND SUBSCRIPTION ADDITIONS
16th Dec Here it is! CC's Xmas special with an updated '12 WSM Days of Xmas', new movie CC137.
We commence with Days 1 to 6.
This revised movie will feature new shoots for Day 1 and Day 6.
23rd Dec The revised 12 WSM Days of Xmas movie concludes with Days 7 to 12.
This upgraded movie CC137 will feature new shoots for Days 7, 9 and 10.
Plus Santa makes his appearance in movie CC100 (first published last year) as Santa cums again!
30th Dec Time for a rest and to catch up on some very necessary admin.
But we will be featuring 4 previously published movies, two from the Subscription site and two Downloads.
6th Jan A perfect time to see Mrs. CC's vintage underwear in the sea – movie CC91 plus image set W374.
13th Jan The admin work continues with accounts and statistics and dare we hope an updated 'About Us' at long, long last!
Again, we will feature some previously published movies.
And did you see our our plans for WSM in 2017 which were revealed on our Birthday Update of 3rd December? If not go to the 'What's New' section on our website.
20th Jan Outdoor Slapstick play with Custard Couple (CC) in 'Bring on the Treacle'.
And do we mean the real black treacle? Oh yes!
Movie CC97 plus image set S407.